Harold Washington's Mayoral Victory Ushers in a New Era of Coalition Politics in Chicago
Following Washington's 1983 election as the city's first black mayor, In These Times writes that the historic victory "has created the potential for a new kind of politics in Chicago."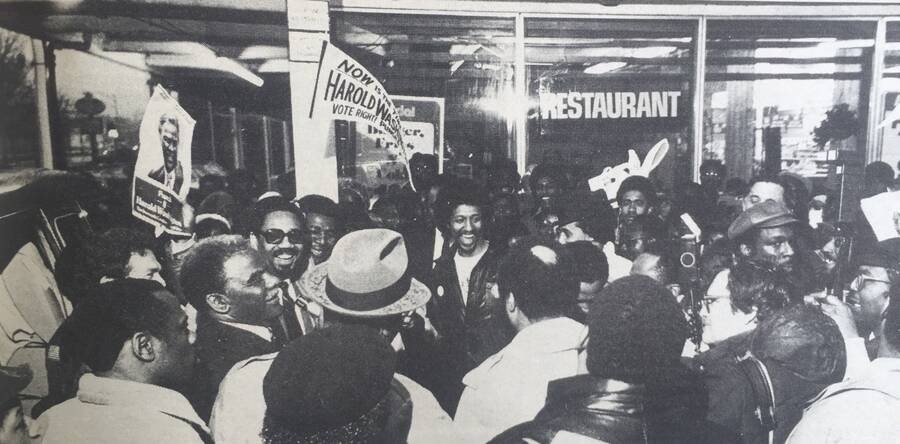 On April 12, 1983, Harold Wash­ing­ton was elect­ed to become the first black may­or of Chica­go, led into office by a mul­tira­cial coali­tion and a wave of left polit­i­cal orga­niz­ing. In These Times cov­ered the race close­ly, and in the publication's first edi­to­r­i­al fol­low­ing Washington's win, declared that the vic­to­ry proved that ​"the left, includ­ing its social­ist wing, can now begin to enter the main­stream of Amer­i­can life along with blacks."
The black community in every city is a natural left constituency. If Washington is right that Chicago points to a new black politics, it means the same for the left.
CHICA­GO — ​"We were slow to move from the protest move­ment into pol­i­tics," Harold Wash­ing­ton said just after he won the Chica­go Demo­c­ra­t­ic may­oral pri­ma­ry in Feb­ru­ary. ​"We were lulled to sleep think­ing that pass­ing a few laws was enough. But we've got to be involved in the main­stream polit­i­cal activ­i­ty. That's what's hap­pen­ing here in Chica­go," he added. ​"And that's the les­son that's going out across the country."
This ​"com­ing into polit­i­cal matu­ri­ty" of minor­i­ty groups that, as Wash­ing­ton says, once thought sim­ple street protests were enough took a giant leap for­ward on April 12 when a siz­able major­i­ty of His­pan­ic vot­ers and enough left and lib­er­al whites joined the over­whelm­ing major­i­ty of blacks to give Chica­go its first black mayor.
This was a vic­to­ry for the left, both in the sense that the nat­ur­al left con­stituen­cies — blacks, His­pan­ics and the labor move­ment — were its basis and in the sense that orga­ni­za­tion­al sup­port for Wash­ing­ton out­side the black com­mu­ni­ty came from left groups rang­ing from unions like AFSCME to the Nation­al Orga­ni­za­tion for Women to the Demo­c­ra­t­ic Social­ists of Amer­i­ca. And it was a vic­to­ry over racism in the most high­ly seg­re­gat­ed of Amer­i­can cities, even though the elec­tion also demon­strat­ed how deeply divid­ed Chicago's work­ing peo­ple are by race.
The grow­ing matu­ri­ty of which Wash­ing­ton speaks was demon­strat­ed in the high degree of orga­ni­za­tion in the black com­mu­ni­ty — orga­ni­za­tion that brought close to 90 per­cent of the eli­gi­ble vot­ers in black wards to the polls, there­by con­tin­u­ing the rever­sal that began last Novem­ber of the tra­di­tion­al pat­tern of low black turnouts. But it was also demon­strat­ed in the alder­man­ic races, which indi­cat­ed that this was not only an effort put a black man in office, but also an attempt to get a new kind of representation.
Machine incum­bents were defeat­ed in five black wards, as was a machine-backed can­di­date in one oth­er ward where there was no incum­bent run­ning. (Machine can­di­dates also lost in three pre­dom­i­nant­ly white wards where Wash­ing­ton aver­aged 13 per­cent of the vote.) The defeat of these machine can­di­dates was a result of the large turnout, which brought vot­ers with more inde­pen­dent ten­den­cies into the elec­torate and has cre­at­ed the poten­tial for a new kind of pol­i­tics in Chicago.
Shift to the left
We have fre­quent­ly argued that the Amer­i­can peo­ple, unlike Euro­peans, do not usu­al­ly vote in large num­bers because they are nor­mal­ly pre­sent­ed with mean­ing­less alter­na­tives. On April 12, the alter­na­tives were real and the turnout was of record pro­por­tions. It was heav­i­est among the blacks who under­stand what they have to gain, but it was also heavy among white eth­nics, espe­cial­ly old­er ones, who mis­tak­en­ly believed that they had a great deal to lose by the elec­tion of a black may­or. On elec­tion night Wash­ing­ton insist­ed that he would do every­thing with­in his pow­er to assuage these fears, which were based on the false idea that Chicago's blacks want more than their fair share of ser­vices and opportunities.
We believe that these fears will dimin­ish as peo­ple see that hav­ing a black may­or will not destroy their neigh­bor­hoods, though just how far Wash­ing­ton can go in neu­tral­iz­ing his white oppo­si­tion depends on how well he can deal with the city's seri­ous prob­lems. It won't be easy, but Wash­ing­ton's strong com­mit­ment to the labor move­ment and to the inter­ests of work­ing peo­ple may enable him to erode racist fears and hos­til­i­ty toward him among work­ing-class ethnics.
But the prob­lems fac­ing Chica­go, like those fac­ing all of the old indus­tri­al cities, are immense, and the resources avail­able for solv­ing these prob­lems are inad­e­quate and shrink­ing. In this con­text, any may­or —con­ser­v­a­tive, lib­er­al or social­ist — must help main­tain or cre­ate a cli­mate attrac­tive to busi­ness. Wash­ing­ton has made it clear that he under­stands this and has indi­cat­ed that he will attempt to do this by elim­i­nat­ing polit­i­cal cor­rup­tion, increas­ing the effi­cien­cy of munic­i­pal work­ers and pro­vid­ing bet­ter edu­ca­tion­al oppor­tu­ni­ties, health care and pub­lic hous­ing and tran­sit — reforms that are in the inter­est of all com­mu­ni­ty groups.
In run­ning any city, the pres­sures to capit­u­late and sub­or­di­nate oth­er inter­ests to those of the busi­ness com­mu­ni­ty are great. And the temp­ta­tion to set­tle for per­son­al aggran­dize­ment, of mon­ey and pow­er, are ever-present. It is here that Wash­ing­ton's base in the black com­mu­ni­ty oper­ates both to give him sup­port in liv­ing up to his best instincts and to pre­vent him from aban­don­ing his prin­ci­ples —or to destroy him if he does. For in cities with a black minor­i­ty, black may­ors are attrac­tive to the busi­ness inter­ests with which they share pow­er only so long as they have the trust and strong sup­port of their elec­toral bases.
The black com­mu­ni­ty in every city is a nat­ur­al left con­stituen­cy. This is true not only for munic­i­pal pol­i­tics, but also nation­al­ly. It explains why the only con­sis­tent­ly left pres­ence in the main­stream of Amer­i­can polit­i­cal life is the Con­gres­sion­al Black Cau­cus — of which Wash­ing­ton has been a mem­ber. Black Cau­cus mem­bers like Wash­ing­ton, John Cony­ers (D‑Mich.) and George Crock­ett (D‑Mich.) —all of whom have over­whelm­ing­ly black dis­tricts — can take left posi­tions on any issue and can pub­licly iden­ti­fy with var­i­ous left orga­ni­za­tions and still count on get­ting upward of 90 per­cent of the vote every two years. Rep. Ronald Del­lums (D‑Calif.) is equal­ly out­spo­ken on the left, but because only some 35 per­cent of his con­stituents are black. That is why Del­lums' dis­trict is not ​"safe." But, like Wash­ing­ton's Chica­go-wide con­stituen­cy, Del­lums base is a suc­cess­ful coali­tion on the left.
If Wash­ing­ton and oth­er black lead­ers through­out the nation are cor­rect in their belief that Chica­go is point­ing the way for a new black pol­i­tics, then there is now also a pos­si­bil­i­ty for a new left politics.
In oth­er words, the left, includ­ing its social­ist wing, can now begin to enter the main­stream of Amer­i­can life along with blacks. For while a ful­ly mobi­lized black com­mu­ni­ty can pro­vide the sol­id core of vic­to­ry, as it did in Chica­go, in many places blacks can be suc­cess­ful only in coali­tion with His­pan­ics, labor and the left.
In short, in an as yet unde­ter­mined num­ber of places, the pos­si­bil­i­ty of a new kind of coali­tion pol­i­tics has emerged — a pol­i­tics based on black lead­er­ship of ful­ly mobi­lized black communities.
Up from theory
In a sense, of course, this is not a new idea. The left — espe­cial­ly the social­ist left —has long talked about coali­tions of labor, blacks, women and oth­ers. But while such coali­tions have fre­quent­ly been assem­bled on paper, and occa­sion­al­ly around demon­stra­tions and protests, they have rarely, if ever, been effec­tive in elect­ing our own peo­ple, either black or white, to office. And then, too, these past left coali­tions have been based, at least in the­o­ry, on labor, with blacks and oth­ers act­ing as sec­ondary allies. But the new real­i­ty is that the coali­tions, if they come into being at all, will be based on mobi­lized black com­mu­ni­ties and, there­fore, will most like­ly be led by blacks.
In Chica­go, we have now seen that such a coali­tion can take office. What we don't know is how much can be accom­plished in the face of the tru­ly for­mi­da­ble obsta­cles imposed by the cur­rent reces­sion and the Rea­gan admin­is­tra­tion cut­backs. Pru­dent­ly, Wash­ing­ton is promis­ing no mir­a­cles. But he is promis­ing, with­in the lim­i­ta­tions imposed upon him by forces over which he has no con­trol, to pro­vide all groups in the com­mu­ni­ty their fair share of the city's resources. That promise alone, if car­ried out, would be a giant step forward.