From Harriet Tubman to Black Panther
An artist speaks on heroism in the Black community.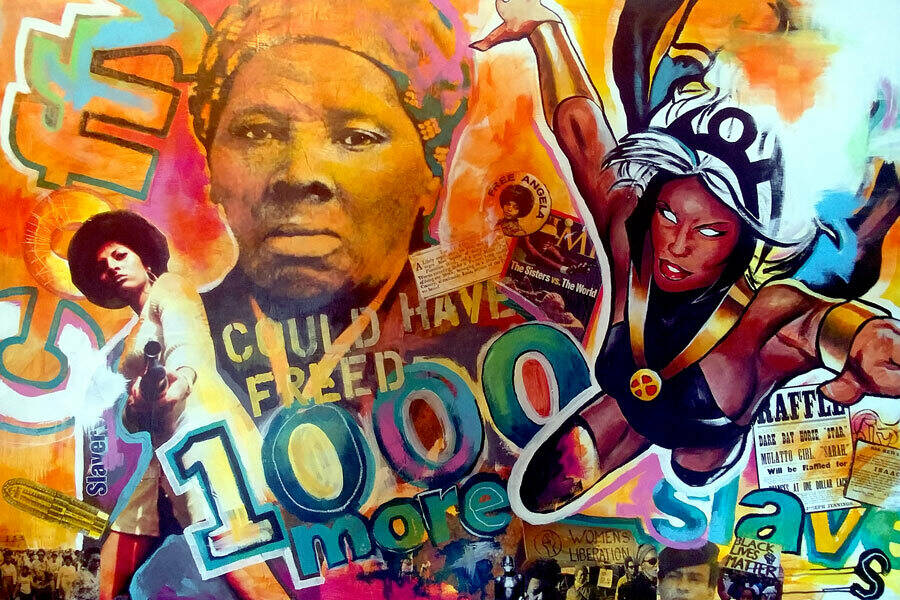 Ray­mond A. Thomas has been work­ing on the art soon to be fea­tured in Hero•ism, an exhib­it at Gallery Guichard on Chicago's South Side, for almost two years. His tim­ing couldn't have been bet­ter, as the new film Black Pan­ther has put Black hero­ism in the spot­light to a degree rarely seen. In These Times spoke to Thomas, for­mer art direc­tor at Ebony and for­mer inter­im art direc­tor at In These Times.
My piece works well with the whole idea of the film and the subtext of African Americans, Africa and armed revolution.
What does ​"hero" mean to you?
For me, a hero is some­one devot­ed to truth, courage and con­vic­tion, and some­one who has a pro­found love for the peo­ple. I tried to speak on hero­ic­ness as a sense of com­mu­ni­ty, peo­ple who strive to bet­ter our situation.
How does gen­der play into your art?
I was raised by strong, pow­er­ful Black women and so the piece, ​"1000 More," is a cel­e­bra­tion of women. They were pow­er­ful lib­er­a­tors as well. Who was more pow­er­ful than Har­ri­et Tub­man, Storm, Pam Gri­er or Angela Davis?
What do you hope view­ers take away from your art?
It's about cel­e­brat­ing the tri­umphs and tears of the African-Amer­i­can expe­ri­ence while also expos­ing the symp­toms and sit­u­a­tions that have per­pet­u­at­ed and con­tin­ue to per­pet­u­ate evil and mis­rep­re­sen­ta­tion. I'm always hop­ing that my art is some­thing that peo­ple can use to revi­su­al­ize them­selves. It's about cre­at­ing some­thing that's against the onslaught of lies and that reaf­firms the human­i­ty of my people.
It's like in Black Pan­ther. A young child, or any­one, can be inspired by that.
My piece works well with the whole idea of the film and the sub­text of African Amer­i­cans, Africa and armed rev­o­lu­tion. I applaud Mar­vel for giv­ing the film­mak­er the lat­i­tude for his craft — the intri­ca­cies of cul­ture, all those nuances and hav­ing women in these pow­er­ful roles. I was amazed that I was watch­ing a Dis­ney film