Hate Bait
The new Andrew Breitbart doc: for the perversely fascinated only.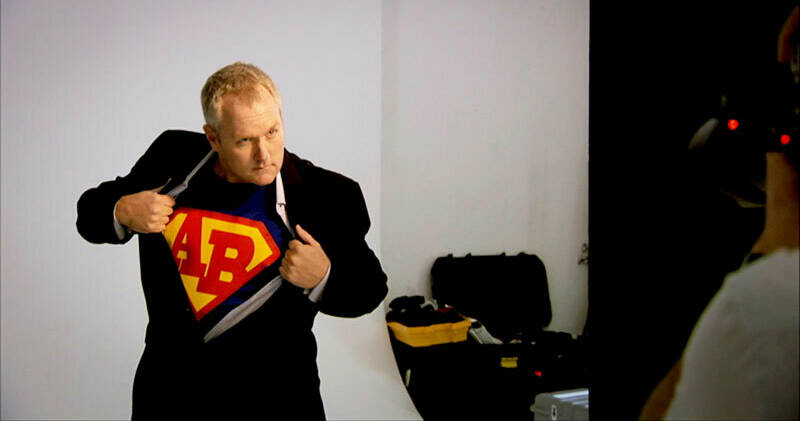 There are five of us in the entire the­ater. That includes my moth­er and my step­fa­ther, whom I dragged to this des­o­late strip mall in Mia­mi, an hour south of my mom's house, on a Sun­day. The Palace 18 is one of a few cin­e­mas in the whole coun­try play­ing Hat­ing Bre­it­bart, a doc­u­men­tary that I felt com­pelled to see because, osten­si­bly, it's about left­ies like me who loathed the right-wing punk, now deceased, for whom the film is named.Though the worn Mia­mi mul­ti­plex is respectable enough, Hat­ing Bre­it­bart is being shown in an audi­to­ri­um with only a few dozen seats, the aisles patched with out­dat­ed pow­der-blue linoleum squares. Unlike the stu­dio fea­tures, which have full-col­or title cards above the the­ater doors, Hat­ing Bre­it­bart is marked by a gener­ic sign spun off of an inkjet.
For all the fluff and fantasy about Breitbart being a vehicle of truth, there is some insight into this callous beast.
When we walk in, two men are chat­ting in their seats. They're Bre­it­bart fanat­ics, wait­ing for their fix like per­verts in a porn the­ater. The tall one is wear­ing an ill-fit­ting grey suit with a flag lapel pin; the short­er schlub, in the next row, has a dat­ed butt-cut hair­do. They just met, but are already trad­ing con­spir­a­cy the­o­ries about Breitbart's demise. The 43-year-old shock pun­dit died from heart fail­ure in March 2012, but some believe that he was rubbed out by free­dom-hat­ing Democ­rats. No joke — Buz­zfeed float­ed a post of ​"25 Peo­ple Who Think Pres­i­dent Oba­ma Killed Andrew Breitbart."
As I'm about to chime in with a mur­der sce­nario involv­ing George Soros in the study with the can­dle­stick, the place goes black, and I'm sud­den­ly look­ing at a quote from Thomas Jef­fer­son that fills the screen: ​"Noth­ing can now be believed which is seen in a news­pa­per." The trope is clas­sic Bre­it­bart; though the fire­brand helped found the Drudge Report and the Huff­in­g­ton Post—as well as his own far-right rhetor­i­cal cir­cus, Bre​it​bart​.com — he preached that all news out­lets were essen­tial­ly evil, and he went to the edge of the earth to expose what he con­sid­ered media bias.
Shot in the two years before its subject's death, Hat­ing Bre­it­bart is geared to round­ly dis­miss charges that he was a sex­ist and big­ot. With no nar­ra­tion or orga­ni­za­tion, direc­tor Andrew Mar­cus does this by lazi­ly inter­spers­ing inter­views — most­ly with those who con­sid­ered Bre­it­bart a deity — among footage from the protagonist's mar­quee don­ny­brooks with such neme­ses as Shirley Sher­rod, a state direc­tor with the Depart­ment of Agri­cul­ture who was forced to resign after Bre­it­bart pub­li­cized a doc­tored tape in which she appeared to dis­par­age white people.
Hat­ing Bre­it­bart will raise con­cerns for any­one who thinks facts are a com­po­nent of doc­u­men­taries. For exam­ple, the movie sees a clear con­ser­v­a­tive vic­to­ry in the take­down of ACORN, the nation­al social jus­tice net­work that was tar­get­ed and then oblit­er­at­ed by Bre­it­bart and his kha­ki-clad video­g­ra­ph­er com­padre James O'Keefe. Pos­ing activist Han­nah Giles as a scant­i­ly clad pros­ti­tute and look­ing for guid­ance on how to smug­gle girls across the bor­der, O'Keefe taped ACORN employ­ees on both coasts giv­ing com­pro­mis­ing advice.
Details are ignored here. There's no men­tion that O'Keefe and Giles have since paid in excess of $100,000 to an ACORN employ­ee whom they mis­rep­re­sent­ed. And despite insin­u­a­tion via Broll that O'Keefe pre­sent­ed him­self like Super Fly, he nev­er actu­al­ly dressed like a pimp inside of ACORN offices.
Baloney aside, one thing that's not over­looked is Giles, whose skimpy getups receive extra­or­di­nary atten­tion from Mar­cus. Any­one who's had dif­fi­cul­ty com­pre­hend­ing the obses­sion right-wing codgers have with the ACORN videos will under­stand some­time between the clip in which Giles strolls at the cam­era with stilet­tos kick­ing high and the alley shot of her pressed against a chain link fence in a miniskirt.
The recur­ring echoes of soft-core smut are uncom­fort­able, giv­en that I'm watch­ing the film with my mom. It doesn't help when Giles strad­dles the screen in one shot, and I turn back to find the Bre­it­bart groupie with the butt-cut grin­ning like a ston­er at Friendly's. The oth­er one — an odd and boney car­i­ca­ture patri­ot — is sim­i­lar­ly creepy.
For all the fluff and fan­ta­sy about Bre­it­bart being a vehi­cle of truth, there is some insight into this cal­lous beast. Though it's well-known that Breitbart's father-in-law was leg­endary Hol­ly­wood con­ser­v­a­tive Orson Bean, inter­views here show the obvi­ous impact that Bean had in turn­ing Bre­it­bart into a flame-spit­ting right-wing enter­tain­er. Per­haps as reveal­ing: Bean's wife, Alley Mills, played the mom on The Won­der Years, the quin­tes­sen­tial tele­vi­sion pro­gram about the hal­cy­on days of apple pie Amer­i­ca that Tea Partiers pine for.
Unless you are one of the geeks who fol­low the par­ti­san blo­gos­phere like a pro­fes­sion­al sport, Hat­ing Bre­it­bart is a waste of time. I'm a nerd for this stuff, but by the one-hour mark I was shov­ing pop­corn in my ears to blunt Breitbart's irk­some into­na­tion, wait­ing for him to croak.
There's been a lot of talk about the col­lapse of Breitbart's empire, and the demise of the Tea Par­ty. I'm not so sure about either; as we've seen in the midst of the so-called IRS scan­dal, right-wing rad­i­cals who feel tar­get­ed by gov­ern­ment forces are back to hold­ing sil­ly signs in pub­lic places. But after view­ing Hat­ing Bre­it­bart in an emp­ty clos­et at the Palace 18 — in the heart of Mar­co Rubio coun­try, no less — I'm cer­tain of one thing: The next Right rev­o­lu­tion won't tran­spire through cinema.