In Minnesota, St. Paul Public Schools Make Indigenous History Part of the Curriculum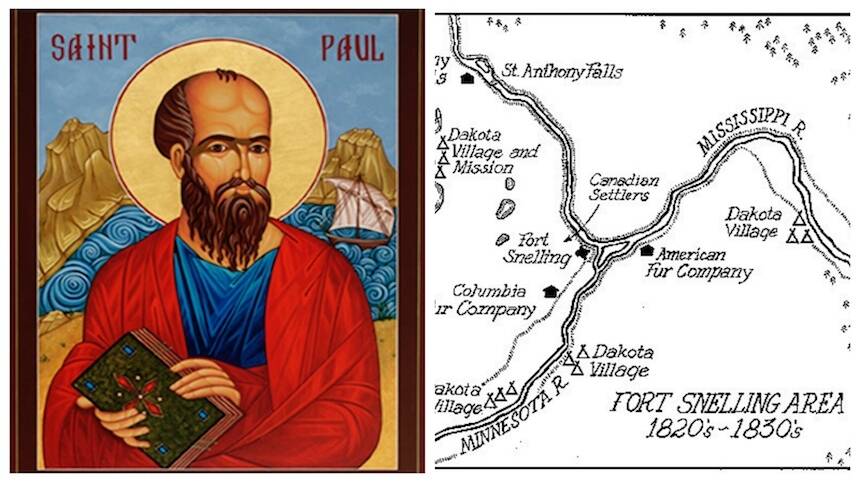 Heal­ing Min­neso­ta Sto­ries (HMS), an ini­tia­tive of the Saint Paul Inter­faith Net­work, works ​"to pro­mote under­stand­ing and heal­ing between Native Amer­i­can and non-Native peo­ple" in the state through the shar­ing of sto­ries.
The HMS web­site puts it this way:
Our start­ing point is an under­stand­ing that Native peo­ple have suf­fered deep trau­ma over many years, los­ing their land, lan­guage and cul­ture, and all who call Min­neso­ta home are the less­er for it. While many peo­ple and insti­tu­tions con­tributed to that trau­ma, it hap­pened with the full par­tic­i­pa­tion of Chris­t­ian church­es. We all still need heal­ing, heal­ing is doable, and church­es have a role to play. We are call­ing our­selves Heal­ing Min­neso­ta Sto­ries because we believe in the heal­ing pow­er of sto­ries. Sto­ries heal because they make invis­i­ble pain visible.
The fol­low­ing HMS post, edit­ed for clar­i­ty, explains how the St. Paul pub­lic school district's Mul­ti­cul­tur­al Resource Cen­ter is adopt­ing a pro­gram in which all fifth grade stu­dents will go on a day-long field trip to six sacred Dako­ta sites in the Twin Cities area.
St. Paul pub­lic schools lead­ing the way in Indi­an edu­ca­tion for all
The state of Mon­tana has a remark­able pro­vi­sion in its Con­sti­tu­tion called ​"Indi­an Edu­ca­tion for All". Passed in 1999, Arti­cle X reads in part:
Recog­ni­tion of Amer­i­can Indi­an cul­tur­al her­itage — leg­isla­tive intent. (1) It is the con­sti­tu­tion­al­ly declared pol­i­cy of this state to rec­og­nize the dis­tinct and unique cul­tur­al her­itage of Amer­i­can Indi­ans and to be com­mit­ted in its edu­ca­tion­al goals to the preser­va­tion of their cul­tur­al heritage.
It would be great if Min­neso­ta had such a Con­sti­tu­tion­al pro­vi­sion, but in the mean­time a round of applause to the St. Paul Pub­lic Schools' Mul­ti­cul­tur­al Resource Cen­ter (MRC) for its efforts to teach all chil­dren in St. Paul about our state's Native peo­ples, par­tic­u­lar­ly the Dakota.
The state stan­dards for fifth grade social stud­ies include a require­ment to teach stu­dents about indige­nous nations before Euro­pean con­tact. Sher­ry Kempf, out­reach coor­di­na­tor for the MRC, says social stud­ies text­books do that through teach­ing about the Aztecs and the Mayans. ​"It over­looks the fact that we had an indige­nous nation right here before Euro­pean con­tact," she says. (Full dis­clo­sure: Kempf is the sis­ter-in-law of In These Times Edi­tor and Pub­lish­er Joel Bleifuss.).
Kempf and oth­ers have worked to change the cur­ricu­lum, focus­ing on our local his­to­ry. It start­ed in 2011 when Kempf's super­vi­sor asked her to design a field trip based on the Bdote Mem­o­ry Map, which iden­ti­fies sig­nif­i­cant and sacred places to the Dako­ta peo­ple near the con­flu­ence of the Mis­sis­sip­pi and Min­neso­ta Rivers. (The map was cre­at­ed by Mona Smith in coop­er­a­tion with the Min­neso­ta Human­i­ties Cen­ter. The term ​"Bdote" means con­flu­ence in Dakota.)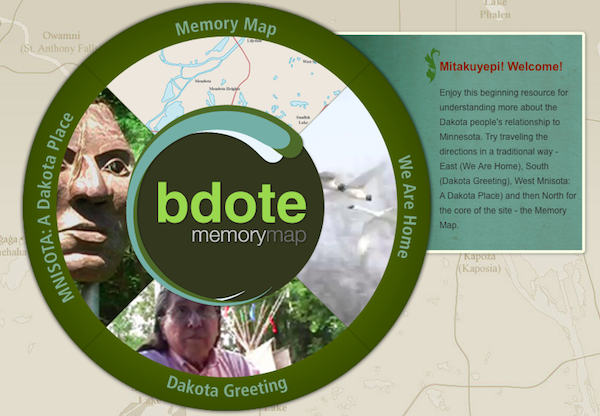 (Image: Bdote​mem​o​rymap​.org)
The field trip includes stops at Cold­wa­ter Springs, Oheyawahi (Pilot Knob Hill), a tra­di­tion­al Dako­ta bur­ial site, Indi­an Mounds Park, Wakan Tipi (Carver's Cave), Fort Snelling, and Fort Snelling State Park (the site of the 1862 – 63 con­cen­tra­tion camp where Dako­ta women and chil­dren were held after the Dakota‑U.S. War of 1862).
For the first cou­ple of years, Kempf adver­tised the field trip in a newslet­ter and teach­ers would sign up on a vol­un­teer basis. The dis­trict had about eight field trips in two years.
Then the project start­ed get­ting more for­mal. Kempf worked with Rebec­ca Biel, the district's social stud­ies coor­di­na­tor. They cre­at­ed a plan to take fifth-grade teach­ers on the day-long field trip so they in turn could lead a field trip for their stu­dents. Ramona State­ly and Ethan Neer­daels (both Dako­ta) lead the field trips to teach the teach­ers. The district's Office of Indi­an Edu­ca­tion helped devel­op class­room cur­ricu­lum to sup­port the project.
St. Paul has 40 ele­men­tary schools. The goal was to work with eight schools a year over five years. They are now on year four. The goal is to have every fifth grade stu­dent par­tic­i­pate in this day-long trip about Dako­ta sacred sites. There are now spe­cif­ic les­son plans for teach­ers to use in advance of the field trips.
Kempf used to have to raise mon­ey to pay for trans­porta­tion costs. This year, the St. Paul schools Social Stud­ies Depart­ment agreed to pay for trans­porta­tion. ​"That was a big shift in sus­tain­abil­i­ty," Kempf said. ​"The dis­trict is say­ing, ​'This is a real pro­gram. We are going to cov­er it.' That has been a great success."
("St. Paul Pub­lic Schools Lead­ing the Way in Indi­an Edu­ca­tion for All" is repost­ed on Rur­al Amer­i­ca In These Times with per­mis­sion from Heal­ing Min­neso­ta Sto­ries.)
[If you like what you've read, help us spread the word. ​

"

Like" Rur­al Amer­i­ca In These Times on Face­book. Click on the ​

"

Like Page" but­ton below the bear on the upper right of your screen. Also, fol­low RAITT on Twit­ter @RuralAmericaITT]
Scott Rus­sell
is a vol­un­teer and the main writer for Heal­ing Min­neso­ta Sto­ries — a blog cre­at­ed to pro­mote under­stand­ing and heal­ing between Native Amer­i­can and non-Native peo­ple, par­tic­u­lar­ly those in var­i­ous faith com­mu­ni­ties. He can be reached at scottrussell@​usfamily.​net