Heal­ing Min­neso­ta Sto­ries has writ­ten at length about the art in the Min­neso­ta State Capi­tol and its stereo­typed and offen­sive rep­re­sen­ta­tions of Native peo­ples. We have also writ­ten about our art project that teach­es stu­dents about Capi­tol art and chal­lenges them to cre­ate their own alter­na­tive. Art teacher Rachel Latuff took the lead in cre­at­ing this pro­gram and it has now been repli­cat­ed in more than a half dozen schools.
Now, St. Paul Pub­lic Schools' Mul­ti­cul­tur­al Resource Cen­ter (MRC) is repli­cat­ing the project dis­trictwide. It is the most ambi­tious project yet, and we are very grate­ful for the partnership.
Sher­ry Kempf, out­reach coor­di­na­tor for the MRC, explains that going back to the 1960s, the dis­trict had an African Amer­i­can Resource Cen­ter, an Asian Resource Cen­ter, a Lati­no Resource Cen­ter, all locat­ed in dif­fer­ent areas. The MRC was cre­at­ed in 1995 to bring these dif­fer­ent pro­grams under one roof.
"Our empha­sis has always been around cul­tur­al com­pe­tence," she says. ​"But as the need for racial equi­ty has grown in the dis­trict … we have shift­ed our empha­sis more to equi­ty, specif­i­cal­ly racial equi­ty and gen­der equi­ty, and how cul­tur­al com­pe­tence fits with­in equity."
The Cen­ter has a beau­ti­ful space in the Wash­ing­ton Tech­nol­o­gy Mag­net School. Until recent­ly, it has dec­o­rat­ed the walls with arti­facts it had in its col­lec­tion, some of which were acquired back in the 1960s. The MRC is now shift­ing its empha­sis to teach more about con­tem­po­rary cultures.
"It was easy to focus on the tra­di­tion­al aspects of cul­tures, because that is most of what we have in our col­lec­tion," says Kempf. ​"And that can rein­force stereotypes."
The Heal­ing Min­neso­ta Sto­ries stu­dent art project was a good way to piv­ot to focus on con­tem­po­rary cul­ture. The MRC has hung Heal­ing Min­neso­ta Sto­ries trav­el­ing art exhib­it in its space.
"So what this has allowed us to do is real­ly put the arti­facts away and fill our space with cur­rent cul­tur­al rep­re­sen­ta­tions through the art­work," says Kempf.
The MRC had an open­ing recep­tion Nov. 3. It will hold addi­tion­al show­ings on Feb. 9 and April 24. Those will fea­ture more art by St. Paul stu­dents. Dako­ta artist and his­to­ri­an Gwen West­er­man will speak at the Feb. 9 event. She and oth­er pro­fes­sion­al artists also have con­tributed art­work to dis­play at the MRC.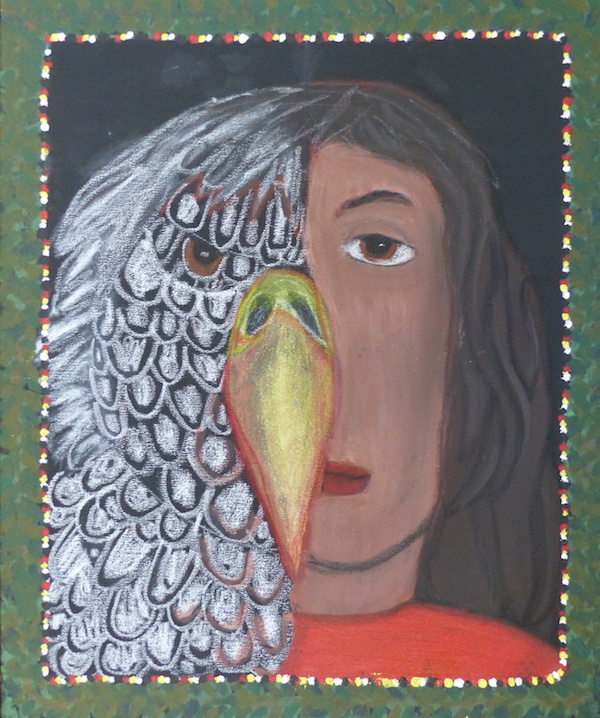 Eagle Woman (2015) by Ari­ana, Osh­ki Ogi­maag Com­mu­ni­ty School in Grand Portage as part of the Capi­tol Art Project. (Image: Heal­ing Min­neso­ta Stories)
The MRC staff has pre­sent­ed the art project to all of the district's art teach­ers, 30 high school social stud­ies teach­ers, lit­er­a­cy teach­ers, as well as the Hmong Youth Sum­mit. (Here is a link to the resource page that the MRC has devel­oped for teachers.)
So far, three teach­ers (cov­er­ing 12 class­es) have indi­cat­ed inter­est in par­tic­i­pat­ing and more are expect­ed. As St. Paul stu­dents start devel­op­ing their own art, it will rotate into the MRC's display.
Among the atten­dees at the Nov. 3 Open House was State Rep. Shel­don John­son (DFL-St. Paul). Kempf says John­son was inter­est­ed in hav­ing St. Paul stu­dent art dis­played at his office. ​"We brought four pieces to his office last week," says Kempf. John­son and his aides ​"have been talk­ing to oth­er rep­re­sen­ta­tives, too. He was real­ly excit­ed. They are going to find places to hang up those pieces once the ses­sion begins."
Anoth­er excit­ing oppor­tu­ni­ty is to cre­ate a space in the Capi­tol for a rotat­ing stu­dent art exhib­it. The state Capi­tol is going through a major ren­o­va­tion, and it is cre­at­ing space for new art. Kempf says she envi­sions using the St. Paul stu­dent art to push for­ward the idea of stu­dent art in the Capitol.
St. Paul Pub­lic Schools is open­ing the project to oth­er dis­tricts that want to par­tic­i­pate. Inter­est­ed? Email Kempf and Alyse Burn­side, the MRC's pro­gram assis­tant, at mrc@​spps.​org.
As for the district's his­toric arti­facts, Burn­side said they have been talk­ing about review­ing them with com­mu­ni­ty lead­ers to see if they are authen­tic or ​"Hol­ly­wood." One idea would be to cre­ate a dis­play that cri­tiques the items in the district's cur­rent collection.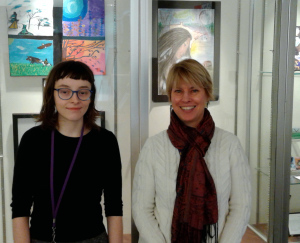 Alyse Burn­side and Sher­ry Kempf of St. Paul Schools Mul­ti­cul­tur­al Resource Cen­ter in front of dis­play of stu­dent-pro­duced alter­na­tive Capi­tol art. (Pho­to: Heal­ing Min­neso­ta Stories)
("St. Paul Pub­lic Schools Lead­ing the Way in Indi­an Edu­ca­tion for All" is repost­ed on Rur­al Amer­i­ca In These Times with per­mis­sion from Heal­ing Min­neso­ta Sto­ries.)
[If you like what you've read, help us spread the word. ​

"

Like" Rur­al Amer­i­ca In These Times on Face­book. Click on the ​

"

Like Page" but­ton below the bear on the upper right of your screen. Also, fol­low RAITT on Twit­ter @RuralAmericaITT]