In Minnesota, St. Paul Public Schools Make Indigenous History Part of the Curriculum (Part II)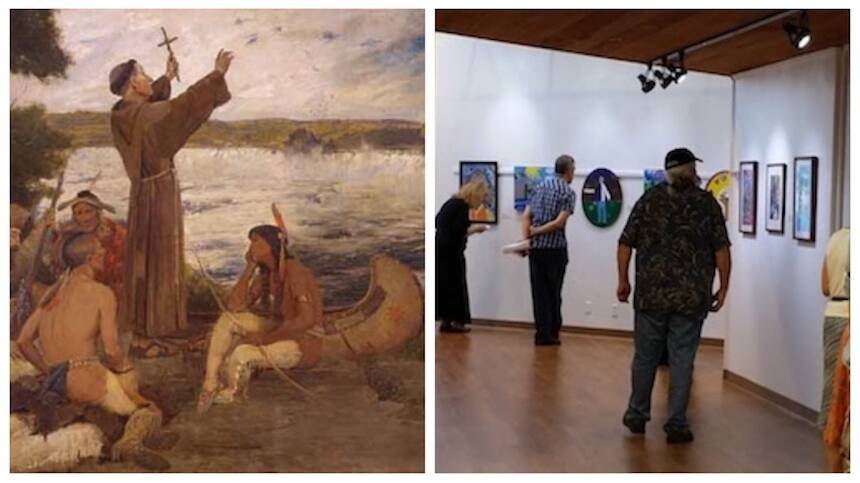 Healing Minnesota Stories has written at length about the art in the Minnesota State Capitol and its stereotyped and offensive representations of Native peoples. We have also written about our art project that teaches students about Capitol art and challenges them to create their own alternative. Art teacher Rachel Latuff took the lead in creating this program and it has now been replicated in more than a half dozen schools.
Now, St. Paul Public Schools' Multicultural Resource Center (MRC) is replicating the project districtwide. It is the most ambitious project yet, and we are very grateful for the partnership.
Sherry Kempf, outreach coordinator for the MRC, explains that going back to the 1960s, the district had an African American Resource Center, an Asian Resource Center, a Latino Resource Center, all located in different areas. The MRC was created in 1995 to bring these different programs under one roof.
"Our emphasis has always been around cultural competence," she says. ​"But as the need for racial equity has grown in the district … we have shifted our emphasis more to equity, specifically racial equity and gender equity, and how cultural competence fits within equity."
The Center has a beautiful space in the Washington Technology Magnet School. Until recently, it has decorated the walls with artifacts it had in its collection, some of which were acquired back in the 1960s. The MRC is now shifting its emphasis to teach more about contemporary cultures.
"It was easy to focus on the traditional aspects of cultures, because that is most of what we have in our collection," says Kempf. ​"And that can reinforce stereotypes."
The Healing Minnesota Stories student art project was a good way to pivot to focus on contemporary culture. The MRC has hung Healing Minnesota Stories traveling art exhibit in its space.
"So what this has allowed us to do is really put the artifacts away and fill our space with current cultural representations through the artwork," says Kempf.
The MRC had an opening reception Nov. 3. It will hold additional showings on Feb. 9 and April 24. Those will feature more art by St. Paul students. Dakota artist and historian Gwen Westerman will speak at the Feb. 9 event. She and other professional artists also have contributed artwork to display at the MRC.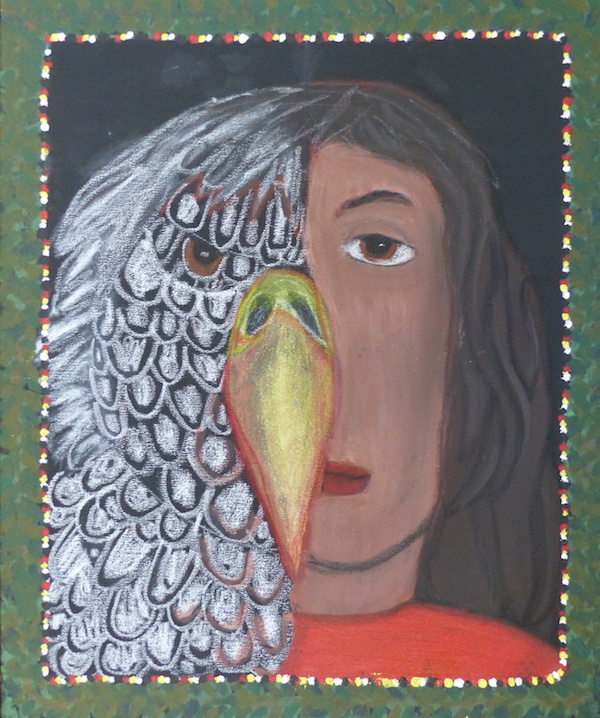 Eagle Woman (2015) by Ariana, Oshki Ogimaag Community School in Grand Portage as part of the Capitol Art Project. (Image: Healing Minnesota Stories)
The MRC staff has presented the art project to all of the district's art teachers, 30 high school social studies teachers, literacy teachers, as well as the Hmong Youth Summit. (Here is a link to the resource page that the MRC has developed for teachers.)
So far, three teachers (covering 12 classes) have indicated interest in participating and more are expected. As St. Paul students start developing their own art, it will rotate into the MRC's display.
Among the attendees at the Nov. 3 Open House was State Rep. Sheldon Johnson (DFL-St. Paul). Kempf says Johnson was interested in having St. Paul student art displayed at his office. ​"We brought four pieces to his office last week," says Kempf. Johnson and his aides ​"have been talking to other representatives, too. He was really excited. They are going to find places to hang up those pieces once the session begins."
Another exciting opportunity is to create a space in the Capitol for a rotating student art exhibit. The state Capitol is going through a major renovation, and it is creating space for new art. Kempf says she envisions using the St. Paul student art to push forward the idea of student art in the Capitol.
St. Paul Public Schools is opening the project to other districts that want to participate. Interested? Email Kempf and Alyse Burnside, the MRC's program assistant, at mrc@​spps.​org.
As for the district's historic artifacts, Burnside said they have been talking about reviewing them with community leaders to see if they are authentic or ​"Hollywood." One idea would be to create a display that critiques the items in the district's current collection.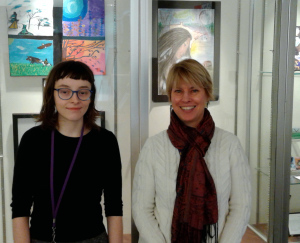 Alyse Burnside and Sherry Kempf of St. Paul Schools Multicultural Resource Center in front of display of student-produced alternative Capitol art. (Photo: Healing Minnesota Stories)
("St. Paul Public Schools Leading the Way in Indian Education for All" is reposted on Rural America In These Times with permission from Healing Minnesota Stories.)
[If you like what you've read, help us spread the word. ​

"

Like" Rural America In These Times on Facebook. Click on the ​

"

Like Page" button below the bear on the upper right of your screen. Also, follow RAITT on Twitter @RuralAmericaITT]
Be one of the first
Help kick off the new era of In These Times! Without a media that brings people together and creates a written record of the struggles of workers, their voices will be fragmented and forgotten.
The mission of In These Times is to be that written record, and to guide and grow those movements.
We have a lot of work ahead of us, and that work starts today. Early support is the most valuable support, and that's why we're asking you to pitch in now. If you are excited for this new era of In These Times, please make a donation today.
Scott Russell
is a volunteer and the main writer for Healing Minnesota Stories — a blog created to promote understanding and healing between Native American and non-Native people, particularly those in various faith communities. He can be reached at scottrussell@​usfamily.​net