Helen Thomas: First and Foremost
The White House reporter smashed the glass ceiling for women and set the bar for tenacity.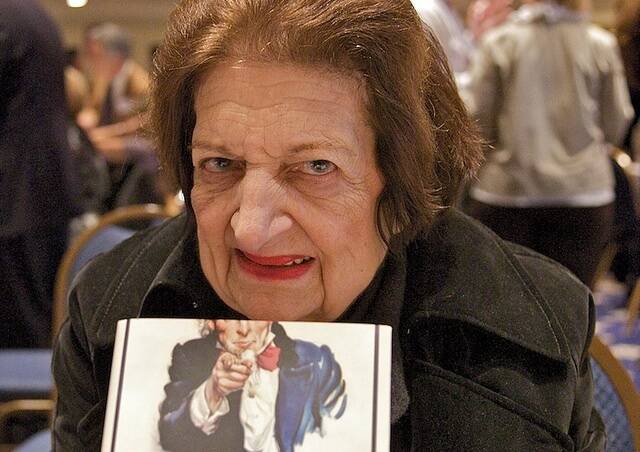 It's prob­a­bly impos­si­ble to name a jour­nal­ist who worked hard­er, or longer, to earn her place in the his­to­ry of the pro­fes­sion than Helen Thomas. The vet­er­an White House cor­re­spon­dent — and opin­ion colum­nist, and author, and one-time pres­i­dent of the White House Cor­re­spon­dents' Asso­ci­a­tion — began her career in the 1940s, and con­tin­ued work­ing until her death on July 20, 2013, just a few weeks shy of her 93rd birth­day. Her col­leagues report that over the course of cov­er­ing ten pres­i­den­tial admin­is­tra­tions, she did not take vaca­tions. She did not appear to wor­ry about ​"work-life bal­ance:" She lived to work, mar­ried at the age of 51 and had no chil­dren. And she was nev­er, ever late, tired or dis­en­gaged: For as long as she worked the White House, Helen Thomas was always, famous­ly, the first per­son to arrive at work and one of the last to leave.
She had the one talent that every woman in the public eye needs, and which most of us never completely acquire: the rare, invaluable gift of being entirely comfortable with other people's anger.
It was a les­son she may have learned in the ear­ly days of her career, as a radio news writer dur­ing World War II. With so many men either enlist­ing or being draft­ed, there was unprece­dent­ed oppor­tu­ni­ty for women to advance in jour­nal­ism. But for most of them, that oppor­tu­ni­ty end­ed when the war did.
​"I worked for UPI," Thomas told VICE Mag­a­zine, ​"and eight women reporters in our office who had been cov­er­ing the State Depart­ment, the Pen­ta­gon and so forth, were fired on the basis that these young men that had gone off to war, and usu­al­ly had a col­lege edu­ca­tion, now want­ed to come back to their $24-a-week job."
The only chance for these women, Thomas said, was that the return­ing men might ask for too much mon­ey; thus, some female reporters regained their jobs sim­ply because, being less empow­ered to nego­ti­ate, they were also cheap­er. Not so Thomas, who held on to her job through a dif­fer­ent expe­di­en­cy: She just hap­pened to work one of the com­pa­ny's least desir­able shifts.
​"I had to get up at 5:30 in the morn­ing," she told VICE, ​"so nobody want­ed my job."
And for the rest of her work­ing life, any reporter who shared Helen Thomas's beat, no mat­ter how ear­ly he or she arrived on the scene, would find that Thomas had wok­en up ear­li­er and got­ten there first.
Her resume, in fact, is a list of firsts. She was the first woman in the Grid­iron Club, the first woman to head the White House Cor­re­spon­dents' Asso­ci­a­tion, and one of the pro­tes­tors who suc­cess­ful­ly defied the ban on female jour­nal­ists attend­ing the White House Cor­re­spon­dents' din­ner: She assem­bled a group of female reporters to tell Pres­i­dent Kennedy that, if actu­al Cor­re­spon­dents weren't allowed to attend, nei­ther should he. She was one of the first women to sit in the White House press room — she worked her way in through her assigned ​"wom­an's angle," which large­ly meant cov­er­ing glam­orous Jack­ie — and she was present at the first press con­fer­ence broad­cast to TV. For near­ly as long as we've been able to watch the pres­i­dent answer press ques­tions in real time, Thomas has been ask­ing the ques­tions. She seems not to have ​"cracked" glass ceil­ings so much as bull­dozed through them; she believed that a reporter sim­ply had to be present, to locate her­self where the news was hap­pen­ing, and woe befall any­one who thought gen­der could or should inter­fere with Helen Thomas get­ting to work in the morning.
This was actu­al­ly one of the qui­eter, more polite demon­stra­tions of the steel that ran through Thomas's char­ac­ter — more sharply man­i­fest­ed by her utter refusal, at all times, to play the polite and accom­mo­dat­ing role demand­ed of her by con­ven­tion­al fem­i­nin­i­ty. As a reporter, Thomas's range ran from ​"uncom­pro­mis­ing" to ​"com­bat­ive." She asked uncom­fort­able and incon­ve­nient ques­tions, and that was when she liked you. When she did­n't, or if she thought you were feed­ing her a line of bull­shit, she could go after you for min­utes at a time, inter­rupt­ing, push­ing, con­tra­dict­ing and flat-out refus­ing to shut up or stand down until she'd got­ten the on-record answer she believed the pub­lic ought to hear.
This ten­den­cy fright­ened peo­ple. George W. Bush, in par­tic­u­lar, appeared to regard Thomas as an active threat, mov­ing her to the back row of the room dur­ing his press con­fer­ences (she had spent decades at the front) and refus­ing to call upon her for three years. When Bush did final­ly deign to acknowl­edge her pres­ence, her very first ques­tion went as fol­lows: ​"Mr. Pres­i­dent, your deci­sion to invade Iraq has caused the deaths of thou­sands of Amer­i­cans and Iraqis, wounds of Amer­i­cans and Iraqis for a life­time. Every rea­son giv­en, pub­licly at least, has turned out not to be true. My ques­tion is: Why did you real­ly want to go to war?"
One begins to under­stand why Helen Thomas had ene­mies. Even her sup­port­ers called her ​"demand­ing;" her crit­ics called her an ​"old bag," a ​"thes­pi­an car­bun­cle of bile," and ​"the embod­i­ment of … every­thing vit­ri­olic and assertive." At one point, Bill O'Reil­ly said that he'd like to ​"lay her out." (Although he clar­i­fied that he meant shout­ing, rather than phys­i­cal vio­lence, the not-implau­si­ble specter of O'Reil­ly deck­ing an octo­ge­nar­i­an wid­ow for dis­agree­ing with him con­tin­ued to linger.)
Not that Thomas mind­ed; try­ing to shame her into silence was like try­ing to dis­suade a griz­zly bear from eat­ing you by hand­ing it a book on table man­ners. She had the one tal­ent that every woman in the pub­lic eye needs, and which most of us nev­er com­plete­ly acquire: the rare, invalu­able gift of being entire­ly com­fort­able with oth­er peo­ple's anger. All Pres­i­dents hat­ed reporters, she'd say; and, at any rate, ​"we don't go into jour­nal­ism to be popular."
So she not only took her pre-exist­ing ene­mies more or less in stride, she seem­ing­ly nev­er feared to make more. She was as fierce­ly crit­i­cal of her fel­low White House jour­nal­ists as she was of their mutu­al sub­ject, at one point releas­ing a book that more or less blamed the press for the war in Iraq.
But, although she was fear­less about mak­ing ene­mies, she was fool­ish about defend­ing her­self. Thomas approached her tar­gets head-on, with guns blaz­ing, her inten­tions vis­i­ble from a mile away; she seems to have assumed that her detrac­tors would do her the same cour­tesy, and was shocked when they did­n't oblige. In one instance, a fan approached Thomas for an auto­graph, and asked her why she looked sad; she said, off-hand and off-record, that she was cov­er­ing ​"the worst pres­i­dent in Amer­i­can his­to­ry." That fan turned out to be an aspir­ing reporter, who prompt­ly pub­lished her off-record com­ment and caused a media controversy.
​"I was flat­tered [by the request for an auto­graph]," Thomas told Ms. mag­a­zine. She added: ​"I thought I was talk­ing to my new best friend. … Sud­den­ly, I was in the wilderness."
Dur­ing and after the Bush admin­is­tra­tion, there was a mas­sive con­ser­v­a­tive appetite for a final, fatal take­down of Helen Thomas. Yet Thomas seemed not to get smarter about the ill will aimed at her, ulti­mate­ly throw­ing her detrac­tors sev­er­al tons of red meat when she said (in anoth­er off-record com­ment) that ​"Jews should get the hell out of Pales­tine." Though Thomas had nev­er been shy about crit­i­ciz­ing Israel, her com­ments in this instance were harsh — and she refused to back down from them, spi­ral­ing out into a series of bizarre rants about how Zion­ists con­trolled every­thing, which made her appear increas­ing­ly para­noid and anti-Semitic.
All of which was a great favor to the con­ser­v­a­tive com­men­ta­tors and Bush defend­ers — who are, it hard­ly needs to be not­ed, not gleam­ing bas­tions of tol­er­ance them­selves— who had been attempt­ing to dis­cred­it Thomas for years. And a woman who'd spent a decade (at least) telling her fel­low jour­nal­ists that they were doing a shod­dy job had no right to be sur­prised when her own screw-ups became a media sen­sa­tion. Helen Thomas's 70-year career as a White House reporter end­ed with Thomas resign­ing in disgrace.
She kept work­ing. Helen Thomas, the woman who kept her job because she had to wake up ear­li­er than the men, nev­er actu­al­ly stopped work­ing; she sim­ply trans­ferred her efforts into writ­ing op-ed columns for Hearst, a move she described as liberating.
It's fool­ish, prob­a­bly, to attempt a neat sum­ma­ry of a career as long and wide-rang­ing as Thomas' or to iden­ti­fy the one place where she's been ​"most" influ­en­tial. But it seems, to me any­way, that her last­ing lega­cy with­in jour­nal­ism lies in two things: First, she was a woman, and a reporter, in an age where female jour­nal­ists were the excep­tion. Sec­ond, she was fierce, blunt, opin­ion­at­ed, more than a lit­tle scary at a time when jour­nal­ism was still pre­tend­ing to be strict­ly ​"objec­tive." The fig­ure she cut man­aged to pre­fig­ure the role that female op-ed writ­ers, and fem­i­nist blog­gers of every stripe, are claim­ing for them­selves today. We are all the woman stand­ing up in a hos­tile room, ask­ing tough ques­tions. What Thomas did — and what her lega­cy will con­tin­ue to do — was to show us that hav­ing those tough ques­tions, that eter­nal desire to get truth from pow­er even when it meant being ​"impo­lite," has always been a role that women are capa­ble of play­ing, and a nec­es­sary one.