Tak­ing can­dy from a baby: A con­sor­tium of Chi­nese and Amer­i­can com­pa­nies goes to Wash­ing­ton and announces plans to build a $1.5 bil­lion wind­mill farm in West Texas using $450 mil­lion in U.S. Stim­u­lus funds, which will cre­ate 2,330 jobs – 2,000 of them in China.
The baby – Wash­ing­ton — doesn't cry or whine or spit in the consortium's face. That's what's real­ly wrong with this story.
So accus­tomed to being bought and sold, Wash­ing­ton sim­ply begins pro­cess­ing forms so it can hand over your tax dol­lars to cre­ate jobs in a tur­bine fac­to­ry in the city of Shenyang, Chi­na at a sub­sidy of $193,133 each.
It's like these bureau­crats live in Won­der­land. Or an Amer­i­ca where the unem­ploy­ment rate isn't 10.2 per­cent. Or where 40,000 Amer­i­can man­u­fac­tur­ing facil­i­ties didn't dis­ap­pear in the past decade. Or where banks didn't repos­sess near­ly a quar­ter mil­lion Amer­i­can homes in the past three months.
We've got a mes­sage for Wash­ing­ton: Hell no! We're not giv­ing tax dol­lars to Chi­na. What's wrong with these busi­ness­es and our gov­ern­ment? It is the $787 bil­lion Amer­i­can Recov­ery and Rein­vest­ment Act of 2009. It's not the Chi­nese Recov­ery and Rein­vest­ment Act.
It's bad enough that we've off-shored our fac­to­ries and tech­nol­o­gy and jobs over the past 20 years. We're not off-shoring our Stim­u­lus cash too. In fact, we're tired of serv­ing as the school­yard wimp of the world. We need our own indus­tri­al pol­i­cy so we can stand up and com­pete in the world mar­ket man­u­fac­tur­ing the likes of wind tur­bines. And we need it now.
Chi­na has an indus­tri­al pol­i­cy. And it uses that pol­i­cy to dom­i­nate. Here is how Kei­th Brad­sh­er of the New York Times described China's pol­i­cy to become a world leader in renew­able ener­gy, which of course, would include con­struc­tion of wind tur­bine factories:
"Call­ing renew­able ener­gy a strate­gic indus­try, Chi­na is try­ing hard to make sure that its com­pa­nies dom­i­nate glob­al­ly. Just as Japan and South Korea made it hard for Detroit automak­ers to com­pete in those coun­tries – giv­ing their own automak­ers time to amass economies of scale in shel­tered domes­tic mar­kets – Chi­na is shield­ing its clean ener­gy sec­tor while it grows to a point where it can take on the world."
Chi­na pro­tects its cho­sen indus­tries in many ways. It pro­vides low inter­est loans, some of which don't have to be repaid. It may give free land on which to con­struct build­ings. And there are oth­er perks that Brad­sh­er described:
"When the Chi­nese gov­ern­ment took bids this spring for 25 large con­tracts to sup­ply wind tur­bines, every con­tract was won by one of sev­en domes­tic com­pa­nies. All six multi­na­tion­als that sub­mit­ted bids were dis­qual­i­fied on var­i­ous tech­ni­cal grounds, like not pro­vid­ing suf­fi­cient­ly detailed data… even as Chi­nese com­pa­nies that had nev­er built a tur­bine were approved…"
Lat­er, Brad­sh­er describes Euro­pean dis­gust at the Chi­nese treatment:
"Euro­pean wind tur­bine mak­ers have stopped even bid­ding for some Chi­nese con­tracts after con­clud­ing that their bids would not be seri­ous­ly con­sid­ered, said Jorg Wut­tke, the pres­i­dent of the Euro­pean Union Cham­ber of Com­merce in China."
Chi­na has a pol­i­cy. It ruth­less­ly pro­tects its own industries.
Chi­na was among the many coun­tries that com­plained bit­ter­ly when the U.S. includ­ed ​"Buy Amer­i­can" pro­vi­sions in the Stim­u­lus Bill. In fact, Vice Com­merce Min­is­ter Jiang Zeng­wei told a press con­fer­ence in Bei­jing in Feb­ru­ary that Chi­na would not do such a thing, ​"We won't prac­tice a ​'Buy Chi­na' pol­i­cy," he said. Four months lat­er, that's exact­ly what Chi­na did, insti­tut­ing its own, stricter ​"Buy Chi­na" pol­i­cy as part of its eco­nom­ic stim­u­lus program.
Chi­na did what Chi­na felt was nec­es­sary for its econ­o­my. And it ignored for­eign criticism.
That's hard­ly the U.S. tac­tic. Wilt­ing under crit­i­cism, Con­gress dimin­ished the Buy Amer­i­can pro­vi­sions before pass­ing the Stimulus.
As a result, we've got a con­sor­tium — U.S. Renew­able Ener­gy Group, Cielo Wind Pow­er and A‑Power Ener­gy Gen­er­a­tion Sys­tems – so bold that it believes it can get near­ly half a bil­lion dol­lars in Amer­i­can Stim­u­lus mon­ey for 2,000 Chi­nese wind tur­bine jobs. The con­sor­tium says it would import 240 Chi­nese tur­bines to Texas where 300 tem­po­rary con­struc­tion jobs would be cre­at­ed and anoth­er 30 per­ma­nent jobs established.
The wind tur­bines could eas­i­ly be made in the USA. Brad­sh­er, of the Times, says the Chi­nese con­cede that while their tur­bines cost slight­ly less ini­tial­ly, they have high­er repair costs. He wrote, ​"Unit­ed Nations data from trad­ing of car­bon cred­its shows that the Chi­nese-brand tur­bines pro­duce less elec­tric­i­ty because they are more fre­quent­ly out of action."
Real­ly, is that what we want to buy with Amer­i­can tax dol­lars for a wind farm in West Texas?
If the Unit­ed States put half the effort into sup­port­ing its renew­able ener­gy indus­try that Chi­na does, there'd be no way this con­sor­tium build­ing wind­mills in Texas would be look­ing over­seas for turbines.
Chi­na has a plan. In its strat­e­gy, it doesn't con­sid­er Amer­i­ca first or the remain­der of the world first. And that's what the USA must do. We need an indus­tri­al pol­i­cy that makes no apolo­gies for putting Amer­i­ca and Amer­i­can work­ers first. And when that's the cal­cu­lus, no Amer­i­can offi­cial would ever coun­te­nance a request to give $450 mil­lion in Amer­i­can tax­pay­ers' dol­lars to a tur­bine fac­to­ry in Chi­na. And no Amer­i­can con­sor­tium would con­sid­er mak­ing such a stu­pid request.
In the mean­time: Hell no! They don't get our dough!
This arti­cle orig­i­nal­ly appeared at the USW Blog.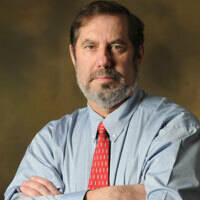 Leo Ger­ard is inter­na­tion­al pres­i­dent of the Unit­ed Steel­work­ers Union, part of the AFL-CIO. The son of a union min­er; Ger­ard start­ed work­ing at a nick­el smelter in Sud­bury, Ontario, at age
18
, and rose through the union's ranks to be appoint­ed the sev­enth inter­na­tion­al pres­i­dent Feb.
28
,
2001
. For more infor­ma­tion about Ger­ard, vis­it
usw​.org
.