Lessons From The Single-Payer State
How to spread Vermont's human-rights victory throughout the country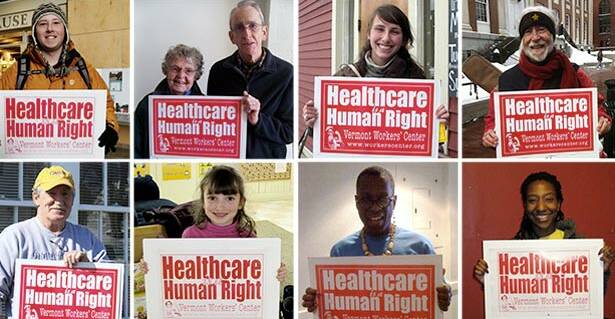 BURLING­TON, VT. – On May 26, 2011, as we watched Ver­mont Gov. Peter Shum­lin (D) sign ​"Act 48: Relat­ing to a Uni­ver­sal and Uni­fied Health Sys­tem" into law – which sets Ver­mont on course to become the first U.S. state to have a uni­ver­sal health­care sys­tem – we were struck by how far we had come. Only three years before, when the Ver­mont Work­ers' Cen­ter launched the Health­care Is A Human Right cam­paign, we were told by almost every­one that this couldn't hap­pen. Yet even as our dream takes shape, we real­ize more bat­tles lie ahead. With deep-pock­et­ed and well-con­nect­ed foes plot­ting to defeat our people's move­ment, we must scale up our grass­roots orga­niz­ing to build a broad­er move­ment for social and eco­nom­ic rights. We must keep build­ing to estab­lish real democracy.
Just as the uprisings in Wisconsin redefined what defensive struggles look like and ignited similar efforts around the country, Vermont's single-payer example shows how to build a proactive people's movement that can change the political landscape.
Our ulti­mate suc­cess depends on Ver­mont becom­ing a cat­a­lyst for vic­to­ries else­where. Just as the upris­ings in Wis­con­sin rede­fined what defen­sive strug­gles look like and ignit­ed sim­i­lar efforts around the coun­try, Vermont's sin­gle-pay­er exam­ple shows how to build a proac­tive people's move­ment that can change the polit­i­cal land­scape. Oth­er grass­roots lead­ers and I have reflect­ed on our expe­ri­ence of three years of intense human rights-based orga­niz­ing and iden­ti­fied five lessons that can help our coun­ter­parts around the country:
1) People's move­ments can rede­fine polit­i­cal priorities.
Unfor­tu­nate­ly, past leg­isla­tive ini­tia­tives for uni­ver­sal health­care often fell vic­tim to polit­i­cal expe­di­en­cy as politi­cians declared them­selves to be advo­cates on the cam­paign trail, but, once in office, aban­doned the plat­form for more ​"polit­i­cal­ly pos­si­ble" incre­men­tal reforms. It had been clear for years that Ver­mon­ters want­ed uni­ver­sal health­care, but politi­cians would not take on the health­care indus­try. Through grass­roots orga­niz­ing, we set out to demon­strate to every leg­is­la­tor in Ver­mont that the major­i­ty of their con­stituents sup­port­ed equal, high-qual­i­ty health­care for every­one. We showed ambi­tious politi­cians that sup­port­ing health­care reform was in their inter­est – and that ignor­ing the Ver­mon­ters who elect­ed them would be polit­i­cal­ly costly.
2) A human-rights frame­work can be extreme­ly effec­tive for both orga­niz­ing work and pol­i­cy fights.
When we start­ed our cam­paign, many health­care activists and polit­i­cal pun­dits ques­tioned whether ​"health­care is a human right" would res­onate with ​"mid­dle Ver­mont" and rur­al com­mu­ni­ties. They expressed skep­ti­cism that a val­ues-based approach could trans­late into an effec­tive pol­i­cy framework.
But the fail­ure of sin­gle-pay­er argu­ments to receive a hear­ing in the nation­al health­care reform debate, along with the deba­cle of Pres­i­dent Barack Obama's ​"pub­lic option," demon­strat­ed the pit­falls of rely­ing pri­mar­i­ly on a nar­ra­tive that revolved around costs and effi­cien­cies. The human-rights frame­work puts peo­ple at the cen­ter of pol­i­cy and prac­tice, shift­ing the dis­course from costs to needs, from fig­ures to val­ues, and it allows us to unite com­mu­ni­ties long divid­ed on oth­er issues. Using human rights, we were able to engage Ver­mon­ters from all walks of life and focus the debate on real peo­ple, their health­care needs and strug­gles. We put our val­ues as a com­mu­ni­ty and a coun­try in the fore­front, there­by set­ting the stage for a broad­er move­ment for all eco­nom­ic and social rights.
To guide pol­i­cy dis­cus­sions and assess leg­isla­tive pro­pos­als, we deployed five human rights prin­ci­ples: uni­ver­sal­i­ty, equi­ty, account­abil­i­ty, trans­paren­cy and par­tic­i­pa­tion. These were expand­ed into a pol­i­cy frame­work whose key ele­ments were so per­sua­sive that they made it into the statu­to­ry lan­guage of Act 48. As Ver­mont sets up its uni­ver­sal health­care sys­tem, we will be able to use this frame­work to mea­sure imple­men­ta­tion pro­pos­als against human-rights stan­dards and to devel­op pol­i­cy alternatives.
3) Be pre­pared to counter divide-and-rule tactics.
In the ear­ly months of the cam­paign, the Ver­mont Work­ers' Cen­ter, in col­lab­o­ra­tion with the Bay Area-based Cat­a­lyst Project, held a series of anti-racism work­shops for our mem­bers and sup­port­ers. Includ­ed in these day-long train­ings was an orga­niz­ing role-play exer­cise about the divi­sive issue of cov­er­ing undoc­u­ment­ed work­ers. The take-home mes­sage was that, fol­low­ing human-rights prin­ci­ples, our cam­paign would be com­mit­ted to a tru­ly uni­ver­sal sys­tem in which every­one is includ­ed regard­less of immi­gra­tion status.
As expect­ed, our work­shop sce­nario even­tu­al­ly unfold­ed on the very real stage of the state­house floor. After the reform bill had already passed the House and Sen­ate health­care com­mit­tees, a last-minute amend­ment for exclud­ing undoc­u­ment­ed work­ers passed the Sen­ate with a large, bi-par­ti­san major­i­ty. For­tu­nate­ly, through our past train­ing and our empha­sis on the prin­ci­ple of uni­ver­sal­i­ty, our cam­paign lead­ers were crys­tal clear on this issue: When we say uni­ver­sal, we mean everyone!
Despite being told by the gov­er­nor and leg­isla­tive lead­ers that there was no chance of remov­ing this divide-and-rule amend­ment, we imme­di­ate­ly got to work demon­strat­ing that the peo­ple of Ver­mont would only accept a tru­ly uni­ver­sal and inclu­sive bill. On May 1, days before the final bill was passed, 2,000 Ver­mon­ters con­verged on the state­house for our annu­al May Day ral­ly, signed peti­tions against the exclu­sion­ary amend­ment, lis­tened to speech­es from undoc­u­ment­ed farm work­ers and chant­ed, ​"Uni­ver­sal means every­one, everywhere."
By May 3, the leg­is­la­tors reversed course and struck the amendment.
4) It's not just about hav­ing con­vinc­ing argu­ments, it's about get­ting our com­mu­ni­ties orga­nized to demand justice.
It cer­tain­ly can be use­ful to have facts and sta­tis­tics to back up what we are fight­ing for. But what mat­ters most is hav­ing the peo­ple pow­er to con­vince deci­sion-mak­ers to act on the will of their con­stituents. For years, advo­cates demon­strat­ed that sin­gle-pay­er financ­ing could cov­er every­one and still save mon­ey – yet cost-effec­tive­ness was not enough to dri­ve leg­isla­tive action. We had to put pres­sure on our elect­ed offi­cials with an active, statewide net­work of thou­sands of peo­ple to cre­ate the polit­i­cal space for action. We now have orga­niz­ing com­mit­tees in every region whose mem­bers mobi­lize their neigh­bors to make calls, send let­ters, and come to ral­lies and events. Every day, we are hold­ing our leg­is­la­tors accountable.
5) We need to tell our own stories.
Politi­cians and most media out­lets will go out of their way to over­shad­ow the role of a people's move­ment in fight­ing for and secur­ing pos­i­tive social change. The cov­er­age of Vermont's uni­ver­sal health­care break­through focused on a hand­ful of politi­cians, pol­i­cy experts and doc­tors, while large­ly ignor­ing the col­lec­tive voice and uni­fied action of thou­sands of Ver­mon­ters. This serves to con­tain and poten­tial­ly neu­tral­ize our pol­i­cy vic­to­ries and to lull com­mu­ni­ty mem­bers into passivity.
Since we can­not depend on the main­stream media to cov­er our mobi­liz­ing efforts, val­ues, needs and demands, we must tell our own sto­ries, our own people's his­to­ry of how human rights were won for future gen­er­a­tions. Peo­ple must under­stand that with­out their own actions and their own media, change will not hap­pen. There is no hero who will come and save us.
The chal­lenge ahead
Our oppo­nents will not tol­er­ate the devel­op­ment of Vermont's dan­ger­ous exam­ple of pro­vid­ing health­care as a pub­lic good. Those that reap enor­mous prof­its from the cur­rent sys­tem may be small in num­ber, but they are influ­en­tial. To over­come their resis­tance, we must cul­ti­vate a group of com­mit­ted lead­ers and orga­niz­ers who are as unit­ed and sophis­ti­cat­ed as our oppo­nents. Lead­ers of our cam­paign have trav­eled around the coun­try to speak with our peers about these lessons. Ambi­tious cam­paigns around bold visions for sys­temic change must be launched, exe­cut­ed and defend­ed by grass­roots move­ments. Noth­ing else can ensure success.