How Henry Kissinger Helped Make Endless War an All-American Tradition
Kissinger's steadfast support for bombing as an instrument of "diplomacy" has coursed through the decades.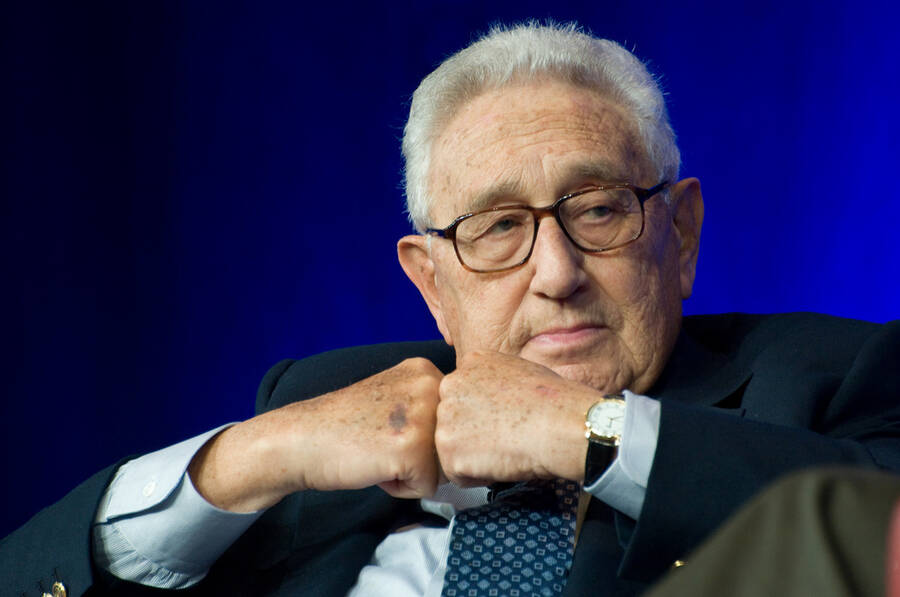 This post first appeared at TomDispatch.
Kissinger invokes today's endless, open-ended wars to justify his diplomacy by air power in Cambodia and elsewhere nearly half a century ago. But what he did then created the conditions for today's endless wars, both those started by Bush's neocons and those waged by Obama's war-fighting liberals like Samantha Power.
In April 2014, ESPN pub­lished a pho­to­graph of an unlike­ly duo: Saman­tha Pow­er, U.S. ambas­sador to the Unit­ed Nations, and for­mer nation­al secu­ri­ty advis­er and sec­re­tary of state Hen­ry Kissinger at the Yan­kees-Red Sox sea­son open­er. In fleece jack­ets on a crisp spring day, they were vis­i­bly enjoy­ing each other's com­pa­ny, look­ing for all the world like a twen­ty-first-cen­tu­ry geopo­lit­i­cal ver­sion of Kather­ine Hep­burn and Spencer Tra­cy. The sub­text of their ban­ter, how­ev­er, wasn't about sex, but death.
As a jour­nal­ist, Pow­er had made her name as a defend­er of human rights, win­ning a Pulitzer Prize for her book A Prob­lem from Hell: Amer­i­ca and the Age of Geno­cide. Hav­ing served on the Nation­al Secu­ri­ty Coun­cil before mov­ing on to the U.N., she was con­sid­ered an influ­en­tial ​"lib­er­al hawk" of the Oba­ma era. She was also a lead­ing light among a set of pol­i­cy­mak­ers and intel­lec­tu­als who believe that Amer­i­can diplo­ma­cy should be dri­ven not just by nation­al secu­ri­ty and eco­nom­ic con­cerns but by human­i­tar­i­an ideals, espe­cial­ly the advance­ment of democ­ra­cy and the defense of human rights.
The Unit­ed States, Pow­er long held, has a respon­si­bil­i­ty to pro­tect the world's most vul­ner­a­ble peo­ple. In 2011 she played a cru­cial role in con­vinc­ing Pres­i­dent Oba­ma to send in Amer­i­can air pow­er to pre­vent troops loy­al to Libyan auto­crat Muam­mar Gaddafi from mas­sacring civil­ians. That cam­paign led to his death, the vio­lent over­throw of his régime, and in the end, a failed state and grow­ing strong­hold for ISIS and oth­er ter­ror groups. In con­trast, Kissinger is iden­ti­fied with a school of ​"polit­i­cal real­ism," which holds that Amer­i­can pow­er should ser­vice Amer­i­can inter­ests, even if that means sac­ri­fic­ing the human rights of others.
Accord­ing to ESPN, Pow­er teas­ing­ly asked Kissinger if his alle­giance to the Yan­kees was ​"in keep­ing with a real­ist's per­spec­tive on the world." Pow­er, an avid Red Sox fan, had only recent­ly failed to con­vince the Unit­ed Nations to endorse a U.S. bomb­ing cam­paign in Syr­ia, so Kissinger couldn't resist respond­ing with a gibe of his own. ​"You might," he said, ​"end up doing more real­is­tic things." It was his way of sug­gest­ing that she drop the Red Sox for the Yan­kees. ​"The human rights advo­cate," Pow­er retort­ed, refer­ring to her­self in the third per­son, ​"falls in love with the Red Sox, the down­trod­den, the peo­ple who can't win the World Series."
"Now," replied Kissinger, ​"we are the down­trod­den" — a ref­er­ence to the Yan­kees' poor per­for­mance the pre­vi­ous sea­son. Dur­ing his time in office, Kissinger had been involved in three of the geno­cides Pow­er men­tions in her book: Pol Pot's ​"killing fields" in Cam­bo­dia, which would nev­er have occurred had he not infa­mous­ly ordered an ille­gal four-and-a-half-year bomb­ing cam­paign in that coun­try; Indonesia's mas­sacre in East Tim­or; and Pakistan's in Bangladesh, both of which he expedited.
You might think that mutu­al knowl­edge of his poli­cies under Pres­i­dents Richard Nixon and Ger­ald Ford and the hor­rors that arose from them would have cast a pall over their con­ver­sa­tion, but their ban­ter was live­ly. ​"If a Yan­kee fan and a Red Sox fan can head into the heart of dark­ness for the first game of the sea­son," Pow­er com­ment­ed, ​"all things are possible."
All things except, it seems, extri­cat­ing the coun­try from its end­less wars.
Only recent­ly, Barack Oba­ma announced that U.S. troops wouldn't be leav­ing Afghanistan any time soon and also made a deep­er com­mit­ment to fight­ing the Islam­ic State in Iraq and Syr­ia, includ­ing deploy­ing the first U.S. ground per­son­nel into that coun­try. Indeed, a new book by New York Timesreporter Char­lie Sav­age, Pow­er Wars, sug­gests that there has been lit­tle sub­stan­tive dif­fer­ence between George W. Bush's admin­is­tra­tion and Obama's when it comes to nation­al secu­ri­ty poli­cies or the legal jus­ti­fi­ca­tions used to pur­sue régime change in the Greater Mid­dle East.
Hen­ry Kissinger is, of course, not sin­gu­lar­ly respon­si­ble for the evo­lu­tion of the U.S. nation­al secu­ri­ty state into a mon­stros­i­ty. That state has had many admin­is­tra­tors. But his exam­ple — espe­cial­ly his stead­fast sup­port for bomb­ing as an instru­ment of ​"diplo­ma­cy" and his mil­i­ta­riza­tion of the Per­sian Gulf — has coursed through the decades, shed­ding a spec­tral light on the road that has brought us to a state of eter­nal war.
From Cam­bo­dia…
With­in days of Richard Nixon's inau­gu­ra­tion in Jan­u­ary 1969, nation­al secu­ri­ty advis­er Kissinger asked the Pen­ta­gon to lay out his bomb­ing options in Indochi­na. The pre­vi­ous pres­i­dent, Lyn­don Baines John­son, had sus­pend­ed his own bomb­ing cam­paign against North Viet­nam in hopes of nego­ti­at­ing a broad­er cease­fire. Kissinger and Nixon were eager to re-launch it, a tough task giv­en domes­tic polit­i­cal sup­port for the bomb­ing halt.
The next best option: begin bomb­ing across the bor­der in Cam­bo­dia to destroy ene­my sup­ply lines, depots, and bases sup­pos­ed­ly locat­ed there. Nixon and Kissinger also believed that such an onslaught might force Hanoi to make con­ces­sions at the nego­ti­at­ing table. On Feb­ru­ary 24th, Kissinger and his mil­i­tary aide, Colonel Alexan­der Haig, met with Air Force Colonel Ray Sit­ton, an expert on B‑52 bombers, to begin the plan­ning of Menu, the grim culi­nary code­name for the bomb­ing cam­paign to come.
Giv­en that Nixon had been elect­ed on a promise to end the war in Viet­nam, Kissinger believed that it wasn't enough to place Menu in the cat­e­go­ry of ​"top secret." Absolute and total secre­cy, espe­cial­ly from Con­gress, was a neces­si­ty. He had no doubt that Con­gress, cru­cial to the appro­pri­a­tion of funds need­ed to con­duct spe­cif­ic mil­i­tary mis­sions, would nev­er approve a bomb­ing cam­paign against a neu­tral coun­try with which the Unit­ed States wasn't at war.
Instead, Kissinger, Haig, and Sit­ton came up with an inge­nious decep­tion. Based on rec­om­men­da­tions from Gen­er­al Creighton Abrams, com­man­der of mil­i­tary oper­a­tions in Viet­nam, Sit­ton would lay out the Cam­bo­di­an tar­gets to be struck, then run them by Kissinger and Haig for approval. Next, he would backchan­nel their coor­di­nates to Saigon and a couri­er would deliv­er them to radar sta­tions where the offi­cer in charge would, at the last minute, switch B‑52 bomb­ing runs over South Viet­nam to the agreed-upon Cam­bo­di­an targets.
Lat­er, that offi­cer would burn any rel­e­vant maps, com­put­er print­outs, radar reports, or mes­sages that might reveal the actu­al tar­get. ​"A whole spe­cial fur­nace" was set up to dis­pose of the records, Abrams would lat­er tes­ti­fy before Con­gress. ​"We burned prob­a­bly 12 hours a day." False ​"post-strike" paper­work would then be writ­ten up indi­cat­ing that the sor­ties had been flown over South Viet­nam as planned.
Kissinger was very hands-on. ​"Strike here in this area," Sit­ton recalled Kissinger telling him, ​"or strike here in that area." The bomb­ing gal­va­nized the nation­al secu­ri­ty advis­er. The first raid occurred on March 18, 1969. ​"K real­ly excit­ed," Bob Halde­man, Nixon's chief of staff, wrote in his diary. ​"He came beam­ing in [to the Oval Office] with the report."
In fact, he would super­vise every aspect of the bomb­ing. As jour­nal­ist Sey­mour Hersh lat­er wrote, ​"When the mil­i­tary men pre­sent­ed a pro­posed bomb­ing list, Kissinger would redesign the mis­sions, shift­ing a dozen planes, per­haps, from one area to anoth­er, and alter­ing the tim­ing of the bomb­ing runs… [He] seemed to enjoy play­ing the bom­bardier." (That joy wouldn't be lim­it­ed to Cam­bo­dia. Accord­ing to Wash­ing­ton Post reporters Bob Wood­ward and Carl Bern­stein, when the bomb­ing of North Viet­nam final­ly start­ed up again, Kissinger ​"expressed enthu­si­asm at the size of the bomb craters.") A Pen­ta­gon report released in 1973 stat­ed that ​"Hen­ry A. Kissinger approved each of the 3,875 Cam­bo­dia bomb­ing raids in 1969 and 1970" — the most secre­tive phase of the bomb­ing — ​"as well as the meth­ods for keep­ing them out of the newspapers."
All told, between 1969 and 1973, the U.S. dropped half-a-mil­lion tons of bombs on Cam­bo­dia alone, killing at least 100,000 civil­ians. And don't for­getLaos and both North and South Viet­nam. ​"It's wave after wave of planes. You see, they can't see the B‑52 and they dropped a mil­lion pounds of bombs," Kissinger told Nixon after the April 1972 bomb­ing of North Vietnam's port city of Haiphong, as he tried to reas­sure the pres­i­dent that the strat­e­gy was work­ing: ​"I bet you we will have had more planes over there in one day than John­son had in a month… Each plane can car­ry about 10 times the load [a] World War II plane could carry."
As the months passed, how­ev­er, the bomb­ing did noth­ing to force Hanoi to the bar­gain­ing table. It did, on the oth­er hand, help Kissinger in his interof­fice rival­ries. His sole source of pow­er was Nixon, who was a bomb­ing advo­cate. So Kissinger embraced his role as First Bom­bardier to show the tough-guy mil­i­tarists the pres­i­dent had sur­round­ed him­self with that he was the ​"hawk of hawks." And yet, in the end, even Nixon came to see that the bomb­ing cam­paigns were a dead end. ​"K. We have had 10 years of total con­trol of the air in Laos and V.Nam," Nixon wrote him over a top-secret report on the effi­ca­cy of bomb­ing, ​"The result = Zilch." (This was in Jan­u­ary 1972, three months before Kissinger assured Nixon that ​"wave after wave" of bombers would do the trick).
Dur­ing those four-and a half years when the U.S. mil­i­tary dropped more than 6,000,000 tons of bombs on South­east Asia, Kissinger revealed him­self to be not a supreme polit­i­cal real­ist, but the planet's supreme ide­al­ist. He refused to quit when it came to a pol­i­cy meant to bring about a world he believed heought to live in, one where he could, by the force of the mate­r­i­al pow­er of the U.S. mil­i­tary, bend poor peas­ant coun­tries like Cam­bo­dia, Laos, and North Viet­nam to his will — as opposed to the one he did live in, where bomb as he might he couldn't force Hanoi to sub­mit. As he put it at the time, ​"I refuse to believe that a lit­tle fourth-rate pow­er like North Viet­nam does not have a break­ing point."
In fact, that bomb­ing cam­paign did have one strik­ing effect: it desta­bi­lized Cam­bo­dia, pro­vok­ing a 1970 coup that, in turn, pro­voked a 1970 Amer­i­can inva­sion, which only broad­ened the social base of the insur­gency grow­ing in the coun­try­side, lead­ing to esca­lat­ing U.S. bomb­ing runs that spread to near­ly the whole coun­try, dev­as­tat­ing it and cre­at­ing the con­di­tions for the rise to pow­er of the geno­ci­dal Khmer Rouge.
…to the First Gulf War
Hav­ing either con­doned, autho­rized, or planned so many inva­sions — Indonesia's in East Tim­or, Pakistan's in Bangladesh, the U.S.'s in Cam­bo­dia, South Vietnam's in Laos, and South Africa's in Ango­la — Hen­ry Kissinger took the only log­i­cal stance in ear­ly August 1990, when Sad­dam Hus­sein sent the Iraqi mil­i­tary into Kuwait: he con­demned the act. In office, he had worked to pump up Baghdad's region­al ambi­tions. As a pri­vate con­sul­tant and pun­dit, he had pro­mot­ed the idea that Saddam's Iraq could serve as a dis­pos­able coun­ter­weight to rev­o­lu­tion­ary Iran. Now, he knew just what need­ed to be done: the annex­a­tion of Kuwait had to be reversed.
Pres­i­dent George H.W. Bush soon launched Oper­a­tion Desert Shield, send­ing an enor­mous con­tin­gent of troops to Sau­di Ara­bia. But once there, what exact­ly were they to do? Con­tain Iraq? Attack and lib­er­ate Kuwait? Dri­ve on to Bagh­dad and depose Sad­dam? There was no clear con­sen­sus among for­eign pol­i­cy advis­ers or ana­lysts. Promi­nent con­ser­v­a­tives, who had made their names fight­ing the Cold War, offered con­flict­ing advice. For­mer ambas­sador to the U.N. Jeane Kirk­patrick, for instance, opposed any action against Iraq. She didn't think that Wash­ing­ton had a ​"dis­tinc­tive inter­est in the Gulf" now that the Sovi­et Union was gone. Oth­er con­ser­v­a­tives point­ed out that, with the Cold War over, it mat­tered lit­tle whether Iraqi Baathists or local sheiks pumped Kuwait's oil as long as it made it out of the ground.
Kissinger took the point posi­tion in coun­ter­ing those he called America's ​"new iso­la­tion­ists." What Bush did next in Kuwait, he announced in the first sen­tence of a wide­ly pub­lished syn­di­cat­ed col­umn, would make or break his admin­is­tra­tion. Any­thing short of the lib­er­a­tion of Kuwait would turn Bush's ​"show of force" in Sau­di Ara­bia into a ​"deba­cle."
Bait­ing fel­low con­ser­v­a­tives reluc­tant to launch a cru­sade in the Gulf, he insist­ed, in Cold War-ish terms that couldn't fail to bite, that their advice was noth­ing short of ​"abdi­ca­tion." There were, he insist­ed, ​"con­se­quences" to one's ​"fail­ure to resist." He may, in fact, have been the first per­son to com­pare Sad­dam Hus­sein to Hitler. In opin­ion pieces, TV appear­ances, and tes­ti­mo­ny before Con­gress, Kissinger force­ful­ly argued for inter­ven­tion,includ­ing the ​"sur­gi­cal and pro­gres­sive destruc­tion of Iraq's mil­i­tary assets" and the removal of the Iraqi leader from pow­er. ​"Amer­i­ca," he insist­ed, ​"has crossed its Rubi­con" and there was no turn­ing back.
He was once again a man of the moment. But how expec­ta­tions had shift­ed since 1970! When Pres­i­dent Bush launched his bombers on Jan­u­ary 17, 1991, it was in the full glare of the pub­lic eye, record­ed for all to see. There was no veil of secre­cy and no secret fur­naces, burned doc­u­ments, or coun­ter­feit­ed flight reports. After a four-month-long on-air debate among politi­cians and pun­dits, ​"smart bombs" lit up the sky over Bagh­dad and Kuwait City as the TV cam­eras rolled. Fea­tured were new night-vision equip­ment, real-time satel­lite com­mu­ni­ca­tions, and for­mer U.S. com­man­ders ready to nar­rate the war in the style of foot­ball announc­ers right down to instant replays. ​"In sports-page lan­guage," said CBS News anchor Dan Rather on the first night of the attack, ​"this… it's not a sport. It's war. But so far, it's a blowout."
And Kissinger him­self was every­where — ABC, NBC, CBS, PBS, on the radio, in the papers — offer­ing his opin­ion. ​"I think it's gone well," he said to Dan Rather that very night.
It would be a tech­no-dis­play of such appar­ent omnipo­tence that Pres­i­dent Bush got the kind of mass approval Kissinger and Nixon nev­er dreamed pos­si­ble. With instant replay came instant grat­i­fi­ca­tion, con­fir­ma­tion that the pres­i­dent had the public's back­ing. On Jan­u­ary 18th, only a day into the assault, CBS announced that a new poll ​"indi­cates extreme­ly strong sup­port for Mr. Bush's Gulf offensive."
"By God," Bush said in tri­umph, ​"we've kicked the Viet­nam syn­drome once and for all."
Sad­dam Hussein's troops were eas­i­ly dri­ven out of Kuwait and, momen­tar­i­ly, it looked like the out­come would vin­di­cate the log­ic behind Kissinger's and Nixon's covert Cam­bo­di­an air cam­paign: that the US should be free to use what­ev­er mil­i­tary force it need­ed to com­pel the polit­i­cal out­come it sought. It seemed as if the world Kissinger had long believed he ought to live in was final­ly com­ing into being.
…toward 9⁄11
Sad­dam Hus­sein, how­ev­er, remained in pow­er in Bagh­dad, cre­at­ing a prob­lem of enor­mous pro­por­tions for Bush's suc­ces­sor, Bill Clin­ton. Increas­ing­ly oner­ous sanc­tions, punc­tu­at­ed by occa­sion­al cruise mis­sile attacks on Bagh­dad, only added to the cri­sis. Chil­dren were starv­ing; civil­ians were being killed by U.S. mis­siles; and the Baathist régime refused to budge.
Kissinger watched all of this with a kind of detached amuse­ment. In a way, Clin­ton was fol­low­ing his lead: he was bomb­ing a coun­try with which we weren't at war and with­out con­gres­sion­al approval in part to pla­cate the mil­i­tarist right. In 1998, at a con­fer­ence com­mem­o­rat­ing the 25th anniver­sary of the accords that end­ed the Viet­nam War, Kissinger expressed his opin­ion on Iraq. The real ​"prob­lem," he said, is will. You need to be will­ing to ​"break the back" of some­body you refuse to nego­ti­ate with, just as he and Nixon had done in South­east Asia. ​"Whether we got it right or not," Kissinger added, ​"is real­ly secondary."
That should count as a remark­able state­ment in the annals of ​"polit­i­cal realism."
Not sur­pris­ing­ly then, in the wake of 9⁄11, Kissinger was an ear­ly sup­port­er of a bold mil­i­tary response. On August 9, 2002, for instance, he endorsed a pol­i­cy of régime change in Iraq in his syn­di­cat­ed col­umn, acknowl­edg­ing it as ​"rev­o­lu­tion­ary." ​"The notion of jus­ti­fied pre-emp­tion," he wrote, ​"runs counter to mod­ern inter­na­tion­al law," but was nonethe­less nec­es­sary because of the nov­el­ty of the ​"ter­ror­ist threat," which ​"tran­scends the nation-state."
There was, how­ev­er, ​"anoth­er, gen­er­al­ly unstat­ed, rea­son for bring­ing mat­ters to a head with Iraq": to ​"demon­strate that a ter­ror­ist chal­lenge or a sys­temic attack on the inter­na­tion­al order also pro­duces cat­a­stroph­ic con­se­quences for the per­pe­tra­tors, as well as their sup­port­ers." To be — in true Kissin­ger­ian fash­ion — in the good graces of the most mil­i­taris­tic mem­bers of an Amer­i­can admin­is­tra­tion, the ulti­mate polit­i­cal ​"real­ist" was, in oth­er words, per­fect­ly will­ing to ignore that the sec­u­lar Baathists of Bagh­dad were the ene­mies of Islam­ic jihadists, and that Iraq had nei­ther per­pe­trat­ed 9⁄11 nor sup­port­ed the per­pe­tra­tors of 9⁄11. After all, being ​"right or not is real­ly sec­ondary" to the main issue: being will­ing to do some­thing deci­sive, espe­cial­ly use air pow­er to ​"break the back" of… well, whomever.
Less than three weeks lat­er, Vice Pres­i­dent Dick Cheney, lay­ing out his case for an inva­sion of Iraq before the nation­al con­ven­tion of Vet­er­ans of For­eign Wars, quot­ed direct­ly from Kissinger's col­umn. ​"As for­mer Sec­re­tary of State Kissinger recent­ly stat­ed," said Cheney, there is ​"an imper­a­tive for pre-emp­tive action."
In 2005, after the rev­e­la­tions about the cook­ing of intel­li­gence and the manip­u­la­tion of the press to neu­tral­ize oppo­si­tion to the inva­sion of Iraq, after Fal­lu­jah and Abu Ghraib, after it became clear that the real ben­e­fi­cia­ry of the occu­pa­tion would be rev­o­lu­tion­ary Iran, Michael Ger­son, George W. Bush's speech­writer, paid a vis­it to Kissinger in New York. Pub­lic sup­port for the war was by then plum­met­ing and Bush's jus­ti­fi­ca­tions for wag­ing it expand­ing. America's ​"respon­si­bil­i­ty," he had announced ear­li­er that year in his sec­ond inau­gur­al address, was to ​"rid the world of evil."
Ger­son, who had helped write that speech, asked Kissinger what he thought of it. ​"At first I was appalled," Kissinger said, but then he came to appre­ci­ate it for instru­men­tal rea­sons. ​"On reflec­tion," as Bob Wood­ward recount­ed in his book State of Denial, he ​"now believed the speech served a pur­pose and was a very smart move, set­ting the war on ter­ror and over­all U.S. for­eign pol­i­cy in the con­text of Amer­i­can val­ues. That would help sus­tain a long campaign."
At that meet­ing, Kissinger gave Ger­son a copy of an infa­mous memo he had writ­ten Nixon in 1969 and asked him to pass it along to Bush. ​"With­draw­al of U.S. troops will become like salt­ed peanuts to the Amer­i­can pub­lic," he had warned, ​"the more U.S. troops come home, the more will be demand­ed." Don't get caught in that trap, Kissinger told Ger­son, for once with­drawals start, it will become ​"hard­er and hard­er to main­tain the morale of those who remain, not to speak of their mothers."
Kissinger then rem­i­nisced about Viet­nam, remind­ing Ger­son that incen­tives offered through nego­ti­a­tions must be backed up by cred­i­ble threats of an unre­strained nature. As an exam­ple, he brought up one of the many ​"major" ulti­ma­tums he had giv­en the North Viet­namese, warn­ing of ​"dire con­se­quences" if they didn't offer the con­ces­sions need­ed for the U.S. to with­draw from Viet­nam ​"with hon­or." They didn't.
"I didn't have enough pow­er," was how Kissinger sum­ma­rized his expe­ri­ence more than three decades later.
Will the Cir­cle Be Unbroken?
When it comes to Amer­i­can mil­i­tarism, con­ven­tion­al wis­dom puts the ide­al­ist Saman­tha Pow­er and the real­ist Kissinger at oppo­site ends of a spec­trum. Con­ven­tion­al wis­dom is wrong, as Kissinger him­self has point­ed out. Last year, while pro­mot­ing his book World Order, he respond­ed to ques­tions about his con­tro­ver­sial poli­cies by point­ing to Oba­ma. There was, he said, no dif­fer­ence between what he did with B‑52s in Cam­bo­dia and what the pres­i­dent was doing with drones in Pak­istan, Soma­lia, and Yemen. Whenasked about his role in over­throw­ing Sal­vador Allende, the demo­c­ra­t­i­cal­ly elect­ed pres­i­dent of Chile in 1973, he insist­ed that his actions had been ret­ro­spec­tive­ly jus­ti­fied by what Oba­ma and Pow­er did in Libya and want­ed to do in Syria.
Kissinger's defense was, of course, part­ly fatu­ous, espe­cial­ly his absurd asser­tion that few­er civil­ians had died from the half-mil­lion tons of bombs he had dropped on Cam­bo­dia than from the Hell­fire mis­siles of Obama's drones. (Cred­i­ble esti­mates put civil­ian fatal­i­ties in Cam­bo­dia at more than 100,000; drones are blamed for about 1,000 civil­ian deaths.) He was right, how­ev­er, in his asser­tion that many of the polit­i­cal argu­ments he made in the late 1960s to jus­ti­fy his ille­gal and covert wars in Cam­bo­dia and Laos, con­sid­ered at the time way beyond main­stream think­ing, are now an unques­tioned, very pub­lic part of Amer­i­can pol­i­cy­mak­ing. This was espe­cial­ly true of the idea that the U.S. has the right to vio­late the sov­er­eign­ty of a neu­tral coun­try to destroy ene­my ​"sanc­tu­ar­ies." ​"If you threat­en Amer­i­ca, you will find no safe haven," Barack Oba­ma has said, offer­ing Kissinger his retroac­tive absolution.
Here, then, is a per­fect expres­sion of Amer­i­can militarism's unbro­ken cir­cle. Kissinger invokes today's end­less, open-end­ed wars to jus­ti­fy his diplo­ma­cy by air pow­er in Cam­bo­dia and else­where near­ly half a cen­tu­ry ago. But what he did then cre­at­ed the con­di­tions for today's end­less wars, both those start­ed by Bush's neo­cons and those waged by Obama's war-fight­ing lib­er­als like Saman­tha Pow­er. So it goes in Washington.