Here's How a Supreme Court Decision To Gut Public Sector Unions Could Backfire on the Right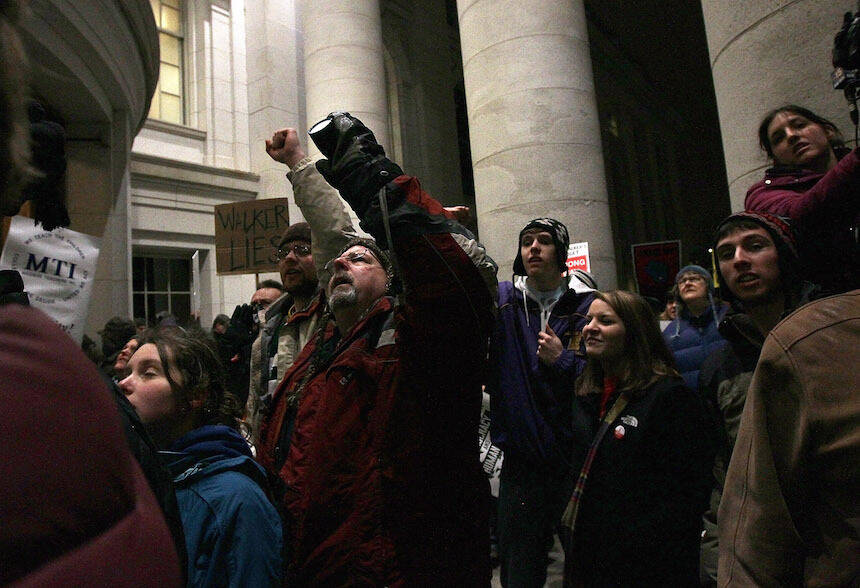 Janus v. AFSCME, which begins oral argu­ments on Feb­ru­ary 26, is the cul­mi­na­tion of a years-long right-wing plot to finan­cial­ly dev­as­tate pub­lic-sec­tor unions. And a Supreme Court rul­ing against AFSCME would indeed have that effect, by ban­ning pub­lic-sec­tor unions from col­lect­ing manda­to­ry fees from the work­ers they are com­pelled to rep­re­sent. But if the Court embraces the weaponiza­tion of free speech as a cud­gel to beat up on unions, the pos­si­bil­i­ty of oth­er, unin­tend­ed con­se­quences is begin­ning to excite some union advo­cates and stir fear among con­ser­v­a­tive con­sti­tu­tion­al scholars.
The rul­ing could both wild­ly increase work­ers' bar­gain­ing pow­er and clog the low­er courts with First Amend­ment chal­lenges to rou­tine uses of tax­pay­er mon­ey. At a min­i­mum, it has the poten­tial to turn every pub­lic sec­tor work­place dis­pute into a con­sti­tu­tion­al con­tro­ver­sy — and one Mid­west local is already lay­ing plans to max­i­mize the chaos this could cause.
Toward labor's bill of rights
From the ear­li­est court deci­sion deal­ing with work­ers' protest activ­i­ty — the 1806 Cord­wain­ers Tri­al in Philadel­phia – courts have stren­u­ous­ly avoid­ed apply­ing the First Amend­ment to unions. Instead, con­ser­v­a­tive courts treat­ed unions as crim­i­nal con­spir­a­cies that inter­fered with employ­ers' prop­er­ty and con­tract rights.
I have been argu­ing that unions and their allies should be chal­leng­ing the most unequal aspects of labor law as vio­la­tions of our con­sti­tu­tion­al rights. Cur­rent­ly, employ­ers in the pri­vate sec­tor have a legal right to force employ­ees to attend manda­to­ry anti-union pre­sen­ta­tions, on penal­ty of fir­ing. Work­ers can also be fired for mak­ing ​"dis­loy­al" state­ments, even in the course of oth­er­wise pro­tect­ed con­cert­ed activ­i­ty. Mean­while, the gov­ern­ment has restrict­ed the scope of issues that unions can legal­ly com­pel employ­ers to bar­gain over.
All of these prac­tices are vul­ner­a­ble to First Amend­ment chal­lenges as gov­ern­ment restric­tions of work­ers' speech. They become more vul­ner­a­ble if the Supreme Court rules in Janus that every inter­ac­tion that a union has with a gov­ern­men­tal sub­di­vi­sion is inher­ent­ly political.
Even more vul­ner­a­ble are anti-union laws in the pub­lic sec­tor. Take Scott Walker's Act 10, which for­bids unions from mak­ing bar­gain­ing pro­pos­als over any­thing oth­er than wages that don't exceed the cost of liv­ing. Or the New Jer­sey case law that for­bids teach­ers unions from even propos­ing restric­tions on class size. How are those not explic­it restric­tions on work­ers' speech?
The most com­mon objec­tion to this kind of think­ing on the Left is that a judi­cia­ry that could buy such a craven argu­ment as Janus will refuse to take the prece­dent to its log­i­cal con­clu­sion and shame­less­ly wav­ing away work­ers' free speech rights. That may be true, but there is a decent chance that the next cou­ple of fed­er­al elec­tions could bring a ​"blue wave" that will alter the ide­o­log­i­cal make-up of the courts for decades. Janus could hand new lib­er­al majori­ties a roadmap for restor­ing a legal bal­ance of pow­er between cor­po­ra­tions and work­ers. It's enough of a pos­si­bil­i­ty that con­ser­v­a­tive legal schol­ars have begun pay­ing atten­tion to the case, and they see the poten­tial per­il for their cause.
Every work­place dis­pute, a con­sti­tu­tion­al controversy
Ami­cus briefs in the Janus case have been rolling in since the sum­mer. These briefs are filed by schol­ars and orga­ni­za­tions who are not par­ties in the case, but who nev­er­the­less have strong opin­ions about its out­come. They may (or most like­ly may not) be read by the jus­tices, but they could influ­ence ques­tions and oral argu­ments at the hearing.
Most of the ami­ci have been from the usu­al sus­pects. Right-wing think tanks are spout­ing the same tired clichés and intel­lec­tu­al­ly bank­rupt argu­ments. Union advo­cates ques­tion the stand­ing of the plain­tiff to even mount a First Amend­ment claim, argue in favor of respect­ing long-set­tled prece­dent, or — in a new argu­ment — sug­gest treat­ing agency fees as a kind of tax .
But two briefs stand out, both for what they say and for who is say­ing it.
One brief, filed by influ­en­tial right-wing lib­er­tar­i­an ide­o­logues Eugene Volokh of UCLA and William Baude of the Uni­ver­si­ty of Chica­go, actu­al­ly argues for strength­en­ing the 40-year-old prece­dent that Janus aims to over­turn. The 1978 Abood deci­sion was wrong, they argue, to moot the ques­tion of whether work­ers com­pelled to pay their fair share for union rep­re­sen­ta­tion might have a legit­i­mate First Amend­ment objec­tion to how a union might spend any por­tion of their fees. That opened the door, Baude and Volokh say, to tax­pay­ers mak­ing line-by-line objec­tions to how the gov­ern­ment spends its mon­ey. ​"Just as non-union mem­bers may find many rea­sons to dis­agree with a pub­lic union's speech, there are count­less grounds to object to oth­er speech sup­port­ed by gov­ern­ment funds," they write.
Point­ing to gov­ern­ment pro­pa­gan­da urg­ing mil­i­tary enlist­ment and pur­chase of war bonds, the schol­ars note that there has nev­er been an option for tax­pay­ers to opt out of fund­ing such prac­tices with which they may dis­agree, nor even any kind of ​"equal time" right of rebut­tal. A rul­ing for the plain­tiff in Janus could tug at the loose threads of the very notion of a com­mon inter­est in government.
Anoth­er ami­cus, filed by law pro­fes­sors Charles Fried of Har­vard and Robert C. Post of Yale, warns of under­min­ing the prece­dent set in the 2006 Garcetti v. Cebal­los. That deci­sion gave pub­lic sec­tor employ­ers ​"the broad dis­cre­tion they need to man­age their work­places" by per­mit­ting them to com­pel employ­ees to com­ply with direc­tives they find polit­i­cal­ly objec­tion­able. Rul­ing in favor of Janus, they warn, ​"would there­fore threat­en to trans­form every work­place dis­pute into a con­sti­tu­tion­al controversy."
Fried served as Solic­i­tor Gen­er­al under Ronald Rea­gan, so his brief like­ly car­ries more water with the con­ser­v­a­tive jus­tices than pro-union argu­ments for sta­tus quo. Fur­ther­more, swing Jus­tice Antho­ny Kennedy wrote the major­i­ty deci­sion in Garcetti, so he would pre­sum­ably take inter­est in how the Janus case could blow his work up.
A lot of time and mon­ey and energy
One local union in the Mid­west is champ­ing at the bit to turn every dis­agree­ment they have with the boss­es into a con­sti­tu­tion­al con­tro­ver­sy. A Jan­u­ary blog post by the Coun­try­side, Ill.-based Oper­at­ing Engi­neers Local 150, titled, ​"Union Busters Set Them­selves Up for Janus Back­fire," was wide­ly cir­cu­lat­ed in #1u social media cir­cles. In it, the union eyes over­turn­ing the laws that have made pub­lic-sec­tor bar­gain­ing ille­gal in many juris­dic­tions. It also sug­gests that work­ers should be able to opt out of pay­ing for their pen­sion funds' lob­by­ing expens­es and tax­pay­ers opt out of fund­ing munic­i­pal lob­by­ists (the Amer­i­can Leg­isla­tive Exchange Coun­cil (ALEC), for exam­ple, receives indi­rect sup­port from many tax­pay­er-fund­ed organizations.)
While the gaunt­let thrown down by Local 150 was cer­tain­ly excit­ing for the few min­utes it took to read their fan­tas­ti­cal plan to make utter chaos out of a post-Janus world, many read­ers were left won­der­ing, Are these guys for real?
"We're going to imme­di­ate­ly respond by fil­ing suits to say these laws are uncon­sti­tu­tion­al," con­firms Local 150 pres­i­dent Jim Sweeney. ​"Maybe we get screwed again, but we're going to put cor­po­rate pow­ers in a posi­tion where they're forced to explain why work­ers should only have free speech when it serves them." So, file that answer under: Hell to the yes.
Local 150 has a track record of push­ing the enve­lope on legal argu­ments in defense of unions. They're the union that filed Sweeney vs. Pence, a fed­er­al court chal­lenge to Indiana's ​"right-to-work" law. Although ulti­mate­ly unsuc­cess­ful, it result­ed in a strong dis­sent­ing opin­ion from Chief Judge Diane Wood that forc­ing unions to spend resources on non-mem­bers with­out com­pen­sa­tion is an uncon­sti­tu­tion­al ​"tak­ing" under the Fifth Amend­ment. That has become the legal argu­ment that could over­turn ​"right-to-work" laws around the coun­try, with sev­er­al cas­es wend­ing their way through fed­er­al cir­cuits at this very moment.
The union has already sent a for­mal demand let­ter, chock full of legal cita­tions, to the Illi­nois Munic­i­pal Retire­ment Fund. In it, they com­plain that their mem­bers' manda­to­ry 4.5 per­cent retire­ment con­tri­bu­tions are going towards Bank of Amer­i­ca lob­by­ing and demand to opt out.
More let­ters are on the way. Local lead­ers are hop­ing to trig­ger a few rounds of pan­icked, ​"WTF?" phone calls to Illi­nois Gov. Bruce Rauner and oth­er Janus cheerleaders.
If enough unions fol­low Local 150's lead and make enough hay out of Janus — or even pose a cred­i­ble threat to do so — don't be sur­prised if more con­ser­v­a­tive jurists rethink their strategy.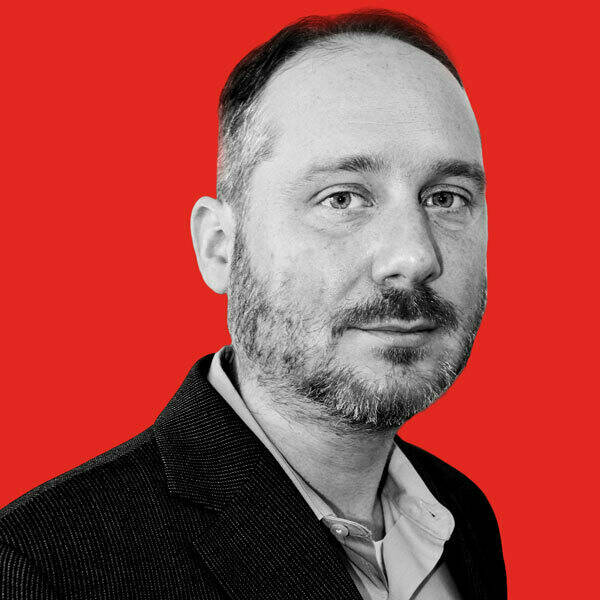 Shaun Rich­man
is an In These Times con­tribut­ing writer and the Pro­gram Direc­tor of the Har­ry Van Ars­dale Jr. School of Labor Stud­ies at SUNY Empire State Col­lege. His Twit­ter han­dle is @Ess_Dog.