Hey Girl. Ryan Gosling Wants You to Watch This Video of Bernie Sanders Denouncing Racism.
The Hollywood star is asking followers to share a video of the presidential hopeful denouncing racism as a tool to divide and conquer ordinary Americans.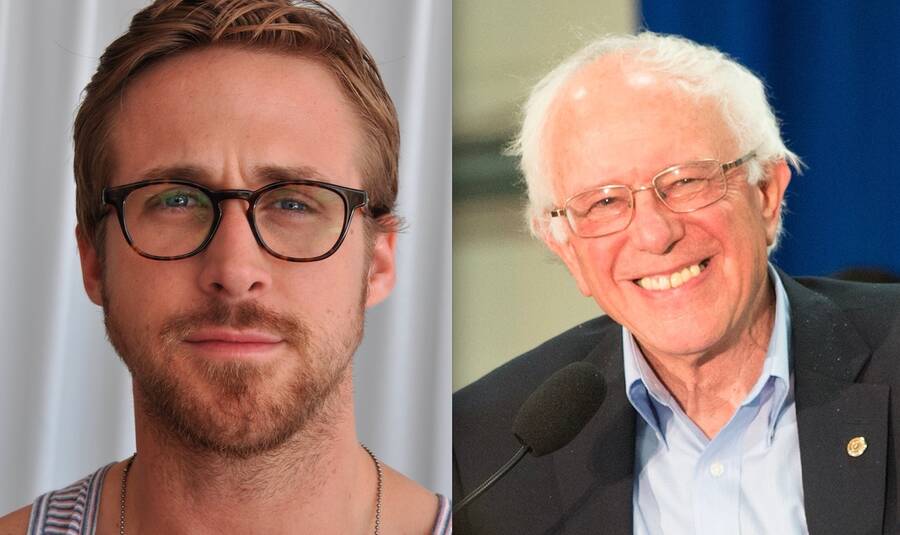 Reader donations, many as small as just $1, have kept In These Times publishing for 45 years. Once you've finished reading, please consider making a tax-deductible donation to support this work.
Ryan Gosling is many things: Hollywood star, internet meme, man about town and somewhat inexplicable feminist pin-up. Apparently, he's also a fan of Bernie Sanders.
Up until now, Gosling has been as silent on the 2016 election and politics in general as his character in Drive was on … just about anything.
The Notebook star celebrated turning 35 years old on Thursday by tweeting out a video of the Vermont senator speaking out against racism at a campaign rally in Fairfax, Virginia last month asking followers to share it.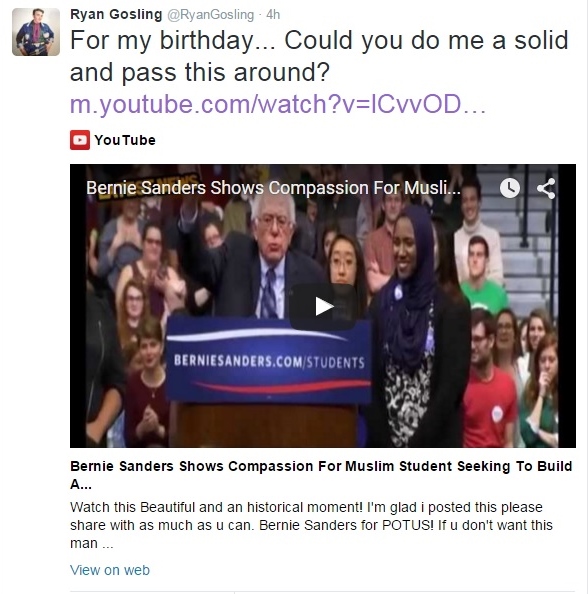 In the video, a Muslim student expresses her concern about the racially charged rhetoric of GOP presidential candidates and the ​"growing Islamophobia in this country."
"Hearing the rhetoric that's going on in the media makes me sick," she says. ​"I as an individual am constantly trying to raise awareness and make sure that everybody is treated equally in this country."
Bringing up his own family's history with racism, recalling that his father's family died in Nazi concentration camps, Sanders replies that, ​"I will do everything that I can to rid this country of the ugly stain of racism." He then goes on to say that such racial rhetoric is a tool of division that has historically been used by the elite to keep ordinary people from joining together and demanding change: white against black, straight against gay, men against women.
"[Politicians] play one group off against the other," he says. ​"Our job is to build a nation in which we all stand together as one people. You are right. There is a lot of anger being generated … against Muslims in this country … There is hatred being generated against immigrants in this country. And if we stand for anything, we have got to stand together and end all forms of racism."
Up until now, Gosling has been as silent on the 2016 election and politics in general as his character in Drive was on … just about anything, and it's unclear whether this is an endorsement of Sanders. Gosling, who is Canadian and cannot vote in next year's election, did, however, co-produce and narrate a 2010 pro-Occupy Wall Street documentary titled #ReGeneration.
Regardless of his intentions, the tweet is sure to give a boost to Sanders, who has already picked up an impressive array of celebrity endorsements.
One thing's for sure: While Ryan Gosling won't eat his cereal, it seems he's happy to give Bernie Sanders a bump on social media.
Your donation makes In These Times possible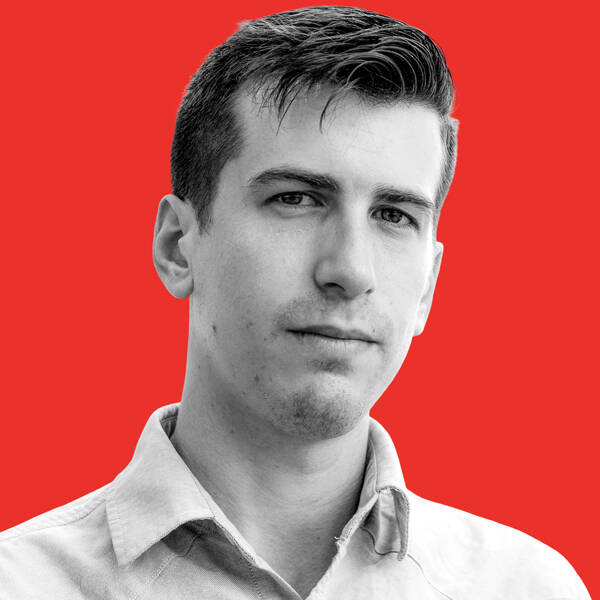 Branko Marcetic is a staff writer at Jacobin magazine and a 2019 – 2020 Leonard C. Goodman Institute for Investigative Reporting fellow. He is the author of Yesterday's Man: The Case Against Joe Biden.