High-Class Hotels in San Fran Face Cascade of Walkouts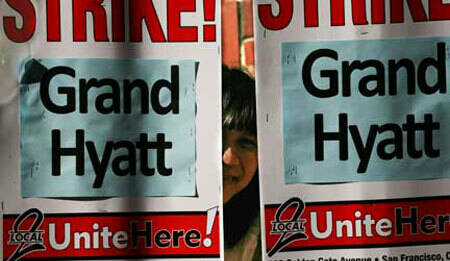 Workers at a luxury hotel in San Francisco walked off the job today, beginning a three-day strike. The action by Palace Hotel workers is the second of such demonstrations in the past week, which aim to block hotel chains' efforts to squeeze employees in a down economy.
The new stoppage, involving 350 workers, will last until the first shift on Friday morning.The Palace Hotel is managed by Starwood Hotels & Resorts, which in turn is owned by Cerberus Capital Management, the major Wall Street investment firm, according to UNITE-HERE, the union which is organizing the walkout.
Workers at another luxury hotel are back on the job after a weekend walkout, and more actions against 29 other San Francisco-area hotels may be on the horizon. Grand Hyatt workers demonstrated on Friday, Saturday and Sunday.
Hyatt and UNITE HERE Local 2 will return to the bargaining table this week. It's not the first time the Hyatt has been in the news recently over a labor dispute. In September, the company executed an ugly layoff of 100 housekeepers in Boston, which we blogged about at Working ITT (this Boston Globe article about how the soon-to-be-fired workers actually had to train their replacements is worth revisiting.)
Hotel workers across North America will this week hold solidarity rallies demanding that Hyatt rehire the Boston workers. The demonstrations will begin in Toronto today and continue through November 19 in Boston, Los Angeles, San Antonio, San Diego, Vancouver, Indianapolis, Chicago, Philadelphia, Santa Clara and San Francisco.
In San Francisco, some 6,000 housekeepers, cooks, bartenders and other hotel employees represented by UNITE HERE have been working without contracts since August. The main bone of contention is healthcare costs, which the union says have nearly doubled.
The union has offered a contract involving a 1.5 percent increase this year, but hotel operators have not been amenable to this offer. UNITE HERE says more than 3,000 workers have authorized actions including strikes at 31 fancy hotels, which are owned by Hyatt, Hilton, Marriott, Starwood and Intercontinental. The union is negotiating separately with each of the hotels. (You can see the list of hotels here.)

Hotel operators say they've been hard hit by the economic downturn, so changes are needed. But, as Working ITT contributor David Bacon points out here, while Hyatt's net income fell by 35 percent this year, the chain made between $168 and $336 million in each of the previous five years. The industry overall has made over $200 billion in the last 10 years (PDF link).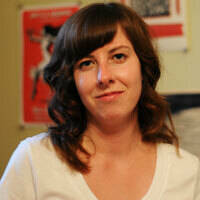 Emily Udell
is a writer for Angie's List Magazine in Indianapolis. In
2009
, she finished a stint drinking bourbon and covering breaking news for
The Courier-Journal
in Louisville, Ky. Her eclectic media career also includes time at the Associated Press,
Punk Planet
(R.I.P.),
The Daily Southtown
in southwest Chicago, and Radio Prague in the Czech Republic. She co-hosted and co-produced
In These Times
' radio show ​
"
Fire on the Prairie
" from
2003
to
2006
.