Arsonists Torched Highlander's Main Office. But You Can't Burn Down an Idea.
Labor, civil rights and social justice activists have trained at the historic Highlander Research and Education Center for generations.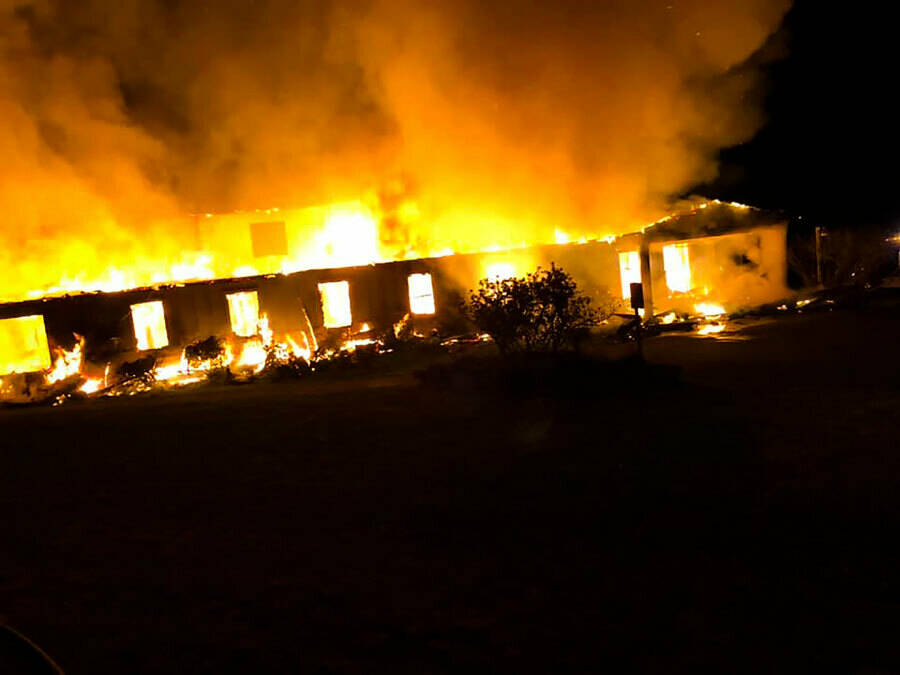 The main office build­ing of the his­toric High­lander Research and Edu­ca­tion Cen­ter in New Mar­ket, Tenn., burned to the ground March 29. Lat­er that day, white suprema­cist graf­fi­ti was found in the park­ing lot.
We needed a continual pressure campaign for Overnite to take bargaining seriously, so we sought inspiration for more aggressive tactics from civil disobedience activists at Highlander.
Thank­ful­ly, no one was harmed in the fire. But as one of count­less orga­niz­ers and activists who have passed through this cen­ter for pop­u­lar edu­ca­tion, I felt its loss deeply. Found­ed in 1932, High­lander (orig­i­nal­ly called the High­lander Folk School) con­nect­ed demo­c­ra­t­ic edu­ca­tion with labor, com­mu­ni­ty orga­niz­ing and civic engage­ment. It was a meet­ing place and train­ing grounds for gen­er­a­tions of labor, civ­il rights and social jus­tice activists. Rosa Parks and John Lewis made appear­ances, and Mar­tin Luther King Jr. spoke at Highlander's 25th anniversary.
So when I saw a video on social media of the build­ing being razed, I was tak­en back to the sum­mer of 1998, when a group of about 45 Team­ster orga­niz­ers, ware­house work­ers and truck dri­vers from around the coun­try gath­ered at High­lander to learn how to take on a for­mi­da­ble oppo­nent: Over­nite Trans­porta­tion Com­pa­ny (part of the Union Pacif­ic Cor­po­ra­tion), based in Rich­mond, Va., the largest non-union truck­ing firm in the Unit­ed States at the time. Over­nite had resist­ed Team­sters' orga­niz­ing efforts since 1994. Rec­og­niz­ing we need­ed a con­tin­u­al pres­sure cam­paign for the com­pa­ny to take bar­gain­ing seri­ous­ly, we sought inspi­ra­tion for more aggres­sive tac­tics from civ­il dis­obe­di­ence activists at Highlander.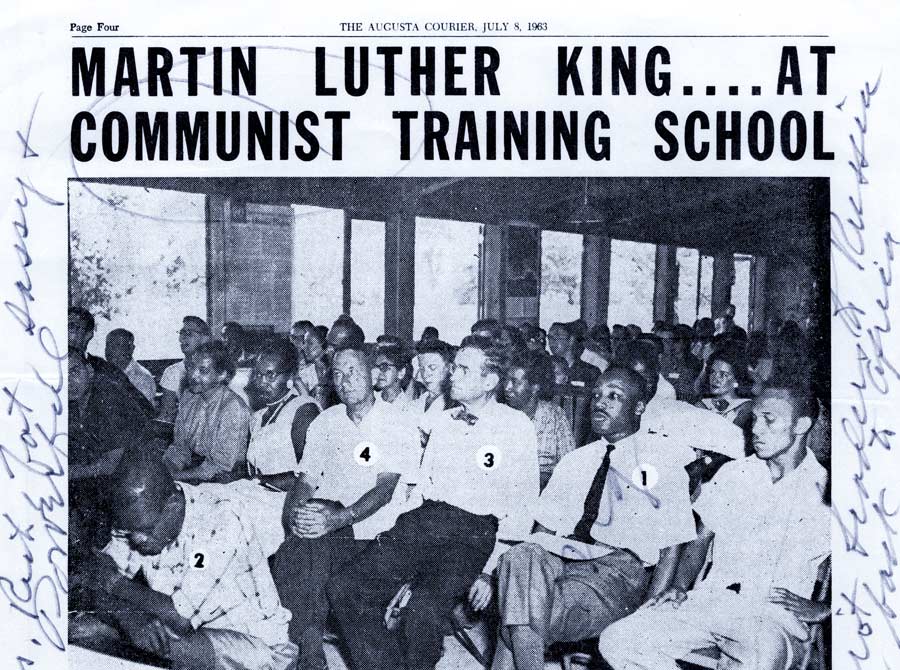 (A broad­side calls High­lander 25th anniver­sary atten­dees Mar­tin Luther King Jr., Abn­er W. Berry, Aubrey Williams and Myles Hor­ton the "'Four Horse­men' of racial agi­ta­tion." Rosa Parks appears on the far left)
This was the same build­ing I remem­ber from 1998. It was octag­o­nal, and work­shops were held in a large room with rock­ing chairs arranged in a cir­cle, a sym­bol of respect, dig­ni­ty and wel­come. Every­one had an equal chance to par­tic­i­pate in dis­cus­sion, tell sto­ries and connect.
Our dis­cus­sions at High­lander not only pro­vid­ed prac­ti­cal strate­gies for orga­niz­ing and union build­ing, but a way to con­nect to a larg­er move­ment for social and eco­nom­ic jus­tice and the long his­to­ry of orga­niz­ing in the South.
One day, we received a vis­it from Can­die and Guy Carawan, the folk singers who intro­duced ​"We Shall Over­come" into the civ­il rights move­ment. The two had been very involved with High­lander dur­ing the 1960s, shar­ing union songs and encour­ag­ing musi­cians to get involved in organizing.
"We Shall Over­come" was a gospel song said to have orig­i­nat­ed as a work song among enslaved peo­ple in the fields. Its first doc­u­ment­ed polit­i­cal use was among strik­ing tobac­co work­ers in Charleston, S.C., in 1945. In 1947, two of those work­ers attend­ed a work­shop at High­lander, where they taught the song to Zil­phia Hor­ton, Highlander's music direc­tor. Zil­phia began using the song in work­shops, which had been racial­ly inte­grat­ed for years, and atten­dees felt the song brought black and white orga­niz­ers clos­er togeth­er. While liv­ing in Cal­i­for­nia in the ear­ly 1950s, Guy heard the song and was inspired to learn it on gui­tar. He came to High­lander in 1959 and became music direc­tor after Zil­phia passed away. ​"We Shall Over­come" caught like wild­fire and was sung in protests through­out the South.
Guy and Can­die brought their gui­tars and spent time with us in the evening, singing and telling sto­ries. They spoke of the tex­tile union orga­niz­ers who came through High­lander in the late 1930s and helped launch an enor­mous strike that shut down North Carolina's entire tex­tile indus­try. Between 300,000 and 500,000 work­ers from the Deep South to New Eng­land were on strike with­in a week. The Unit­ed Tex­tile Work­ers union mem­ber­ship went up ten­fold to 270,000, the largest in the country.
Guy and Can­die men­tioned, too, the attempts to thwart Highlander's influ­ence. In 1959, High­lander was raid­ed, and the Ten­nessee state leg­is­la­ture ordered the dis­trict attor­ney to shut down High­lander, then locat­ed in Mon­tea­gle, Tenn., for hold­ing inter­ra­cial class­es and serv­ing beer. By 1961, the charge for inter­ra­cial class­es was dropped, but the courts revoked the school's char­ter on charges of sell­ing alco­hol and that cofounder Myles Hor­ton was per­son­al­ly prof­it­ing (a trumped up charge). The local sher­iff pad­locked Highlander's doors, and all of its prop­er­ty and land were con­fis­cat­ed. The school quick­ly rechar­tered as the High­lander Research and Edu­ca­tion Cen­ter and moved to Knoxville. But the harass­ment and hate crimes didn't stop. The Knoxville News Sen­tinel reports that, in 1963, ​"Blount Coun­ty deputies raid­ed an inte­grat­ed sum­mer youth camp in Townsend orga­nized by High­lander staff," and when Myles went to ​"meet an attor­ney about the raid, a stranger clubbed him into uncon­scious­ness." In 1966, two fire­bombs were thrown through the center's windows.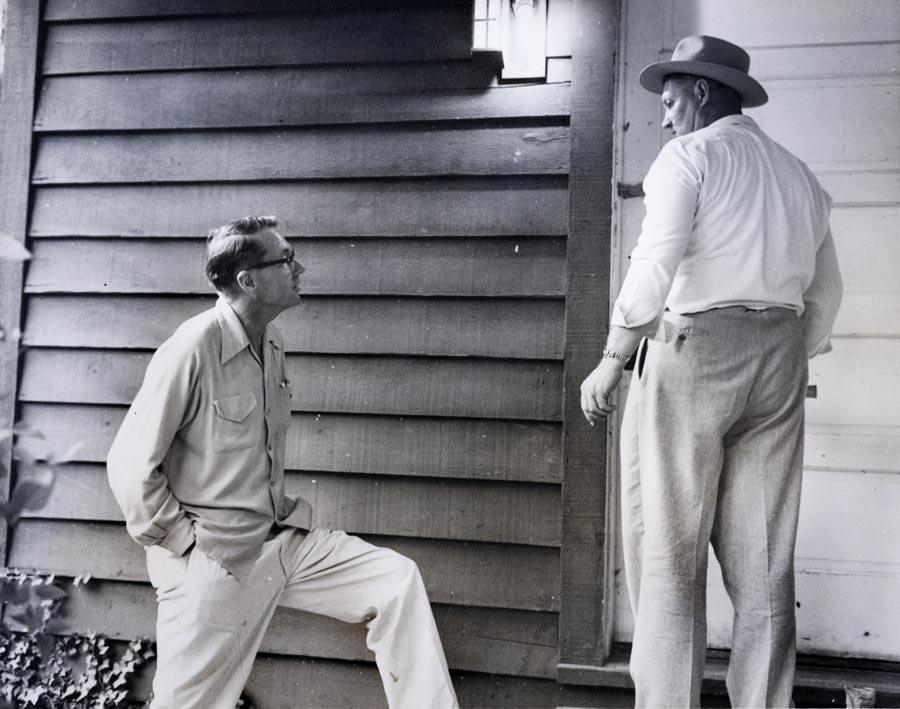 (Co-founder Myles Hor­ton watch­es a local sher­iff pad­lock High­lander in 1961)
From sunup to late in the evening, our group of Team­ster orga­niz­ers would dis­cuss how to build pow­er at Overnite's var­i­ous truck­ing ter­mi­nals in spite of not hav­ing a union con­tract. We were joined by Rev. Jim Ses­sions, Highlander's exec­u­tive direc­tor (who had led Appalachi­an reli­gious com­mu­ni­ties to join the 1988 – 1989 Unit­ed Mine Work­ers Union strike and an occu­pa­tion of a coal pro­cess­ing plant in Pittston, Pa., last­ing more than six months), and Alice and Staughton Lynd, edi­tors of the 1973 Rank and File: Per­son­al His­to­ries by Work­ing-Class Orga­niz­ers. We dis­cussed strate­gies to get dif­fi­cult ter­mi­nal man­agers fired. We dis­cussed how to bring fear­ful work­ers into the union. Most impor­tant­ly, we acknowl­edged that orga­niz­ing is a process that takes time, edu­ca­tion and agi­ta­tion — until we win.
We also attend­ed work­shops on civ­il dis­obe­di­ence led by Philip Berri­g­an, the for­mer Roman Catholic priest and lead­ing voice of the 1960s peace move­ment. Coin­ci­den­tal­ly, Berri­g­an was in the fed­er­al pen­i­ten­tiary at Lewis­burg, Pa., at the same time that Jim­my Hof­fa, a labor union leader who became pres­i­dent of the Inter­na­tion­al Broth­er­hood of Team­sters, was incar­cer­at­ed. Berri­g­an recalled that the prison guards would reg­u­lar­ly bul­ly Hof­fa, and so he befriend­ed Hof­fa while they served out their respec­tive sentences.
Berri­g­an taught us how to pre­vent vio­lent con­fronta­tions with police, and the dif­fer­ence between vol­un­tary arrest and resist­ing arrest. He had gone to jail numer­ous times for Viet­nam War protests, and, in 1980, as a leader of the anti-nuclear, Chris­t­ian paci­fist Plow­shares Move­ment, did jail time for sneak­ing into a Gen­er­al Elec­tric plant, pour­ing blood over doc­u­ments, and dam­ag­ing com­po­nents of nuclear war­heads by bang­ing on them with ham­mers (an allu­sion to the Book of Isa­iah, ​"beat their swords into plowshares").
We Team­sters learned per­haps one of our most impor­tant lessons from the lega­cy of Highlander's cofounder and ​"rad­i­cal hill­bil­ly" edu­ca­tor Myles Hor­ton, who men­tored scores of orga­niz­ers and died in 1990. His work taught us the impor­tance of lis­ten­ing — not lec­tur­ing or try­ing to sell an idea — to bring work­ers into a con­ver­sa­tion about change, and to cre­ate excite­ment and enthu­si­asm through demo­c­ra­t­ic par­tic­i­pa­tion. He main­tained that peo­ple are cre­ative, if giv­en the chance to par­tic­i­pate and make a difference.
Cre­ativ­i­ty was key in our orga­niz­ing cam­paign: direct action at mul­ti­ple work­sites on mul­ti­ple fronts, wild­cat unfair labor prac­tice strikes, griev­ance strikes.
So, the fol­low­ing sum­mer of 1999, we ran a series of wild­cat strikes at Over­nite ter­mi­nals across the coun­try. We leaked false infor­ma­tion to Over­nite about where the next strike would occur. When Over­nite moved car­go to what they thought was a safe loca­tion, we would strike that ter­mi­nal and walk out. Through orga­nized action, we cre­at­ed chaos and con­fu­sion for the bosses.
High­lander inspired us to keep fight­ing for these work­ers, to nev­er give up. After decades of Team­ster orga­niz­ing attempts, and a lat­er unsuc­cess­ful sys­temwide strike, UPS (whose work­ers are mem­bers of the Team­sters) acquired Over­nite; its work­ers are now rep­re­sent­ed by the union.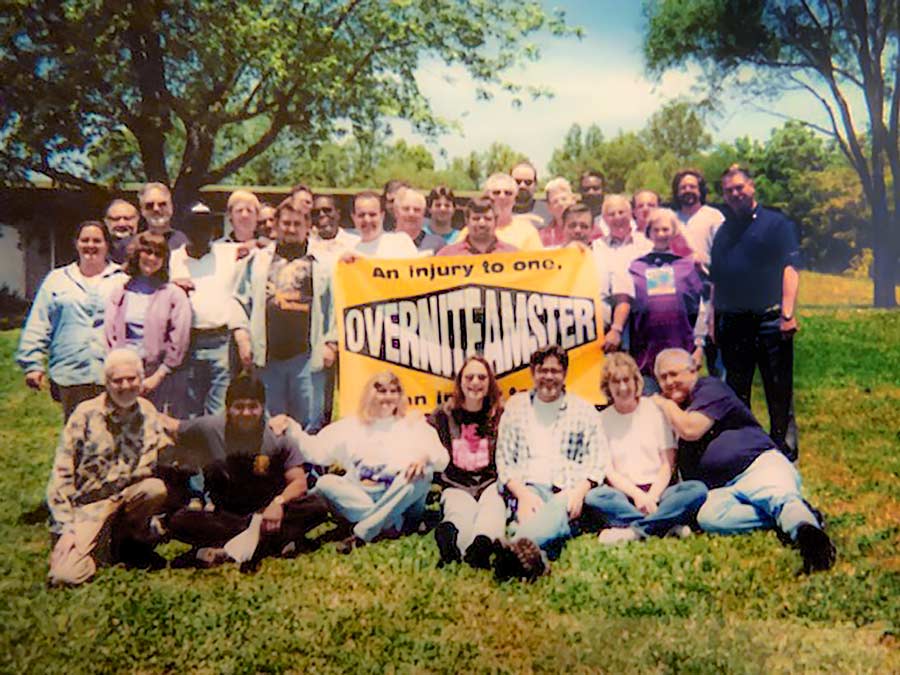 (The Over­nite Team­sters, includ­ing Philip Berri­g­an, Rev. Jim Ses­sions, Alice and Staughton Lynd, and Guy and Can­die Carawan, gath­er at High­lander in 1998)
We don't know who exact­ly is behind this most recent attack on High­lander; an inves­ti­ga­tion is ongo­ing. We do know that it reflects the grow­ing white nation­al­ist move­ments across the coun­try and around the world.
When Highlander's doors were pad­locked back in 1961 for its role in the civ­il rights move­ment, Myles laughed and said, ​"You can't pad­lock an idea."
How right he is. For every ware­house work­er and truck dri­ver and unor­ga­nized work­er who seeks a bet­ter life, one free from drudgery, humil­i­a­tion and low pay, the ideals of High­lander will remain an inspi­ra­tion and a pow­er­ful force for democ­ra­cy and social justice.
This arti­cle was sup­port­ed by the Eco­nom­ic Hard­ship Report­ing Project.
Gary Steven­son
was direc­tor of the Over­nite Team­ster Orga­niz­ing Cam­paign from
1996
to
1998
.