For more than three months, an under­wa­ter pipeline has been spew­ing hun­dreds of thou­sands of cubic feet of processed nat­ur­al gas per day in Alaska's Cook Inlet, pos­si­bly threat­en­ing crit­i­cal­ly endan­gered bel­u­ga whales, fish and oth­er wildlife.
The 8‑inch pipeline, owned and oper­at­ed by Hilcorp Alas­ka, is leak­ing more than 210,000 cubic feet of gas per day. The gas is 99 per­cent methane and pro­vides fuel for four plat­forms in Cook Inlet.
A notice from the U.S. Pipeline and Haz­ardous Mate­ri­als Safe­ty Admin­is­tra­tion (PHM­SA) revealed that Hilcorp knew about the leak as ear­ly as Decem­ber but did not report the leak until Feb. 7, after a heli­copter spot­ted gas bub­bling to the sur­face of the water.
Aeriel footage of nat­ur­al gas leak­ing from a Hilcorp pipeline into Alaska's Cook Inlet. (Video: Inlet­keep­er / YouTube)
PHM­SA says the nat­ur­al gas dis­charge could pose a risk to pub­lic safe­ty, the envi­ron­ment and marine mam­mals and has giv­en Hilcorp until May 1 to per­ma­nent­ly repair the line or shut it down. But con­ser­va­tion groups warn that wait­ing until May could allow the release of anoth­er 16 mil­lion cubic feet of gas. Sev­en groups have sub­mit­ted a let­ter to the Trump admin­is­tra­tion urg­ing for an imme­di­ate shut­down of the 52-year-old pipeline.
"This dan­ger­ous leak could stop imme­di­ate­ly if reg­u­la­tors did their job and shut down this rick­ety old pipeline," wrote Miyoko Sakashita, the Cen­ter for Bio­log­i­cal Diver­si­ty oceans pro­gram direc­tor. ​"We're dis­gust­ed with the Trump admin­is­tra­tion's lack of con­cern about this ongo­ing dis­as­ter. Every day the leak con­tin­ues, this pipeline spews more pol­lu­tion into Cook Inlet and threat­ens endan­gered bel­u­gas and oth­er wildlife." The let­ter was signed by the Cen­ter for Bio­log­i­cal Diver­si­ty, Friends of the Earth, Nat­ur­al Resources Defense Coun­cil, Defend­ers of Wildlife, Resist­ing Envi­ron­men­tal Destruc­tion on Indige­nous Lands, Green­peace and the Eyak Preser­va­tion Coun­cil.
Hilcorp con­tends that Cook Inlet's heavy ice cov­er and strong tides has made it too risky for divers to imme­di­ate­ly fix the prob­lem and is wait­ing until at least late March or April for the ice to clear. The ice cov­er has also made it impos­si­ble to sur­vey the leak's risks to envi­ron­men­tal and wildlife. But sci­en­tists have already warned that the impact could be dis­as­trous. ​"There are three poten­tial impacts that we wor­ry about," says Chris Sabine, a chem­i­cal oceanog­ra­ph­er with the Nation­al Ocean­ic and Atmos­pher­ic Admin­is­tra­tion (NOAA), to Insid­e­Cli­mate News.
First, methane expo­sure could be harm­ful to fish, poten­tial­ly dis­turb­ing its main func­tion­al sys­tems — res­pi­ra­tion, ner­vous sys­tem, blood for­ma­tion, enzyme activ­i­ty and oth­ers. Sec­ond­ly, Sabine explained that bac­te­ria metab­o­liz­ing the methane-sat­u­rat­ed water could pro­duce addi­tion­al car­bon diox­ide and deplete oxy­gen lev­els in the water, cre­at­ing a hypox­ic zone. Last­ly, this extra CO2 can cause the water to become more acidic, which can cause shells of some ani­mals to weaken.
Sadie Wright, a NOAA marine mam­mals spe­cial­ist, adds that the hypox­ic zone could impact the food sup­ply for Cook Inlet's esti­mat­ed 340 bel­u­gas. The noise com­ing from the leak could also be a ​"poten­tial stres­sor," says Wright, as exces­sive noise can cause bel­u­gas to aban­don their habi­tat. ​"We don't have any idea how loud the leak might be," she says.
Not much is known about what is hap­pen­ing under Cook Inlet's icy waters. State reg­u­la­tors only issued a pre­lim­i­nary approval of Hilcor­p's sam­pling and envi­ron­men­tal mon­i­tor­ing plan last Tues­day (March 14). So far, aer­i­al sur­veys of the leak­ing gas field has not uncov­ered any injured birds or marine mam­mals, includ­ing bel­u­ga whales, state offi­cials report­ed.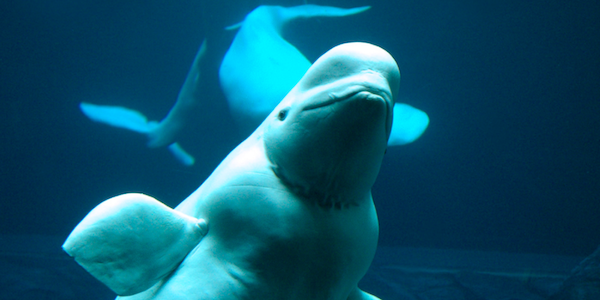 Accord­ing to the World Wildlife Fund (WWF) the bel­u­ga's extinc­tion risk is cur­rent­ly clas­si­fied as ​"near threat­ened." The pri­ma­ry threats fac­ing the bel­u­ga today are changes in ice cov­er, oil and gas delevop­ment and oth­er ocean noise. (Pho­to: Flickr / Ecowatch)
To slow the leak, the com­pa­ny low­ered pres­sure in the affect­ed line on March 4, esti­mat­ing the leak was reduced from 310,000 to 210,000 cubic feet of gas dai­ly. It again low­ered the pres­sure on Mon­day and esti­mat­ed the line is leak­ing 193,000 to 215,000 cubic feet daily.
As for why Hilcorp has­n't just shut down its line, the com­pa­ny says an oil spill could occur because the line was once used to car­ry oil. Shut­ting down the pipeline would risk it ​"tak­ing in water, freez­ing and poten­tial­ly rup­tur­ing," Lori Nel­son, exter­nal affairs man­ag­er at Hilcorp Alas­ka, explained last month to Alas­ka Dis­patch News. Nel­son also said that the line needs to be kept pres­sur­ized or else it could fill with water, allow­ing resid­ual crude oil to escape from what was pre­vi­ous­ly used as a crude oil pipeline.
The Cen­ter for Bio­log­i­cal Diver­si­ty has sent a notice of intent to sue Hilcorp under the Clean Water Act and the Clean Air Act. Homer, Alas­ka non­prof­it Cook Inlet­keep­er has sent a sim­i­lar notice to sue.
"If Hilcorp can­not or will not stop pol­lut­ing our pub­lic resources, then it should have no right to oper­ate in our waters in the first place," writes Bob Shavel­son, Cook Inlet­keep­er exec­u­tive direc­tor in a blog post. ​"Hilcorp has put forth var­i­ous excus­es why it can­not shut down the leak­ing pipeline in Cook Inlet's icy con­di­tions — includ­ing that water would infil­trate the gas line and oth­er rea­sons — but the fact remains Hilcorp sim­ply wants to main­tain pro­duc­tion and prof­its with­out interruption."
("3 Months and Count­ing: Pipeline Leaks Nat­ur­al Gas Into Alaska's Cook Inlet" was orig­i­nal­ly pub­lished on EcoW­atch, a lead­ing envi­ron­men­tal news site pro­vid­ing orig­i­nal con­tent from a team of reporters and insights from envi­ron­men­tal and busi­ness lead­ers. For more infor­ma­tion, click here.)
[If you like what you've read, help us spread the word. ​

"

Like" Rur­al Amer­i­ca In These Times on Face­book. Click on the ​

"

Like Page" but­ton below the bear on the upper right of your screen. Also, fol­low RAITT on Twit­ter @RuralAmericaITT]