Hillary Clinton's 2016 Playbook Against Bernie Sanders Is a Lot Like Her 2008 Playbook Against Obama
Just about every attack that has been lobbed against Sanders thus far in the Democratic race was once hurled against Obama.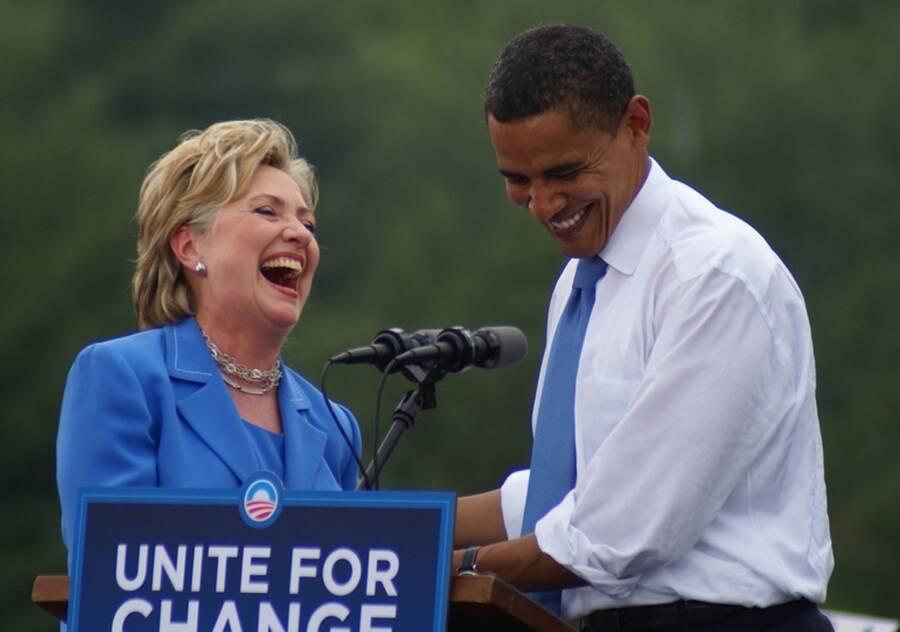 In the midst of a fierce pri­ma­ry con­test, Hillary Clin­ton has laid into her oppo­nent: ​"I could stand up here and say, ​'Let's just get every­body togeth­er. Let's get uni­fied. The sky will open. The light will come down. Celes­tial choirs will be singing, and every­one will know we should do the right thing and the world will be perfect."
Candidate Obama, now a hallowed progressive icon, faced a barrage of identical attacks back in 2008.
"You are not going to wave a mag­ic wand and have the spe­cial inter­ests dis­ap­pear," she added.
This wasn't Clin­ton in 2016 attack­ing her oppo­nent, Ver­mont Sen­a­tor Bernie Sanders, for what she and her sup­port­ers view as his unre­al­is­tic and fan­tas­ti­cal promis­es to the Amer­i­can peo­ple. This was Clin­ton in 2008, launch­ing a sting­ing, sar­cas­tic rebuke to her then-Demo­c­ra­t­ic pri­ma­ry oppo­nent, Illi­nois Sen­a­tor Barack Oba­ma, and his vague pledges of ​"hope" and ​"change."
It's easy to for­get now, but just about every attack that has been lobbed against Sanders thus far in the Demo­c­ra­t­ic race was once hurled against Oba­ma. Since then, how­ev­er, Oba­ma has gone from being cast as a speechi­fy­ing light­weight by Clin­ton to an accom­plished stan­dard-bear­er for progressivism.
The charges of blind ide­al­ism have per­haps the clear­est par­al­lels. Lib­er­al writ­ers like Jonathan Chait have deemed Sanders' plat­form as hav­ing ​"zero chance of enact­ment," while Clin­ton, in words eeri­ly sim­i­lar to her 2008 speech about Oba­ma, said recent­ly of Sanders, ​"I wish that we could elect a Demo­c­ra­t­ic pres­i­dent who could wave a mag­ic wand and say, ​'We shall do this, and we shall do that.' That ain't the real world we're liv­ing in!"
"I am not inter­est­ed in ideas that sound good on paper but will nev­er make it in real life," she said as the Iowa Cau­cus­es approached this year. The speech echoed her words in 2008, when she told a Texas crowd that ​"I am in the solu­tions busi­ness. My oppo­nent is in the promis­es business."
These cri­tiques all rest on the idea of the Clin­ton as the clear-head­ed prag­ma­tist ​"who gets things done" in com­par­i­son to ide­al­is­tic and uncom­pro­mis­ing dream­ers like Sanders and Oba­ma. (But in con­trast with Oba­ma in 2008, Sanders actu­al­ly has an impres­sive record of accom­plish­ments in Con­gress and is well-versed in the kind of grimy, incre­men­tal work involved in pass­ing legislation.)
In 2008, the New York Times report­ed Clinton's advis­ers charg­ing that Obama's tax cuts were ​"unre­al­is­tic" and ​"would end up for­feit­ing the Democ­rats' hard-won rep­u­ta­tion for fis­cal dis­ci­pline." Clin­ton also called Oba­ma ​"irre­spon­si­ble and frankly naïve" for want­i­ng to meet ene­my lead­ers with­out preconditions.
Both of these crit­i­cisms may sound famil­iar to any­one keep­ing up with the present Demo­c­ra­t­ic con­test. Clin­ton has fret­ted that Sanders' sin­gle-pay­er health care plan would some­how jeop­ar­dize the hard-fought Afford­able Care Act, and she and one of her advis­ers crit­i­cized Sanders' sug­ges­tion that the Unit­ed States should nor­mal­ize rela­tions with Iran, say­ing, ​"It's pret­ty clear that he just hasn't thought it through."
Oba­ma and Sanders have both also faced accu­sa­tions that they are more style than sub­stance. ​"This oth­er guy's mad­der than she is, and that feels authen­tic," Bill Clin­ton recent­ly said about Sanders. ​"And besides, his slo­gans are eas­i­er to say." Vox​'s Matthew Ygle­sias has sim­i­lar­ly charged that ​"Sanders' Wall Street plan is a slo­gan" and has chal­lenged the sen­a­tor to move past mere rhetoric and offer con­crete, detailed pol­i­cy proposals.
Can­di­date Oba­ma, now a hal­lowed pro­gres­sive icon brought up by Clin­ton dur­ing the pri­ma­ry fight, faced a bar­rage of iden­ti­cal attacks back in 2008. Oba­ma had ​"hyp­no­tized" the media with a ​"shal­low cam­paign slo­gan" and his poli­cies lacked specifics, pun­dits said. ​"There's a big dif­fer­ence between us— speech­es ver­sus solu­tions, talk ver­sus action," Clin­ton said in 2008. ​"Speech­es don't put food on the table. Speech­es don't fill up your tank or fill your pre­scrip­tion or do any­thing about that stack of bills that keeps you up at night."
Sanders has also been called une­lec­table by Clin­ton and her sup­port­ers for his embrace of the label ​"social­ist," warn­ing that a Sanders nom­i­na­tion would be a huge gift to the GOP. It's a line of attack that can­di­date Oba­ma also had to with­stand eight years ago.
Fears about Obama's ​"elec­tabil­i­ty" (which some at the time viewed as a cod­ed ref­er­ence to race) were the cor­ner­stone of Clinton's cam­paign. ​"I've seen a lot of elec­tions come and go and who­ev­er our Demo­c­ra­t­ic nom­i­nee is will be sub­ject­ed to the full force and effect of the Repub­li­can attack machine," Clin­ton cau­tioned in 2007.
Per­haps the most con­tentious attacks faced by both cam­paigns have been alle­ga­tions of sex­ism and oth­er crit­i­cisms of the can­di­dates' respec­tive sup­port­ers. In the 2016 cam­paign, this has tak­en the form of the alleged ​"Bernie Bro" phe­nom­e­non, the army of fanat­i­cal, intol­er­ant and/​or misog­y­nis­tic young, male Sanders sup­port­ers who harass any­one dar­ing to express a pro-Clin­ton sen­ti­ment online.
The nar­ra­tive has gained trac­tion despite the fact that Sanders con­sis­tent­ly out­polls Clin­ton among young women, with lib­er­al pun­dit Paul Krug­man repeat­ed­ly invok­ing the term to dele­git­imize crit­i­cism of Clin­ton. Most recent­ly, in the midst of a string of anti-Sanders attacks, Bill Clin­ton com­plained that Clin­ton back­ers have been ​"sub­ject to attacks that are lit­er­al­ly too pro­fane, often — not to men­tion sex­ist — to repeat."
Vot­ing for a can­di­date based on their sup­port­ers' actions is non­sen­si­cal. But these alle­ga­tions are also vir­tu­al­ly iden­ti­cal to those launched by the Clin­ton camp in 2008. Oba­ma was reg­u­lar­ly accused of run­ning a sex­ist cam­paign, so much so that there was a notable con­tin­gent of Clin­ton sup­port­ers who threat­ened to vote for John McCain in the gen­er­al elec­tion out of spite. Then there was 2008's ver­sion of the ​"Bernie Bros", a spate of sto­ries from pro-Clin­ton pun­dits about Obama's ​"creepy," ​"cult-like" sup­port­ers. As in 2016, Krug­man joined the fray, com­plain­ing that Obama's cam­paign was ​"dan­ger­ous­ly close to becom­ing a cult of per­son­al­i­ty" and declar­ing that ​"most of the ven­om I see is com­ing from sup­port­ers of Mr. Obama."
The point of all this is not to say whether these alle­ga­tions are right or wrong. Per­haps Oba­ma and Sanders both do over-rely on rhetoric over con­crete poli­cies. Maybe they are too ide­al­is­tic for their own good. But despite these per­ceived short­com­ings, the lib­er­al estab­lish­ment large­ly embraced Oba­ma after the 2008 elec­tion. Krug­man him­self went on to describe Oba­ma as ​"one of the most con­se­quen­tial and, yes, suc­cess­ful pres­i­dents in Amer­i­can his­to­ry." It's bizarre to see Clin­ton and her loy­al­ists trum­pet the same crit­i­cisms against Sanders as they did against Oba­ma in 2008 — while at the same time try­ing to posi­tion Clin­ton as the heir to Obama's lega­cy.
If these sup­posed flaws weren't enough to stop Oba­ma from becom­ing a suc­cess­ful pres­i­dent (at least in the eyes of the Demo­c­ra­t­ic Par­ty), it's hard to see why they would do so for a Pres­i­dent Sanders. It's time the Clin­ton camp updat­ed their playbook.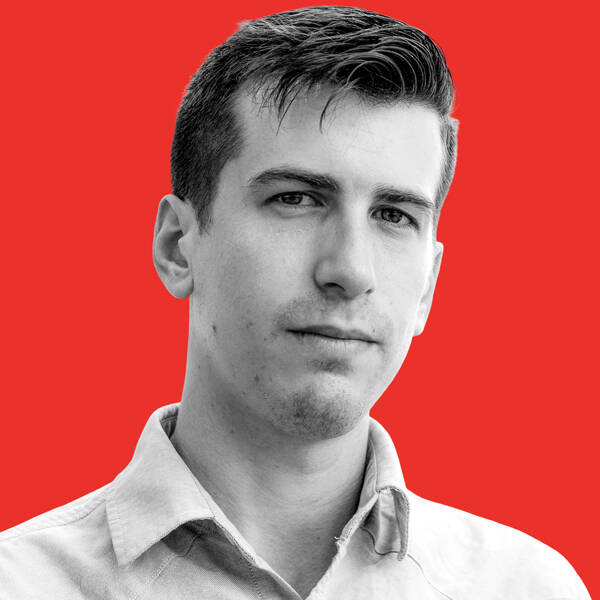 Branko Marcetic
is a staff writer at Jacobin mag­a­zine and a
2019
 – 
2020
Leonard C. Good­man Insti­tute for Inves­tiga­tive Report­ing fel­low. He is work­ing on a forth­com­ing book about Joe Biden.