New Hillary Clinton Emails: Anne-Marie Slaughter, Sidney Blumenthal Urged Libya Military Action
The most recent release of Clinton's emails show the two liberal advisors strongly encouraging U.S. intervention against Libya.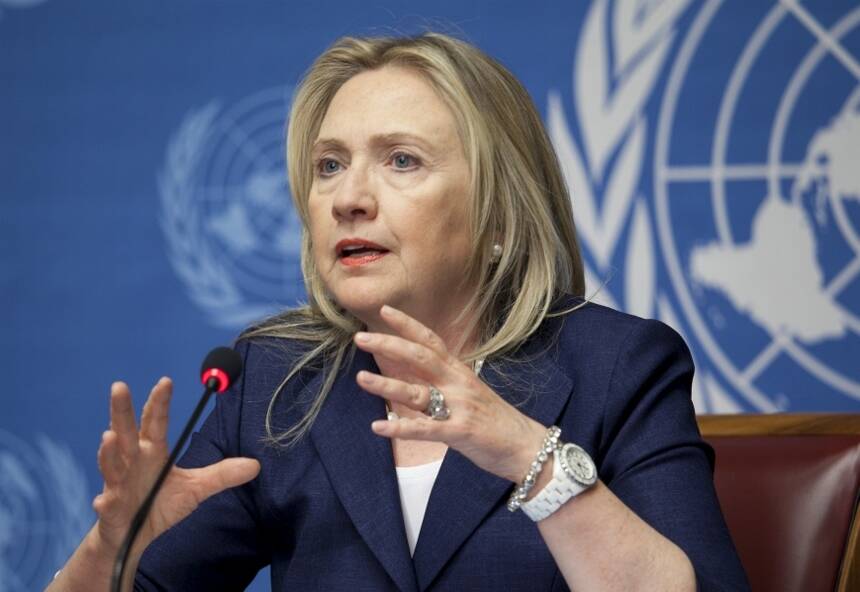 The lat­est release of emails from Hillary Clinton's pri­vate serv­er has prompt­ed numer­ous sto­ries about the for­mer Sec­re­tary of State's bat­tle with an intran­si­gent White House phone oper­a­tor, her prepa­ra­tions for an appear­ance on Ellen DeGeneres' TV show and the fact that even the Unit­ed States' top diplo­mat gets sent the same kind of scam emails that the rest of us do. What has­n't been report­ed is how the cur­rent Demo­c­ra­t­ic fron­trun­ner was urged by her unof­fi­cial advis­ers to take up the inter­ven­tion­ist stance she even­tu­al­ly adopt­ed toward the Libyan civ­il war dur­ing her time in cab­i­net — with dis­as­trous results.
Responding to an email from Slaughter about the Egyptian Revolution, the former Secretary of State told her she would include her points in her upcoming interviews, concluding: "Thx so much. Pls keep the ideas coming!" Meanwhile, when Blumenthal suggested establishing a no-fly zone over Libya, Clinton forwarded it on to her Director of Policy Planning Jacob Sullivan within 10 minutes, asking him, "What do you think of this idea?"
Back in 2011, the Unit­ed States, along with a num­ber of oth­er West­ern pow­ers, inter­vened in an increas­ing­ly vio­lent civ­il war in Libya, first by impos­ing a no-fly zone and then by com­menc­ing a bomb­ing cam­paign that forced dic­ta­tor Muam­mar Gaddafi to flee the cap­i­tal. Clin­ton was report­ed­ly instru­men­tal in not just con­vinc­ing Pres­i­dent Oba­ma to approve the U.S.'s involve­ment, but in keep­ing the entire frac­tious coali­tion of West­ern pow­ers together.
After Gaddafi was top­pled, Clin­ton was quick to declare the oper­a­tion a suc­cess, flash­ing a peace sign in Tripoli and declar­ing it ​"Libya's vic­to­ry." She pub­licly praised the Unit­ed States' ​"smart pow­er," while pri­vate­ly — as pre­vi­ous­ly released emails revealed — her advis­ers urged her to take cred­it for the operation's sup­posed success.
But Clinton's enthu­si­asm for inter­ven­tion in Libya didn't emerge out of a vac­u­um, as the most recent­ly released emails show. She was encour­aged to back mil­i­tary action ear­ly on by two key fig­ures: for­mer White House offi­cial and friend Sid­ney Blu­men­thal and for­mer State Depart­ment offi­cial and colum­nist Anne-Marie Slaughter.
Blumenthal's role as Clinton's con­fi­dante is well estab­lished at this point, as pre­vi­ous State Department's email releas­es have shown. Hun­dreds of those emails involved advice from Blu­men­thal on every­thing from domes­tic and for­eign pol­i­tics to ideas for speeches.
But Slaughter's role is less well known. Serv­ing under Clin­ton as the State Department's Direc­tor of Pol­i­cy Plan­ning from 2009 to Feb­ru­ary 2011, Slaugh­ter stepped down and moved into a pro­fes­sor­ship at Prince­ton and, lat­er, a role as Pres­i­dent and CEO of New Amer­i­ca, a think tank. Slaugh­ter remained a con­sul­tant to the State Department's Pub­lic Pol­i­cy Bureau, how­ev­er, and con­tin­ued send­ing emails direct­ly to Clin­ton about a vari­ety of top­ics — includ­ing the events in Libya.
Slaugh­ter was one of the loud­est voic­es pub­licly call­ing for U.S. involve­ment in the North African state, and she con­tin­ued this line in her pri­vate cor­re­spon­dence with Clin­ton. In one email dat­ed Feb­ru­ary 23, 2011, in ref­er­ence to images of bru­tal­i­ty that were emerg­ing from Libya, Slaugh­ter insist­ed that ​"with this lev­el of vio­lence, force can only be met by force."
In fact, as she saw it, inter­ven­ing in Libya was vital to America's glob­al stand­ing, as it would ​"change the image of the Unit­ed States overnight, par­tic­u­lar­ly with the mil­lions of young peo­ple who are watch­ing." As his­tor­i­cal exam­ples to bol­ster her case, Slaugh­ter picked three that would have been par­tic­u­lar­ly mean­ing­ful for Clin­ton, hav­ing occurred dur­ing her hus­band's pres­i­den­cy: NATO inter­ven­tion in response to the eth­nic cleans­ing of Mus­lims in Bosnia, the NATO bomb­ing cam­paign against Serb forces in Koso­vo and, most sig­nif­i­cant­ly, the Unit­ed States' and oth­er coun­tries' fail­ure to act to pre­vent geno­cide in Rwan­da in 1994.
And the entire world would see, as they saw in Bosnia, NATO forces using force to save Mus­lims. Remem­ber Rwan­da. Even a small deploy­ment could have stopped the killing. … Remem­ber Kosovo.
Slaugh­ter con­tin­ued to send emails that threw an over­whelm­ing­ly pos­i­tive light on poten­tial Libyan inter­ven­tion. In anoth­er email three days after her ini­tial one, she urged Clin­ton to issue a pub­lic state­ment of sup­port for Libyan pro­test­ers, which she believed would help ​"impress the young peo­ple across the Mid­dle East." In March, she sent Clin­ton a copy of an op-ed she had writ­ten that was due to appear in the next day's New York Times, which called for a no-fly zone and tout­ed inter­ven­tion as ​"a chance to sup­port a new begin­ning in the Mus­lim world." She also sent Clin­ton poten­tial talk­ing points on U.S. pol­i­cy toward Libya for the Sun­day talk shows, and advised her to frame the con­flict as a ​"pop­u­lar revolt" instead of a ​"civ­il war."
Blu­men­thal also encour­aged mil­i­tary action against Libya, pass­ing along an arti­cle in Feb­ru­ary which report­ed for­mer UK For­eign Sec­re­tary David Owen call­ing for a no-fly zone over the coun­try. Lat­er, in June, he wrote to Clin­ton about the dete­ri­o­rat­ing sit­u­a­tion in Syr­ia, assur­ing her that ​"the most impor­tant event that could alter the Syr­i­an equa­tion would be the fall of Gaddafi, pro­vid­ing an exam­ple of a suc­cess­ful rebel­lion." He attached an arti­cle that he had helped devel­op, which argued the even­tu­al fall of Gaddafi could serve as a new mod­el for remov­ing Mid­dle East­ern dic­ta­tors: ​"lim­it­ed but tar­get­ed mil­i­tary sup­port from the West com­bined with an iden­ti­fi­able rebellion."
Giv­en that the peri­od from Feb­ru­ary to March marked Clinton's trans­for­ma­tion form a skep­tic to a ​"strong advo­cate" for U.S. inter­ven­tion in Libya, and that the weeks after that saw NATO's orig­i­nal mis­sion morph into one of régime change, the exis­tence of these mes­sages is significant.
Slaugh­ter and Blu­men­thal weren't just yelling into the breeze — Clin­ton clear­ly val­ued their advice. Respond­ing to an email from Slaugh­ter about the Egypt­ian Rev­o­lu­tion, the for­mer Sec­re­tary of State told her she would include her points in her upcom­ing inter­views, con­clud­ing: ​"Thx so much. Pls keep the ideas com­ing!" Mean­while, when Blu­men­thal sug­gest­ed estab­lish­ing a no-fly zone over Libya, Clin­ton for­ward­ed it on to her Direc­tor of Pol­i­cy Plan­ning Jacob Sul­li­van with­in 10 min­utes, ask­ing him, ​"What do you think of this idea?"
In real­i­ty, the out­come of West­ern inter­ven­tion in Libya was far more dis­as­trous than Slaugh­ter and Blu­men­thal pre­dict­ed. Clin­ton may have deemed it a ​"vic­to­ry" in 2011, but top­pling a gov­ern­ment is the first, and often eas­i­est, step when it comes to régime change; the trou­ble, as the Unit­ed States has found in Afghanistan, Iraq and else­where, is every­thing that comes after.
Today, Libya is an anar­chic failed state split between lit­er­al­ly hun­dreds of armed fac­tions and two rival gov­ern­ments, all vying to win con­trol over the coun­try. Food and elec­tric­i­ty is scarce while crime and armed con­flict is rife. Schools and uni­ver­si­ties are closed, becom­ing shel­ters for the dis­placed. And with no police to uphold the law, peo­ple have turned to armed mili­tias.
It's tempt­ing to won­der whether things might have been dif­fer­ent had Clin­ton had anoth­er, less inter­ven­tion­ist set of infor­mal advi­sors. There was no short­age of voic­es at the time warn­ing that involve­ment in Libya, par­tic­u­lar­ly expand­ing the orig­i­nal mis­sion to focus on top­pling Gaddafi, would lead to exact­ly the state of affairs the coun­try now faces.
The Ottawa Cit­i­zen recent­ly revealed that the Cana­di­an mil­i­tary, part of the NATO cam­paign in Libya, had pro­duced a report four days before bomb­ing com­menced in 2011 stat­ing that remov­ing Gaddafi would cre­ate a long-term civ­il war. Four days before that, Retired Gen­er­al Wes­ley Clark, an ​"old friend" of Clinton's, wrote an op-ed in the Wash­ing­ton Post with a sim­i­lar warn­ing. Even though Clin­ton cit­ed the arti­cle in her mem­oir, she seems not to have heed­ed its message.
By con­trast, Slaugh­ter's advice to Clin­ton was dis­mis­sive of such concerns:
Peo­ple will say that we will then get enmeshed in a civ­il war, that we can­not go into anoth­er Mus­lim coun­try, that Gaddafi is well armed, there will be a mil­lion rea­sons NOT to act. But all our talk about glob­al respon­si­bil­i­ty and lead­er­ship, not to men­tion respect for uni­ver­sal val­ues, is com­plete­ly emp­ty if we stand by and watch this hap­pen with no response but sanctions.
By all avail­able accounts, Clin­ton sin­gle-mind­ed­ly and aggres­sive­ly went on to pur­sue the goal of West­ern mil­i­tary inter­ven­tion in Libya. By July, her chief of staff was cel­e­brat­ing that the State Depart­ment had man­aged to feed the New York Times ​"more ammo" for an op-ed urg­ing the Unit­ed States to stay the course in Libya. And although Clin­ton down­played her role in push­ing for inter­ven­tion in her 2014 book Hard Choic­es (by which time the coun­try had long plunged into chaos and claim­ing cred­it for Gaddafi's ouster would have been a lia­bil­i­ty rather than a ben­e­fit), her own direc­tor of pol­i­cy plan­ning wrote a time­line of her ​"lead­er­ship on Libya" in August 2011, demon­strat­ing Clinton's ​"leadership/​ownership/​stewardship of this coun­try's Libya pol­i­cy from start to fin­ish." The time­line begins two days after Slaugh­ter's first email advo­cat­ing intervention.
As the Clin­ton 2016 cam­paign rolls on, the pub­lic will hear much about her for­eign pol­i­cy expe­ri­ence. But it's not just Clin­ton her­self the pub­lic should be keep­ing an eye on — they should also be assess­ing the judg­ment of those who have her ear.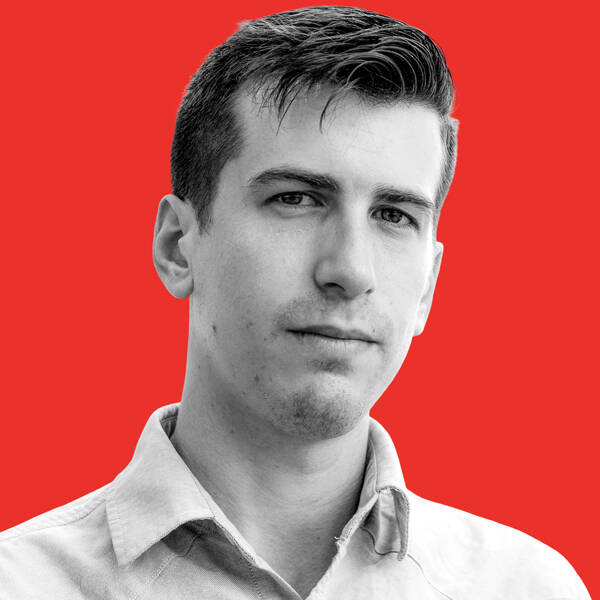 Branko Marcetic
is a staff writer at Jacobin mag­a­zine and a
2019
 – 
2020
Leonard C. Good­man Insti­tute for Inves­tiga­tive Report­ing fel­low. He is work­ing on a forth­com­ing book about Joe Biden.