A Behind-the-Scenes Tour of the Clinton Campaign's Calculated Decision to Oppose the TPP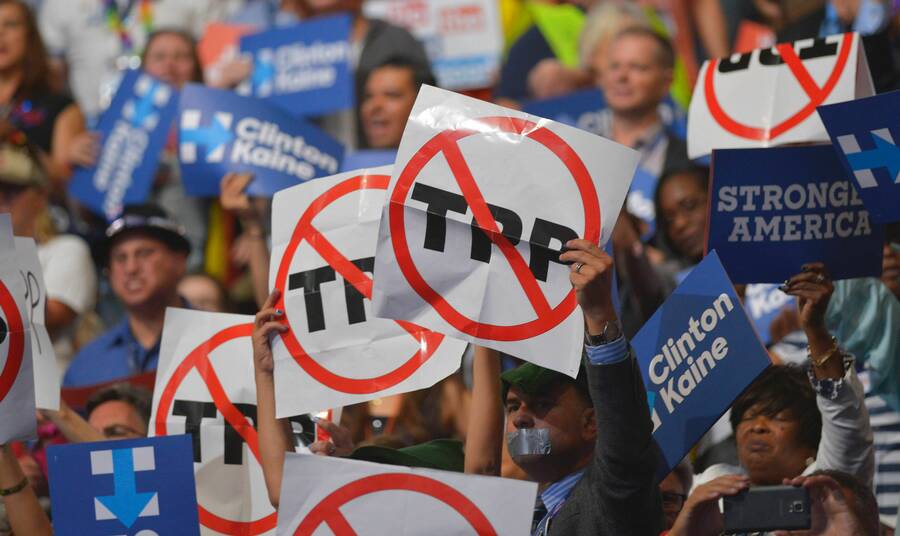 How do polit­i­cal lead­ers decide to take a stance on an issue? Does it come down to prin­ci­ple, a mat­ter of draw­ing a line that they refuse to cross? Or do they exam­ine pages of data, research and evi­dence to deter­mine what would best serve the country?
If the emails from Hillary Clinton's pres­i­den­tial cam­paign are any indi­ca­tion, the answer is nei­ther. The process of devel­op­ing one's stance appar­ent­ly involves weeks, if not months, of back­room dis­cus­sions by advis­ers and aides that may only min­i­mal­ly involve the leader. Her posi­tion is then care­ful­ly weighed against a num­ber of com­pet­ing inter­ests — from the feel­ings of key con­stituen­cies and oth­er seg­ments of the pub­lic to the tim­ing of pend­ing leg­is­la­tion — to ensure the least pos­si­ble damage.
That's the impres­sion cre­at­ed by the thou­sands of pri­vate emails recent­ly released by Wik­iLeaks, many of which cov­er one par­tic­u­lar top­ic: how to man­age the epic flip-flop Clin­ton was forced to make in the course of her cam­paign over the Trans-Pacif­ic Part­ner­ship (TPP).
In the ear­ly days of her cam­paign, pushed by orga­nized labor and the sur­pris­ing­ly threat­en­ing cam­paign of Ver­mont Sen. Bernie Sanders, Clin­ton and her team real­ized she would have to reverse course. This would have to be done del­i­cate­ly. Clinton's team had mul­ti­ple nee­dles to thread: min­i­mize the embar­rass­ment of a bla­tant flip-flop, sig­nal that her new­found oppo­si­tion to the deal was sin­cere and not oppor­tunis­tic, and cast as few asper­sions as pos­si­ble on Pres­i­dent Barack Oba­ma and Con­gres­sion­al allies cham­pi­oning the deal.
The emails present an almost step-by-step, behind-the-scenes look at the cam­paign as it worked to devel­op a ten­able posi­tion on the TPP for Clin­ton. It's a process that vir­tu­al­ly ignored mat­ters of prin­ci­ple and pol­i­cy and focused exclu­sive­ly on the pol­i­tics of the issue.
The Clin­ton cam­paign did not imme­di­ate­ly respond to a request to com­ment on this story.
"

Bat­tle lines are forming"

The TPP is a 12-coun­try free trade agree­ment that essen­tial­ly exists as a coun­ter­weight to Chi­nese influ­ence, involv­ing, as it does, sev­er­al Asian and Pacif­ic coun­tries and leav­ing Chi­na out of the loop.

Nego­ti­a­tions over the deal began in 2010, when Oba­ma was pres­i­dent and Clin­ton was sec­re­tary of state. To say Clin­ton was involved in the TPP's cre­ation is an under­state­ment. She pub­licly pro­mot­ed it no less than 45 times between 2010 and 2013, call­ing it the ​"gold stan­dard in trade agree­ments" and claim­ing it would ​"low­er bar­ri­ers, raise stan­dards and dri­ve long-term growth across the region." As late as March 2015, one email shows, the Clin­ton camp was pro­mot­ing the agree­ment to envi­ron­men­tal groups as a ​"unique opportunity."

Unfor­tu­nate­ly for Clin­ton, by the time she was set to launch her cam­paign in mid-2015, var­i­ous seg­ments of the U.S. pop­u­la­tion had lined up against the deal: labor unions, envi­ron­men­tal groups, social jus­tice activists and oth­ers. Lori Wal­lach, of watch­dog group Pub­lic Cit­i­zen, called it a ​"mas­sive assault on democ­ra­cy," while Eliz­a­beth War­ren accused it of under­min­ing U.S. sovereignty.

As Samuel Berg­er, a for­mer advis­er to Bill Clin­ton who co-found­ed and co-chaired the con­sult­ing firm Albright Stone­bridge with Clinton's for­mer sec­re­tary of state, Madeleine Albright, warned in an email in March 2, 2015: ​"Bat­tle lines are forming."
"

This could def­i­nite­ly rain on our roll­out parade"

The campaign's first inkling that the issue could cause prob­lems seems to have come on March 21, 2015, when cam­paign man­ag­er Rob­by Mook posed a few ques­tions on the TPP and the Trade Pro­mo­tion Author­i­ty (TPA), or fast-track author­i­ty. If passed, the TPA would have for­bid­den Con­gress from either sub­mit­ting an amend­ment to or fil­i­bus­ter­ing the deal, instead requir­ing a sim­ple up-or-down vote. With­out it, the trade deal was dead in the water.

"1. Do we think this thing is actu­al­ly going to move – or can we just hang back? 2. If we do think it's mov­ing, do we want her to announce her sup­port via let­ter before we announce the cam­paign so we can press ​'reset' with labor dur­ing announce­ment?" asked Mook, appear­ing to say that, if nec­es­sary, the cam­paign could sup­port the TPA's pas­sage, then change its mind upon launch­ing the campaign.

Mook and Jake Sul­li­van, Clinton's senior pol­i­cy advi­sor, agreed that with the TPA stalling in Con­gress at the time, Clin­ton ​"should keep her pow­der dry." Three days lat­er, how­ev­er, Sul­li­van divulged he'd been informed that the White House was mak­ing a renewed push for the TPA, which meant ​"we will like­ly have to take a posi­tion in April." ​"It strikes me that we should have a col­lec­tive con­ver­sa­tion with HRC about this, weigh­ing the pros and cons," he wrote.

"This could def­i­nite­ly rain on our roll­out parade," wrote Mook.

Sul­li­van out­lined why he thought ​"it would be strange for her to oppose fast track for POTUS": ​"She opposed giv­ing fast track to GWB. She was a big cham­pi­on for TPP as Sec­State." He elab­o­rat­ed: " …deny­ing potus nego­ti­at­ing author­i­ty to fin­ish a deal she has cham­pi­oned? The mes­sage of that would be, I thought this was a good idea, but he screwed it up, and so now I don't trust him enough to bring home a good deal."

The exchange illus­trates the tough posi­tion Clin­ton was in: anger the myr­i­ad groups that opposed the TPP on the one hand, or, on the oth­er hand, pub­licly oppose Oba­ma, whose lega­cy she would be run­ning on.

The ini­tial state­ment draft­ed by Clinton's staff ​"assumes that she's ulti­mate­ly going to sup­port both TPA and TPP," wrote Dan Schw­erin, Clinton's speech­writer. It based her sup­port for the TPA on the idea that ​"U.S. nego­tia­tors need the strongest pos­si­ble hand to dri­ve the hard­est pos­si­ble bar­gain on behalf of the Amer­i­can mid­dle class." It also paid lip ser­vice to a num­ber of TPP oppo­nents' biggest con­cerns, argu­ing that the Unit­ed States should walk away if they weren't reme­died — even though they were pro­vi­sions nego­ti­at­ed under her watch.

Con­trary to the claims of Clin­ton and her sup­port­ers, many of the trade deal's most con­tro­ver­sial ele­ments were in the deal when she was sec­re­tary of state. Thanks to a steady trick­le of leaks, we knew as ear­ly as 2012 about what is per­haps the TPP's most out­ra­geous pro­vi­sion: investor-state dis­pute set­tle­ment (ISDS), or the expand­ed pow­er of cor­po­ra­tions to sue coun­tries over law changes that affect their prof­its, such as envi­ron­men­tal regulations.

Schw­erin not­ed that ​"this let­ter would change dra­mat­i­cal­ly" if the cam­paign team came to a ​"dif­fer­ent con­clu­sion" after meet­ing with Clin­ton. By ear­ly April 2015, how­ev­er, all Clin­ton had changed was adding stronger lan­guage crit­i­ciz­ing ISDS and cit­ing a free trade deal with South Korea that had fall­en short of its promises.

The cam­paign appeared to set­tle on a line that com­bined tough-sound­ing but ulti­mate­ly tooth­less words of con­cern with an ambi­gu­i­ty that would allow Clin­ton to sup­port or reject the deal lat­er, depend­ing on what the sit­u­a­tion called for.
"

Major nee­dle-thread­ing"

The fact that Clin­ton ulti­mate­ly came down firm­ly against the agree­ment can be cred­it­ed to two things: the fierce oppo­si­tion to the TPP among orga­nized labor, cou­pled with the emer­gence of a viable Demo­c­ra­t­ic chal­lenger that didn't allow Clin­ton to take labor's sup­port for granted.

"The tim­ing is so annoy­ing," Mook emailed on April 5, 2015, refer­ring to the TPA's move­ment through the leg­is­la­ture. ​"Steps right on launch. Would be a shame to have labor boo­ing her right out of the gate."

"With us com­ing out against ISDS, there's a chance the boo­ing will be a lot more tem­pered," wrote anoth­er staffer.

"Unfor­tu­nate­ly I doubt it," Mook replied. ​"I feel like any­thing short of oppos­ing it will be seen as try­ing to have it both ways. They're so wound up about this Trump­ka [sic] will use it to be a hero." Mook was refer­ring to Richard Trum­ka, pres­i­dent of the AFL-CIO, the country's largest fed­er­a­tion of unions.

The campaign's woes with labor con­tin­ued. After con­sult­ing with the Amer­i­can Fed­er­a­tion of State, Coun­ty and Munic­i­pal Employ­ees (AFSCME) — the country's largest pub­lic employ­ee union — Mook wrote that ​"sup­port­ing fast track will be a HUGE prob­lem for them." Nei­ther the AFL-CIO nor AFSCME respond­ed to requests for comment.

Over the next few days, the cam­paign con­sid­ered a vari­ety of solu­tions to this dilem­ma. ​"What if she's FOR Fast Track, but against the TPP agree­ment.?" asked Aman­da Rente­ria, Clinton's polit­i­cal direc­tor. ​"I'm not sure this is pos­si­ble, but try­ing to gauge whether they hate Fast Track or it's more about TPP."

Sul­li­van sug­gest­ed oppos­ing the TPA on the basis that its open-end­ed nature could give a Repub­li­can pres­i­dent fast-track author­i­ty in the future ("heck, that's why I vot­ed against fast track for Pres­i­dent Bush," a mock-up state­ment read). ​"This is a alter­na­tive if we can't do pure dodge," wrote Sul­li­van. ​"This feels more sus­tain­able than full dodge."

Lat­er, he laid out three pos­si­ble state­ments for staff to choose from. The first would sup­port the TPA while express­ing con­cern about its open-end­ed­ness, before mov­ing on to talk­ing about the ​"tests" the TPP would have to pass. The sec­ond state­ment reversed the order of these points and the third would ​"lean more heav­i­ly and deci­sive­ly against TPA and TPP."

Cam­paign advis­er John Anza­lone went for the third, as it ​"sends the strongest sig­nal not only [to] Labor but to where vot­ers are on trade."

"I am less con­cerned about his­tor­i­cal blow­back on her past posi­tion than this issue eat­ing us alive for being on the wrong side and giv­ing Pro­gres­sives a real rea­son to try and push some­one more weighty into the pri­ma­ry," he explained. ​"There are no oth­er issues that Labor cares about. This is it for them and they actu­al­ly have vot­ers on their side."

"We clear­ly need a big­ger strate­gic dis­cus­sion about how to deal with labor," wrote Joel Benen­son, anoth­er advisor.

As Anza­lone fur­ther explained, the issue of decid­ing whether or not to make Clin­ton flip-flop was ​"so much big­ger than" charges of hypocrisy or because she would be oppos­ing Obama.

"Get­ting on the wrong side of Labor on the only issue they care about has ram­i­fi­ca­tions on the ground in these ear­ly states," he wrote. ​"I say we suck it up and be as defin­i­tive as pos­si­ble from the begin­ning that we don't like these deals. We will be right with vot­ers and right with labor."

"John artic­u­lat­ed my thoughts bet­ter than I did," wrote back Mook; ​"but I know the boss won't be com­fort­able putting her foot down."

Per­haps owing to Clinton's dis­com­fort with tak­ing a firm stance one way or anoth­er on the issue, the state­ment even­tu­al­ly put out by the cam­paign, on April 17, 2015, was far more sub­dued. As Politi­co put it, it was a case study in ​"some major nee­dle-thread­ing" that sim­ply reit­er­at­ed Clinton's ​"tests" while say­ing she would be ​"watch­ing close­ly" to see where it came down on issues like cur­ren­cy manip­u­la­tion, the envi­ron­ment and labor rights. Still, the cam­paign believed it did the trick.

"We good to make Labor heads up calls with this state­ment?" asked one staffer.

"Ok that was well done on tpp," wrote Tom Nides, vice chair­man at Wall Street firm, Mor­gan Stan­ley, and Clinton's for­mer deputy sec­re­tary of state. ​"How long we get to stick god only knows but well done."
"

Lethal for labor"

Despite the campaign's ini­tial relief, the issue didn't go away.

The Wash­ing­ton Post​'s Charles Lane ques­tioned the cam­paign over Clinton's vac­il­la­tion ​"from our well-estab­lished van­tage point as strong sup­port­ers of TPA." The Hill​'s Brent Budowsky called Clinton's posi­tion on trade ​"an exer­cise in equiv­o­ca­tion, hedg­ing and maneu­ver­ing" that only increased vot­ers' per­cep­tion of her as untrustworthy.

Well into June 2015, her advis­ers con­tin­ued to craft care­ful­ly word­ed state­ments and posi­tions that strad­dled some sort of mid­dle ground and kept Clin­ton away from tak­ing any defin­i­tive stand. ​"The goal here is to pre­vent peo­ple from mis­tak­ing her state­ment as an out­right ​'no' on TPA," wrote her press sec­re­tary on June 18. Around the same time, Clin­ton was mak­ing ridicu­lous claims that she ​"did not work on TPP" and ​"nev­er had any direct respon­si­bil­i­ty for the nego­ti­a­tions at all."

The AFL-CIO's Trum­ka was report­ed­ly sick of Clin­ton sit­ting on the fence. He turned up the pres­sure on the cam­paign dur­ing a Sep­tem­ber 6, 2015 Meet the Press appear­ance.

"I think if she does­n't take a posi­tion on TPP, then you can say she's look­ing for our vote," he told NBC's Chuck Todd. ​"If she does take a posi­tion on TPP, then she's look­ing for our sup­port," which would mean send­ing let­ters, mak­ing calls, knock­ing on doors and more. ​"That's what's at stake for her."

In the same inter­view, he also praised Joe Biden as a ​"cham­pi­on for work­ing peo­ple all of his life," who would ​"make a good pres­i­dent." At this point, Biden was still con­sid­ered a poten­tial rival to Clin­ton and had not ruled him­self out of the race.

The inter­view incensed Clinton's senior pol­i­cy advi­sor, Ann O'Leary. ​"This Trum­ka line about Joe Biden real­ly annoys me when­ev­er I hear him say it — that Biden has been fight­ing for work­ing peo­ple his whole life," she wrote. ​"It implies that HRC has not. Is there any­thing we can do to get him to add some­thing nice about HRC?"

"I agree. He is annoy­ing," wrote back Nik­ki Budzin­s­ki, Clinton's labor out­reach director.

Even as late as Octo­ber, the cam­paign still hadn't total­ly made its mind up about what posi­tion Clin­ton would side with. On Octo­ber 3, 2015, Sul­li­van and oth­ers received an email from Ron Klain, a for­mer Demo­c­ra­t­ic advis­er who is now the exec­u­tive vice pres­i­dent of invest­ment firm Rev­o­lu­tion LLC.

"*She has to be for TPP*," he wrote. ​"She called it the ​'gold stan­dard' of trade agree­ments. I think oppos­ing that would be a huge flip flop."

"I agree with you on TPP but oth­ers (includ­ing on this email!) feel strong­ly to the con­trary," Sul­li­van replied.

Mook wrote: ​"TPP would be lethal with labor. We'd loose [sic] afscme and like­ly seiu [Ser­vice Employ­ees Inter­na­tion­al Union] as well."

In addi­tion to labor, the Sanders' cam­paign was adding pres­sure on Clin­ton to change her posi­tion on the TPP. Sanders, who was keep­ing up a steady drum­beat against the agree­ment, was look­ing more and more like a viable can­di­date as 2015 rolled on, receiv­ing a major union endorse­ment from Nation­al Nurs­es Unit­ed and steadi­ly clos­ing Clinton's lead in the polls. By July 2015, one email shows, the cam­paign had a ​"Sanders watch list" for unions and planned to ​"lob­by their lead­er­ship hard to at least pre­vent them from endors­ing Bernie."

Lar­ry Cohen, for­mer pres­i­dent of the Com­mu­ni­ca­tions Work­ers of Amer­i­ca (CWA), advis­er to the Sanders cam­paign and now polit­i­cal direc­tor of the senator's new orga­ni­za­tion, Our Rev­o­lu­tion, has no doubt what role the cam­paign played.

"The only rea­son she shift­ed on TPP was Bernie Sanders," he says.
"

As of today, I am not in favor"

So it was that by ear­ly Octo­ber, the cam­paign appears to have decid­ed to have Clin­ton oppose the TPP. They held a meet­ing to plan what Budzin­s­ki called Clinton's ​"oppo­si­tion roll out."

"I'm very glad HRC has got­ten to the oppose posi­tion, this will be very help­ful with mobi­liza­tion on the ground and sup­port with­in labor dur­ing and after this pri­ma­ry," Budzin­s­ki wrote.

Still, the ​"roll out" itself required myr­i­ad polit­i­cal con­sid­er­a­tions. There was the ques­tion of tim­ing, for instance. Budzin­s­ki was in favor of wait­ing for the full text of the trade deal to be released before Clin­ton made her oppo­si­tion known. If she flipped now with­out any doc­u­men­ta­tion, rea­soned Budzin­s­ki, Clin­ton would under­cut her pre­vi­ous state­ments that she want­ed to wait to con­sid­er the final text, mak­ing the deci­sion seem political.

"It will not make a sig­nif­i­cant dif­fer­ence in cap­i­tal­iz­ing polit­i­cal­ly with labor if we do this tomor­row or three weeks from now," she wrote.

Budzin­s­ki also want­ed to push Trum­ka to have the AFL-CIO put out ​"a strong state­ment in sup­port of HRC's posi­tion" after she came out against the deal. ​"This makes it trick­i­er for Biden to cred­i­bly get around too, the more pub­lic the AFL-CIO is," she explained.

John Podes­ta, cam­paign chair­man, dis­agreed: ​"We can't sur­vive hem­ming and haw­ing for 3 weeks." As oth­er staffers point­ed out, the first Demo­c­ra­t­ic debate was a lit­tle over a week away.

There was also the mat­ter of putting out the right state­ment to make clear Clinton's oppo­si­tion. Schw­erin, the speech­writer, sent around a draft state­ment on Octo­ber 6, 2015. ​"The goal here was to min­i­mize our vul­ner­a­bil­i­ty to the authen­tic­i­ty attack and not piss off the WH any more than nec­es­sary," he wrote.

Staffers sent back their var­i­ous cri­tiques. Anza­lone believed the state­ment was too wonky and nuanced. ​"I would favor more of the par­a­digm of how we approached the Key­stone oppo­si­tion," he wrote. ​"More black and white."

Long­time advis­er Mandy Grun­wald agreed: ​"This is so full of com­pli­ments. I can bare­ly tell that HRC is oppos­ing the deal." Rente­ria want­ed to see ​"some soft stuff" about work­ers instead of the more pol­i­cy-focused content.

Benen­son, mean­while, didn't want the state­ment to be too disin­gen­u­ous. ​"The real­i­ty is HRC is more pro trade than anti and try­ing to turn her into some­thing she is not could rein­force our neg­a­tive around authen­tic­i­ty," he wrote. ​"This is an agree­ment that she pushed for and large­ly advo­cat­ed for. That it fails to meet her very spe­cif­ic cri­te­ria seems to be the best ter­ri­to­ry to me."

Staffers worked well into the night to refine the state­ment, with Schw­erin send­ing anoth­er draft at 9:18 p.m. the same day.

"Thanks to all for the feed­back," he wrote. ​"This is indeed a hard bal­ance to strike, since we don't want to invite mock­ery for being too enthu­si­as­ti­cal­ly opposed to a deal she once cham­pi­oned, or over-claim­ing how bad it is, since it's a very close call on the merits."

The work con­tin­ued the next day, with cam­paign staff con­tin­u­ing to tweak and refine the state­ment, ready­ing it for release to the media. That after­noon, the cam­paign put out a state­ment say­ing that Clin­ton was ​"con­tin­u­ing to learn about the details" of the deal and that ​"based on what I know so far," she couldn't sup­port it. ​"The bar here is very high and, based on what I have seen, I don't believe this agree­ment has met it," it con­clud­ed. Clin­ton rein­forced this with an inter­view with PBS' Judy Woodruff, whom she told: ​"As of today, I am not in favor of what I have learned about it."
"

Tough stuff"

What is strik­ing about the Clin­ton campaign's var­i­ous dis­cus­sions about her TPP stance is how lit­tle pol­i­cy or prin­ci­ple came into the campaign's deci­sion-mak­ing. Advis­ers, sup­port­ers and staffers were over­whelm­ing­ly focused on the optics of Clinton's shift­ing stance and the ben­e­fits — or draw­backs — they would face in terms of the vot­ing public.

In the few emails that did con­sid­er pol­i­cy impli­ca­tions as rea­sons to sup­port or oppose the deal, almost none were about the most con­tro­ver­sial ele­ments of the deal, such as its poten­tial impact on work­ers, its effect on access to afford­able med­i­cine and the pos­si­ble loss of nation­al sov­er­eign­ty it heralded.

When Rente­ria sent Sul­li­van a high­ly crit­i­cal report on the TPP by Michi­gan Rep. Sander Levin, a mem­ber of the U.S. House Ways and Means Com­mit­tee, that ​"goes through why he's against it and how TPP makes all the issues HRC cares about worse," Sullivan's only reac­tion was: ​"Tough stuff." As Schwerin's line that the TPP is ​"a very close call on the mer­its" sug­gests, Clinton's staff — like her — believes in the ben­e­fits of TPP.

It's easy to be cyn­i­cal and believe that the process laid bare by the emails — that of Machi­avel­lian schem­ing over prin­ci­ple — is sim­ply the way pol­i­tics works. Cohen, the for­mer CWA pres­i­dent and advis­er to Sanders, believes this mind­set is exact­ly what's wrong with pol­i­tics today, and that the Sanders cam­paign point­ed to anoth­er way.

"Accept­ing that is basi­cal­ly to accept that work­ing peo­ple have no real val­ue, polit­i­cal­ly," he says. ​"They're just there to be pan­dered to in an elec­tion and then ignored."

In the mean­time, anti-TPP forces are focused on the here and now. With TPA hav­ing passed back in June last year, the Oba­ma admin­is­tra­tion is pin­ning its hopes of TPP pas­sage on a vote in the lame-duck ses­sion of Con­gress after the election.

"We're going to demand Pres­i­dent-elect Clin­ton oppose it now," says Cohen. ​"She'll be the leader of the party."

While the emails prove Clinton's anti-TPP stance was the prod­uct of naked polit­i­cal cal­cu­la­tion, they also sug­gest the more hope­ful con­clu­sion that, with con­cert­ed oppo­si­tion from the Left, Clin­ton can be pushed to do the right thing. Any­one who cares about stop­ping the TPP and mov­ing her on oth­er issues mustn't let up the pressure.

Full dis­clo­sure: In These Times staff are mem­bers of the CWA, and the union is a spon­sor of the mag­a­zine. Spon­sors play no role in edi­to­r­i­al content.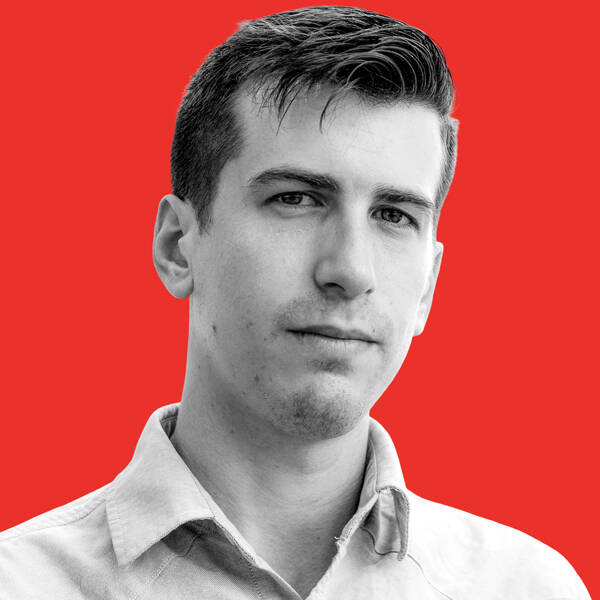 Branko Marcetic
is a staff writer at Jacobin mag­a­zine and a
2019
 – 
2020
Leonard C. Good­man Insti­tute for Inves­tiga­tive Report­ing fel­low. He is work­ing on a forth­com­ing book about Joe Biden.