A New Study Shows Hillary Clinton's Hawkishness May Have Cost Her the Election
The lesson for Democrats is clear: Embrace a strong anti-war program.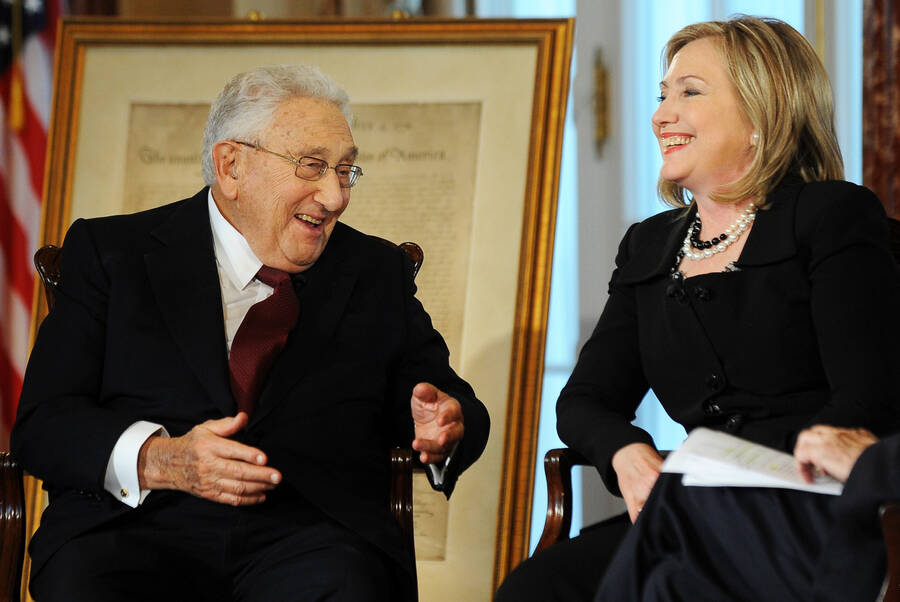 The Demo­c­ra­t­ic Par­ty remains embroiled in a tug-of-war over its future direc­tion. Crit­ics on the left point to the party's recent loss­es at all lev­els of gov­ern­ment as evi­dence that Democ­rats must embrace a com­mit­ment to eco­nom­ic pop­ulism in order to regain polit­i­cal pow­er. But there might be more to it than that.
Adopting a more robust anti-war attitude would not just be the right thing to do on principle for the Democrats, but would also likely have a positive impact electorally.
A new study pub­lished by researchers from Boston Uni­ver­si­ty and the Uni­ver­si­ty of Min­neso­ta Law School sug­gests it's not just eco­nom­ic poli­cies Democ­rats need to start recon­sid­er­ing — their for­eign pol­i­cy also needs an overhaul.
"There is a sig­nif­i­cant and mean­ing­ful rela­tion­ship between a community's rate of mil­i­tary sac­ri­fice and its sup­port for Trump," the study's authors write. In fact, the study claims, war fatigue was key to hand­ing Trump his wafer-thin mar­gins of vic­to­ry in a hand­ful of key bat­tle­ground states that helped put him over the top:
"If three states key to Trump's vic­to­ry — Penn­syl­va­nia, Michi­gan, and Wis­con­sin — had suf­fered even a mod­est­ly low­er casu­al­ty rate, all three could have flipped from red to blue and sent Hillary Clin­ton to the White House."
To reach their con­clu­sions, the study's authors plumbed infor­ma­tion from the Pentagon's Defense Casu­al­ty Analy­sis Sys­tem on the 6,856 Amer­i­can sol­diers who have died in the wars in Iraq and Afghanistan, find­ing a ​"direct rela­tion­ship between a state's com­bat casu­al­ty rate and the state's sup­port for Don­ald Trump." This pat­tern wasn't lim­it­ed to states, either. The same held true when the authors dug down to the coun­ty lev­el: When sol­diers didn't return home, vot­ers showed up for Trump.
Trump may not at first glance have been the log­i­cal tri­bune for Amer­i­cans' war weari­ness. He promised to ​"bomb the shit out of" ISIS, threat­ened to kill ter­ror­ists' fam­i­lies, and sug­gest­ed going into the Mid­dle East with NATO to ​"knock the hell out of ISIS."
At the same time, how­ev­er, Trump also broke with GOP ortho­doxy by crit­i­ciz­ing George W. Bush over the Iraq War, which he called a ​"dis­as­ter" and a ​"big fat mis­take." And dur­ing the cam­paign, he declared his oppo­si­tion to the Oba­ma administration's war in Libya (although Trump had ini­tial­ly sup­port­ed both wars and, since being in office, has over­seen the esca­la­tion of U.S. mil­i­tary aggres­sion, from Afghanistan to Syria).
Per­haps more impor­tant­ly, his Demo­c­ra­t­ic oppo­nent was vir­tu­al­ly syn­ony­mous with both of these wars. Clin­ton had infa­mous­ly vot­ed to invade Iraq and then helped orches­trate inter­ven­tion in Libya. Trump pil­lo­ried Clin­ton over both of these deci­sions through­out the campaign.
Of course, it's pos­si­ble the study's results could be due to oth­er fac­tors as well. States and coun­ties most impact­ed by wars may have been more like­ly to buy into Trump's fre­quent paeans to vet­er­ans, which includ­ed rais­ing $6 mil­lion for vet­er­ans char­i­ties (only some of which, mys­te­ri­ous­ly, has actu­al­ly been passed on to vet­er­ans groups). And Trump held a com­mand­ing lead among mem­bers of the mil­i­tary, who vot­ed for him over Clin­ton by a ratio of two-to-one.
Yet, as the study points out, it's not at all unprece­dent­ed for the impact of wars to have an elec­toral effect pun­ish­ing the can­di­date and par­ty most asso­ci­at­ed with them. An ear­li­er study found a sim­i­lar rela­tion­ship between Iraq War casu­al­ties and the lev­el of the vote share Bush shed in 2004. Oth­er stud­ies found that Iraq War casu­al­ties cor­re­lat­ed with the loss of sup­port for con­gres­sion­al Repub­li­cans in 2006, help­ing Democ­rats gain con­trol of the House and Sen­ate. The authors of the recent study also cite research show­ing sim­i­lar con­clu­sions dat­ing all the way back to the Civ­il War.
Obama's vic­to­ry in 2008 was large­ly pro­pelled by his ear­ly oppo­si­tion to the Iraq War, as well as his promise to end the war and bring troops home with­in 16 months if elected.
But once in pow­er, the Democ­rats quick­ly flipped on the anti-war mes­sage that had helped to turn their for­tunes. Rather than quick­ly pulling troops out of Iraq, Oba­ma extend­ed their stay, and the even­tu­al with­draw­al in 2011 hap­pened against the administration's wish­es, when the Iraqi gov­ern­ment refused to acqui­esce to U.S. gov­ern­ment demands.
Nation­al Democ­rats ral­lied behind Oba­ma and anti-war atti­tudes with­in the par­ty rapid­ly dis­si­pat­ed. The 2012 Demo­c­ra­t­ic Nation­al Con­ven­tion was one of the more mil­i­taris­tic in liv­ing mem­o­ry. More recent­ly, a num­ber of high-pro­file Democ­rats pushed for and jus­ti­fied Trump's bomb­ing of Syria.
As the study states, ​"the wartime nar­ra­tive was not as promi­nent" as an expla­na­tion for vot­er behav­ior dur­ing the 2012 elec­tion, and ​"in the post-elec­tion analy­sis of the 2016 cycle, dis­cus­sion of war fatigue has been all but absent."
This mir­rors the vir­tu­al silence that has sur­round­ed the top­ic of the war in Afghanistan, the longest war in Amer­i­can his­to­ry. You would have been hard pressed to find even a men­tion of the war by the pres­i­den­tial can­di­dates dur­ing the cam­paign, includ­ing among Democ­rats. There's no end in sight for the now six­teen-year-old con­flict which was passed on to Trump by Oba­ma, and which recent­ly saw thou­sands of more troops deployed.
The take­away is clear: Adopt­ing a more robust anti-war atti­tude would not just be the right thing to do on prin­ci­ple for the Democ­rats, but would also like­ly have a pos­i­tive impact electorally.
"Democ­rats may also want to reex­am­ine their for­eign pol­i­cy pos­ture if they hope to erase Trump's elec­toral gains among con­stituen­cies exhaust­ed and alien­at­ed by fif­teen years of war," the authors write.
Per­haps more impor­tant­ly, the results ​"may sug­gest a more pow­er­ful demo­c­ra­t­ic brake on for­eign wars." Thus far, Trump has received his high­est plau­dits across the polit­i­cal spec­trum for order­ing mil­i­tary actions, includ­ing in Syr­ia, and, absurd­ly, the praise he received for pay­ing trib­ute to a sol­dier he him­self sent to his death in a chaot­ic mission.
This points to the trou­bling pos­si­bil­i­ty that such rhetoric could incen­tivize the pres­i­dent to launch fur­ther mil­i­tary actions. How would this change if Trump was aware of the pos­si­bil­i­ty that more mil­i­tary inter­ven­tions could hurt his chances of reelection?
Such a change won't hap­pen until media out­lets, pun­dits and polit­i­cal fig­ures start high­light­ing war as a core issue to vot­ers. In the mean­time, the Democ­rats could help them­selves by mak­ing a strong anti-war for­eign pol­i­cy a core ele­ment of their oppo­si­tion to Trump. But whether the par­ty will be will­ing to drop its long­time inter­ven­tion­ist slant any­time soon is anoth­er ques­tion altogether.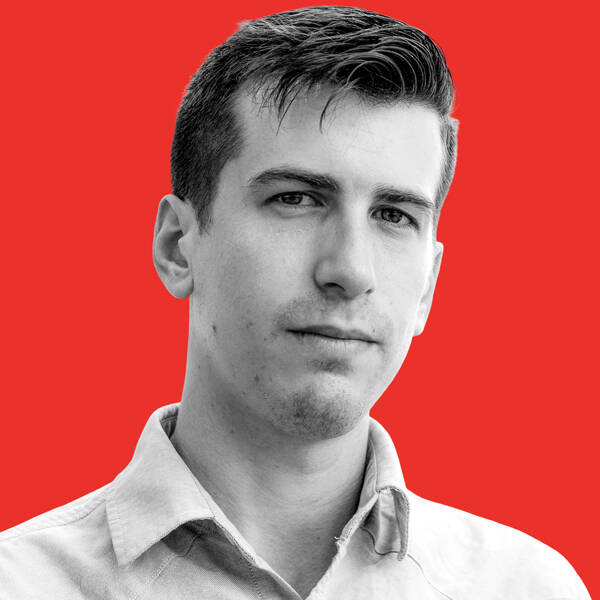 Branko Marcetic
is a staff writer at Jacobin mag­a­zine and a
2019
 – 
2020
Leonard C. Good­man Insti­tute for Inves­tiga­tive Report­ing fel­low. He is work­ing on a forth­com­ing book about Joe Biden.