Holyoke Teachers Union President: 'We Will Not Let Them Take Over Our Schools'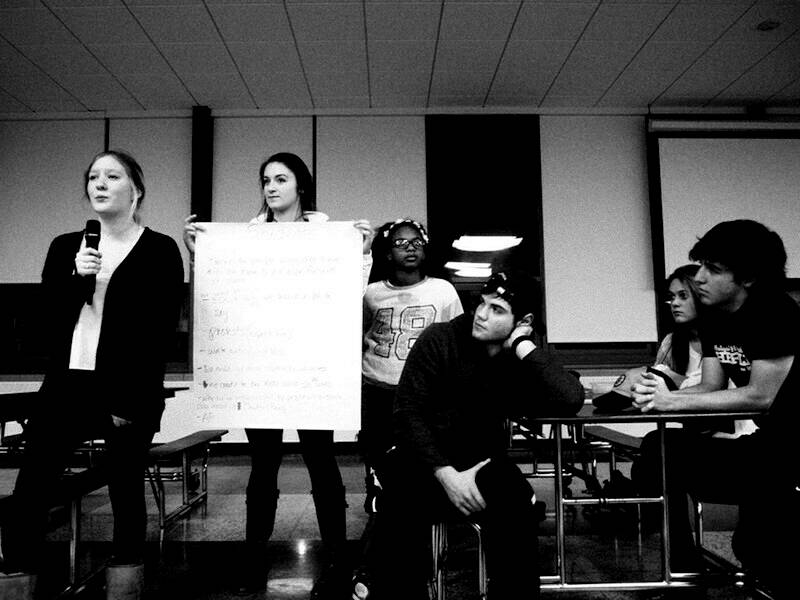 Holyoke, a small city of 40,000 in West­ern Mass­a­chu­setts, has become a major bat­tle­ground in the con­flict play­ing out across the nation between demo­c­ra­t­ic con­trol of pub­lic schools and top-down ​"edu­ca­tion reform."
Res­i­dents of this work­ing-class city of col­or have band­ed with the teach­ers union to fight back against what they see as mis­guid­ed attempts by the state to wrest away local con­trol of their schools and impose reforms. Now, the com­mu­ni­ty-labor alliance faces its biggest test yet: a threat­ened takeover of the entire district.
The term ​"edu­ca­tion reform" and the promis­es that come with it — edu­ca­tion equi­ty, col­lege readi­ness, bright futures — can sound benign to unfa­mil­iar ears. But crit­ics say there's a hid­den agen­da. Lois Wein­er, a pro­fes­sor of edu­ca­tion at New Jer­sey City Uni­ver­si­ty, writes in Race, Pover­ty & the Envi­ron­ment, ​"The pur­port­ed aim of increas­ing edu­ca­tion­al oppor­tu­ni­ty masks the real intent of these so-called edu­ca­tion reform­ers [which is] to cre­ate a pri­va­tized sys­tem of pub­lic edu­ca­tion that has a nar­row, voca­tion­al cur­ricu­lum enforced through stan­dard­ized tests."
Over the past five years, the state of Mass­a­chu­setts has made Holyoke a lab­o­ra­to­ry of edu­ca­tion reform, hand­ing over two schools to out­side man­agers through the state's ​"receiver­ship" process and rais­ing the fre­quen­cy and stakes of stan­dard­ized test­ing through­out the district.
In 2011, the Mass­a­chu­setts Depart­ment of Ele­men­tary and Sec­ondary Edu­ca­tion (DESE) placed the city's Dean Tech­ni­cal High School under receiver­ship because of the school's chron­i­cal­ly low test scores. In 2014, DESE turned over Holyoke's Mor­gan Ele­men­tary to the Texas-based non­prof­it Project Grad, cit­ing the school's ​"chron­ic under­per­for­mance." DESE brushed aside a com­plaint by the teach­ers union that the turnover put hun­dreds of thou­sands of dol­lars in the pock­ets of Project Grad and out­side con­sul­tants, rather than invest­ing in the classroom.
Mean­while, Holyoke has seen a mas­sive uptick in high stake stan­dard­ized test­ing imposed by DESE dis­trictwide over the last five years, accord­ing to Agustin ​"Gus" Morales, pres­i­dent of the Holyoke Teach­ers Asso­ci­a­tion (HTA), a local of the Mass­a­chu­setts Teach­ers Asso­ci­a­tion. On top of that, in 2013, the HPS admin­is­tra­tion ordered the usage of ​"data walls", which post­ed children's test scores out­side every classroom.
Receiver­ship appears to have borne lit­tle fruit: Although Dean Tech has been under con­trol of a man­ag­er since 2011 — first by the non­prof­it Col­lab­o­ra­tive for Edu­ca­tion­al Ser­vices and then Project Grad — the school remains rat­ed a lev­el 4 (of 5), mean­ing it is ​"among [the] low­est achiev­ing and least improv­ing schools."
Be that as it may, DESE com­mis­sion­er Mitchell Chester is now threat­en­ing receiver­ship for the entire dis­trict. In Novem­ber 2014, DESE tar­get­ed Holyoke for dis­trict review after con­clud­ing that dis­trict-wide test scores has remained ​"stag­nant" for over a decade. If the review shows that Holyoke is not mak­ing sig­nif­i­cant improve­ment, DESE could place the dis­trict in receivership.
Cur­rent­ly, deci­sions con­cern­ing all Holyoke Pub­lic Schools except Mor­gan are made by the demo­c­ra­t­i­cal­ly elect­ed school com­mit­tee. A dis­trictwide receiver­ship would change that by grant­i­ng an out­side man­ag­er, such as an edu­ca­tion­al man­age­ment orga­ni­za­tion or a state-appoint­ed super­in­ten­dent, com­plete con­trol of all schools.
"There are improve­ments that need to take place in our schools," says the HTA's Morales, ​"small­er class sizes, cul­tur­al­ly respon­sive cur­ricu­lum, and an end to the inces­sant test­ing." But, he says, ​"these issues are not going to be fixed by a receiver­ship. These pri­vate enti­ties that get hired by the state to ​'fix' our schools are snake oil sales­men. Plus, a receiver­ship is going to dri­ve away the best of the best [teach­ers]."
The fear of los­ing teach­ers is very real. Pri­vate enti­ties like Project Grad have the pow­er under Mass­a­chu­setts edu­ca­tion law to void union con­tracts, fire teach­ers with­out due process and refuse to rehire teach­ers who reap­ply for their jobs under the new man­age­ment. This lack of secu­ri­ty can dri­ve teach­ers away. Accord­ing to the HTA, when Mor­gan was tak­en over, only 7 of 43 teach­ers reap­plied for their jobs.
Speak­ing in favor of a receiver­ship, Chester told MassLive, ​"The achieve­ment record in Holyoke is very poor and the longer it con­tin­ues the more stu­dents are harmed.…Poverty should not be a des­tiny and I'm con­cerned that the voic­es in Holyoke too often put a ceil­ing on progress. We have a moral and eth­i­cal respon­si­bil­i­ty to do what we can to pro­vide the youth of Holyoke with a strong education."
The com­mu­ni­ty, how­ev­er, is not buy­ing Chester's line.
The oppo­si­tion sprang into action as soon as the pos­si­bil­i­ty of a dis­trict-wide receiver­ship was announced on Jan­u­ary 8. That night, Holyoke res­i­dents cre­at­ed a Face­book page against the takeover.
On Jan­u­ary 15, the HTA host­ed a com­mu­ni­ty meet­ing where teach­ers, par­ents and stu­dents strate­gized on how to fight the receiver­ship. Some 200 com­mu­ni­ty mem­bers attend­ed. Par­ents and stu­dents passed around a joint peti­tion call­ing on the Holyoke City Coun­cil and the Holyoke School Com­mit­tee to pass res­o­lu­tions oppos­ing the receiver­ship. On Feb­ru­ary 3, the city coun­cil unan­i­mous­ly did so and on Feb­ru­ary 12, the school com­mit­tee did the same.
The suc­cess of the peti­tions speaks to the grow­ing pow­er of Holyoke's move­ment against edu­ca­tion reform, which has a num­ber of vic­to­ries under its belt. When teach­ers were ordered to put up data walls in 2013, Holyoke teach­ers and com­mu­ni­ty mem­bers suc­cess­ful­ly beat back the prac­tice. When Morales, a mid­dle school teacher and then-pres­i­dent-elect of the HTA, was fired in 2014 after speak­ing out against high-stakes test­ing, the MTA (an affil­i­ate of the Nation­al Edu­ca­tion Asso­ci­a­tion) and the com­mu­ni­ty band­ed togeth­er and won his job back via protests, a peti­tion and legal action. When DESE pro­posed ​"per­for­mance based" teacher licens­ing for the state's teach­ers in Octo­ber 2014, the MTA and HTA mobi­lized and nipped the pro­pos­al in the bud.
A review, but no conclusion
DESE con­duct­ed its review of the Holyoke schools on Jan­u­ary 20 – 23 and 26 and made the report pub­lic on Feb­ru­ary 24. Its upcom­ing March 24 board meet­ing is the ear­li­est that DESE could decide on receivership.
The report doesn't come to a for­mal con­clu­sion about whether the dis­trict has made ​"sig­nif­i­cant improvement."
Instead, the 65-page doc­u­ment details HPS' strengths and chal­lenges across six stan­dards used by DESE: lead­er­ship and gov­er­nance, cur­ricu­lum and instruc­tion, assess­ment, human resources and pro­fes­sion­al devel­op­ment, stu­dent sup­port, and finan­cial and asset man­age­ment. Over­all the report indi­cat­ed approval of the district's [cur­rent] plans for improv­ing stu­dent achieve­ment, even though they haven't result­ed in high­er test scores. The report showed that the dis­trict did not reach its 2014 Com­pos­ite Per­for­mance Index (CPI) tar­gets for ELA, math, and science.
The report lay some blame for lack of progress at the feet of the teach­ers union: ​"Progress in advanc­ing dis­trict ini­tia­tives has been hin­dered by an absence of con­struc­tive par­tic­i­pa­tion by the Holyoke Teach­ers' Asso­ci­a­tion." It did not men­tion the ​"eco­nom­ic injus­tice, includ­ing home­less­ness, tran­sience and pover­ty" that MTA pres­i­dent Bar­bara Made­loni has cit­ed as more like­ly con­trib­u­tors to the ​"under­per­for­mance" of Holyoke Pub­lic Schools.
"When I hear peo­ple say that ​'teach­ers are fail­ing stu­dents," I get upset because I know the prob­lem is not with teach­ers but with the state — under­fund­ing, under­staffing, over-test­ing," says Holyoke High School senior Rachel Hall. ​"I love Holyoke teach­ers. Teach­ers have done every­thing — gone the extra mile to help me suc­ceed. I know teach­ers who come in ear­ly and leave late to help stu­dents who need extra help. That's why I'm fight­ing the receiver­ship: I don't want to lose our amaz­ing teachers."
Dorothy Albrecht, a math teacher who has been teach­ing in Holyoke for 17 years and is a mem­ber of Edu­ca­tors for a Demo­c­ra­t­ic Union, a reform cau­cus in the MTA, has been speak­ing out at com­mu­ni­ty and school com­mit­tee meet­ings. Albrecht sees the impend­ing receiver­ship as ​"an attack on our democracy."
"Par­ents and the com­mu­ni­ty should have a say in what goes on in our schools," she says. ​"This edu­ca­tion reform agen­da is so stress­ful, so demand­ing, [with] no sup­port to teach­ers. And we know any­one the state choos­es to take over [the dis­trict] is going to go along with this agen­da." Albrecht is con­cerned that the exo­dus of teach­ers at Mor­gan would be repli­cat­ed dis­trictwide. ​"We have teach­ers who live in the com­mu­ni­ty, are invest­ed in the com­mu­ni­ty, and we're afraid that this receiver­ship is going to get rid of them."
Annie Rodriguez, a for­mer HPS par­ent who now has grand­kids in Holyoke schools, is con­cerned about receiver­ship tak­ing con­trol of schools away from the com­mu­ni­ty. She feels that par­ents and com­mu­ni­ty mem­bers are already dis­em­pow­ered, but that a receiver­ship will close off the pos­si­bil­i­ty of orga­niz­ing to influ­ence the school com­mit­tee. ​"I raised my chil­dren in Holyoke Pub­lic Schools; I remem­ber feel­ing dis­em­pow­ered. The receiver­ship is a way of dis­em­pow­er­ing par­ents — dis­em­pow­er­ing the com­mu­ni­ty — more.…Parents have been exclud­ed from deci­sion-mak­ing about their children's edu­ca­tion. We need to orga­nize par­ents to real­ize their col­lec­tive pow­er and use that col­lec­tive pow­er to hold the school accountable."
Albrecht, the math teacher, is con­fi­dent in the strength of the com­mu­ni­ty and HTA. Receiver­ship is ​"not inevitable," she says. ​"We are fight­ing it."
Morales shares her con­fi­dence. ​"This is a tough city. There is going to be a huge fight. We are not going to let them come in and take over."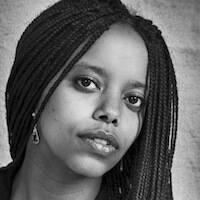 Mekdes Maryam Amare
is a fem­i­nist, com­mu­ni­ty activist and mom work­ing to end oppres­sion. She is based in the Mid-Atlantic.