Home Care in Crisis
Everyone agrees the answer to the critical shortage of caregivers is good jobs. But how do we get there?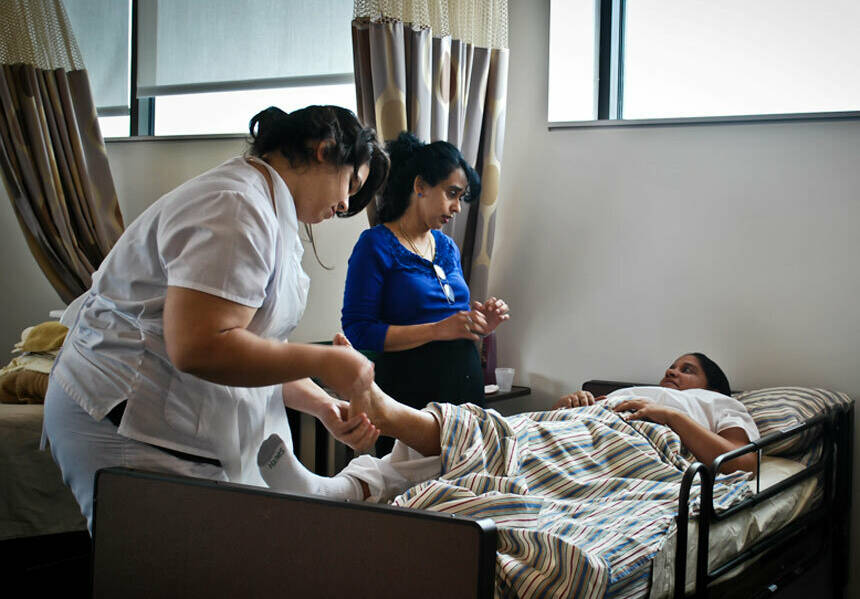 In most indus­tries, it's not cat­a­stroph­ic when an employ­ee doesn't show up to work. But last Decem­ber, a few weeks before Christ­mas, my mother's long-time home health aide announced that she had to go on indef­i­nite leave, which left my fam­i­ly reel­ing. That's becom­ing an all-too-com­mon sto­ry thanks to a grow­ing short­age of home care work­ers, a prob­lem that rais­es thorny issues of who's able to union­ize and which jobs — and which work­ers — we value.
I was 7 when my moth­er, a high school Eng­lish teacher in upstate New York, was diag­nosed with mul­ti­ple scle­ro­sis (MS). Over the next sev­er­al decades, MS pro­gres­sive­ly robbed her of many of the things she loved. First her sta­mi­na and abil­i­ty to tol­er­ate hot sum­mers; lat­er her bal­ance and her pride, as strangers assumed her stag­ger­ing walk meant she was drunk. When I was in mid­dle school, MS forced my mom out of her teach­ing career, and by the time I grad­u­at­ed from col­lege, it had rel­e­gat­ed her to a wheelchair.
My mother's ini­tial diag­no­sis was of a type of MS called relaps­ing-remit­ting, marked by peri­od­ic flare-ups that came on as mys­te­ri­ous­ly as they retreat­ed, but which took some­thing with them each time they left. More than once, the dis­ease threat­ened to sep­a­rate our fam­i­ly, as doc­tors sug­gest­ed that she need­ed to be cared for in a nurs­ing home. But even­tu­al­ly, the dis­ease seemed to plateau, leav­ing my moth­er at a rel­a­tive­ly sta­ble lev­el of dis­abil­i­ty. That plateau is where my par­ents have lived their lives for most of the last decade, fol­low­ing a care­ful­ly planned rou­tine of meals and exer­cis­es, wheel­chair trans­fers and naps, and con­tend­ing with a series of com­pli­ca­tions, pre­dictable only in that there's always some­thing new. It's an almost impos­si­ble bal­ance, and one that depends heav­i­ly on the two hours of dai­ly sup­port they receive from their home health aide, a gruff but capa­ble woman I'll call Shirley.
Six days a week, Shirley helps my moth­er with every­thing from bathing and dress­ing to stretch­ing and exer­cis­es to orga­ni­za­tion­al projects around the house, which also gives my father a two-hour reprieve to run errands and take his dai­ly walk. But while my par­ents are in their ear­ly 60s, Shirley is a few years old­er still. And in Decem­ber of 2013, Shirley announced that it would be her last day for the fore­see­able future, while she attend­ed to per­son­al fam­i­ly issues of her own. When my father called to tell me, it was like the air had gone out of him. He and my moth­er knew, from pre­vi­ous expe­ri­ence, what the next few months would bring: a rota­tion of new aides, unfa­mil­iar with my mother's con­di­tion and liable to find her case too dif­fi­cult to stay on. In their small, rur­al town, trained health aides are already few and far between, and can con­se­quent­ly be selec­tive about their case­load, choos­ing between able-bod­ied senior cit­i­zens who just need help going to the gro­cery store and more inten­sive cas­es assist­ing those with severe dis­abil­i­ties. My mother's care is undoubt­ed­ly one of the hard­er jobs.
Over the next two and a half months, sev­er­al new aides came through, but none stayed full time. In the end, the local agency was only able to replace four of the 12 hours per week that were med­ical­ly pre­scribed for my mother's care. The agency was apolo­getic, but at a loss — too short on staff to cov­er not just my mother's miss­ing eight hours, but a total of 200 hours pre­scribed to patients across the three-town rur­al area it serves, like­ly affect­ing dozens of fam­i­lies. It wasn't just them, the agency explained, but rather a prob­lem that's hap­pen­ing nation­wide, par­tic­u­lar­ly out­side cities, as the demand for home health­care out­strips the num­ber of peo­ple able or will­ing to do the work.
​
'

Con­sis­ten­cy of care'

The rea­sons for the short­age are clear enough. Home care aides have a hard job. Not just phys­i­cal­ly tax­ing, it's often messy and poten­tial­ly dan­ger­ous, with risk of injury from help­ing lift clients or infec­tion from body flu­ids. And though it's con­sid­ered unskilled work, aides walk a com­pli­cat­ed line. Their work­places are also their clients' homes, turn­ing the work­er into a guest, and demand­ing that all par­ties pos­sess the inter­per­son­al skills to accom­mo­date everyone's change­able roles.

But what makes this hard job too often a bad job is the dis­re­spect the work­ers receive — some­times from their clients, but most often from the sys­tem. There's lit­tle room for advance­ment, leav­ing work­ers stag­nat­ing in entry-lev­el posi­tions, some­times for decades. And of course, home health and per­son­al aides are so famous­ly under­paid that many teeter on the pover­ty line and rely on gov­ern­ment assis­tance to sup­ple­ment low wages.

That's part­ly thanks to the gen­dered nature of the work: a form of low-skilled labor that takes place inside the home and is thought of as women's work — fit to be com­pen­sat­ed in plat­i­tudes rather than a liv­ing wage.

It's also due to racism. Along with agri­cul­tur­al work­ers, domes­tic work­ers were delib­er­ate­ly exclud­ed from New Deal min­i­mum-wage and over­time laws, as a sop to South­ern sen­a­tors who want­ed to keep the most­ly African-Amer­i­can work­ers in a state of semi-slav­ery. When Con­gress extend­ed min­i­mum-wage and over­time pro­tec­tions to some domes­tic work­ers in 1974, many home care work­ers were again exclud­ed, under an exemp­tion that treats them as ​"com­pan­ions." It was only last year that Pres­i­dent Oba­ma issued an exec­u­tive order extend­ing these pro­tec­tions to home care work­ers begin­ning in 2015 — and the admin­is­tra­tion has now delayed imple­men­ta­tion for six months, until June 2015.

Yet that mea­sure is only the bare min­i­mum, says Sheila Bap­at, author of Part of the Fam­i­ly? Nan­nies, House-keep­ers, Care­givers and the Bat­tle for Domes­tic Work­ers' Rights. ​"Obama's reg­u­la­tions are rad­i­cal in the face of the his­to­ry of racist exclu­sion, but they are also so basic — they just bring home care work­ers up to the cur­rent pay floor. There are so many fac­tors beyond take-home pay: con­trol over sched­ules, fringe ben­e­fits like health-care, your boss or your client's regard for you, paid time off, and more."

Today, the home care work­force looks in many ways like it has for a cen­tu­ry: 90 per­cent women and 56 per­cent peo­ple of col­or. Many are recent immi­grants, and most are mid­dle-aged or old­er, with work­ers aging along­side their clients.

The dif­fi­cul­ty of the work and the sys­temic dis­re­spect has led to high turnover and low recruit­ment. The short­age already expe­ri­enced in rur­al areas like upstate New York is a sign of things to come nation­wide. While urban areas may still have a large enough pop­u­la­tion of poor women and immi­grant work­ers will­ing to take on the jobs oth­ers refuse, even cities are set to face a crit­i­cal home care work­er short­age soon. Aging Baby Boomers over­whelm­ing­ly want to remain at home, and states and insur­ance pay­ers rec­og­nize that home care is more cost-effec­tive than exor­bi­tant­ly expen­sive nurs­ing insti­tu­tions. The Bureau of Labor Sta­tis­tics has pre­dict­ed that there will be a 48 per­cent increase in nation­al demand for home nurs­ing and per­son­al assis­tants by 2022, even as the cur­rent work­ers con­tin­ue aging out of their jobs.

That makes home health­care a grow­ing indus­try, every­one agrees, but it's one that comes with a catch for indus­try lead­ers. Unlike many oth­er low-skilled ser­vice-sec­tor jobs, where work­ers are treat­ed as dis­pos­able, the key to pro­vid­ing good home health ser­vices is what the indus­try calls ​"con­sis­ten­cy of care." From the per­spec­tive of con­sumer-patients, home care only works well when they can rely on hav­ing the same high-qual­i­ty work­er stay with them for years.

The gen­er­al solu­tion that econ­o­mists and health­care pro­fes­sion­als rec­og­nize seems sim­ple: To attract and keep more work­ers in posi­tions that are known as bad jobs, they have to make those jobs bet­ter. And that real­iza­tion has led to an unusu­al sit­u­a­tion, where many work­ers, employ­ers, clients and pay­ers are all striv­ing for the same goal.
After Har­ris v. Quinn
This June, the Supreme Court weighed in on the efforts of one state to do just that. In the face of extreme­ly high turnover and short­ages in some areas, Illi­nois want­ed to fig­ure out how to make its home care work­force more sus­tain­able. The issues were pre­dictable: Work­ers were bad­ly paid, often poor­ly trained, and some­times lacked the most basic sup­plies, such as gloves.
But the state was faced with a prob­lem. Home care work­ers are, almost by def­i­n­i­tion, an iso­lat­ed and dis­con­nect­ed work­force, with each employ­ee work­ing in some­one else's home, rarely com­ing togeth­er in a com­mon office or shop.
"There's a whole range of patients, a whole range of sce­nar­ios, and dif­fer­ent types of train­ing," explains Moshe Mar­vit, a fel­low at the Cen­tu­ry Foun­da­tion and co-author of Why Labor Orga­niz­ing Should be a Civ­il Right: Rebuild­ing a Mid­dle-Class Democ­ra­cy by Enhanc­ing Work­er Voice. ​"Fig­ur­ing out how to man­age that work­force is extra­or­di­nar­i­ly tough." Rather than rein­vent the wheel, Illi­nois turned to the union mod­el, defin­ing home care work­ers as pub­lic employ­ees for the sole pur­pose of orga­niz­ing them in a pub­lic sec­tor union.
"The state saw the union as offload­ing that pres­sure — let the rep­re­sen­ta­tives gath­er that infor­ma­tion and report to the state, and fig­ure out how to make this work," Mar­vit says. ​"It was a win-win: Patients got care, there were reg­u­la­tions in place, and the state doesn't have to bar­gain with 60,000 work­ers, but can instead bar­gain with one union."
The mod­el was adopt­ed by 20 oth­er states, becom­ing a rare sit­u­a­tion, Mar­vit says, ​"where the employ­ee, the employ­er and the client all had the same solu­tion." But then, ​"It was scut­tled by the con­ser­v­a­tive view of the market."
In 2011, the anti-union Nation­al Right to Work Foun­da­tion took reflex­ive aim at the Illi­nois mod­el, argu­ing that the home care work­ers weren't true pub­lic employ­ees and there­fore shouldn't have to pay mem­ber­ship fees to cov­er the costs of union rep­re­sen­ta­tion. The com­plaint made its way to the Supreme Court as Har­ris v. Quinn. The court ruled against Illi­nois, crit­i­cal­ly threat­en­ing the finan­cial sur­vival of unions by allow­ing ​"free rid­ers": work­ers who ben­e­fit from union nego­ti­a­tions but don't pay for their share of its ser­vices. The case like­ly fore­shad­ows a num­ber of broad­er anti-union law­suits to come, attack­ing teach­ers and oth­er pub­lic sec­tor unions, but its impact was imme­di­ate­ly felt by home care work­ers, who have only recent­ly begun to win improved work­place conditions.
To crit­ics like jour­nal­ist Kath­leen Geier, a pub­lic pol­i­cy researcher who focus­es on women's eco­nom­ic equal­i­ty, writ­ing at The Nation, it was an exam­ple of con­ser­v­a­tive jus­tices under-cut­ting the progress of a mar­gin­al­ized, female work­force: ​"structur[ing] care work in a way that ensures the con­tin­u­ing eco­nom­ic inequal­i­ty of those who per­form it."
In the wake of the deci­sion, there has been intense dis­cus­sion about how home care work­ers should move for­ward. Some states have float­ed the pos­si­bil­i­ty of state-run com­mis­sion­er boards that would func­tion as a gov­ern­ment-fund­ed union for the pur­pose of orga­niz­ing home care work­ers. But some advo­cates are look­ing to a more rad­i­cal mod­el already work­ing in a few cor­ners of the country.
Surpin saw the opportunity for a different sort of model, where workers would receive better training, wages and benefits, and would help decide the direction of the company.
The co-op model
In 1985, Rick Surpin found­ed Coop­er­a­tive Home Care Asso­ciates (CHCA), a work­er-owned coop­er­a­tive based in the South Bronx in New York City. At the time, the mar­ket for elder care was shift­ing away from nurs­ing homes toward home-based care, with patients demand­ing alter­na­tives to nurs­ing homes, and pay­ers rec­og­niz­ing it as a cheap­er option.
"It was a time," says CHCA's cur­rent pres­i­dent, Michael Elsas, ​"when peo­ple opened up home care com­pa­nies with the ease that they opened can­dy stores." But the work­force, then as now pri­mar­i­ly com­posed of poor women and women of col­or, was bad­ly paid and poor­ly trained. Many of the new agen­cies seemed more focused on sim­ply ful­fill­ing a num­ber of care hours than pro­vid­ing high-qual­i­ty care.
Surpin saw the oppor­tu­ni­ty for a dif­fer­ent sort of mod­el, where work­ers would receive bet­ter train­ing, wages and ben­e­fits, and would help decide the direc­tion of the company.
"The idea was to gen­er­al­ly raise the bar," explains Elsas, ​"with the notion that if you cre­at­ed a qual­i­ty job, you'd pro­vide qual­i­ty care."
Near­ly 30 years lat­er, CHCA is the largest work­er co-op — in any indus­try — in the Unit­ed States, with more than 2,000 mem­ber-own­er home care work­ers and an office staff of 100, all in New York City. And unlike the staff turnover rate in typ­i­cal home care agen­cies, which can be as high as 40 per­cent each year, at CHCA, it's just 15 per­cent.
Look­ing at CHCA's mod­el, it's easy to under­stand why. From the begin­ning of the coop­er­a­tive, CHCA work­ers out­earned their peers at oth­er agen­cies, receiv­ing not just high­er wages but also div­i­dends from com­pa­ny prof­its. CHCA kept man­age­ment costs low, mean­ing that 87 cents of every rev­enue dol­lar went back to employ­ees in wages, ben­e­fits, div­i­dends or bonus­es (com­pared with 80 cents at most home care agen­cies, CHCA estimates).
CHCA didn't stop at rais­ing the bar for its own employ­ees, but rather helped lead the fight in New York City and the state to raise com­pen­sa­tion for home care work­ers across the indus­try, from an aver­age of $8 per hour to $10, plus the equiv­a­lent of $4.09 in benefits.
Econ­o­mist Jes­si­ca Gor­don Nem­b­hard, a pro­fes­sor of com­mu­ni­ty jus­tice and social eco­nom­ic devel­op­ment at John Jay Col­lege of Crim­i­nal Jus­tice in New York City and author of Col­lec­tive Courage: A His­to­ry of African Amer­i­can Coop­er­a­tive Eco­nom­ic Thought and Prac­tice, doubts that the indus­try in New York would have changed with­out CHCA's lead­er­ship. ​"I don't think indus­try lead­ers were that unhap­py with the old mod­el," she says. ​"The peo­ple run­ning the com­pa­nies were still mak­ing mon­ey. I think it took hav­ing a group, a co-op, with a dif­fer­ent struc­ture and a dif­fer­ent mis­sion, to seed that change in the industry."
While the wage advan­tages pro­vid­ed by the co-op may have recent­ly lev­eled out thanks to the wage par­i­ty mea­sures CHCA helped achieve, the ben­e­fits of work­ing at the co-op go beyond bet­ter pay. CHCA guar­an­tees grad­u­ates of its train­ing pro­gram a full-time job of at least 30 hours a week, trans­form­ing jobs that were con­tin­gent and tem­po­rary to sta­ble posi­tions with ben­e­fits. Work­ers serve on and vote for the board, and a labor-man­age­ment team meets reg­u­lar­ly to antic­i­pate work­er needs. And vital­ly, in an indus­try where most jobs are dead-ends, CHCA has a job lad­der to help home care work­ers move up in the com­pa­ny; 40 per­cent of CHCA's office staff are for­mer home care workers.
Diane Holmes, a 64-year-old employ­ee of CHCA, may not have need­ed an entice­ment to stay in the field. She worked for 27 years at anoth­er Bronx home­care agency, which was also union­ized, until it closed in 2008. But while she liked her old agency, she says that CHCA seems more invest­ed in pro­vid­ing ser­vices to employ­ees. CHCA has host­ed bank­ing infor­ma­tion booths and lan­guage class­es for employ­ees who want to improve their Eng­lish. There are health fairs where work­ers can go booth to booth, get­ting test­ed for cho­les­terol, get­ting flu shots or even mam­mo­grams, on site — a sig­nif­i­cant advan­tage for busy, exhaust­ed work­ers, who reg­u­lar­ly work 10-hour days.
Board meet­ings and town halls have done a lot to help var­i­ous depart­ments at CHCA under­stand and appre­ci­ate each other's jobs, Holmes says, and the pres­i­dent is more hands-on and acces­si­ble, some­one you can stop in the hall to talk or raise concerns.
"A lot of oth­er agen­cies say, ​'What are you doing here that makes such a big dif­fer­ence?' " she says. ​"It makes a big dif­fer­ence when you can go to the own­ers of the com­pa­ny and talk as freely as you would with a coworker."
Holmes has become more hands-on as well. At CHCA, she has served on sev­er­al com­mit­tees, help­ing to over­see safe­ty and quality.
While CHCA work­ers are still iso­lat­ed, each work­ing in the field rather than a com­mon work­place, ​"we do a lot to give the work­ers a sense that this is your com­pa­ny even if you don't come here every day," explains Elsas.
"The thing we haven't been able to mea­sure is how our work­ers pro­vide bet­ter care than oth­er work­ers," he con­tin­ues. It's a chal­leng­ing accom­plish­ment to track, but both Elsas and Nem­b­hard are con­fi­dent that CHCA does pro­vide bet­ter qual­i­ty, since bet­ter jobs and low­er turnover in this field almost auto­mat­i­cal­ly lead to bet­ter, more con­sis­tent care.
Giv­en all of CHCA's suc­cess­es, it's sur­pris­ing that its mod­el hasn't been repli­cat­ed more broad­ly. Nem­b­hard only knows of two oth­er home care co-ops in the Unit­ed States: one in Philadel­phia, and a small­er, more rur­al co-op in Wisconsin.
Elsas says that many of the lessons of CHCA's suc­cess aren't nec­es­sar­i­ly lim­it­ed to coop­er­a­tive work­places. ​"You don't have to be a co-op to be a good employ­er," he says. ​"It's not that I don't believe in co-ops any­more. But I do think that our goals and mis­sion can be repli­cat­ed, and can be attained in a non – co-op envi­ron­ment. And I think that the indus­try in gen­er­al is begin­ning to under­stand that."
Despite the resis­tance to home care work­ers' rights seen in the recent Har­ris v. Quinn deci­sion, the real­i­ties of the com­ing home care labor short­age and the expo­nen­tial growth in demand may make the next few years a moment of unique oppor­tu­ni­ty: a win­dow when the inter­ests of clients, pay­ers, work­ers and man­agers all align around the real­iza­tion that the future of this impor­tant indus­try lies in mak­ing the work more sustainable.
"So many of us are wor­ried about our par­ents and where they're going to go, and who will take care of them," says Nembhard."We want good peo­ple. What co-ops are sell­ing to clients is sta­bil­i­ty and longevi­ty in their caretakers."
Apply­ing the coop­er­a­tive for­mu­la to rur­al areas may present more of a chal­lenge. Tra­cy Dudzin­s­ki of Coop­er­a­tive Care in Wis­con­sin says that demand for the co-op's ser­vices is high but work­ers are in short sup­ply, espe­cial­ly those will­ing to invest the ener­gy to get a co-op off the ground. Trav­el dis­tances are also a prob­lem: ​"It is not unusu­al to send some­one 30 miles to do a one-hour shift for a show­er," says Dud­kin­s­ki. How­ev­er, she's still con­fi­dent that the co-op mod­el lends an advantage.
In my parent's case, their long-time aide, Shirley, was able to return to work in Feb­ru­ary, and for now, life has gone, more or less, back to nor­mal. But it feels like a tem­po­rary reprieve: Shirley is in her mid-60s, and one day she'll have to retire. For the sake of my fam­i­ly, I hope it's at a point when the rules of the broad­er home care indus­try have start­ed to change — a point when bet­ter jobs and greater respect are draw­ing a flood of good new work­ers to the field.