Homeland, Season 3, Episode 5: Daddy Issues Strike Again
Dana's dating another killer? Stop us if you've heard this one before.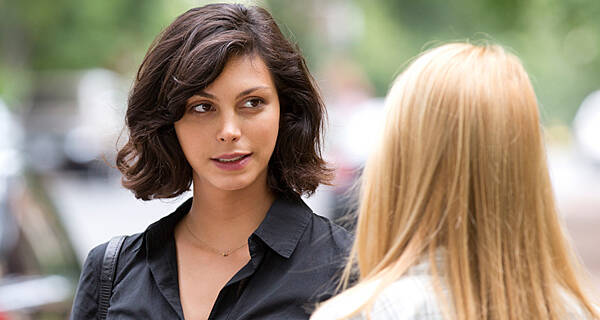 So, I've got this theory.
If the next season starts with Dana going to her Spring Formal with a guy who turns out to be the Zodiac Killer, don't say that I didn't warn you.
Home­land, as we know, is a week­ly, hour-long ode to para­noia and wacky the­o­ries. When Saul com­mits Car­rie to the men­tal hos­pi­tal, we're meant to won­der what his long game is; when Brody turns up in a half-built sky­scraper where lis­some women tend to his wounds, we're left to pon­der which wacky bunch of inter­na­tion­al would-be world dom­i­na­tors has him this time. But my the­o­ry— the one I've been think­ing about for about five episodes now — has noth­ing to do with those recent plot points.
It's this: The only rea­son Dana Brody is still around is because her seem­ing­ly clum­sy, melo­dra­mat­ic sto­ry lines will even­tu­al­ly be revealed as a ful­ly inten­tion­al com­men­tary on the dan­gers of bad fathering.
Con­sid­er: Dana Brody's dad, the one and only Nicholas Brody, spent most of Sea­son One plot­ting to assas­si­nate half of Wash­ing­ton. Last sea­son, he actu­al­ly did kill the Vice Pres­i­dent; this sea­son, he's been framed as the mas­ter­mind behind the Lan­g­ley bomb­ing. Now, giv­en the pater­nal deceit and vio­lence that has con­sumed and irrev­o­ca­bly dam­aged Dana's life — which, it should be not­ed, she spends no short­age of time com­plain­ing about in explic­it detail— you would think that young Dana would look for cer­tain qual­i­ties in a guy. Trust­wor­thi­ness, say. Reli­a­bil­i­ty. The gen­er­al absence of a ten­den­cy to mur­der his fel­low man in cold blood.
And yet, it is not so. Pret­ty much every sin­gle time Dana Brody goes on a date with some­body, he turns out to be a soul­less, duplic­i­tous killer. Last sea­son, she dat­ed the Vice Pres­i­den­t's son; on one of their dates, he ran down a woman in his car and pres­sured Dana into a cov­er-up. This sea­son, she falls in love and takes a road trip with a guy who secret­ly shot his broth­er. Dana Brody, whose father kills peo­ple and lies about it, seem­ing­ly can­not stop dat­ing guys who kill peo­ple and lie about it. It's not that I blame her — I'm the first to admit that we often find our­selves repeat­ing our pri­mal trau­mas, which is one of the worst parts of being trau­ma­tized in the first place — but at this point, I can't see it as any­thing oth­er than a ful­ly inten­tion­al piece of com­men­tary on what a very poor role mod­el Nicholas Brody was for his daughter.
Well. I could be wrong. But if the next sea­son starts with Dana going to her Spring For­mal with a guy who turns out to be the Zodi­ac Killer, don't say that I did­n't warn you.
The strangest part of all this is, at some point dur­ing ​"The Yoga Play," last night's episode, the dra­ma actu­al­ly start­ed work­ing. Maybe it was just the shock­ing fact that Jes­si­ca went to Car­rie for help track­ing Dana down — this show fea­tures two actress­es I love, More­na Bac­carin and Claire Danes, and their only inter­ac­tion thus far has con­sist­ed of fight­ing over Brody — or the fact that Car­rie, in a heart­warm­ing dis­play of ovaries-before-brovaries sol­i­dar­i­ty, actu­al­ly oblig­ed. Maybe I just have a strong invest­ment in sto­ries about the dan­gers of being a teenage girl. But some­where around the time Dana heard about the sui­cide pact over a gas sta­tion's radio and start­ed ques­tion­ing Leo about it, and Leo did­n't quite man­age to get his sto­ry straight while maneu­ver­ing her back into his car, I real­ized that I was entire­ly invest­ed in their plot line. For all my dis­il­lu­sion­ment with this show, and for all that I doubt­ed that I could still con­nect to it emo­tion­al­ly, the moment Leo got Dana back into that car, my notes devolved into one long, gen­uine stream of ​"DANA SERI­OUS­LY WHY" and ​"STRESS­FUL" and ​"DANA."
It's entire­ly pos­si­ble, how­ev­er, that one of the rea­sons this plot line stood out was that the rest of the episode —the actu­al, hon­est-to-good­ness spy work — was pret­ty mud­dled and unremarkable.
We do, thank heav­ens, get to learn more about the long con staged by Saul and Car­rie: It start­ed direct­ly after the Lan­g­ley bomb­ing. This means that Car­rie was ful­ly aware of what Saul was doing when he assas­si­nat­ed her char­ac­ter and had her com­mit­ted, but it does­n't entire­ly make sense of the many scenes in which Car­rie — com­plete­ly alone, and with no one to fool — flipped out over those events. You could argue that she hat­ed the expe­ri­ence, even though she was a will­ing par­tic­i­pant. But you could also argue, more con­vinc­ing­ly, that it was all mis­ery porn thrown in to mis­lead the audi­ence. I don't mind melo­dra­mat­ic twists, but a good twist reveals a hid­den struc­ture in an exist­ing nar­ra­tive — the ​"hey, Haley Joel Osment is the only per­son who talks to Bruce Willis!" moment— and a bad one under­mines the integri­ty of the nar­ra­tive itself. This one falls in the lat­ter category.
Unfor­tu­nate­ly enough, the mis­ery porn just keeps com­ing. Car­rie's attempts to help Jes­si­ca and Dana include con­tact­ing some­one at the FBI. She gets made by Javadi's agents and reamed out by Saul, in a scene that seems designed to make us wor­ry once again that their friend­ship is over. (It's not quite as pow­er­ful this time, giv­en that they've only been act­ing like friends for thir­ty min­utes of screen time. They may have been work­ing togeth­er all along, but as a view­er, it's just looked like four episodes of Saul being mean to Car­rie, one scene in which Saul and Car­rie hugged, and then yet anoth­er scene in which Saul was mean to Carrie.)
She then gets assault­ed in her own home, forcibly stripped while whim­per­ing ​"Please, no," and kid­napped, all in the name of get­ting her face-to-face with Java­di. She cries, she's scared; it's awful. Quinn reports that ​"she's on her own." Saul growls that she's ​"always been on her own." Does Saul hate Car­rie for real this time? Will he return his half of their BFF neck­lace? Is this just a red her­ring meant to make his inevitable res­cue efforts sur­pris­ing? Can any Home­land view­er hon­est­ly pre­tend that he or she does not know the answer to every sin­gle one of these questions?
No. We can­not. Saul and Car­rie are going to be all right, because the show depends on it. But at least Dana Brody gets home alive after escap­ing from Leo's car and being spot­ted by the police. And Leo, for what it's worth, does some tru­ly impres­sive cry­ing when he tells Dana that he only lied about killing his broth­er — ​"play­ing the game with the gun," is how he puts it — because he was ashamed. It's such impres­sive cry­ing, in fact, that I near­ly believed him. But, speak­ing of inevitable: Dana Brody tends to wind up in prox­im­i­ty to killers. And this par­tic­u­lar killer just got dumped by tabloid celebri­ty Dana Brody, while in full pos­ses­sion of her nude pics. As inevitable as his use of those assets to hurt Dana seems, and as lit­tle as I look for­ward to it, the pat­tern of Dana's bad deci­sions just keeps repeating.