Homeland, Season 3, Episode 6: Journey to the Center of Saul's Man-Pain
Homeland puts Saul's midlife crisis over the welfare (and sanity) of its female characters.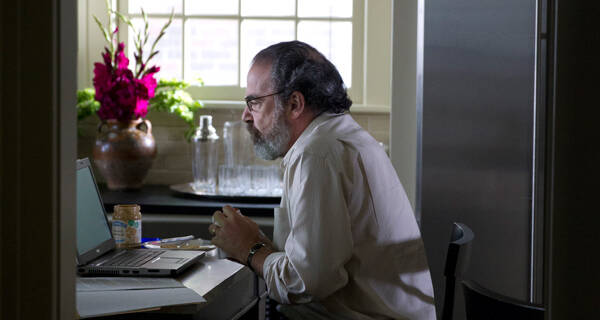 There's some­times a point with cer­tain artists when you real­ize there's one recur­ring flaw in their work that wrecks the rest of it entire­ly. It can be any­thing: A nov­el­ist who overus­es one spe­cif­ic word in the wrong way, a screen­writer who keeps intro­duc­ing mag­i­cal pix­ie-like waifs as lead female char­ac­ters, an actor who turns out to express rag­ing ultra-con­ser­v­a­tive views in his down­time. The impor­tant thing about the flaw, though, is this: Once you notice it, it begins to warp the way you see every­thing else that artist has cre­at­ed. And unfor­tu­nate­ly, this is start­ing to be the case for me and Home­land.
Meanwhile, we get a good, hard look at one of my least favorite seasonal arcs: The Continuing Emasculation of Saul Berenson, Grumpy-Pants At Large.
I watched two sea­sons of Home­land as a fan. Yes, its pol­i­tics, includ­ing its uncrit­i­cal accep­tance of gov­ern­ment sur­veil­lance of pri­vate cit­i­zens, fre­quent­ly irri­tat­ed me, but it was a whiz-bang spy thriller. If I could get past the ​"Bat­man will save Gotham by tap­ping all of our cell phones" bit in The Dark Knight, I could accept that Car­rie Math­i­son planned to save the nation by watch­ing Nicholas Brody and his wife have sex. But now that I'm watch­ing with a more crit­i­cal eye in the third sea­son, it's become increas­ing­ly appar­ent — nev­er more so than in this episode, where a man shoots his daugh­ter-in-law in the head and stabs his ex-wife in the throat with a bro­ken bot­tle, and we get a preg­nan­cy-in-per­il twist — that this show real­ly enjoys tor­tur­ing its female characters.
To be fair: In pre­vi­ous sea­sons, it also enjoyed tor­tur­ing Brody, which lev­eled the play­ing field. But he's gone, and now it's just domes­tic vio­lence and mis­car­riage scares all the way down.
In ​"Still Pos­i­tive," we do final­ly get a plau­si­ble rea­son for Carrie's emo­tion­al tor­ment through­out the hos­pi­tal play. It would appear that she didn't stop tak­ing her bipo­lar med­ica­tion due to guilt over not fore­see­ing the Lan­g­ley bomb­ings; she stopped tak­ing it because she was preg­nant, and lithi­um is dan­ger­ous for a preg­nan­cy, par­tic­u­lar­ly one in its ear­ly stages. Though the hos­pi­tal set­up allowed her to ingra­ti­ate her­self with Javadi's net­work, it also required her to take the lithi­um again, in high dosages, while being mon­i­tored. So, now we know why she was dis­traught enough to bash her head into the mir­ror while unseen by any­one rel­e­vant to the decep­tion. But, aside from the irri­tat­ing fact that the show answered the ques­tion of ​"how can we help Car­rie evolve beyond her rela­tion­ship with Brody" with ​"give her a Brody baby," this twist answers most of that plot line's Car­rie-tor­tur­ing ques­tions and leaves us wor­ried about whether her preg­nan­cy is still healthy, with­out (so far) giv­ing us a con­vinc­ing rea­son for why she, or Saul, would will­ing­ly endan­ger her wel­fare to that extent.
Mean­while, we get a good, hard look at one of my least favorite sea­son­al arcs: The Con­tin­u­ing Emas­cu­la­tion of Saul Beren­son, Grumpy-Pants At Large. I've cov­ered Saul's alarm­ing per­son­al­i­ty decay in this sea­son before—in yet anoth­er exam­ple of poor char­ac­ter work on Home­land​'s part, its answer to ​"what shall we do with our most lov­able char­ac­ter" was appar­ent­ly ​"turn him into a jack­ass who screams at his female sub­or­di­nates" — but, more and more, we're learn­ing that Saul has gone to the Jerk Side because he feels per­son­al­ly and pro­fes­sion­al­ly pow­er­less. Last week, Saul learned that he'd been passed over for the CIA direc­tor­ship, which went to Lock­hart — who is still, for the record, spout­ing melo­dra­mat­ic vil­lain dia­logue like ​"no more Brodys! No more Car­rie Math­isons," trag­i­cal­ly unaware that Car­rie just made one more Brody while he wasn't look­ing — and came home to find his semi-estranged wife on a date with anoth­er man. In this episode, Saul learns that his wife is in love with said man, just before the Java­di oper­a­tion goes to hell in a handbasket.
Saul's plan, it turns out, has been to flip Java­di using the CIA's knowl­edge of his embez­zle­ment from the Rev­o­lu­tion­ary Guard. At first, it seems to go rel­a­tive­ly well: Car­rie extri­cates her­self from Javadi's lie detec­tor, reveals the plan, and gets out of the sit­u­a­tion intact with Java­di on her side. How­ev­er, Saul and Java­di have his­to­ry; they're for­mer col­leagues, and when Java­di began work­ing for Iran, Saul extri­cat­ed his wife and son to the Unit­ed States. To express his feel­ings on this mat­ter and strike back at Saul, Java­di skips out on a planned meet­ing with Car­rie, locates his ex-wife, and goes on his afore­men­tioned killing spree.
It's bru­tal; it's fright­en­ing; it fea­tures, more graph­i­cal­ly than I had ever hoped to see, what it looks like when a man tears a woman's throat open with a bro­ken wine bot­tle. He's even­tu­al­ly locat­ed at the scene of the crime by Car­rie and Quinn — in a scene that makes sure to grab for poignan­cy by hav­ing Car­rie fret over the daugh­ter-in-law's now-moth­er­less baby — and brought back into cus­tody. And Saul, hav­ing had just about enough of fail­ure and dis­ap­point­ment, punch­es Java­di hard enough to knock him down and leave him bleeding.
So here we are: With a sea­son in which Saul, the human­ist, the empathiz­er, the rock on which this show used to stand, is a guy who beats up his pris­on­ers for the sake of per­son­al vengeance. In the­o­ry, I under­stand Saul's dark­er, cru­el­er behav­ior this sea­son as a response to extreme pres­sure and frus­tra­tion. I even feel for the guy. But in prac­tice, Mandy Patinkin's per­for­mance has always pro­vid­ed the gen­tle, humane counter-bal­ance to the show's bru­tal­i­ty; he's still play­ing the heck out of these new, harsh­er scenes, but los­ing him as a reli­able source of warmth has been so jar­ring that I have trou­ble feel­ing empa­thy, or even patience, for his char­ac­ter, even though the show clear­ly expects us to do so.
And, when com­bined with Home­land's increas­ing­ly pun­ish­ing approach to its female char­ac­ters — par­tic­u­lar­ly in Carrie's plot line, though I'm not for­get­ting that a woman had to have her throat gouged out in order to pro­vide fuel for Saul's bad mood — Saul's sto­ry feels like yet anoth­er nar­ra­tive that prizes a man's all-impor­tant midlife cri­sis over and above the safe­ty, or san­i­ty, of the women in his life. That's been stan­dard fod­der for many a pres­ti­gious TV show, but the best exam­ples have always lac­er­at­ed and deflat­ed those male char­ac­ters, rather than pour­ing unqual­i­fied sym­pa­thy upon them. For this to work, we'd need to be encour­aged to gen­uine­ly dis­like Saul, but the show keeps waver­ing between vil­i­fi­ca­tion and pity. Hon­est­ly, I don't need to jour­ney into Saul Berenson's heart of dark­ness. I just want my whiz-bang spy thriller back.