A Group of Homeless Black Mothers Just Took On a Giant Real Estate Developer—And Won
In Oakland, Moms 4 Housing occupied for a vacant home for two months—and now the corporate owner has agreed to sell it to a community land trust. But the moms say they'll continue fighting to make sure housing is a human right.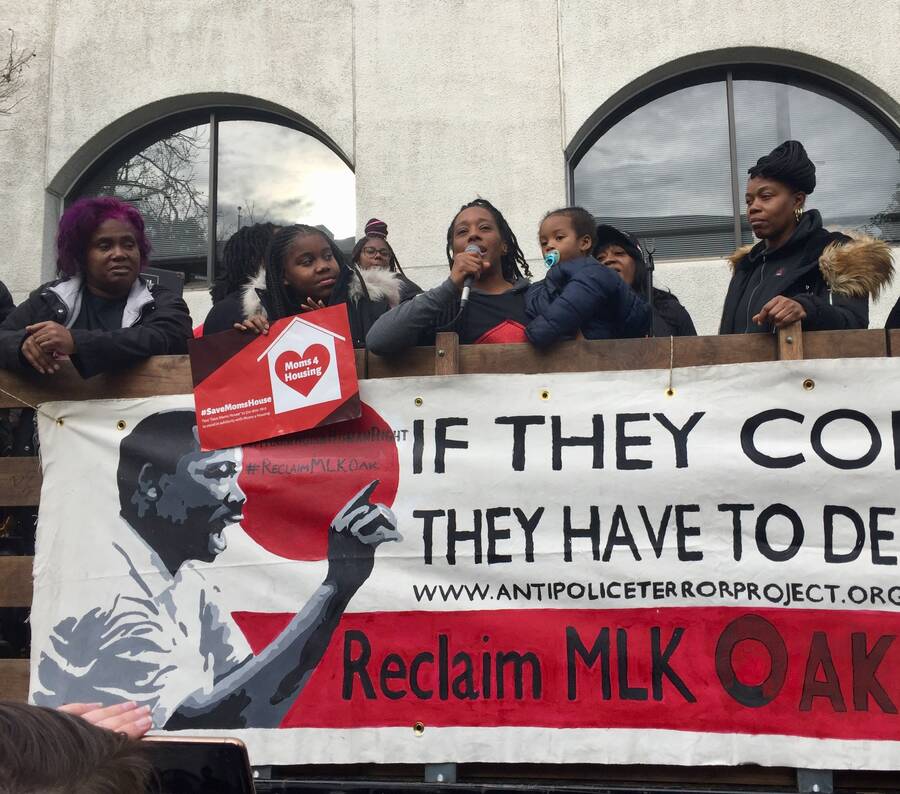 For 58 days, four home­less black moth­ers lived with their chil­dren in a vacant 3‑bedroom house in West Oak­land, California.
"Moms 4 Housing have refocused the national debate on the need for housing justice, and have sharply and clearly articulated a roadmap for achieving some of it."
Now, after a court bat­tle, weeks of ral­lies with sup­port­ers and a mil­i­ta­rized evic­tion, the moth­ers — Dominique Walk­er, Misty Cross, Tolani King and Share­na Thomas — can claim a stun­ning victory.
The moth­ers, orga­nized under the name Moms 4 Hous­ing, earned nation­al media atten­tion dur­ing their occu­pa­tion for draw­ing clear line between the actions of real estate spec­u­la­tors and the human cost of the deep­en­ing hous­ing cri­sis. Their mes­sage and method are already yield­ing results.
After the moms' evic­tion from the home, Cal­i­for­nia Gov. Gavin New­som and Oak­land May­or Lib­by Schaaf announced new emer­gency ini­tia­tives to address home­less­ness. And on Jan­u­ary 20, six days after their evic­tion, Moms 4 Hous­ing got news they called ​"a huge win": the real estate invest­ment firm that owns the house agreed to sell it to the moth­ers through a local non­prof­it land trust.
"We weren't expect­ing any of this — we were expect­ing atten­tion, but not nation­al­ly, not glob­al­ly," says Cross. ​"In the begin­ning, we were just expect­ing to be able to talk to these [own­er] folks about nego­ti­at­ing a price for the home. We were expect­ing things to go smooth­ly. It wasn't as easy as we thought."
The dif­fer­ence between real estate and a home
Wedge­wood Inc., the Redon­do Beach-based real estate invest­ment firm that owns the house the moth­ers occu­pied at 2928 Mag­no­lia St., pur­chased it in July 2019 at a fore­clo­sure auc­tion for $501,078 cash before leav­ing it emp­ty. Moms 4 Hous­ing moved into the house on Novem­ber 18, after the moms learned it was vacant through their work for the Alliance of Cal­i­for­ni­ans for Com­mu­ni­ty Empow­er­ment (ACCE). In the agree­ment announced on Jan­u­ary 20, the City of Oak­land said Wedge­wood had made a good faith promise to sell the house to the Oak­land Com­mu­ni­ty Land Trust for ​"a price not to exceed the appraised value."
The Oak­land Com­mu­ni­ty Land Trust (Oak­CLT) is a non­prof­it that acquires land and makes it per­ma­nent­ly avail­able as afford­able hous­ing to low-income com­mu­ni­ties. Once the sale is final­ized between Wedge­wood and the Oak­CLT, Moms 4 Hous­ing will be able to move back into the house and make pay­ments to live there based on an afford­abil­i­ty scale pred­i­cat­ed on income, says Oak­land City Coun­cilmem­ber-At-Large Rebec­ca Kaplan.
Car­roll Fife, direc­tor of ACCE's Oak­land office, which sup­port­ed Moms 4 Hous­ing in their occu­pa­tion of the home, said that she thinks Wedge­wood decid­ed to sell the house out of a fear that activists would occu­py oth­er vacant homes it owns around the country.
"The pres­sure is com­ing from all over the state," Fife says. ​"And we told the pub­lic that Wedge­wood is in 18 states and said, ​'Com­mu­ni­ty, what do you wan­na do?'"
After Moms 4 Hous­ing moved in, Wedge­wood faced increas­ing scruti­ny over the fact it owns at least 125 homes in the Bay Area and spe­cial­izes in flip­ping a huge vol­ume of homes. Hous­ing spec­u­la­tors like Wedge­wood often pur­chase hous­es at fore­clo­sure auc­tions in cash (some­thing most indi­vid­u­als can­not do). They also often leave those hous­es emp­ty if they think they could make more mon­ey if the mar­ket price increas­es down the line.
Wedge­wood did not respond direct­ly to ques­tions about the tim­ing or nature of the deal. In an email state­ment from PR agent Sam Singer, the com­pa­ny said it works to ​"improve the neigh­bor­hoods" where it acquires prop­er­ties, and that the house's sale ​"is a step in the right direc­tion in help­ing to address Oakland's home­less­ness and hous­ing crisis."
But advo­cates say fix­ing Oakland's hous­ing cri­sis must move beyond investors mak­ing vacant units avail­able to address the lega­cy of racism in Amer­i­ca, par­tic­u­lar­ly in the real estate industry.
In her new book Race for Prof­it: How Banks and the Real Estate Indus­try Under­mined Black Own­er­ship, author Keean­ga-Yamaht­ta Tay­lor describes how fed­er­al pol­i­cy after the end of redlin­ing in the 1960s con­tin­ued to encour­age the real estate indus­try to dis­crim­i­nate against black home­own­ers through poli­cies of ​"preda­to­ry inclu­sion." These poli­cies includ­ed sell­ing sub­par hous­ing to African Amer­i­cans under exploita­tive terms.
And this his­to­ry is espe­cial­ly salient in the pre­vi­ous­ly red­lined neigh­bor­hood of West Oak­land, sit­u­at­ed in the mid­dle of the most expen­sive metro area in the country.
"[Moms 4 Hous­ing] high­lights the par­tic­u­lar nature of the hous­ing cri­sis in North­ern Cal­i­for­nia where the costs of rents and cer­tain­ly home­own­er­ship have dra­mat­i­cal­ly out­paced the rate of infla­tion and the aver­age wages and salaries of ordi­nary peo­ple in the area," said Tay­lor. ​"This, of course, has a dis­pro­por­tion­ate impact on African-Amer­i­can fam­i­lies who suf­fer from greater rates of unem­ploy­ment, under-employ­ment, pover­ty and, as a result, hous­ing insecurity."
But Tay­lor said the moth­ers' move­ment can pro­vide a mod­el for the rest of the coun­try, regard­less of rent prices. ​"Moms 4 Hous­ing have refo­cused the nation­al debate on the need for hous­ing jus­tice, and have sharply and clear­ly artic­u­lat­ed a roadmap for achiev­ing some of it."
Town busi­ness
Oakland's hous­ing cri­sis is in dire need of a solu­tion. In 2019, the city esti­mat­ed that 4,071 peo­ple were liv­ing on the street, in vehi­cles or in shel­ters — an increase of 47% in two years. A 2017 sur­vey of self-report­ed data to Every­One Home shows that near­ly 70% of home­less indi­vid­u­als in the City of Oak­land are black, while the city's total black pop­u­la­tion has dwin­dled in recent years down to 28%. And there are very real con­se­quences to liv­ing on the street: In 2019, 137 unhoused peo­ple died in Alame­da Coun­ty. Mean­while, U.S. Cen­sus data esti­mates that there are just under 6,000 emp­ty homes in Oakland.
Cross and Walk­er are both from Oak­land, and say they tried to use the city's exist­ing sup­port sys­tems to access hous­ing, but weren't able to find any­thing sta­ble for them and their chil­dren. Both moth­ers have jobs. How­ev­er, the min­i­mum wage in the city is $14.14 an hour, and the ​"hous­ing wage" that a fam­i­ly would need to earn to afford an aver­age 2‑bedroom apart­ment in the city is $40 an hour, says Nik­ki For­tu­na­to Bas, an Oak­land city coun­cilmem­ber who has been work­ing close­ly with Moms 4 Housing.
Among a wide slate of pro­posed poli­cies, Bas says she is work­ing on requir­ing land trusts and co-ops get the first chance to pur­chase homes before real estate investors — a pol­i­cy the city's Jan­u­ary 20 announce­ment said Wedge­wood endorsed.
How­ev­er, Bas said that she's con­cerned the city gov­ern­ment won't make mean­ing­ful change on the hous­ing cri­sis any time soon with­out an ​"all-hands-on-deck" mentality.
"While I am hope­ful, I am very aware that the pace at which gov­ern­ment moves," Bas says. ​"Until impact­ed com­mu­ni­ties actu­al­ly feel a change, the type of orga­niz­ing that the moms have been doing, the type of atten­tion they have been draw­ing, is very need­ed to keep the pres­sure on deci­sion-mak­ers at every lev­el of government."
Cross says the Moms 4 Hous­ing move­ment is about more than find­ing four moth­ers a place to stay, so their pres­sure cam­paign will not stop. She also said the four moth­ers all have found secure hous­ing arrange­ments since the evic­tion, but wants the focus to remain on their larg­er fight to make hous­ing a human right — not just under inter­na­tion­al law, but under Cal­i­for­nia state and fed­er­al law, which could require pass­ing a con­sti­tu­tion­al amendment.
"Every­body deserves to be housed, whether you have drug abuse, whether you have a jail his­to­ry," says Cross. ​"We'll pur­sue any option that makes hous­ing a human right."
And on Mon­day, soon after receiv­ing the news of the Mag­no­lia house sale, the moth­ers were back out push­ing for change at Oakland's ​"Reclaim MLK" event. They helped lead a march of hun­dreds of pro­test­ers from City Hall to the Alame­da Coun­ty Sheriff's office sev­en blocks away.
Out­side the sheriff's office, Walk­er told her sto­ry of return­ing to Oak­land after years liv­ing in Mis­sis­sip­pi. She said she didn't rec­og­nize the city, see­ing thou­sands of peo­ple liv­ing on the streets and many of her friends and fam­i­ly dis­placed out of the city.
But look­ing out over the crowd, she smiled and said, ​"This is the Oak­land I remember."
Julia Clark-Rid­dell
is a Sum­mer
2016
edi­to­r­i­al intern at In These Times. She stud­ies jour­nal­ism and polit­i­cal sci­ence at North­west­ern Uni­ver­si­ty and is from Oak­land, Cal­i­for­nia. Fol­low her on Twit­ter at @jclarkriddell.