Homeless Court Advantage
35 courts across the country are dedicated to hearing charges against the homeless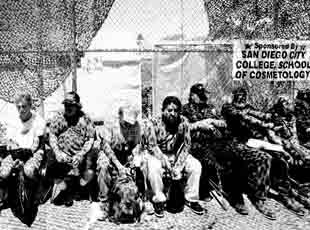 We wanted to make sure you didn't miss the announcement of our new Sustainer program. Once you've finished reading, take a moment to check out the new program, as well as all the benefits of becoming a Sustainer.

Outside a high school in downtown San Diego – on a concrete handball court that often sees action – is where the country's first homeless court began. No witness stand. No bench for the judge. Just a bare ground with some folding chairs.
The court sometimes finds more productive redress than jail time.
Started by San Diego County public defender Steve Binder in 1989, the court offers the homeless population access to the legal system.
It took ​"a great leap of faith to go to the homeless shelter" to hold court, says Binder.
Many criminal charges against the homeless stem from their homelessness: loitering, sleeping on the sidewalks, drinking or urinating in public. Once cited, they don't have a mailing address to receive summonses if they fail to pay the fine. That means a single infraction can often mushroom into multiple summonses, resulting in an inability to secure a job and housing.
Since Binder held the first court nearly 20 years ago, 35 such courts – half of them in California – have sprung up, including in Columbia, S.C., Little Rock, Ark., and Milwaukee.
Because of the ad hoc nature of the court, building trust between the homeless and their attorneys takes time, Binder says.
"A lot of defendants don't trust their public defenders," he says. At the same time, he says ​"some public defenders think people on the streets are just bums. We have to extend ourselves and get past that initial resistance."
For Binder, it took almost a year to earn the confidence of the first homeless person who set foot on that downtown San Diego handball court to see him. Now, Binder and his colleagues hold two sessions each month – one downtown and the other in north San Diego County. Each session sees, on average, 60 to 70 defendants, with more and more Afghanistan and Iraq War veterans in their midst.
Since the court's fledgling years, Binder's office has been working closely with the National Coalition for Homeless Veterans (NCHV), a nonprofit organization that provides technical assistance to social service agencies that aid veterans. These days, the partnership has become even more important.
NCHV's Technical Assistance Director Melanie Lilliston says that although historically it takes a decade after their tour for veterans to end up homeless, some of those returning from Afghanistan and Iraq are now courting legal troubles much sooner and probably will face the streets not long afterward.
"They're requesting service faster and showing up in the legal system faster," she says.
While the homeless court ​"is not a prevention tool," Lilliston says, ​"it helps [the homeless] resolve legal issues so they can move forward with their lives."
The court sometimes finds more productive redress than jail time.
Binder cited a recent case where a veteran, who returned from two tours in Iraq, had two drunk-driving convictions and was then arrested for driving on a suspended license. Appearing in the homeless court, the veteran explained that he had to drive to work. Instead of meting out a sentence, the judge arranged a legal way for him to commute.
Some homeless advocates, however, object to the idea of a special court because they say it encourages discrimination against homeless people.
"How can we stop the criminalization of homelessness if you have a justice system that sets up courts based on a person's (homeless) status?" asks Paul Boden, executive director of Western Regional Advocacy Project, an umbrella group whose membership includes many homeless providers and advocates on the West Coast.
"We perpetuate the criminalization [with these courts]," Boden says. His group is fighting efforts to open a special court in San Francisco. (No firm date has been set.)
Becky Dennison can attest to the benefits and the limitations of the homeless court in Los Angeles. As co-director of the grassroots Los Angeles Community Action Network, Dennison manages a legal clinic for the homeless. She says few people manage to clean up their records in court.
The L.A. homeless court deals with only minor offenses – not the more common drug charges. And the number of cases that the court is able to handle pales in comparison to the large number of quality-of-life citations – which, Dennison says, averages 1,000 per month in downtown L.A. alone.
"The problem is the court helps only a very small subset of people," she says, ​"but we can help a lot more people up front if we can just stop this style of policing."
Be a Sustainer
We surveyed thousands of readers and asked what they would like to see in a monthly giving program. Now, for the first time, we're offering three different levels of support, with rewards at each level, including a magazine subscription, books, tote bags, events and more—all starting at less than 17 cents a day. Check out the new Sustainer program.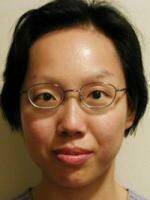 Violet Law
has written about housing issues for the
Christian Science Monitor
,
ColorLines
,
The Progressive
and
Utne Reader
. She earned a master's degree from Columbia Graduate School of Journalism and became homeless upon graduation.