Hondurans Are Out on a One-Week General Strike. Their Grievance? A U.S.-Backed Dictatorship.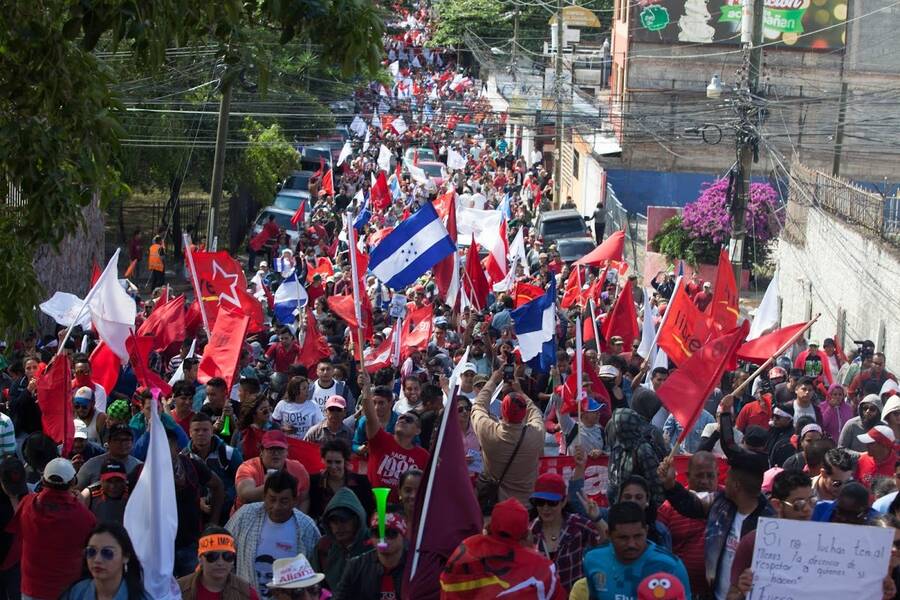 ​Hon­duras is the site of wide­spread social and polit­i­cal unrest fol­low­ing the country's high­ly con­test­ed Novem­ber 26 pres­i­den­tial elec­tion. The Oppo­si­tion Alliance Against the Dic­ta­tor­ship in Hon­duras, or La Alian­za, called for a week-long gen­er­al strike against the re-elec­tion of incum­bent Juan Orlan­do Hernán­dez of the Par­tido Nacional ahead of his inau­gu­ra­tion on Jan­u­ary 27. Tens of thou­sands of pro­test­ers are once again in the streets build­ing bar­ri­cades in cities and towns across the coun­try to denounce alleged fraud in the pres­i­den­tial election.
"Our con­sti­tu­tion says clear­ly that the re-elec­tion of a pres­i­dent would be ille­gal with­out the con­sul­ta­tion of the peo­ple of the coun­try," Tomas Mem­breño Pérez, pres­i­dent of the Sindi­ca­to de Tra­ba­jadores de la Agroin­dus­tria y Sim­i­lares (STAS), tells In These Times.
Nine years ago, the demo­c­ra­t­i­cal­ly elect­ed Pres­i­dent Manuel Zelaya was oust­ed by the armed forces of Hon­duras. The coup was prompt­ly denounced by coun­tries across Latin Amer­i­ca, but the Unit­ed States quick­ly moved to rec­og­nize the gov­ern­ment that was installed fol­low­ing the coup. To con­test the far-right Nation­al Par­ty admin­is­tra­tion that has main­tained pow­er since 2009, the Alian­za has brought togeth­er social move­ment forces, includ­ing labor unions, campesino orga­ni­za­tions and indige­nous communities.
The cur­rent cri­sis began fol­low­ing the Novem­ber 26 pres­i­den­tial elec­tions. Many Hon­durans saw the elec­tion as an oppor­tu­ni­ty to regain ground lost by the 2009 coup. Ini­tial results sug­gest­ed that the oppo­si­tion can­di­date, Sal­vador Nas­ral­la, a well-known sports com­men­ta­tor, was lead­ing Juan Orlan­do Hernán­dez in the results. But this lead dis­ap­peared fol­low­ing a mys­te­ri­ous error in the com­put­ers of the country's elec­toral coun­cil. Peo­ple mobi­lized across the coun­try, estab­lish­ing road­blocks of burn­ing tires and orga­niz­ing march­es across the coun­try to chal­lenge the alleged theft of the election.
The oppo­si­tion called for a recount of the votes from more than 5,000 con­test­ed polling sta­tions. Fol­low­ing the hand recount, the country's elec­toral coun­cil declared Hernán­dez the win­ner. Yet these results are high­ly con­test­ed. On Decem­ber 17, the Orga­ni­za­tion of Amer­i­can States issued a state­ment from the Sec­re­tary Gen­er­al, Luis Alma­gro, call­ing into ques­tion the offi­cial results.
Now, the country's labor move­ment is at the heart of the mobi­liza­tions to chal­lenge the con­tin­u­a­tion of the repres­sive right-wing gov­ern­ment led by Hernández.
"A great part of the labor move­ment is par­tic­i­pat­ing in the protests," Maria Ele­na Sabil­lón from the AFL-CIO's Sol­i­dar­i­ty Cen­ter in Hon­duras tells In These Times.
The pro­test­ers face intense repres­sion from state forces. On Decem­ber 1, the admin­is­tra­tion declared a state of siege, sus­pend­ing the con­sti­tu­tion and deploy­ing the mil­i­tary and mil­i­tary police to dis­cour­age night­ly protests and road­blocks. By the end of the month, the repres­sion led to at least 30 deaths, accord­ing to the human rights orga­ni­za­tion Com­mit­tee of Rel­a­tives of the Dis­ap­peared in Hon­duras (Comité de Famil­iares de Detenidos Desa­pare­ci­dos en Hon­duras — COFADEH).
"It is almost a crime to shout ​'Fuera JOH' (Out with Juan Orlan­do Hernán­dez)," says Pérez.
Inter­na­tion­al trade unions and fed­er­a­tions denounced the vio­lent repres­sion against pro­test­ers, with Cathy Fein­gold, the Direc­tor of the AFL-CIO Inter­na­tion­al Depart­ment, issu­ing a let­ter to the U.S. Gov­ern­ment call­ing on the Trump admin­is­tra­tion to ​"sus­pend all mil­i­tary assistance."
The vio­lent repres­sion has con­tin­ued through the gen­er­al strike, with the armed forces being used to clear road­blocks and dis­perse protesters.
"The gov­ern­ment pre­pared for [the gen­er­al strike], and they have been repress­ing the protests," says Sabil­lón. ​"The gov­ern­ment has not respond­ed to any calls for dia­logue. To the con­trary, the gov­ern­ment is try­ing to guar­an­tee the [fraud]."
Today's ongo­ing protests stem from pub­lic oppo­si­tion to the 2009 coup. Once ush­ered into pow­er, the new admin­is­tra­tion of Por­firio Lobo Sosa quick­ly imple­ment­ed a cam­paign of neolib­er­al reforms to pri­va­tize key infra­struc­ture, includ­ing high­ways and ener­gy, as well as the pub­lic health min­istry. The admin­is­tra­tion passed mea­sures that per­mit­ted com­pa­nies to hire 40 per­cent of employ­ees as tem­po­rary work­ers — a reform threat­ens the work­ers' abil­i­ty to orga­nize and puts them in a pre­car­i­ous position.
"The law of tem­po­rary work has impact­ed thou­sands of work­ers," says Pérez. ​"Many posi­tions have been replaced by tem­po­rary posts. A tem­po­rary work­er has no rights to sta­ble work and no access to social secu­ri­ty. This is a gov­ern­ment that is not inter­est­ed in the well being of the peo­ple. Instead of invest­ing the tax­es in guar­an­tee­ing the health of the work­ers, they invest in bul­lets, bombs and tear gas to use against the people."
Among the biggest attacks on labor rights is the estab­lish­ment of entire pri­va­tized cities through the con­struc­tion of mod­el cities. This project was rebrand­ed as the Zones for Employ­ment and Eco­nom­ic Devel­op­ment (ZEDES) after the Hon­duran courts declared the first incar­na­tion uncon­sti­tu­tion­al. These pro­posed projects would be out­side nation­al law and pro­vide com­pa­nies with the means of stem­ming labor organizing.
Hernán­dez has long sup­port­ed this pri­va­ti­za­tion plan and a swath of anti-work­er mea­sures. Since Hernán­dez won the pres­i­den­tial elec­tion of 2013, farm­work­ers have faced oppres­sion from busi­ness own­ers for their orga­niz­ing, and they have received lit­tle sup­port from the Min­istry of Labor.
"His [first] term was com­plete­ly against the work­ers in our coun­try," says Pérez. ​"He has vio­lat­ed our rights as cit­i­zens of our coun­try, he has dam­aged the pop­u­la­tion through pri­va­ti­za­tion as well as the leg­is­la­tion of laws that go against our rights. We as work­ers are against [Hernádez], and we are unit­ed with the Alian­za as an alter­na­tive to the vio­la­tion [of our rights] and one that will not per­mit more fraud or vio­la­tion the will of the people."
"This admin­is­tra­tion is total­ly ille­git­i­mate," Pérez con­tin­ues. ​"No one has con­fi­dence in him."
Jeff Abbott
is an inde­pen­dent jour­nal­ist cur­rent­ly based out of Guatemala. He has cov­ered human rights, social moments, and issues relat­ed to edu­ca­tion, immi­gra­tion, and land in the Unit­ed States, Mex­i­co, and Guatemala. He has writ­ten for the North Amer­i­can Con­gress on Latin Amer­i­ca, Wagin​non​vi​o​lence​.org, and Upside​down​world​.org. Fol­low him on twit­ter @palabrasdeabajo