Hong Kong Protesters and Militant Chinese Workers Point the Way to a New Kind of Internationalism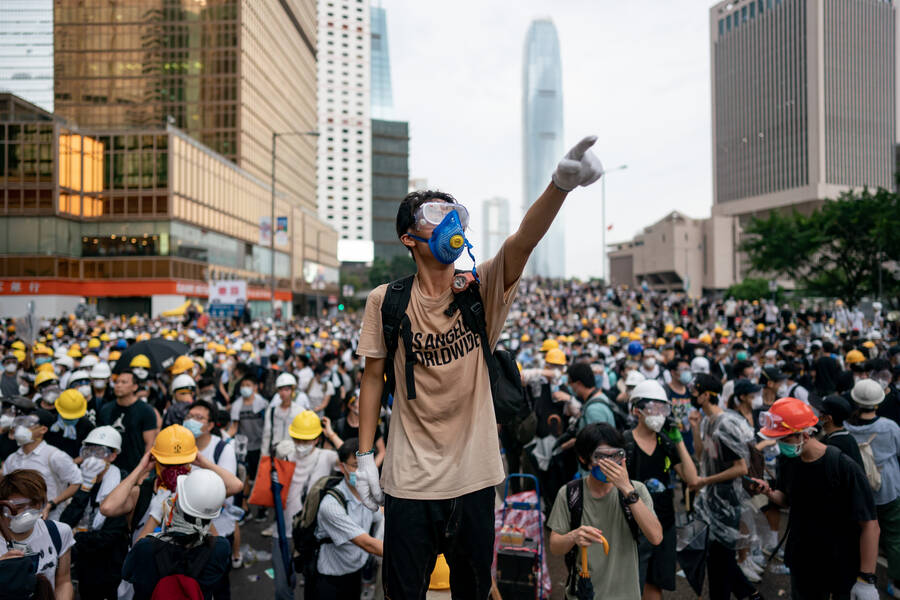 Just as the ​"Made in Chi­na" label insin­u­at­ed itself into our retail stores in the 1980s, Chi­na today insin­u­ates itself into most of our main­stream news cov­er­age, as one of the largest glob­al mar­kets, the top car­bon emit­ter, the biggest work­force, and the biggest geopo­lit­i­cal rival to the Unit­ed States in recent mem­o­ry. For Amer­i­cans, see­ing U.S. dom­i­nance in the head­lines dis­placed by an upstart rival super­pow­er can be hum­bling — or terrifying.
As Max Elbaum and Calvin Che­ung-Miaw point­ed out in a recent In These Times arti­cle, it's hard to know what to make of Chi­na from the left: Is Chi­na Wash­ing­ton's nation­al-secu­ri­ty boogey­man, a neolib­er­al dystopia or a cap­i­tal­ist suc­cess sto­ry? In China's eco­nom­ic trans­for­ma­tion, many mod­er­ates and con­ser­v­a­tives see a val­i­da­tion of the idea that eco­nom­ic mod­ern­iza­tion auto­mat­i­cal­ly spurs social mod­ern­iza­tion. Some on the Left see a giant coun­ter­fac­tu­al of a rev­o­lu­tion betrayed: They ask, What if the ​'social­ist' state had not embarked so dra­mat­i­cal­ly on its ​"reform and open­ing up' in the late 1980s, trad­ing social free­doms for eco­nom­ic advance­ment and grow­ing inequality?
But Chi­na should­n't be viewed by left­ist observers sim­ply with­in the frame of a nation-state. After all, between Chi­na and the U.S., the two most influ­en­tial work­ing class­es in the world live par­al­lel lives that are increas­ing­ly inter­con­nect­ed through trade, migra­tion, and cul­tur­al and intel­lec­tu­al exchange.
The eco­nom­ic ascent of Chi­na makes both the right and the left ner­vous for dif­fer­ent rea­sons, which often have more to do with the U.S. economy's own inse­cu­ri­ties than Chi­na itself. Yet the U.S. and Chi­na have much in com­mon, includ­ing their con­tra­dic­tions. The rul­ing elite of both coun­tries are on the same side, and work­ers of both nation­al­i­ties are backed up against the same wall: We're all fight­ing for dig­ni­ty under two gov­ern­ments that rou­tine­ly abuse their pow­er, and wield cul­tur­al, eco­nom­ic and legal pow­er to blunt their con­stituen­cies' polit­i­cal consciousness.
Activism across ​"Greater China"
Bei­jing and its pro­pa­gan­da organs have fash­ioned an image of Chi­na as a seam­less, sta­ble poli­ty with lit­tle need for democ­ra­cy so long as the coun­try con­tin­ues to pros­per. There's an ele­ment of truth in this por­trait of sta­bil­i­ty above all, but that polit­i­cal sta­sis has been achieved through sup­pres­sion of domes­tic dis­sent and break­neck glob­al eco­nom­ic expan­sion. At the same time, the coun­try's nascent activist move­ments have evolved on their own tra­jec­to­ry on the main­land and across ​"greater China."
In the past few weeks we've seen Bei­jing los­ing its grip on its most restive ter­ri­to­ry, as the streets of Hong Kong flood­ed with pro­test­ers ral­ly­ing against a dra­con­ian extra­di­tion law that would give Bei­jing carte blanche pow­er to ren­der polit­i­cal ene­mies to the main­land. While Chi­nese on the main­land were large­ly kept in the dark about the protests in the ter­ri­to­ry, Hong Kong's youth have their eyes wide open. The street demon­stra­tions have been esca­lat­ing since June, fol­low­ing com­mem­o­ra­tions of the 30th anniver­sary of the infa­mous Tianan­men Square mas­sacre. There's a sense, per­haps, that it's incum­bent on the youth of Hong Kong to car­ry on a lega­cy of dis­sent in Chi­na that those liv­ing under Beijing's rule are not free to do. Yet they're also respond­ing to their mate­r­i­al con­di­tions, frus­trat­ed by the island's mas­sive inequal­i­ty and dis­mal job prospects in an econ­o­my rapid­ly becom­ing eclipsed by its main­land cousin.
Fear of China's polit­i­cal and eco­nom­ic domin­ion has also prompt­ed the Tai­wanese to assert their sov­er­eign­ty despite the pre­car­i­ty of the island's unre­solved legal sta­tus. Though Tai­wan remains polit­i­cal­ly mar­gin­al­ized in inter­na­tion­al pol­i­tics, it has over the past two gen­er­a­tions built a dis­tinct iden­ti­ty as a plu­ral­is­tic elec­toral democ­ra­cy, and the 2014 stu­dent upris­ing known as the Sun­flower Move­ment helped thwart a major trade agree­ment with the main­land. It recent­ly became the first Asian coun­try to hon­or same-sex mar­riage rights after mul­ti­ple efforts in the leg­is­la­ture and the courts.
Although these devel­op­ments in Hong Kong and Tai­wan are on the periph­ery of ​"greater Chi­na," Beijing's reac­tion has been telling. The cen­tral gov­ern­ment retreat­ed from its sup­port for the extra­di­tion bill fol­low­ing the protests, sid­ing, at least for now, with the Hong Kong gov­ern­men­t's deci­sion to shelve the mea­sure. (As of this writ­ing, how­ev­er, Hong Kong has not com­plete­ly with­drawn the ini­tia­tive, and Bei­jing has made unprece­dent­ed over­tures toward deploy­ing mil­i­tary force to main­tain order.) But pub­lic out­cry has con­tin­ued, along with calls for Lam to resign. In Tai­wan, Bei­jing has actu­al­ly attempt­ed, awk­ward­ly, to take cred­it for the pro­gres­sive vic­to­ry on LGBTQ rights in Tai­wan by paint­ing it as part of the People's Repub­lic. These face-sav­ing mea­sures hard­ly sig­nal sup­port for gen­uine democ­ra­cy on Beijing's part. Nonethe­less, the fact that these mes­sages were pro­ject­ed both to main­lan­ders and the out­side world reveals that Bei­jing is respon­sive to unrest at the edges of its claimed ter­ri­to­ry and anx­ious about main­tain­ing legit­i­ma­cy inside and out­side its borders.
On the main­land, the most ener­getic social move­ments have cen­tered on griev­ances over mate­r­i­al liv­ing con­di­tions—wage theft, erod­ing pen­sions, envi­ron­men­tal pol­lu­tion, cor­rup­tion and gen­der inequal­i­ty. While for­mal col­lec­tive-bar­gain­ing rights remain out of reach for count­less rank-and-file work­ers, the reg­u­lar­i­ty of labor protest indi­cates peo­ple's intu­itive con­scious­ness of social fair­ness and will­ing­ness to take direct actionon griev­ances.
Labor unrest does not always have an ide­o­log­i­cal bent, and agi­ta­tion against polit­i­cal repres­sion does not nec­es­sar­i­ly speak to work­ing-class griev­ances. But upris­ings of all kinds have a mutu­al polit­i­cal syn­er­gy. Even the mon­strous mass incar­cer­a­tion of Uighur Mus­lims in Xin­jiang is more than a bru­tal eth­nic cleans­ing cam­paign: The devel­op­ment of West­ern Chi­na, as a back-chan­nel to Europe and the Mid­dle East, through the expro­pri­a­tion of the region's min­er­al resources is crit­i­cal to China's eco­nom­ic agen­da. The con­cen­tra­tion camps are the cul­mi­na­tion of years of bru­tal sup­pres­sion and dis­fran­chise­ment of Uighur com­mu­ni­ties, under­tak­en in part through the social and eco­nom­ic dom­i­nance of the major­i­ty Han Chi­nese in the region. The vio­lent enforce­ment of this social hier­ar­chy was fore­shad­owed byla­bor clash­es and eth­nic riot­sa decade ago. Though the repres­sive polit­i­cal atmos­phere pro­vides lim­it­ed chan­nels for explic­it­ly polit­i­cal forms of rebel­lion, qui­eter modes of sub­ver­sion have per­sist­ed, includ­ing clan­des­tine efforts to cir­cum­vent inter­net cen­sor­ship, which prove that the so-called Great Fire­wall can­not seal off a bur­geon­ing com­mu­ni­ty of savvy ​"neti­zens."
Build­ing on com­mon struggles
What does this mean prac­ti­cal­ly for pro­gres­sives out­side of Chi­na? Today, geopo­lit­i­cal bar­ri­ers pre­clude many forms of large-scale transna­tion­al col­lab­o­ra­tion between main­land Chi­na and the U.S. There were fleet­ing efforts to build transna­tion­al union sol­i­dar­i­ty in the late 2000s, with a few stage-man­aged ​"high-lev­el talks" between SEIU-affil­i­at­ed Change to Win coali­tion and the offi­cial state-run All-Chi­na Fed­er­a­tion of Trade Unions. How­ev­er, these talks were pri­mar­i­ly pub­lic-rela­tions exer­cis­es and failed to cre­ate a durable vehi­cle for labor internationalism.
A new kind of inter­na­tion­al­ism sur­faced last year, with the stu­dent-labor orga­niz­ing move­ment that mobi­lized in defense of aggriev­ed work­ers at the Jasic Tech­nol­o­gy fac­to­ry in Shen­zhen. The group's mil­i­tant direct actions sparked a wave of inter­na­tion­al atten­tion, with sup­port cam­paigns and peti­tions launched by unions in Europe, North Amer­i­ca, Hong Kong, Philip­pines, and South Korea. The scrap­py cam­paign, led by a small cadre of stu­dents armed with Marx­ist slo­gans, showed how some orga­niz­ing cam­paigns, par­tic­u­lar­ly those that mar­shal the col­lec­tive pow­er of youth and rank-and-file work­ers, can cap­ture inter­na­tion­al media atten­tion and spark glob­al labor sol­i­dar­i­ty. Sim­i­lar­ly, sub­ver­sive transna­tion­al coop­er­a­tion on GitHub's pro­gram­ming com­mu­ni­ties has mush­roomed into a sub­sur­face resis­tance cam­paign against oppres­sive work­ing con­di­tions for main­land coders. The world of dig­i­tal labor is chip­ping away at the Great Fire­wall. How can we har­ness the polit­i­cal net­works that emerge at its far edges?
And one com­mon strug­gle is too big to ignore: Work­ers every­where are grap­pling with the cli­mate cri­sis, and Chi­na and the U.S. are col­lec­tive­ly respon­si­ble for over a third of the world's car­bon emis­sions. Find­ing a way to rebuild the world's two dom­i­nant economies in a man­ner that gives work­ers a lead­ing role in tran­si­tion­ing toward a sus­tain­able, zero-car­bon future, is a social imper­a­tive for labor move­ments and pol­i­cy­mak­ers of both nations. A promis­ing devel­op­ment — Trump's cur­rent tar­iff war notwith­stand­ing — is the growth of inter­na­tion­al civ­il soci­ety coop­er­a­tion on envi­ron­men­tal prob­lems, along with mutu­al tech­nol­o­gy trans­fer for renew­able ener­gy devel­op­ment. It is incum­bent on labor and envi­ron­men­tal advo­cates here to help chan­nel such alliances into a transna­tion­al dia­logue on cli­mate justice.
There are polit­i­cal impuls­es in Chi­na that the state can­not con­tain, coöpt or absorb. We should read this, on our end, as proof that peo­ple pow­er per­sists, and that the public's sense of social jus­tice and equal­i­ty before the law doesn't atro­phy in the absence of rep­re­sen­ta­tive gov­ern­ment. Peo­ple act polit­i­cal­ly even in the absence of elec­toral democ­ra­cy; they just become more cre­ative, less reliant on legal chan­nels to offer relief, and more pas­sion­ate about tak­ing direct action. We can remain war­i­ly opti­mistic that, regard­less of the sys­tem of gov­ern­ment that rules over them, work­ers and civ­il soci­ety are still the force from which even the most pow­er­ful states derive legit­i­ma­cy. Bei­jing is bent on achiev­ing ​"ter­ri­to­r­i­al integri­ty," but for ordi­nary Chi­nese peo­ple, per­haps uni­ty is form­ing along dif­fer­ent lines: not the integri­ty of bor­ders, but the integri­ty of freedom.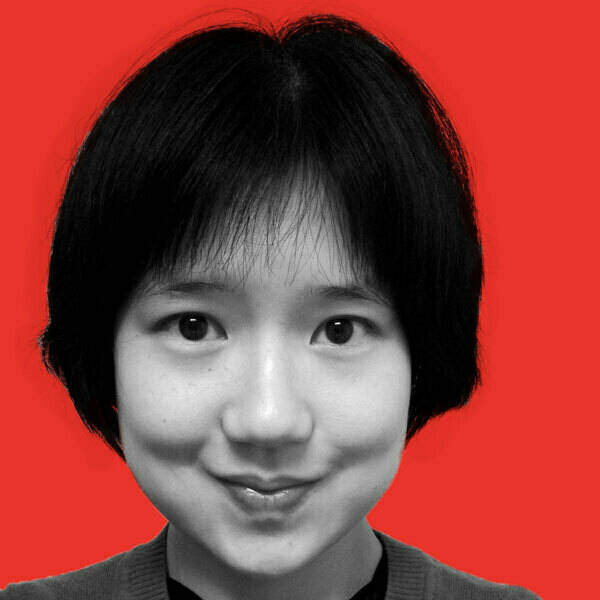 Michelle Chen is a con­tribut­ing writer at In These Times and The Nation, a con­tribut­ing edi­tor at Dis­sent and a co-pro­duc­er of the ​"Bela­bored" pod­cast. She stud­ies his­to­ry at the CUNY Grad­u­ate Cen­ter. She tweets at @meeshellchen.