Hotel Union Sticks With Longest Ongoing U.S. Strike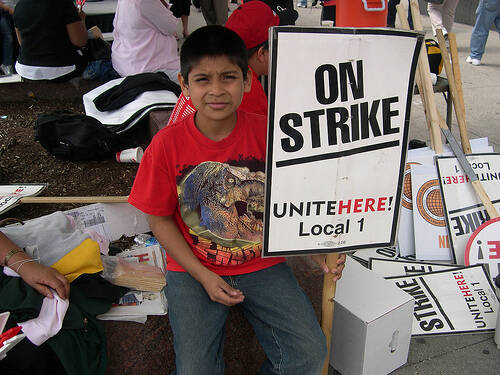 Nine years ago on Father's Day, 130 members of Unite Here Local 1 struck the Congress Hotel in downtown Chicago after the owner — centi-millionaire, (sometimes) Swiss-based global businessman Albert Nasser — refused to give workers the same contract that other unionized Loop hotels had signed. After a few arguments with police (and some arrests) ended in confirmation of their rights to picket, the strike and picketline were well established — far moreso than anyone anticipated.
Since then, a few workers returned to the hotel and many found other jobs, but the strike lives on. It is now the longest ongoing strike in the United States and is entering the rarified realm of longest strikes in U.S. history. Last Friday, hundreds of hotel workers and supporters from other unions, clergy and other constituencies noisily gathered to commemorate the anniversary, as they've done every year since the strike began.
The hotel has suffered financially as Local 1 has worked hard to keep conventioneers and other business away, leaving it to operate as a run-down bottom-feeder. But the union thinks that 86-year-old Nasser, who has varied manufacturing, real estate and other holdings but only one hotel, holds on to it for tax advantages.
Yet it has also become a dangerous source of a new contagion threatening to sweep through the hospitality industries — temp work. The Congress has only 12 directly hired staff doing the old union jobs. All the remaining workers are temps, drawn from the newest round of immigrants and working without even the low wages or benefits of the nine-year-old contract.
For the first time in years of very intermitent negotiations, the Congress offered some financial increase last summer, but it was ​"so offensive," according to Local 1 President Henry Tamarin, that the union rejected it outright. There have been no talks since then, but the lawyer who represents the Congress has been across the table from Tamarin frequently as the union has been trying for many months to reach an agreement with hometown hotel giant Hyatt (which is trying to expand its contracting out and use of temp agencies).
After nine years, the strike is not just symbolic, Tamarin insists, but ​"it is in more of a maintenance mode" than in the past. Picketing continues. So do efforts to keep customers and conventions out of the hotel. Over the years, the union has put pressure on Nasser's other holdings, precipitating closure of some overseas sweatshops. But such efforts to extend the union's leverage occur less often now.
But Unite Here, which famously won a six-and-a-half-year strike against The Frontier in Las Vegas in the 1990s, has not given up. ​"I don't know who's more stubborn, the strikers or me," Tamarin says. ​"I'm not willing to let go."
Early on, the strike sent a message to other union hotels that the union would fight hard against any hardline hotel operator who undercut employers who did ​"the right thing," Tamarin said. It also sent a message to workers that the union would fight to raise their standards to the level of other union members. Now, for the union, ​"it's part of our culture, part of who we are." At the union office, for example, organizers hang out in a large room that is also home to the Congress strikers. The spirit of the Congress strike has become, Tamarin says, ​"part of our identity."
Giving Tuesday: Support Progressive Journalism
Today is the single biggest day of the year for giving to nonprofits—last year, individual donors collectively gave more than $2.5 billion to nonprofit organizations in the U.S. alone on Giving Tuesday.
For In These Times, today also marks the kick-off of one of our most important fundraising drives ever.

Giving Tuesday began nearly a decade ago as a way to harness the power of collective giving and highlight the important work of nonprofit organizations. For In These Times, being a nonprofit is more than just a financial model. It is central to our very mission.
The traditional, for-profit news model was built on a foundation of corporate ad dollars. From the beginning, this has been a devil's bargain that limits what can be published by corporate media outlets and inevitably warps what they do print. In These Times is not beholden to any corporate interest.
Who are we beholden to? You—our community of readers. Support from readers allows In These Times to maintain our independence and speak truth to power. It is how we are able to continue publishing the stories readers—like you—want to read, and the voices that need to be heard in this political moment.

This Giving Tuesday, support independent, progressive journalism by making a tax-deductible donation to In These Times.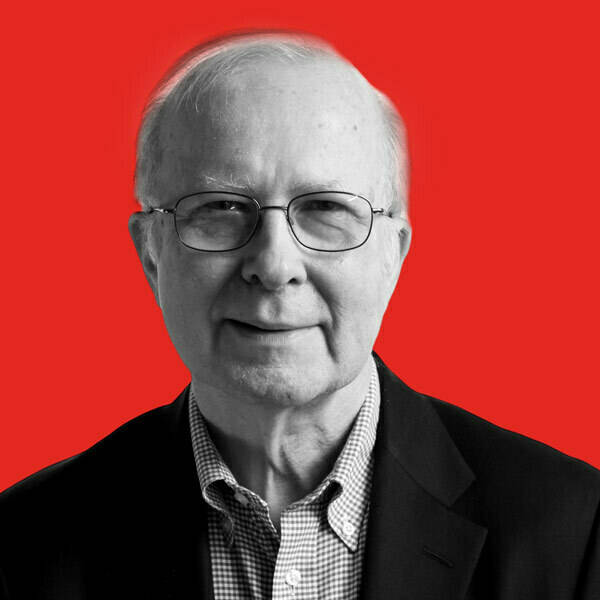 David Moberg, a senior editor of In These Times, has been on the staff of the magazine since it began publishing in 1976. Before joining In These Times, he completed his work for a Ph.D. in anthropology at the University of Chicago and worked for Newsweek. He has received fellowships from the John D. and Catherine T. MacArthur Foundation and the Nation Institute for research on the new global economy.
Giving Tuesday: Support Progressive Journalism