Left to Fend for Themselves, These Houston Communities Are Coming to Their Own Rescue
A conversation with Malik Muhammad, a Houston-based organizer with the National Black United Front.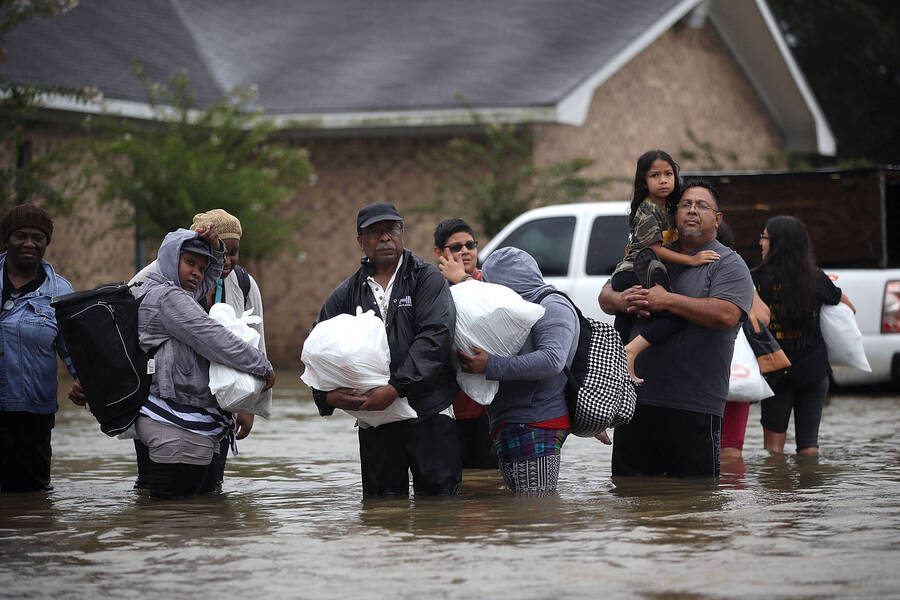 As Hur­ri­cane Har­vey breaks the U.S. record for rain­fall in a sin­gle trop­i­cal storm, reports are emerg­ing that heavy flood­ing is debil­i­tat­ing hos­pi­tals, shut­ter­ing schools, del­ug­ing nurs­ing homes and leav­ing tens of thou­sands in the Hous­ton area in need of emer­gency shel­ter. Amid the dev­as­ta­tion, which has killed at least 13 peo­ple, the U.S. Bor­der Patrol con­tin­ues to oper­ate check­points — esca­lat­ing the cli­mate of fear for undoc­u­ment­ed residents.
Many Hurricane Katrina victims from New Orleans relocated to Houston and have had to go through this all over again. They are seeing almost the exact same response.
Wit­ness­es on the ground report that poor com­mu­ni­ties and com­mu­ni­ties of col­or are being large­ly left to fend for them­selves. ​"Peo­ple are hav­ing to step in and pro­vide sup­port for fam­i­lies and friends when the Red Cross isn't able to do that," Dee, a Hous­ton-based orga­niz­er with the envi­ron­men­tal jus­tice group Texas Envi­ron­men­tal Jus­tice Advo­ca­cy Ser­vices, told In These Times. ​"We have front-line com­mu­ni­ty mem­bers who are impact­ed them­selves try­ing to help and save oth­er com­mu­ni­ty mem­bers." (The Red Cross did not imme­di­ate­ly respond to a request for comment.)
Like the floun­der­ing aid response, the severe storm itself is the prod­uct of social fail­ure. It is well-estab­lished that, as human-made cli­mate change sets new records in tem­per­a­ture, droughts are becom­ing more severe and storms becom­ing more fre­quent and extreme. Mean­while, the cor­po­ra­tions dri­ving glob­al warm­ing are com­pound­ing the dis­as­ter: Exxon­Mo­bil admit­ted on Tues­day that the trop­i­cal storm dam­aged two of its refiner­ies, releas­ing dan­ger­ous pol­lu­tants into near­by areas.
Malik Muham­mad, is the nation­al vice chair of orga­niz­ing and train­ing for the Nation­al Black Unit­ed Front (NBUF), which he describes as ​"an orga­ni­za­tion of African descen­dants that is pro-black and ded­i­cat­ed to empow­er­ing, pro­tect­ing and advo­cat­ing on behalf of black peo­ple in Amer­i­ca." Malik is based in Houston's Third Ward and involved in NBUF's Hous­ton chap­ter. I spoke to Malik, right before he was set­ting out on an aid and res­cue mis­sion, about the con­di­tions that paved the way for the cur­rent cri­sis and the hero­ic efforts of ordi­nary peo­ple who have been large­ly aban­doned by soci­ety and the state.
Sarah Lazare: What do you want our read­ers to know about what's hap­pen­ing on the ground right now in Houston?
Malik Muham­mad: First of all, there is a long his­to­ry of neglect as it relates to city offi­cials prepar­ing for this flood and the storms we get on a reg­u­lar basis in Houston.
We are also see­ing gen­tri­fi­ca­tion, and many con­do devel­op­ers are not putting reten­tion ponds in place as they should, so that the water will be able to drain back nat­u­ral­ly to its prop­er place. You have com­mu­ni­ties that his­tor­i­cal­ly didn't flood, but now water is going to those areas.
The may­ors of Hous­ton have, in large part, neglect­ed the peo­ple of Hous­ton and the city of Hous­ton by not allo­cat­ing mon­ey to fix the drainage issues in the city.
Sarah: As the dis­as­ter unfolds, is aid being even­ly distributed?
Malik: You're see­ing some of these larg­er aid agen­cies, like the Red Cross, going out into the more afflu­ent com­mu­ni­ties and leav­ing a lot of the more impov­er­ished com­mu­ni­ties with­out resources.
We have mil­i­tary heli­copters fly­ing around, and there is a large police pres­ence. As far as ICE intim­i­dat­ing peo­ple, a lot of the peo­ple who are affect­ed by SB4 [a new rule out­law­ing sanc­tu­ary cities, yet to go into effect] are def­i­nite­ly afraid to call for help, due to the polit­i­cal cli­mate we are in right now.
There isn't as much assis­tance as peo­ple would like there to be. In my neigh­bor­hood, the Third Ward, I haven't seen peo­ple in boats. In the more afflu­ent com­mu­ni­ties, that's where the resources are going. That's where all the per­son­nel are going. In our com­mu­ni­ties, peo­ple are left to fend for them­selves. They are com­ing together.
We have flood­ing right next to one of our bay­ous in the Third Ward. Water is going through the bay­ou into the neigh­bor­hood and streets. Peo­ple are stuck in their homes. It's up to neigh­bors to reach out and help one anoth­er. We at NBUF are head­ed over there right now.
Sarah: What's it like to pro­vide direct aid? Can you describe the scene?
Malik: On the very first day of the hur­ri­cane, I was dri­ving around my com­mu­ni­ty. We couldn't get out of our neigh­bor­hood. We were able to help sev­er­al peo­ple, includ­ing home­less peo­ple. This was two days ago.
Peo­ple were strand­ed, search­ing for high ground, walk­ing through water, in their homes with ceil­ings col­lapsed. Elder­ly peo­ple were pan­icked and afraid and look­ing for some kind of assis­tance. There were chil­dren out here who have lost every­thing, as well as adults, look­ing to start their lives over. Many Hur­ri­cane Kat­ri­na vic­tims from New Orleans relo­cat­ed to Hous­ton and have had to go through this all over again. They are see­ing almost the exact same response.
We have a large SUV and a boat with trail­er attached. We've been going out to res­cue peo­ple yes­ter­day, the day before, and now today.
Sarah: What resources are in place?
Malik: We have the Third Ward Mul­ti-Ser­vice Cen­ter that we are refer­ring peo­ple to in our neigh­bor­hood. The George R. Brown Con­ven­tion Cen­ter is over-crowd­ed. I hear peo­ple can't locate their loved ones and it is caus­ing pan­ic. Many facil­i­ties have not been opened by the city. The city could have done a bet­ter job of open­ing facil­i­ties for peo­ple who lost every­thing. We have an astrodome, a soc­cer sta­di­um, church­es — they should be opened up.
Vol­un­teers in the Third Ward are the ones get­ting peo­ple to the Mul­ti-Ser­vice Cen­ter. I was there yes­ter­day, and it is very wet. Peo­ple are in need of shoes and clothes. They had wet feet and wet clothes. Peo­ple looked pret­ty down-and-out. They've lost so much, and they're afraid. It's pret­ty depress­ing. There are about 100 peo­ple at the Third Ward shelter.
Sarah: For peo­ple who live far away and want to take con­crete steps in sol­i­dar­i­ty, what is your recommendation?
Malik: My rec­om­men­da­tion is that you find a cred­i­ble orga­ni­za­tion where any mon­ey you send will be received and used well. We don't advo­cate the Red Cross or Sal­va­tion Army, due to the fact that they have a track record of mon­ey not reach­ing the peo­ple who need it the most.
We have a long track record of being in our com­mu­ni­ty and address­ing issues that affect our peo­ple. We don't need to go out into the com­mu­ni­ty and build rela­tions — we already have those rela­tion­ships. We believe in being self-suf­fi­cient in our com­mu­ni­ties as a peo­ple. We need to pro­vide for our­selves. In this day and time, if some­one is under the illu­sion that the gov­ern­ment is going to come in and save us and allo­cate resources to us, they are 100 per­cent delu­sion­al. This gov­ern­ment has a long track record of not com­ing to our com­mu­ni­ties and not doing for us what they do for oth­ers. Allo­cat­ing resources to our own peo­ple from our own peo­ple — that's what we're promoting.
Every­one is work­ing togeth­er in our com­mu­ni­ty to make sure every­one is safe. Peo­ple are check­ing on their elders, neigh­bor to neigh­bor, mak­ing sure every­thing is okay. I see neigh­bors out­side remov­ing debris, going gro­cery shop­ping for peo­ple who don't have auto­mo­biles. I see chil­dren being babysat, peo­ple open­ing their homes, allow­ing peo­ple to seek refuge. The storm is bring­ing our com­mu­ni­ty a lot clos­er. We want to make sure every­one is okay and that we come out healthy.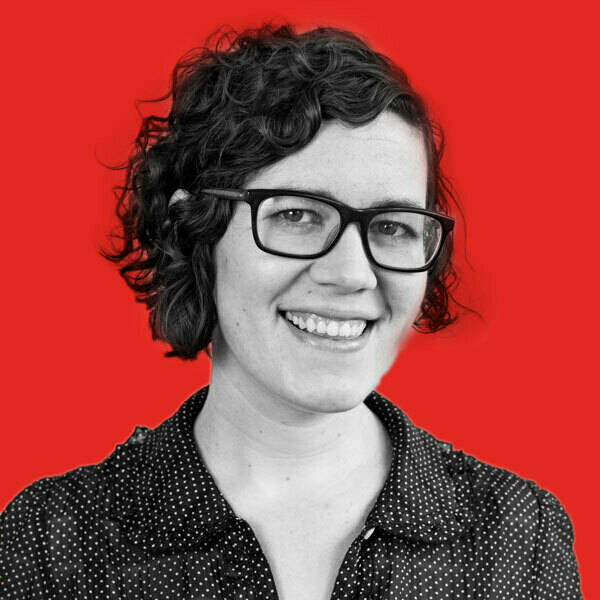 Sarah Lazare is web edi­tor at In These Times. She comes from a back­ground in inde­pen­dent jour­nal­ism for pub­li­ca­tions includ­ing The Inter­cept, The Nation, and Tom Dis­patch. She tweets at @sarahlazare.