Arizona Teachers Are Prepared to Strike to Fix the Education Crisis Themselves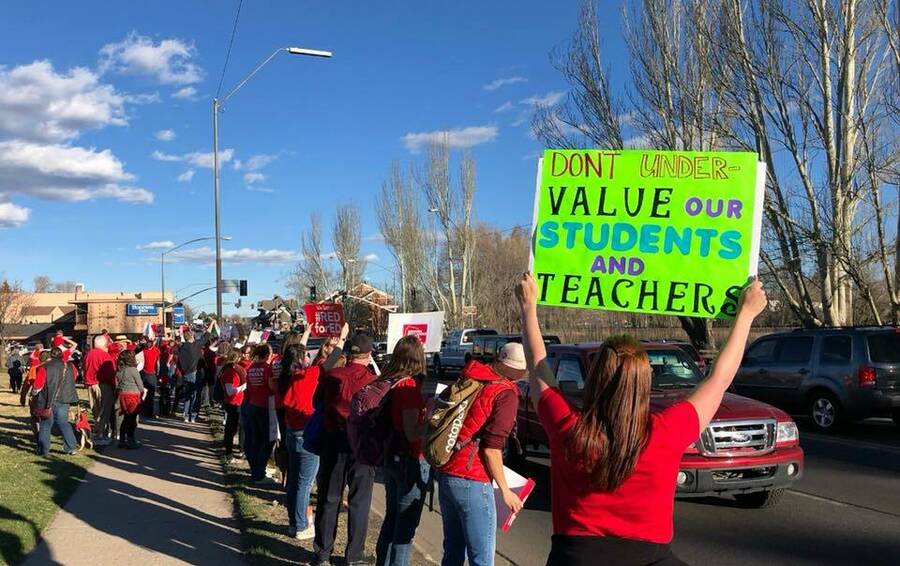 ​Wel­come to Inter­views for Resis­tance. We're now into the sec­ond year of the Trump admin­is­tra­tion, and the last year has been filled with ups and downs, impor­tant vic­to­ries, suc­cess­ful hold­ing cam­paigns and painful defeats. We've learned a lot, but there is always more to learn, more to be done. In this now-week­ly series, we talk with orga­niz­ers, agi­ta­tors and edu­ca­tors, not only about how to resist, but how to build a bet­ter world.
Noah Karvelis: My name is Noah Karvelis. I am a kinder­garten through 8th grade music teacher in Phoenix, and I am also one of the orga­niz­ers with Ari­zona Edu­ca­tors United.
Sarah Jaffe: The strike dead­line is for Thurs­day. Let's go back a lit­tle bit. Tell me about the begin­ning of the move­ment that has led to this strike vote.
Noah: This all real­ly start­ed from just one day wear­ing red shirts on the same day. That was March 7. We start­ed there and we real­ized that there was a ton of ener­gy sur­round­ing this around the edu­ca­tion com­mu­ni­ty and the com­mu­ni­ty at large, here in Phoenix and all across the state. What we ulti­mate­ly did was decide that we need­ed to get togeth­er and con­tin­ue mov­ing this for­ward. And now this is where we are six or sev­en weeks after.
Sarah: Tell us about the issues in Ari­zona. Peo­ple are famil­iar with the under­fund­ing of pub­lic schools writ large, but what are the specifics in Ari­zona that peo­ple are real­ly upset about?
Noah: We have had just mas­sive cuts to edu­ca­tion. We've had bil­lion-dol­lar cuts to edu­ca­tion that have con­tin­ued on for years and years, about 10 years now. That is one of the most frus­trat­ing things that affect all aspects of our schools.
A lot of our kids here in Ari­zona don't have text­books that they need to be suc­cess­ful. They stop at Pres­i­dent George W. Bush, for exam­ple. They don't have work­ing desks, and a lot of the class­es don't have paper tow­els and just the bare neces­si­ties that you need for a classroom.
What is hap­pen­ing is we have an entire gen­er­a­tion of Ari­zona cit­i­zens who haven't been giv­en a chance at aca­d­e­m­ic suc­cess. Any chance that they had of aca­d­e­m­ic suc­cess has been thrown away by the state, which is incred­i­bly mad­den­ing, espe­cial­ly as an educator.
Then, on top of that, we have the worst pay in the nation for ele­men­tary school teach­ers, and we have the sec­ond-to-worst pay in the nation for high school teachers.What we real­ly have is an edu­ca­tion cri­sis because our stu­dents don't have the resources that they need to be suc­cess­ful, our teach­ers don't have the resources they need to be suc­cess­ful or to even stay in the job, and our pub­lic-school infra­struc­ture is crum­bling on top of it and we are hem­or­rhag­ing teachers.
Sarah: What has been real­ly inter­est­ing about these var­i­ous teacher move­ments has been the statewide nature of them. Can you tell us a lit­tle bit about orga­niz­ing across the state of Ari­zona? What are some of the chal­lenges and the things that have worked out sur­pris­ing­ly well about that whole process?
Noah: One of the things that has worked out sur­pris­ing­ly well is that we have social media, which real­ly keeps us in the loop and is a pow­er­ful, pow­er­ful orga­niz­ing tool, espe­cial­ly on a large scale like this. A lot of the state is rur­al, a lot of the state is Native Amer­i­can reser­va­tions. So hav­ing those resources to be able to get in touch with peo­ple all across the state has proved to be vital. That has real­ly helped us stay in the loop and keep peo­ple involved and every­body across the state is real­ly fed up with this sit­u­a­tion. So they are ready to go as soon as you get them plugged in, for the most part. Once we have been able to con­tact them and bring them in, we have been suc­cess­ful. It has been chal­leng­ing at times, but as the move­ment has grown, it has real­ly been a suc­cess­ful thing.
Sarah:Ari­zona Edu­ca­tors Unit­ed. Tell me about that. How long has that been an orga­ni­za­tion? How did that get started?
Noah: It is real­ly not an orga­ni­za­tion. It has become an orga­ni­za­tion now, but in truth, it is a Face­book group that start­ed around the start of March, the first cou­ple days of March. It was start­ed by myself and a cou­ple oth­er edu­ca­tors who said, ​"We have got to get orga­nized. We have got to fig­ure out what we are doing here and how we are going to make a change, and some­body needs to bring that change. Let's start a group and let's see what hap­pens." Now, here we are.
Sarah: What has the rela­tion­ship been between the Face­book page and the exist­ing unions?
Noah: It has been fan­tas­tic. The unions real­ly let the Face­book page on Edu­ca­tors Unit­ed and the lead­ers there stay out in front of this thing and keep dri­ving it for­ward. I think that has been the pow­er of it. It is a grass­roots, edu­ca­tor-led move­ment, and the union has been incred­i­bly respect­ful of that. They real­ize that there is a lot of pow­er in that, and they let us stay in that spot.
But, while we do that, they are offer­ing us a ton — I mean, decades and decades of resources and insight and infra­struc­ture. Any­thing we real­ly need, they lent to us and they let us stay at the fore­front of the deci­sions and the charge here. It has proven to be a real­ly pow­er­ful part­ner­ship, espe­cial­ly in a ​"right-to-work" state.
Sarah:Exact­ly. And Ari­zona, besides just being a right-to-work state, has had some attacks on pub­lic sec­tor unions in recent years, as well. It has been an inter­est­ing late win­ter and ear­ly spring for teach­ers. What was it like watch­ing things start to heat up in West Vir­ginia and then being part of this as it spread across the country?
Noah:It is incred­i­bly empow­er­ing to see that, to see what hap­pened in West Vir­ginia, espe­cial­ly with the results. They stood togeth­er, they stood in sol­i­dar­i­ty, and they brought the change that they need­ed. That is incred­i­bly pow­er­ful to see, and I think every teacher around the nation looked up and looked at their class­room and said, ​"Hey, that could be us. Why can't it be us right now? We deserve bet­ter, as well."
That is what hap­pened in Ari­zona, and it has been incred­i­ble to be involved in that in even a small way. It is an incred­i­ble, incred­i­ble thing that has hap­pened across this state and, as you men­tioned, across this nation. It real­ly is a nation­wide move­ment now and so, it has been empow­er­ing to be a part of that and to see that there real­ly is pow­er in the people.
Sarah: The Gov­er­nor of Ari­zona has already made nois­es about, final­ly, get­ting teach­ers a raise, but you took a strike vote any­way. Tell us about both what you heard from the gov­er­nor and why con­tin­ue to con­sid­er a strike?
Noah: Well, first of all, the gov­er­nor hasn't passed any­thing. This isn't leg­is­la­tion. It is basi­cal­ly just a fly­er with some goals on it right now. That is what he has put forth. That is beyond the con­sid­er­a­tion of what is actu­al­ly in the pro­pos­al. What is in the pro­pos­al is prob­lem­at­ic as well. There is no sus­tain­able fund­ing source. So, we are real­ly only look­ing at a one-time thing here, and we are beyond Band-Aids like that. We are in a state of cri­sis. We are hem­or­rhag­ing teach­ers. We don't have prop­er infra­struc­ture. We don't have prop­er resources. We can't just have a one-time 9 per­cent raise. That doesn't fix the problem.
It doesn't do enough for our kids and col­leagues, and that is the bot­tom line. On top of it, with­out that rev­enue source, we can't con­tin­u­al­ly bring mon­ey into our sys­tem. That is a huge prob­lem for us. The rais­es that he has pro­posed don't touch our demand of 20 per­cent. He says that he'll get there, but, again, with­out those sus­tain­able fund­ing sources, it is an emp­ty promise.
And, there is noth­ing in it for our stu­dents. It is not going to increase or move the nee­dle on our fund­ing. It doesn't do enough for our kids and col­leagues, and it doesn't have a sus­tain­able fund­ing source. Right now, it is just words on paper. There is no leg­is­la­tion. So, we pur­sued it and we have con­tin­ued to esca­late our actions because we need change.
Sarah: Talk about what a sus­tain­able fund­ing source would be.
Noah: You can look at oth­er states that have done sim­i­lar things here. There have been sales tax­es, income tax­es, all sorts of dif­fer­ent things have been pro­posed. I per­son­al­ly have issues with a sales tax, because it is a regres­sive tax and it dis­pro­por­tion­ate­ly affects the com­mu­ni­ties we are fight­ing for — like work­ing-class folks, like teach­ers and our stu­dents and a lot of our fam­i­lies. So, I do have some issues per­son­al­ly with that, but it is cer­tain­ly bet­ter than a one-time raise which he has pro­posed right now. We can look at the exam­ple of oth­er states. One thing that makes a lot of sense to be per­son­al­ly is the income tax where we have cor­po­ra­tions and mil­lion­aires pay their fair share.
Sarah: What else should peo­ple know about what is going on in Ari­zona, both as part of the nation­wide move­ment and what is spe­cif­ic to Arizona?
Noah: I think two things real­ly define our bat­tle. It is the rela­tion­ship with the unions, and it has been incred­i­bly pow­er­ful and it has been incred­i­bly pro­duc­tive to have edu­ca­tors stay at the front and be assist­ed with the union. We have touched on that.
The oth­er piece that I think is real­ly impor­tant is that our stu­dents are at the fore­front of it. A 20 per­cent raise gets a lot of eyes opened, it gets a lot of focus, but that is not what we are real­ly fight­ing for. We are fight­ing for our stu­dents. That is one of the rea­sons why we reject­ed this pro­pos­al. It doesn't do enough for our stu­dents and it doesn't do enough for our col­leagues who are left out of those rais­es. That is one of the big things that is unique to Ari­zona: the stu­dent focus and the focus on the entire school. It is not just class­room teach­ers. We need to see rais­es for bus dri­vers, we need to see rais­es for the cafe­te­ria staff, we need to see rais­es for the peo­ple who are work­ing in the front office. All across the board, these peo­ple are incred­i­bly under­paid in Ari­zona and they deserve a voice, as well.
Inter­views for Resis­tance is a project of Sarah Jaffe, with assis­tance from Lau­ra Feuille­bois and sup­port from the Nation Insti­tute. It is also avail­able as a pod­caston iTunes. Not to be reprint­ed with­out permission.
Sarah Jaffe
is a for­mer staff writer at
In These Times
and author of
Nec­es­sary Trou­ble: Amer­i­cans in Revolt
, which Robin D.G. Kel­ley called ​
"
The most com­pelling social and polit­i­cal por­trait of our age." You can fol­low her on Twit­ter
@sarahljaffe
.