How Bernie Sanders Supporters are Organizing to Stop the TPP
As Obama gears up for a lame-duck push on the TPP, activists target U.S. House members at home.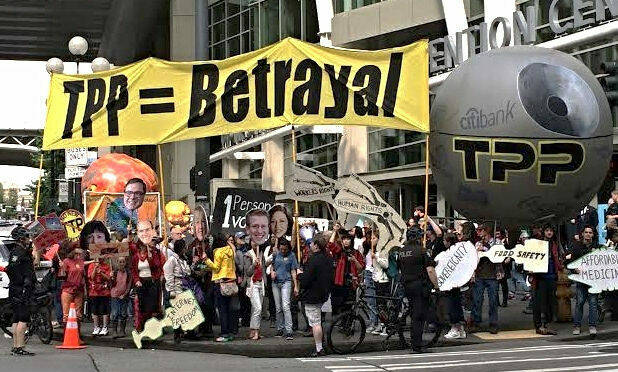 Bob Cash has been orga­niz­ing around trade issues for the bet­ter part of eight years in El Paso, Texas. For the most part it's been uphill work, hav­ing to start each meet­ing with a thor­ough explain­er on the basics of free trade, NAF­TA and — in the last sev­er­al years — the Trans-Pacif­ic Part­ner­ship (TPP).
"For those fighting back against deals like the TPP, this presidential election's bipartisan focus on trade policy has been an unexpected windfall."
Last sum­mer, he was in a Sub­way restau­rant pick­ing up a bulk order of sand­wich­es for a meet­ing of the Texas Fair Trade Coali­tion (TFTC), a col­lec­tion of union locals and envi­ron­men­tal groups from around the state mobi­liz­ing against the TPP. (Cash is the coalition's direc­tor.) While wait­ing in line, some­one turned to him and asked what all the sand­wich­es were for. Start­ing to explain, Cash was inter­rupt­ed: ​"TPP, I've heard of that! That's anoth­er one of those damned free trade agree­ments, like NAFTA."
For those fight­ing back against deals like the TPP, like Cash, this pres­i­den­tial election's bipar­ti­san focus on trade pol­i­cy has been an unex­pect­ed windfall.
"It's a lot eas­i­er to speak in short­hand now because so many peo­ple already know," he says. ​"All the can­di­dates are talk­ing about TPP."
As Barack Oba­ma pre­pares to push a vote on the TPP through dur­ing Congress's upcom­ing lame-duck ses­sion, Cash is one of many activists work­ing to stop it. Tar­get­ing some of the 435 House mem­bers up for re-elec­tion, for­mer Bernie Sanders staffers and super vol­un­teers are putting the lists gar­nered in the pri­maries to work, nar­row­ing in on key rep­re­sen­ta­tives as they come home to cam­paign in their dis­tricts. In part, the effort is being coor­di­nat­ed by Our Rev­o­lu­tion, the offi­cial out­growth of the Sanders campaign.
"The only way it's going to get stopped is if we stop it in the House," says Lar­ry Cohen, for­mer Com­mu­ni­ca­tions Work­ers of Amer­i­ca (CWA) pres­i­dent and cur­rent Our Rev­o­lu­tion board chair.
Accord­ing to Cohen and oth­ers orga­niz­ing against the TPP, the admin­is­tra­tion is bank­ing on Amer­i­cans' elec­tion fatigue and the defeat­ed Con­gress­men no longer account­able to their con­stituents, who could flip their votes on the agree­ment under the radar. Cohen sees the cru­cial push for activists, though, as before the elec­tion, pres­sur­ing waver­ing Democ­rats ​"who won't say which side they're on" but are eager to please con­stituents. In par­tic­u­lar, Our Rev­o­lu­tion is look­ing to get com­mit­ments to vote no on the TPP from 10 key rep­re­sen­ta­tives, from Iowa (Rod Blum) to Boston's North Shore (Seth Moulton).
"In any Con­gres­sion­al dis­trict, we have some­where around 10,000 sup­port­ers. They're ready to do things, and — thanks to the cam­paign — they know what the issue is," Cohen says.
Lev Hirschhorn was a region­al field direc­tor with the Sanders cam­paign, and since the pri­maries wrapped helped found an orga­ni­za­tion called Reclaim Philadel­phia, which looks to pres­sure Democ­rats and, even­tu­al­ly, run can­di­dates on a plat­form gen­er­at­ed by grass­roots activists. Now, its main focus is an all-out push to stop the TPP, knock­ing doors in the run-up to a lame-duck vote and con­tact­ing thou­sands by phone.
Work­ing loose­ly with Our Rev­o­lu­tion, Reclaim Philadel­phia is tar­get­ing Dwight Evans in Pennsylvania's 2nd Con­gres­sion­al Dis­trict. While Evans has said he's ​"unset­tled by the TPP," accord­ing to Hirschhorn, he has not yet com­mit­ted to vot­ing against it in the lame-duck ses­sion. Reclaim Philadel­phia par­tic­i­pat­ed in a nation­al call-in day a few weeks back to get him to change his mind, direct­ing about 150 to phone his office.
In Texas, Cash also ral­lied for­mer Bernie back­ers to par­tic­i­pate in Our Revolution's call-in day, direct­ing around 200 calls toward Con­gress­men Robert ​"Beto" O'Rourke's office in the state's 16th Con­gres­sion­al Dis­trict. On top of host­ing their own town halls about the TPP, vol­un­teers have showed up to those held by O'Rourke's campaign.
The Texas Fair Trade Coali­tion also held a ​"block walk" in O'Rourke's neigh­bor­hood, going to door-to-door col­lect­ing sig­na­tures, accord­ing to Cash. The 17 vol­un­teers who turned out con­vinced four of O'Rourke's neigh­bors to post ban­ners say­ing ​"We Trust Beto To Vote No On TPP."
As the elec­tion draws to a close, Cash, Hirschhorn and oth­ers work­ing under the Our Rev­o­lu­tion umbrel­la are prepar­ing to ​"dou­ble down," as Cohen says, in the lead-up to an all-too-like­ly lame-duck vote. Post-elec­tion, on Novem­ber 17th, a demon­stra­tion in Wash­ing­ton D.C. — spon­sored by slew of unions and pro­gres­sive groups — will look to raise the deal's pro­file nation­al­ly. But who­ev­er wins Tues­day, TPP oppo­nents show few signs of let­ting up.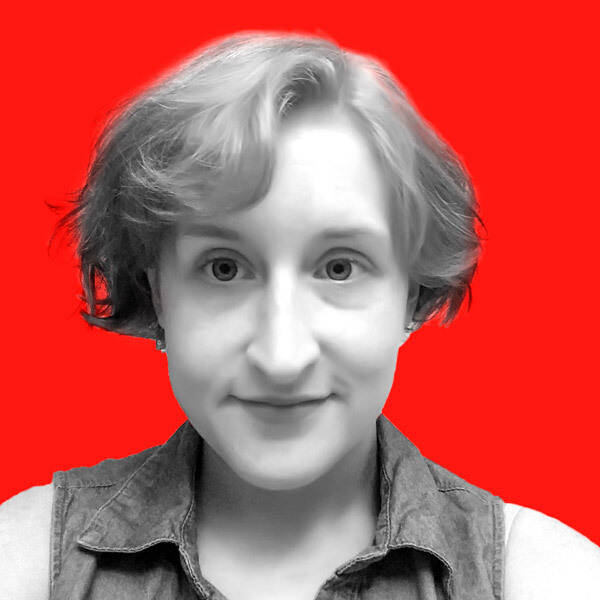 Kate Aronoff
is a Brook­lyn-based jour­nal­ist cov­er­ing cli­mate and U.S. pol­i­tics, and a con­tribut­ing writer at The Inter­cept. Fol­low her on Twit­ter @katearonoff.