Lessons for Today's Social Movements from Gandhi's Salt March
At the time of Mohandas Gandhi's salt satyagraha, he was accused of a major strategic blunder. But the action was actually hugely successful—and offers lessons for movements today.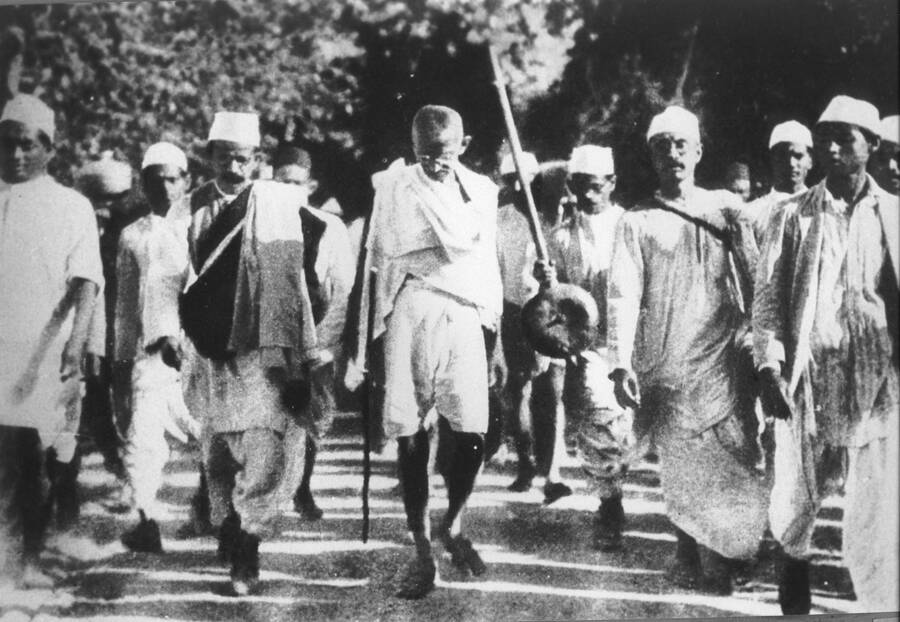 First post­ed at Wag­ing Non­vi­o­lence.
That the Salt March might at once be considered a pivotal advance for the cause of Indian independence and a botched campaign that produced little tangible result seems to be a puzzling paradox. But even stranger is the fact that such a result is not unique in the world of social movements.
His­to­ry remem­bers Mohan­das Gandhi's Salt March as one of the great episodes of resis­tance in the past cen­tu­ry and as a cam­paign which struck a deci­sive blow against British impe­ri­al­ism. In the ear­ly morn­ing of March 12, 1930, Gand­hi and a trained cadre of 78 fol­low­ers from his ashram began a march of more than 200 miles to the sea. Three and a half weeks lat­er, on April 5, sur­round­ed by a crowd of thou­sands, Gand­hi wad­ed into the edge of the ocean, approached an area on the mud flats where evap­o­rat­ing water left a thick lay­er of sed­i­ment, and scooped up a hand­ful of salt.
Gandhi's act defied a law of the British Raj man­dat­ing that Indi­ans buy salt from the gov­ern­ment and pro­hibit­ing them from col­lect­ing their own. His dis­obe­di­ence set off a mass cam­paign of non-com­pli­ance that swept the coun­try, lead­ing to as many as 100,000 arrests. In a famous quote pub­lished in the Man­ches­ter Guardian, revered poet Rabindranath Tagore described the campaign's trans­for­ma­tive impact: ​"Those who live in Eng­land, far away from the East, have now got to real­ize that Europe has com­plete­ly lost her for­mer pres­tige in Asia." For the absen­tee rulers in Lon­don, it was ​"a great moral defeat."
And yet, judg­ing by what Gand­hi gained at the bar­gain­ing table at the con­clu­sion of the cam­paign, one can form a very dif­fer­ent view of the salt satya­gra­ha. Eval­u­at­ing the 1931 set­tle­ment made between Gand­hi and Lord Irwin, the Viceroy of India, ana­lysts Peter Ack­er­man and Christo­pher Krue­gler have con­tend­ed that ​"the cam­paign was a fail­ure" and ​"a British vic­to­ry," and that it would be rea­son­able to think that Gand­hi ​"gave away the store." These con­clu­sions have a long prece­dent. When the pact with Irwin was first announced, insid­ers with­in the Indi­an Nation­al Con­gress, Gandhi's orga­ni­za­tion, were bit­ter­ly dis­ap­point­ed. Future Prime Min­is­ter Jawa­har­al Nehru, deeply depressed, wrote that he felt in his heart ​"a great empti­ness as of some­thing pre­cious gone, almost beyond recall."
That the Salt March might at once be con­sid­ered a piv­otal advance for the cause of Indi­an inde­pen­dence and a botched cam­paign that pro­duced lit­tle tan­gi­ble result seems to be a puz­zling para­dox. But even stranger is the fact that such a result is not unique in the world of social move­ments. Mar­tin Luther King Jr.'s land­mark 1963 cam­paign in Birm­ing­ham, Ala., had sim­i­lar­ly incon­gru­ous out­comes: On the one hand, it gen­er­at­ed a set­tle­ment that fell far short of deseg­re­gat­ing the city, a deal which dis­ap­point­ed local activists who want­ed more than just minor changes at a few down­town stores; at the same time, Birm­ing­ham is regard­ed as one of the key dri­ves of the civ­il rights move­ment, doing per­haps more than any oth­er cam­paign to push toward the his­toric Civ­il Rights Act of 1964.
This seem­ing con­tra­dic­tion is wor­thy of exam­i­na­tion. Most sig­nif­i­cant­ly, it illus­trates how momen­tum-dri­ven mass mobi­liza­tions pro­mote change in ways that are con­fus­ing when viewed with the assump­tions and bias­es of main­stream pol­i­tics. From start to fin­ish — in both the way in which he struc­tured the demands of the Salt March and the way in which he brought his cam­paign to a close — Gand­hi con­found­ed the more con­ven­tion­al polit­i­cal oper­a­tives of his era. Yet the move­ments he led pro­found­ly shook the struc­tures of British imperialism.
For those who seek to under­stand today's social move­ments, and those who wish to ampli­fy them, ques­tions about how to eval­u­ate a campaign's suc­cess and when it is appro­pri­ate to declare vic­to­ry remain as rel­e­vant as ever. To them, Gandhi's may still have some­thing use­ful and unex­pect­ed to say.
The instru­men­tal approach
Under­stand­ing the Salt March and its lessons for today requires step­ping back to look at some of the fun­da­men­tal ques­tions of how social move­ments effect change. With prop­er con­text, one can say that Gandhi's actions were bril­liant exam­ples of the use of sym­bol­ic demands and sym­bol­ic vic­to­ry. But what is involved in these concepts?
All protest actions, cam­paigns and demands have both instru­men­tal and sym­bol­ic dimen­sions. Dif­fer­ent types of polit­i­cal orga­niz­ing, how­ev­er, com­bine these in dif­fer­ent proportions.
In con­ven­tion­al pol­i­tics, demands are pri­mar­i­ly instru­men­tal, designed to have a spe­cif­ic and con­crete result with­in the sys­tem. In this mod­el, inter­est groups push for poli­cies or reforms that ben­e­fit their base. These demands are care­ful­ly cho­sen based on what might be fea­si­ble to achieve, giv­en the con­fines of the exist­ing polit­i­cal land­scape. Once a dri­ve for an instru­men­tal demand is launched, advo­cates attempt to lever­age their group's pow­er to extract a con­ces­sion or com­pro­mise that meets their needs. If they can deliv­er for their mem­bers, they win.
Even though they func­tion pri­mar­i­ly out­side the realm of elec­toral pol­i­tics, unions and com­mu­ni­ty-based orga­ni­za­tions in the lin­eage of Saul Alin­sky — groups based on build­ing long-term insti­tu­tion­al struc­tures — approach demands in a pri­mar­i­ly instru­men­tal fash­ion. As author and orga­niz­er Rinku Sen explains, Alin­sky estab­lished a long-stand­ing norm in com­mu­ni­ty orga­niz­ing which assert­ed that ​"winnabil­i­ty is of pri­ma­ry impor­tance in choos­ing issues" and that com­mu­ni­ty groups should focus on ​"imme­di­ate, con­crete changes."
A famous exam­ple in the world of com­mu­ni­ty orga­niz­ing is the demand for a stop­light at an inter­sec­tion iden­ti­fied by neigh­bor­hood res­i­dents as being dan­ger­ous. But this is just one option. Alin­skyite groups might attempt to win bet­ter staffing at local social ser­vice offices, an end to dis­crim­i­na­to­ry redlin­ing of a par­tic­u­lar neigh­bor­hood by banks and insur­ance com­pa­nies, or a new bus route to pro­vide reli­able trans­porta­tion in an under­served area. Envi­ron­men­tal groups might push for a ban on a spe­cif­ic chem­i­cal known to be tox­ic for wildlife. A union might wage a fight to win a raise for a par­tic­u­lar group of employ­ees at a work­place, or to address a sched­ul­ing issue.
By eking out mod­est, prag­mat­ic wins around such issues, these groups improve lives and bol­ster their orga­ni­za­tion­al struc­tures. The hope is that, over time, small gains will add up to sub­stan­tial reforms. Slow­ly and steadi­ly, social change is achieved.
The sym­bol­ic turn
For momen­tum-dri­ven mass mobi­liza­tions, includ­ing the Salt March, cam­paigns func­tion dif­fer­ent­ly. Activists in mass move­ments must design actions and choose demands that tap into broad­er prin­ci­ples, cre­at­ing a nar­ra­tive about the moral sig­nif­i­cance of their strug­gle. Here, the most impor­tant thing about a demand is not its poten­tial pol­i­cy impact or winnabil­i­ty at the bar­gain­ing table. Most crit­i­cal are its sym­bol­ic prop­er­ties — how well a demand serves to dra­ma­tize for the pub­lic the urgent need to rem­e­dy an injustice.
Like con­ven­tion­al politi­cians and struc­ture-based orga­niz­ers, those try­ing to build protest move­ments also have strate­gic goals, and they might seek to address spe­cif­ic griev­ances as part of their cam­paigns. But their over­all approach is more indi­rect. These activists are not nec­es­sar­i­ly focused on reforms that can be fea­si­bly obtained in an exist­ing polit­i­cal con­text. Instead, momen­tum-dri­ven move­ments aim to alter the polit­i­cal cli­mate as a whole, chang­ing per­cep­tions of what is pos­si­ble and real­is­tic. They do this by shift­ing pub­lic opin­ion around an issue and acti­vat­ing an ever-expand­ing base of sup­port­ers. At their most ambi­tious, these move­ments take things that might be con­sid­ered polit­i­cal­ly unimag­in­able — women's suf­frage, civ­il rights, the end of a war, the fall of a dic­ta­to­r­i­al régime, mar­riage equal­i­ty for same-sex cou­ples — and turn them into polit­i­cal inevitabilities.
Nego­ti­a­tions over spe­cif­ic pol­i­cy pro­pos­als are impor­tant, but they come at the endgame of a move­ment, once pub­lic opin­ion has shift­ed and pow­er-hold­ers are scram­bling to respond to dis­rup­tions that activist mobi­liza­tions have cre­at­ed. In the ear­ly stages, as move­ments gain steam, the key mea­sure of a demand is not its instru­men­tal prac­ti­cal­i­ty, but its capac­i­ty to res­onate with the pub­lic and arouse broad-based sym­pa­thy for a cause. In oth­er words, the sym­bol­ic trumps the instrumental.
A vari­ety of thinkers have com­ment­ed on how mass move­ments, because they are pur­su­ing this more indi­rect route to cre­at­ing change, must be atten­tive to cre­at­ing a nar­ra­tive in which cam­paigns of resis­tance are con­sis­tent­ly gain­ing momen­tum and pre­sent­ing new chal­lenges to those in pow­er. In his 2001 book Doing Democ­ra­cy, Bill Moy­er, a vet­er­an social move­ment train­er, stress­es the impor­tance of ​"socio­dra­ma actions" which ​"clear­ly reveal to the pub­lic how the pow­er-hold­ers vio­late society's wide­ly held val­ues[.]" Through well-planned shows of resis­tance — rang­ing from cre­ative march­es and pick­ets, to boy­cotts and oth­er forms of non-coop­er­a­tion, to more con­fronta­tion­al inter­ven­tions such as sit-ins and occu­pa­tions — move­ments engage in a process of ​"pol­i­tics as the­ater" which, in Moyer's words, ​"cre­ates a pub­lic social cri­sis that trans­forms a social prob­lem into a crit­i­cal pub­lic issue."
The types of nar­row pro­pos­als that are use­ful in behind-the-scenes polit­i­cal nego­ti­a­tions are gen­er­al­ly not the kinds of demands that inspire effec­tive socio­dra­ma. Com­ment­ing on this theme, lead­ing New Left orga­niz­er and anti-Viet­nam War activist Tom Hay­den argues that new move­ments do not arise based on nar­row inter­ests or on abstract ide­ol­o­gy; instead, they are pro­pelled by a spe­cif­ic type of sym­bol­i­cal­ly loaded issue — name­ly, ​"moral injuries that com­pel a moral response." In his book The Long Six­ties, Hay­den cites sev­er­al exam­ples of such injuries. They include the deseg­re­ga­tion of lunch coun­ters for the civ­il rights move­ment, the right to leaflet for Berkeley's Free Speech Move­ment, and the farm­work­er movement's denun­ci­a­tion of the short-han­dled hoe, a tool that became emblem­at­ic of the exploita­tion of immi­grant labor­ers because it forced work­ers in the fields to per­form crip­pling stoop labor.
In some ways, these issues turn the stan­dard of ​"winnabil­i­ty" on its head. ​"The griev­ances were not sim­ply the mate­r­i­al kind, which could be solved by slight adjust­ments to the sta­tus quo," Hay­den writes. Instead, they posed unique chal­lenges to those in pow­er. ​"To deseg­re­gate one lunch counter would begin a tip­ping process toward the deseg­re­ga­tion of larg­er insti­tu­tions; to per­mit stu­dent leaflet­ing would legit­imize a stu­dent voice in deci­sions; to pro­hib­it the short-han­dled hoe meant accept­ing work­place safe­ty regulations."
Per­haps not sur­pris­ing­ly, the con­trast between sym­bol­ic and instru­men­tal demands can cre­ate con­flict between activists com­ing from dif­fer­ent orga­niz­ing traditions.
Saul Alin­sky was sus­pi­cious of actions that pro­duced only ​"moral vic­to­ries" and derid­ed sym­bol­ic demon­stra­tions that he viewed as mere pub­lic rela­tions stunts. Ed Cham­bers, who took over as direc­tor of Alinsky's Indus­tri­al Areas Foun­da­tion, shared his mentor's sus­pi­cion of mass mobi­liza­tions. In his book ​"Roots for Rad­i­cals," Cham­bers writes, ​"The move­ments of the 1960s and 70s — the civ­il rights move­ment, the anti­war move­ment, the women's move­ment — were vivid, dra­mat­ic, and attrac­tive." Yet, in their com­mit­ment to ​"roman­tic issues," Cham­bers believes, they were too focused on attract­ing the atten­tion of the media rather than exact­ing instru­men­tal gains. ​"Mem­bers of these move­ments often con­cen­trat­ed on sym­bol­ic moral vic­to­ries like plac­ing flow­ers in the rifle bar­rels of Nation­al Guards­men, embar­rass­ing a politi­cian for a moment or two, or enrag­ing white racists," he writes. ​"They often avoid­ed any reflec­tion about whether or not the moral vic­to­ries led to any real change."
In his time, Gand­hi would hear many sim­i­lar crit­i­cisms. Yet the impact of cam­paigns such as his march to the sea would pro­vide a for­mi­da­ble rebuttal.
Dif­fi­cult not to laugh
The salt satya­gra­ha—or cam­paign of non­vi­o­lent resis­tance that began with Gandhi's march — is a defin­ing exam­ple of using esca­lat­ing, mil­i­tant and unarmed con­fronta­tion to ral­ly pub­lic sup­port and effect change. It is also a case in which the use of sym­bol­ic demands, at least ini­tial­ly, pro­voked ridicule and consternation.
When charged with select­ing a tar­get for civ­il dis­obe­di­ence, Gandhi's choice was pre­pos­ter­ous. At least that was a com­mon response to his fix­a­tion on the salt law as the key point upon which to base the Indi­an Nation­al Con­gress' chal­lenge to British rule. Mock­ing the empha­sis on salt, The States­man not­ed, ​"It is dif­fi­cult not to laugh, and we imag­ine that will be the mood of most think­ing Indians."
In 1930, the instru­men­tal­ly focused orga­niz­ers with­in the Indi­an Nation­al Con­gress were focused on con­sti­tu­tion­al ques­tions — whether India would gain greater auton­o­my by win­ning ​"domin­ion sta­tus" and what steps toward such an arrange­ment the British might con­cede. The salt laws were a minor con­cern at best, hard­ly high on their list of demands. Biog­ra­ph­er Geof­frey Ashe argues that, in this con­text, Gandhi's choice of salt as a basis for a cam­paign was ​"the weird­est and most bril­liant polit­i­cal chal­lenge of mod­ern times."
It was bril­liant because defi­ance of the salt law was loaded with sym­bol­ic sig­nif­i­cance. ​"Next to air and water," Gand­hi argued, ​"salt is per­haps the great­est neces­si­ty of life." It was a sim­ple com­mod­i­ty that every­one was com­pelled to buy, and which the gov­ern­ment taxed. Since the time of the Mughal Empire, the state's con­trol over salt was a hat­ed real­i­ty. The fact that Indi­ans were not per­mit­ted to freely col­lect salt from nat­ur­al deposits or to pan for salt from the sea was a clear illus­tra­tion of how a for­eign pow­er was unjust­ly prof­it­ing from the subcontinent's peo­ple and its resources.
Since the tax affect­ed every­one, the griev­ance was uni­ver­sal­ly felt. The fact that it most heav­i­ly bur­dened the poor added to its out­rage. The price of salt charged by the gov­ern­ment, Ashe writes, ​"had a built-in levy — not large, but enough to cost a labor­er with a fam­i­ly up to two weeks wages a year." It was a text­book moral injury. And peo­ple respond­ed swift­ly to Gandhi's charge against it.
Indeed, those who had ridiculed the cam­paign soon had rea­son to stop laugh­ing. In each vil­lage through which the satya­grahis marched, they attract­ed mas­sive crowds — with as many of 30,000 peo­ple gath­er­ing to see the pil­grims pray and to hear Gand­hi speak of the need for self-rule. As his­to­ri­an Judith Brown writes, Gand­hi ​"grasped intu­itive­ly that civ­il resis­tance was in many ways an exer­cise in polit­i­cal the­ater, where the audi­ence was as impor­tant as the actors." In the procession's wake, hun­dreds of Indi­ans who served in local admin­is­tra­tive posts for the impe­r­i­al gov­ern­ment resigned their positions.
After the march reached the sea and dis­obe­di­ence began, the cam­paign achieved an impres­sive scale. Through­out the coun­try, huge num­bers of dis­si­dents began pan­ning for salt and min­ing nat­ur­al deposits. Buy­ing ille­gal pack­ets of the min­er­al, even if they were of poor qual­i­ty, became a badge of hon­or for mil­lions. The Indi­an Nation­al Con­gress set up its own salt depot, and groups of orga­nized activists led non­vi­o­lent raids on the gov­ern­ment salt works, block­ing roads and entrances with their bod­ies in an attempt to shut down pro­duc­tion. News reports of the beat­ings and hos­pi­tal­iza­tions that result­ed were broad­cast through­out the world.
Soon, the defi­ance expand­ed to incor­po­rate local griev­ances and to take on addi­tion­al acts of non­co­op­er­a­tion. Mil­lions joined the boy­cott of British cloth and liquor, a grow­ing num­ber of vil­lage offi­cials resigned their posts, and, in some provinces, farm­ers refused to pay land tax­es. In increas­ing­ly var­ied forms, mass non-com­pli­ance took hold through­out a vast ter­ri­to­ry. And, in spite of ener­getic attempts at repres­sion by British author­i­ties, it con­tin­ued month after month.
Find­ing issues that could ​"attract wide sup­port and main­tain the cohe­sion of the move­ment," Brown notes, was ​"no sim­ple task in a coun­try where there were such region­al, reli­gious and socio-eco­nom­ic dif­fer­ences." And yet salt fit the bill pre­cise­ly. Moti­lal Nehru, father of the future prime min­is­ter, remarked admir­ing­ly, ​"The only won­der is that no one else ever thought of it."
Beyond the pact
If the choice of salt as a demand had been con­tro­ver­sial, the man­ner in which Gand­hi con­clud­ed the cam­paign would be equal­ly so. Judged by instru­men­tal stan­dards, the res­o­lu­tion to the salt satya­gra­ha fell short. By ear­ly 1931, the cam­paign had rever­ber­at­ed through­out the coun­try, yet it was also los­ing momen­tum. Repres­sion had tak­en a toll, much of Con­gress' lead­er­ship had been arrest­ed, and tax resisters whose prop­er­ty had been seized by the gov­ern­ment were fac­ing sig­nif­i­cant finan­cial hard­ship. Mod­er­ate politi­cians and mem­bers of the busi­ness com­mu­ni­ty who sup­port­ed the Indi­an Nation­al Con­gress appealed to Gand­hi for a res­o­lu­tion. Even many mil­i­tants with the orga­ni­za­tion con­curred that talks were appropriate.
Accord­ing­ly, Gand­hi entered into nego­ti­a­tions with Lord Irwin in Feb­ru­ary 1931, and on March 5 the two announced a pact. On paper, many his­to­ri­ans have argued, it was an anti-cli­max. The key terms of the agree­ment hard­ly seemed favor­able to the Indi­an Nation­al Con­gress: In exchange for sus­pend­ing civ­il dis­obe­di­ence, pro­test­ers being held in jail would be released, their cas­es would be dropped, and, with some excep­tions, the gov­ern­ment would lift the repres­sive secu­ri­ty ordi­nances it had imposed dur­ing the satya­gra­ha. Author­i­ties would return fines col­lect­ed by the gov­ern­ment for tax resis­tance, as well as seized prop­er­ty that had not yet been sold to third par­ties. And activists would be per­mit­ted to con­tin­ue a peace­ful boy­cott of British cloth.
How­ev­er, the pact deferred dis­cus­sion of ques­tions about inde­pen­dence to future talks, with the British mak­ing no com­mit­ments to loosen their grip on pow­er. (Gand­hi would attend a Round­table con­fer­ence in Lon­don lat­er in 1931 to con­tin­ue nego­ti­a­tions, but this meet­ing made lit­tle head­way.) The gov­ern­ment refused to con­duct an inquiry into police action dur­ing the protest cam­paign, which had been a firm demand of Indi­an Nation­al Con­gress activists. Final­ly, and per­haps most shock­ing­ly, the Salt Act itself would remain law, with the con­ces­sion that the poor in coastal areas would be allowed to pro­duce salt in lim­it­ed quan­ti­ties for their own use.
Some of the politi­cians clos­est to Gand­hi felt extreme­ly dis­mayed by the terms of the agree­ment, and a vari­ety of his­to­ri­ans have joined in their assess­ment that the cam­paign failed to reach its goals. In ret­ro­spect, it is cer­tain­ly legit­i­mate to argue about whether Gand­hi gave away too much in nego­ti­a­tions. At the same time, to judge the set­tle­ment mere­ly in instru­men­tal terms is to miss its wider impact.
Claim­ing sym­bol­ic victory
If not by short-term, incre­men­tal gains, how does a cam­paign that employs sym­bol­ic demands or tac­tics mea­sure its success?
For momen­tum-dri­ven mass mobi­liza­tions, there are two essen­tial met­rics by which to judge progress. Since the long-term goal of the move­ment is to shift pub­lic opin­ion on an issue, the first mea­sure is whether a giv­en cam­paign has won more pop­u­lar sup­port for a movement's cause. The sec­ond mea­sure is whether a cam­paign builds the capac­i­ty of the move­ment to esca­late fur­ther. If a dri­ve allows activists to fight anoth­er day from a posi­tion of greater strength — with more mem­bers, supe­ri­or resources, enhanced legit­i­ma­cy and an expand­ed tac­ti­cal arse­nal — orga­niz­ers can make a con­vinc­ing case that they have suc­ceed­ed, regard­less of whether the cam­paign has made sig­nif­i­cant progress in closed-door bar­gain­ing sessions.
Through­out his career as a nego­tia­tor, Gand­hi stressed the impor­tance of being will­ing to com­pro­mise on non-essen­tials. As Joan Bon­durant observes in her per­cep­tive study of the prin­ci­ples of satya­gra­ha, one of his polit­i­cal tenets was the ​"reduc­tion of demands to a min­i­mum con­sis­tent with the truth." The pact with Irwin, Gand­hi believed, gave him such a min­i­mum, allow­ing the move­ment to end the cam­paign in a dig­ni­fied fash­ion and to pre­pare for future strug­gle. For Gand­hi, the viceroy's agree­ment to allow for excep­tions to the salt law, even if they were lim­it­ed, rep­re­sent­ed a crit­i­cal tri­umph of prin­ci­ple. More­over, he had forced the British to nego­ti­ate as equals — a vital prece­dent that would be extend­ed into sub­se­quent talks over independence.
In their own fash­ion, many of Gandhi's adver­saries agreed on the sig­nif­i­cance of these con­ces­sions, see­ing the pact as a mis­step of last­ing con­se­quence for impe­r­i­al pow­ers. As Ashe writes, the British offi­cial­dom in Del­hi ​"ever after­wards… groaned over Irwin's move as the fatal blun­der from which the Raj nev­er recov­ered." In a now-infa­mous speech, Win­ston Churchill, a lead­ing defend­er of the British Empire, pro­claimed that it was ​"alarm­ing and also nau­se­at­ing to see Mr. Gand­hi… strid­ing half-naked up the steps of the Vice-regal palace… to par­ley on equal terms with the rep­re­sen­ta­tive of the King-Emper­or." The move, he claimed, had allowed Gand­hi — a man he saw as a ​"fanat­ic" and a ​"fakir" — to step out of prison and "[emerge] on the scene a tri­umphant victor."
While insid­ers had con­flict­ed views about the campaign's out­come, the broad pub­lic was far less equiv­o­cal. Sub­has Chan­dra Bose, one of the rad­i­cals in the Indi­an Nation­al Con­gress who was skep­ti­cal of Gandhi's pact, had to revise his view when he saw the reac­tion in the coun­try­side. As Ashe recounts, when Bose trav­eled with Gand­hi from Bom­bay to Del­hi, he ​"saw ova­tions such as he had nev­er wit­nessed before." Bose rec­og­nized the vin­di­ca­tion. ​"The Mahat­ma had judged cor­rect­ly," Ashe con­tin­ues. ​"By all the rules of pol­i­tics he had been checked. But in the people's eyes, the plain fact that the Eng­lish­man had been brought to nego­ti­ate instead of giv­ing orders out­weighed any num­ber of details."
In his influ­en­tial 1950 biog­ra­phy of Gand­hi, still wide­ly read today, Louis Fis­ch­er pro­vides a most dra­mat­ic appraisal of the Salt March's lega­cy: ​"India was now free," he writes. ​"Tech­ni­cal­ly, legal­ly, noth­ing had changed. India was still a British colony." And yet, after the salt satya­gra­ha, ​"it was inevitable that Britain should some day refuse to rule India and that India should some day refuse to be ruled."
Sub­se­quent his­to­ri­ans have sought to pro­vide more nuanced accounts of Gandhi's con­tri­bu­tion to Indi­an inde­pen­dence, dis­tanc­ing them­selves from a first gen­er­a­tion of hagio­graph­ic biogra­phies that uncrit­i­cal­ly held up Gand­hi as the ​"father of a nation." Writ­ing in 2009, Judith Brown cites a vari­ety of social and eco­nom­ic pres­sures that con­tributed to Britain's depar­ture from India, par­tic­u­lar­ly the geopo­lit­i­cal shifts that accom­pa­nied the Sec­ond World War. Nev­er­the­less, she acknowl­edges that dri­ves such as the Salt March were crit­i­cal, play­ing cen­tral roles in build­ing the Indi­an Nation­al Con­gress' orga­ni­za­tion and pop­u­lar legit­i­ma­cy. Although mass dis­plays of protest alone did not expel the impe­ri­al­ists, they pro­found­ly altered the polit­i­cal land­scape. Civ­il resis­tance, Brown writes, ​"was a cru­cial part of the envi­ron­ment in which the British had to make deci­sions about when and how to leave India."
As Mar­tin Luther King Jr. would in Birm­ing­ham some three decades lat­er, Gand­hi accept­ed a set­tle­ment that had lim­it­ed instru­men­tal val­ue but that allowed the move­ment to claim a sym­bol­ic win and to emerge in a posi­tion of strength. Gandhi's vic­to­ry in 1931 was not a final one, nor was King's in 1963. Social move­ments today con­tin­ue to fight strug­gles against racism, dis­crim­i­na­tion, eco­nom­ic exploita­tion and impe­r­i­al aggres­sion. But, if they choose, they can do so aid­ed by the pow­er­ful exam­ple of fore­bears who con­vert­ed moral vic­to­ry into last­ing change.