How the Government Fast-Tracked Shell's Arctic Drilling
After Royal Dutch Shell's mishaps in the Arctic in 2012, the Obama administration indicated a major rethink of the approval process was in order—but instead, Shell got another rubber stamp.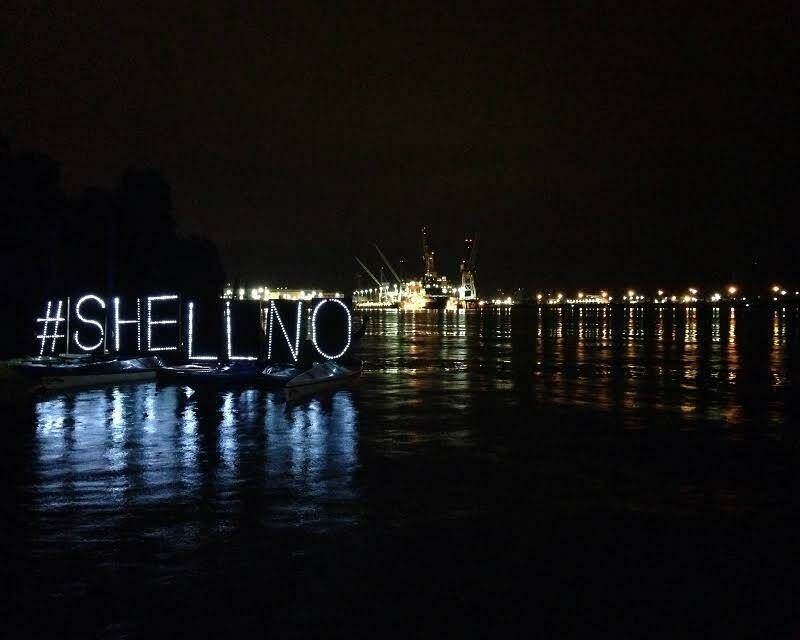 Start­ing on July 29, 13 Green­peace climbers spent 40 hours sus­pend­ed from St. Johns Bridge in Port­land, Ore., in an attempt to block Shell's ice­break­er, the MSV Fen­ni­ca, from leav­ing for the Arctic.
BOEM has done absolutely nothing to make Shell learn from the mistakes of 2012, and almost everything to fast-track its drilling plans in the Chukchi Sea.
The Fen­ni­ca, one of the ves­sels in Shell's 29-boat drilling fleet, was dis­cov­ered ear­li­er that month to have a 39-inch hole in its hull, which caused a bal­last tank leak. The ves­sel was sent to Port­land for repair. Despite the best efforts of Green­peace block­aders, the mend­ed ice­break­er arrived in Alas­ka this week as part of Shell's plans to drill explorato­ry wells in the Chukchi Sea this sum­mer — plans approved by the Oba­ma admin­is­tra­tion in May. The com­pa­ny announced yes­ter­day that it is ready to drill as soon as it receives the final gov­ern­ment go-ahead.
The protests in the Pacif­ic North­west, along with protests by the Iñu­pi­at com­mu­ni­ty of the Alaskan Arc­tic, under­score just how much the Oba­ma administration's approval of Shell's Arc­tic drilling plans has incensed envi­ron­men­tal and indige­nous groups.
Shell has a dis­as­trous record in the Arc­tic. In the sum­mer of 2012, the last time the oil giant was approved to under­take explorato­ry off­shore drilling, one rig, the Kul­luk, ran aground near Kodi­ak, Alas­ka. The Coast Guard found that Shell had sent the rig out with ​"inad­e­quate assess­ment and man­age­ment of risks." Anoth­er ves­sel, which had pre­vi­ous­ly failed to secure per­mis­sion for drilling, ran adrift in Dutch Har­bor, was forced to detach from the seafloor and sub­se­quent­ly caught fire.
Shell and the con­trac­tors of its drilling rigs have since been embroiled in legal bat­tles. The EPA found that both the Kul­luk and anoth­er rig, the Noble Dis­cov­er­er, vio­lat­ed mul­ti­ple Clean Air Act stan­dards. In anoth­er suit, the Shell con­trac­tor that oper­at­ed the rigs was fined $12.2 mil­lion for break­ing envi­ron­men­tal and mar­itime law. Fur­ther­more, a review of Shel­l's 2012 pro­gram found that it had inad­e­quate­ly test­ed equip­ment for con­tain­ment in the event of a spill.
Oppo­nents of drilling argue that such a record indi­cates how woe­ful­ly under­pre­pared Shell is for its Arc­tic under­tak­ings, and that even though a major spill did not occur in 2012, the chances of one in any future drilling endeav­or are extreme­ly high.
Fur­ther­more, envi­ron­men­tal groups ques­tion the ratio­nale of an admin­is­tra­tion that, while cog­nizant of ​"the rapid loss of Arc­tic sum­mer ice," con­tin­ues to sup­port the extrac­tive drilling prac­tices respon­si­ble for the cli­mate change that accel­er­ates that loss.
More­over, extrac­tive drilling and accel­er­at­ed cli­mate change demon­stra­bly threat­en the liveli­hoods, health and sub­sis­tence of the Iñu­pi­at com­mu­ni­ty. Increas­ing­ly, Iñu­pi­ats face res­pi­ra­to­ry prob­lems and oth­er ail­ments as a result of prox­im­i­ty to oil­fields. Many vil­lages also face the prospect of relo­ca­tion due to the mas­sive­ly accel­er­at­ed loss of sea ice, as well as the major changes in their sub­sis­tence whal­ing and hunt­ing prac­tices because of the pro­found impacts cli­mate change and extrac­tive drilling have had on wildlife.
For envi­ron­men­tal groups and the indige­nous Iñu­pi­at, this year's approval seems part of a long trend of Obama's reg­u­la­to­ry agen­cies rub­ber­stamp­ing off­shore drilling.
And indeed, even as Oba­ma cam­paigned on sus­tain­abil­i­ty and a glob­al response to cli­mate change, crit­ics have point­ed out the administration's eager­ness to open the Arc­tic to drilling.
"When Oba­ma took office," explains Sub­hankar Baner­jee, envi­ron­men­tal activist and author of Arc­tic Voic­es: Resis­tance at the Tip­ping Point, ​"he made open­ing of the Arc­tic Ocean to oil inter­ests a top pri­or­i­ty of his ener­gy pol­i­cy, which of course was immense­ly incon­sis­tent with his posi­tions. He has not backed off on that."
"What the admin­is­tra­tion, in essence, has done," says Baner­jee, ​"is some­thing the Bush admin­is­tra­tion would have done, but per­haps worse."
On close inspec­tion, a long and sor­did tale of col­lu­sion emerges between Shell exec­u­tives and fed­er­al reg­u­la­to­ry agen­cies in the Oba­ma admin­is­tra­tion, in charge of approv­ing explorato­ry drilling plans on Shell's leas­es in the Chukchi Sea. This rela­tion­ship, it seems, relied on avoid­ing any com­pre­hen­sive review of the envi­ron­men­tal and wildlife impacts of off­shore drilling in the harsh cli­mate of the Arctic.
Lessons in collusion
Back in 2012, after the Bureau of Ocean Ener­gy Man­age­ment (BOEM), an agency in the approved the sum­mer expe­di­tion that would ulti­mate­ly lead to the Kul­luk dis­as­ter, an inves­tiga­tive report in the New York Times detailed just how the approval of Shell's explorato­ry drilling plans had been managed.
To get the approval so soon after the 2010 Deep­wa­ter Hori­zon dis­as­ter in the Gulf of Mex­i­co, Shell launched a mas­sive two-pronged cam­paign. The first was a cor­po­rate charm offen­sive to tar­get Shell's wil­i­est ene­mies: the indige­nous Iñu­pi­at com­mu­ni­ty, which, along with envi­ron­men­tal groups, has a long his­to­ry of suing to block Shell's drilling plans. Com­pa­ny exec­u­tive, Pete Slai­by, trav­elled to Iñu­pi­at vil­lages and wooed them to the cause of extrac­tive drilling by hand­ing out raf­fle tick­ets, serv­ing food and join­ing in Native dances.
But accord­ing to the Times, Shell's most pow­er­ful lever was gov­ern­ment lob­by­ing. Top Shell lob­by­ists vis­it­ed the White House at least 19 times in the first three years of Obama's pres­i­den­cy. Among them were sev­er­al retired sen­a­tors. All the while, the com­pa­ny sent a steady flow of ​"vis­its, let­ters and calls to the agen­cies that could grant or deny the myr­i­ad per­mits it need­ed in the Arc­tic," writes the Times. In 2011 alone, Shell spent $14.8 mil­lion in lob­by­ing costs.
From Shell's point of view, the invest­ment appears to have been a good one: The DOI approved the drilling in 2012 with only a cur­so­ry look at poten­tial envi­ron­men­tal impacts. BOEM declared it unnec­es­sary to do an Envi­ron­men­tal Impact State­ment (EIS), which would have required thor­ough inves­ti­ga­tions into cli­mat­ic and wildlife impacts, a pub­lic com­ment peri­od, and a con­sid­er­a­tion of pos­si­ble alter­na­tives. The DOI con­sid­ered only a best-case sce­nario that ​"skews the data toward few­er envi­ron­men­tal impacts and thus impedes a full and fair dis­cus­sion of the poten­tial effects of the project," accord­ing to a Court of Appeals for the Ninth Cir­cuit ver­dict on a law­suit filed by Earthjustice.
As Baner­jee wrote at the time, avoid­ing an EIS was tan­ta­mount to the fed­er­al gov­ern­ment say­ing, ​"If we do an appro­pri­ate and thor­ough sci­en­tif­ic study of the Beau­fort and Chukchi seas we might find out that Shell shouldn't real­ly go there to drill."
Greas­ing the wheels (again)
In the after­math of the rev­e­la­tions of 2012, Shell and the DOI indi­cat­ed a major rethink was required.
In a state­ment, Shell said that it would ​"take the find­ings [on the Kul­luk] seri­ous­ly" and had imple­ment­ed ​"lessons learned" from the incident.
Inte­ri­or Sec­re­tary Ken Salazar insist­ed that ​"Shell will not be able to move for­ward into the Arc­tic to do any kind of explo­ration unless they have this inte­grat­ed man­age­ment plan put in place," adding that ​"the gov­ern­ment still has a lot to learn."
The direc­tor of the fed­er­al agency charged with enforc­ing envi­ron­men­tal reg­u­la­tion, the Bureau of Safe­ty and Envi­ron­men­tal Enforce­ment (BSEE), stat­ed that ​"BSEE will con­tin­ue its unprece­dent­ed over­sight of drilling activ­i­ties and…continue to hold any­one oper­at­ing in pub­lic waters to the high­est safe­ty and envi­ron­men­tal standards."
But Arc­tic oil drilling remained on the table. In May 2013, Obama's Nation­al Strat­e­gy for the Arc­tic Region reaf­firmed his com­mit­ment to drilling in the Arc­tic, stat­ing the need to ​"make the most of the emerg­ing eco­nom­ic oppor­tu­ni­ties in the region."
Behind the scenes, the cozy ties between Shell, com­pa­ny lob­by­ists and gov­ern­ment reg­u­la­tors con­tin­ued. Shell spent $9 mil­lion in 2013 and $8 mil­lion in 2014 on lob­by­ing. Meet­ing records and cor­re­spon­dence obtained by Green­peace in a Free­dom of Infor­ma­tion Act request show that Shell and BOEM reg­u­la­tors held back­room meet­ings between March and May 2014, well before a key envi­ron­men­tal review was final­ized — at a time when BOEM was not offi­cial­ly allowed to accept plans on Shell's Chukchi lease.
Notes from one such meet­ing, on May 27, 2014, revealed that BOEM reg­u­la­tors told Shell exec­u­tives that they saw a fed­er­al dis­trict court's approval of Shell's envi­ron­men­tal review as a sure­fire deal. This meet­ing took place well before BOEM made its own decision.
While reg­u­la­tors had Shell's ear for 12 months, the pub­lic com­ment peri­od last­ed only 21 days, from April 10 to May 1.
Shell launched a sim­i­lar cam­paign in Wash­ing­ton state, where a robust debate has been under­way con­cern­ing per­mits for the Port of Seat­tle to host Shell's drilling fleet. As Eric de Place, pol­i­cy direc­tor and researcher at Sight­line Insti­tute, has report­ed, Shell's polit­i­cal spend­ing in Wash­ing­ton state is often remark­ably hard to track.
The state allows cor­po­ra­tions to anonymize cam­paign dona­tions by rout­ing them through local lob­by­ist firms. In this way, Shell has secre­tive­ly giv­en more than one hun­dred thou­sand dol­lars to leg­is­la­tors in Wash­ing­ton state — but it is dif­fi­cult to deter­mine whom.
"This is a big cor­po­rate pow­er­house spread­ing its influ­ence, and the pub­lic has no oppor­tu­ni­ty to see what's going on," says de Place.
A rethink rethought
Clear­ly, as part of the broad­er pol­i­cy of an admin­is­tra­tion bent on open­ing up the Arc­tic for off­shore drilling, pub­lic opin­ion has been large­ly side­stepped in favor of a close — and secre­tive — gov­ern­ment rela­tion­ship with Shell.
So it may be no sur­prise that the rethink appar­ent­ly nev­er hap­pened. Indeed, envi­ron­men­tal groups argue that this year's approval of Shell's Arc­tic plans wasn't so dif­fer­ent from 2012's. They say that again, reg­u­la­tors failed to do a com­plete envi­ron­men­tal analy­sis or risk assess­ment before giv­ing the project the green light, essen­tial­ly col­lud­ing with Shell to fast-track its drilling.
BOEM once again found no need for a com­pre­hen­sive EIS and insist­ed that ​"the Pro­posed Action would not cause any sig­nif­i­cant impacts."
What's more, BSEE has allowed Shell to go ahead with a drilling plan that was not a part of the BOEM-approved explo­ration plan, or con­sid­ered in the short inter­nal Envi­ron­men­tal Assess­ment (EA) report pro­duced by BOEM, despite calls by envi­ron­men­tal groups for a com­plete re-evaluation.
Accord­ing to Tim Don­aghy, a senior research spe­cial­ist at Green­peace, ​"The gov­ern­ment real­ly needs to rescind [Shell's explorato­ry plan] and go back to the draw­ing board. Instead, they seem to be impro­vis­ing in order to help Shell over­come its own mistakes."
To take just anoth­er exam­ple, as part of the administration's renewed com­mit­ment to more over­sight and high­er stan­dards, the DOI had rec­om­mend­ed in 2012 that any sub­se­quent pro­pos­al by Shell be reviewed by a third-par­ty audi­tor in order to pro­vide inde­pen­dent over­sight of Shell's plans before it could be allowed into the Arctic.
In May of this year, how­ev­er, soon after the approval of Shell's plans, BSEE admit­ted to The Guardian that the key third-par­ty audi­tor required for the per­mit was hand­picked and paid for by Shell.
The iden­ti­ty of the audi­tor, and the results of the audit itself, remain secret. A FOIA request filed by Green­peace to obtain details was recent­ly denied. Accord­ing to Don­aghy, ​"Shell claimed that the entire report con­sti­tut­ed ​'con­fi­den­tial busi­ness infor­ma­tion.' The gov­ern­ment reviewed [Shell's] claim and agreed with them."
BSEE has reas­sured the pub­lic that the audi­tor, despite being hired by Shell, met the agency's stan­dards. But that is far from reassuring.
"Appar­ent­ly the report for the audit was only five pages long," says Don­aghy. ​"We have a lot of ques­tions about how true it was, and whether it was a real audit or just a rubberstamp."
"All the pub­lic has to rely on," he con­tin­ues, ​"are sooth­ing state­ments from Shell's spokesper­son about how they have learned their lessons from 2012."
In some ways, the bar for this year's approval may well been even low­er than in 2012. ​"The reg­u­la­to­ry process­es has actu­al­ly got­ten weak­er," explains Don­aghy, cit­ing a 2011 law spon­sored by Sen­a­tor Lisa Murkows­ki (R‑Alaska) that went into effect in 2013, shift­ing respon­si­bil­i­ty for reg­u­lat­ing air qual­i­ty from the EPA and to BOEM. Sen. Murkowski's biggest donor in 2011 – 2012 was Edi­son Chouest Off­shore, the con­trac­tor that built Shell's failed Kul­luk Rig.
This has meant a huge drop in the air qual­i­ty stan­dards Shell must meet. Under EPA reg­u­la­tions, Shell has to meet Clean Air Act stan­dards — any drilling oper­a­tion that is esti­mat­ed to emit at least 250 tons of a pol­lu­tant annu­al­ly must install the best pol­lu­tion con­trol tech­nol­o­gy avail­able. In con­trast, BOEM mere­ly asks for an esti­mate of how much air pol­lu­tion drilling oper­a­tions will cause and whether or not it will have a sig­nif­i­cant impact.
Per­haps even more crit­i­cal­ly, under the Clean Air Act, the EPA would require Shell to account for pol­lu­tion from all ves­sels involved in the drilling oper­a­tion. DOI reg­u­la­tions, on the oth­er hand, would not require Shell to report emis­sions from sup­port ves­sels and emer­gency equipment.
​"That's just one aspect where lots of play­ers in the gov­ern­ment have greased the wheels for this project to go ahead," says Donaghy.
In oth­er words, BOEM has done absolute­ly noth­ing to make Shell learn from the mis­takes of 2012, and almost every­thing to fast-track its drilling plans in the Chukchi Sea.
The ongo­ing mis­ad­ven­tures of Shell
Despite the lack of gov­ern­ment over­sight, Shell exec­u­tives main­tain that they are now much bet­ter pre­pared for explorato­ry oil drilling operations.
The ear­ly hic­cups tell a dif­fer­ent story.
The MSV Fen­ni­ca, which devel­oped a gash in its hull, is a crit­i­cal com­po­nent of Shell's drilling fleet because it car­ries a crit­i­cal ​"cap­ping stack" mech­a­nism that serves as Shell's pri­ma­ry con­tain­ment strat­e­gy. Shell insists that in the event of a dam­aged well and an oil spill, a cap­ping stack ​'dome' placed on top of the well would be suf­fi­cient to pre­vent a full-blown oil spill.
Shell spokesper­son Cur­tis Smith main­tains that ​"in no way does [the 2015 leak] char­ac­ter­ize the prepa­ra­tions we have made to oper­ate excep­tion­al­ly well."
The Oba­ma admin­is­tra­tion, too, seems unper­turbed, and has giv­en crit­i­cal final per­mits, even while envi­ron­men­tal groups like Green­peace call for a com­plete re-eval­u­a­tion of the drilling proposals.
"It is clear," said Don­aghy, ​"that despite all the hap­py talk from the gov­ern­ment, they haven't solved any of their problems."
Unde­terred by its con­tin­u­ing mishaps, how­ev­er, Shell is pow­er­ing full steam ahead with its plans — helped by fed­er­al reg­u­la­tors. The oil giant recent­ly man­aged to secure a key ani­mal dis­tur­bance per­mit, despite a long his­to­ry of dis­rup­tion to local Arc­tic wildlife, includ­ing the migra­tion pat­terns of bel­u­ga and bow­head whales, and the dimin­ish­ing pop­u­la­tions por­pois­es, seals, polar bears and walruses.
As the acci­dents accu­mu­late, how­ev­er, they have drawn atten­tion to to a robust pub­lic oppo­si­tion move­ment made up of indige­nous com­mu­ni­ties, activists and envi­ron­men­tal groups. Their direct action tac­tics have ensured that Shell's mis­ad­ven­tures and con­tin­u­ing designs on the Arc­tic are catch­ing many people's attention.
Envi­ron­men­tal groups that feel strong­ly about the impact extrac­tive drilling in the Arc­tic will have on increas­ing fos­sil-fuel depen­den­cy and a deep­en­ing cli­mate cri­sis, as well as indige­nous groups that are fac­ing imme­di­ate threats to their sub­sis­tence and liveli­hoods, con­tin­ue to point out the incon­sis­ten­cy of an admin­is­tra­tion that pays lip ser­vice to tack­ling cli­mate change while sup­port­ing the extrac­tive drilling prac­tices that are respon­si­ble for cli­mate change in the first place.
The protest move­ment, it seems, con­tin­ues to gain poten­cy with every mishap. It is for this rea­son that those fed up with the enor­mous polit­i­cal pow­er of Roy­al Dutch Shell and com­plic­it fed­er­al reg­u­la­tors may soon have rea­son to cheer. After all, as Baner­jee told In These Times, cheek­i­ly, in ref­er­ence to Shell's fruit­less quests for oil in the Arc­tic in the 1990s: ​"The first wave of Arc­tic off­shore devel­op­ment result­ed in a bust for Shell. Who knows what might hap­pen in this sec­ond wave?"
Kamil Ahsan
is a doc­tor­al stu­dent in devel­op­men­tal biol­o­gy and a dual-degree stu­dent in his­to­ry of sci­ence at the Uni­ver­si­ty of Chica­go, as well as a free­lance jour­nal­ist. His work has appeared in the Amer­i­can Prospect, Dis­sent, Jacobin, Salon, the Rum­pus and AlterNet.