Linda Sarsour: "I Want American Muslims To Be Unapologetic About Who We Are"
The Women's March organizer on growing Islamophobia and the state of the resistance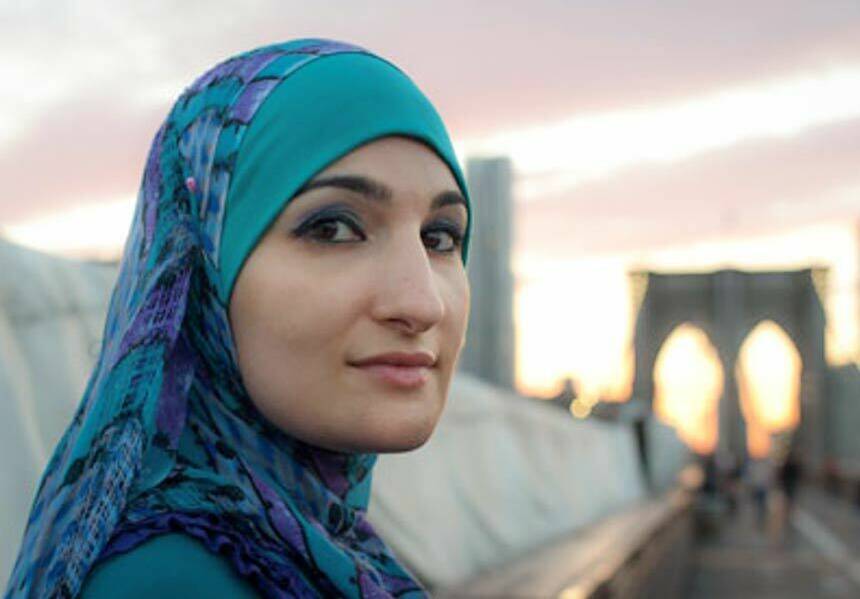 Pales­tin­ian-Amer­i­can activist Lin­da Sar­sour has called her­self the ​"worst night­mare" of Islam­o­phobes. A for­mer exec­u­tive direc­tor of the Arab Amer­i­can Asso­ci­a­tion of New York, Sar­sour served as a co-chair of the Women's March on Wash­ing­ton in Jan­u­ary. Since then, she's been vil­i­fied by right-wing web­sites like Bre­it­bart News and occa­sion­al­ly pil­lo­ried by lib­er­als. Ear­li­er this month, a New York Times opin­ion piece titled, ​"When Pro­gres­sives Embrace Hate" crit­i­cized the Women's March orga­niz­ers, and Sar­sour in par­tic­u­lar, for post­ing online state­ments crit­i­cal of Zion­ism and sup­port­ive of fig­ures such as Assa­ta Shakur. ​"Far from erect­ing the big tent so many had hoped for," the pieces charges, ​"the move­ment they lead has embraced decid­ed­ly illib­er­al caus­es and cul­ti­vat­ed a rad­i­cal tenor that seems deter­mined to alien­ate all but the most woke."
In These Times spoke to Sar­sour by phone about her rad­i­cal tenor, how she deals with attacks from the Right and the state of the anti-Trump resistance.
In July, Bre­it­bart News pub­lished an edit­ed clip of your speech before the Islam­ic Soci­ety of North Amer­i­ca, spark­ing a tor­rent of online abuse against you. Right-wing media is up in arms that you used the word ​"jihad" in your speech — which, of course, just means ​"strug­gle." You were speak­ing about the strug­gle against oppres­sion. Why did you choose to use this term?
My inten­tion was to quote authen­tic scrip­ture, as I should be able to in the land of reli­gious free­dom. My inten­tion has always been to moti­vate Amer­i­can Mus­lims to be unapolo­getic about who we are. I'm tired of both Mus­lim extrem­ists and right-wing extrem­ists defin­ing what our reli­gion is.
It's also all about the tim­ing. The speech was on Sat­ur­day, and they picked it up on Thurs­day morn­ing: the day after the Women's March on Wash­ing­ton announced that we're doing a march from the NRA head­quar­ters to the Depart­ment of Jus­tice. When we're about to embark on a vis­i­ble form of peace­ful dis­sent — that's when the right wing begins to coor­di­nate attacks against the lead­er­ship of the resistance.
What is it like to be one of the most vis­i­ble Mus­lim orga­niz­ers in the coun­try right now?
Dis­sent is the high­est form of patri­o­tism, but for me, dis­sent is dan­ger­ous. When I go to pub­lic events, I hire secu­ri­ty. They're not just going after me as an indi­vid­ual, they're going after me as some­one who rep­re­sents a new move­ment of young peo­ple of col­or, work­ing across issues and com­mu­ni­ties. This is the third attempt to demo­nize me after the Women's March. They can't believe that a Mus­lim woman is lead­ing a move­ment to mobi­lize inter­na­tion­al­ly against racism, sex­ism, xeno­pho­bia, Islam­o­pho­bia and homophobia.
You were one of the key orga­niz­ers of January's Women's March on Wash­ing­ton. What did you learn from the experience?
My role in the Women's March was two-fold. For one, my two pri­ma­ry roles were cre­at­ing the pol­i­cy plat­form that you saw, what we call the ​"Uni­ty Prin­ci­ple." That was part of my lead­er­ship role. And the oth­er one was fundrais­ing. One thing I learned from the Bernie Sanders cam­paign, and that I was able to apply to the Women's March, is that I refused to take mon­ey from cor­po­ra­tions. In a lot of these types of con­certs or big march­es or big ral­lies, often times cor­po­ra­tions want to use those moments to mar­ket. I said absolute­ly not, we will not take mon­ey from corporations.
I also learned that we can orga­nize togeth­er, but we still have to have crit­i­cal con­ver­sa­tions around racial jus­tice. And we have to orga­nize inter­sec­tion­al­ly. We can­not have a sep­a­rate cli­mate jus­tice move­ment, a sep­a­rate anti-war move­ment, a sep­a­rate racial jus­tice move­ment, a sep­a­rate immi­grant rights move­ment. We must orga­nize togeth­er because our issues are inter­sec­tion­al. And the com­mu­ni­ties that we're work­ing with are impact­ed by all of those things: envi­ron­men­tal racism, war, pover­ty, the assault on repro­duc­tive rights. I've been orga­niz­ing for for the past 17 years, and as an indi­vid­ual who cares about all these, I feel like I have to be dif­fer­ent peo­ple with four dif­fer­ent schedules.
What lessons should resis­tance move­ments take from the Women's March?
We still have a lot of work to do. We have to have a lot of hard con­ver­sa­tions about cen­ter­ing race and racial jus­tice. Which is not some­thing that many white allies are used to — say­ing we have to cen­ter women of col­or, we have to cen­ter com­mu­ni­ties of col­or, we have to cen­ter work­ing class people.
There was a lot of ten­sion that sur­faced. Peo­ple com­ment­ed on our Face­book page, ​"Why do you keep bring­ing up race? This is divi­sive." But I was not going to be part of a march that was only about equal pay and repro­duc­tive rights. I want­ed every­one to under­stand that women of col­or have many more issues that impact them.
The only way for us to win is by orga­niz­ing togeth­er, which means hav­ing crit­i­cal con­ver­sa­tions around racial jus­tice. We may lose togeth­er. But I would rather lose with dig­ni­ty and prin­ci­ple than throw any oth­er move­ment under the bus. Because inevitably, we will win together.
It's dif­fi­cult to stay on top of all of the attacks com­ing from the Trump admin­is­tra­tion. After Trump announced a trav­el ban on six Mus­lim coun­tries in Jan­u­ary, there were huge mobi­liza­tions at air­ports. Now that the Supreme Court has rein­stat­ed the trav­el ban tem­porar­i­ly, is there a threat of the resis­tance peter­ing out?
This admin­is­tra­tion has been cre­ative. The most recent trav­el ban actu­al­ly impacts peo­ple at the embassy, not the air­port. So basi­cal­ly, when peo­ple show up to the inter­view, that's where it stops. If you don't fit these cri­te­ria, you will be denied a visa. So this is why I think on the trav­el ban you didn't see as much of an out­pour­ing at the air­ports as we did with the first two, because the way the admin­is­tra­tion has framed it makes it impos­si­ble. Before, when we went to the air­ports, our chant was, ​"Let Them In!" because peo­ple were actu­al­ly phys­i­cal­ly being held. So that's the cre­ativ­i­ty of this admin­is­tra­tion: to cre­ate loop­holes and oth­er ways to imple­ment these trav­el bans.
But I still see momen­tum. There has lit­er­al­ly been a protest pret­ty much every week­end. Whether you went to the Sci­ence March, to the People's Cli­mate March, to the March for Truth. I think that is the administration's poli­cies cou­pled with this new ener­gy from the new gen­er­a­tion of young peo­ple and inter­sec­tion­al orga­niz­ers I think, we're going to see the momen­tum last a lot longer than peo­ple are expecting.
Would you ever con­sid­er run­ning for polit­i­cal office?
I've been doing polit­i­cal activism for 17 years — since I was 20 years old. So I've grown up a lot and evolved, and I under­stand more how pol­i­tics works.
What I real­ize is that you can be an influ­en­tial fig­ure out­side of elect­ed office. Right now as some­one who's not in elect­ed office, I still feel like I have some influ­ence in a way that is impor­tant. I've won major pol­i­cy cam­paigns in New York, I was one of the lead­ers for the coali­tion to appoint the first ever Inspec­tor Gen­er­al for the New York Police Depart­ment. There are a lot of things I care about that I've been able to lead and orga­nize and build pow­er around with­out actu­al­ly being con­fined to an elect­ed office position.
But that doesn't mean that in the future when I'm old­er, that that won't be an option for me. But for now, I see my pow­er and influ­ence more so effec­tive on the out­side of gov­ern­ment than inside of government.
Kamil Ahsan
is a doc­tor­al stu­dent in devel­op­men­tal biol­o­gy and a dual-degree stu­dent in his­to­ry of sci­ence at the Uni­ver­si­ty of Chica­go, as well as a free­lance jour­nal­ist. His work has appeared in the Amer­i­can Prospect, Dis­sent, Jacobin, Salon, the Rum­pus and AlterNet.