When the Hell Did the NLRB Become More Activist Than Labor?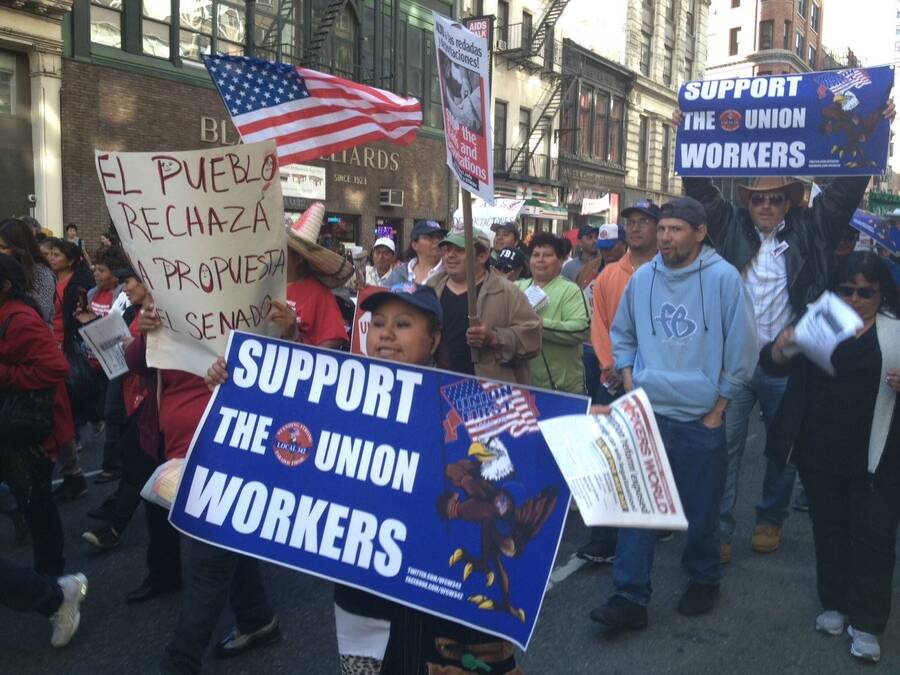 When the hell did the fed­er­al gov­ern­ment get bold­er than most labor unions about assert­ing the legal rights of workers?
On Mon­day, in a 3 – 1 rul­ing, the Nation­al Labor Rela­tions Board (NLRB) reversed a Bush the Younger-era prece­dent that gave employ­ers a say over whether tem­po­rary and sub­con­tract­ed work­ers can be includ­ed in the same bar­gain­ing unit as the reg­u­lar, full-time employ­ees with whom they work beside. Go fig­ure, most employ­ers said ​"no" to the propo­si­tion that peo­ple who work shoul­der to shoul­der, but are paid from sep­a­rate check­books, could bar­gain togeth­er in the same union. But the new Miller & Ander­son, Inc. deci­sion could force sub­con­trac­tors to bar­gain with a cer­ti­fied union over the wages and work­ing con­di­tions deter­mined by the con­trol­ling employer.
The rul­ing comes hot on the heels of the Board's Amer­i­can Bap­tist Homes deci­sion. That case re-estab­lished a bal­anc­ing test for whether a boss' employ­ment of per­ma­nent replace­ment strik­ers is actu­al­ly moti­vat­ed by a desire to bust a union —which goes a long way towards restor­ing a legal right to strike.
And, of course, the Board's attempt to expe­dite rep­re­sen­ta­tion elec­tions by hold­ing friv­o­lous man­age­ment objec­tions in abeyance until after the work­ers vote near­ly broke the Con­gress. (Seri­ous­ly, if you want to drink some deli­cious boss' tears Google ​"quick­ie NLRB elec­tion.")
As vet­er­an union orga­niz­er Stephen Lern­er suc­cinct­ly puts it, ​"Unions have been sig­nif­i­cant­ly hob­bled by the legal régime, and a lack of imag­i­na­tion to chal­lenge it." I have advo­cat­ed that unions should pur­sue an agen­da of judi­cial activism. These recent NLRB actions prove that the time is ripe to chal­lenge the rules of the sys­tem that keep unions shack­led. I've spent most of my career com­plain­ing about how slow and inef­fec­tive the NLRB is, as have most union orga­niz­ers. That bias should not blind us to the oppor­tu­ni­ty of the moment.
Grandma's pot roast
After eight years of a Demo­c­ra­t­ic admin­is­tra­tion, and — with the implo­sion of Trump's GOP — the rea­son­able expec­ta­tion of at least anoth­er eight years, we final­ly have a labor board that will no longer shrug and sigh that it ​"is what it is" when it comes to the unfair rules of the system.
But are union lead­ers and staff bold enough to reject the ​"is what it is" men­tal­i­ty? There's an anal­o­gy that makes the rounds in Cor­nell University's labor exten­sion pro­grams. It involves a man shar­ing his grandma's pot roast recipe with a friend. The first step of the recipe calls for cut­ting the ends off the raw rump, which prompts the friend to ask, ​"Real­ly? Does that, like, make the roast more ten­der … or what?"
The man shar­ing the recipe, who had nev­er ques­tioned why it called for the ends to be cut off, calls around to his par­ents, sib­lings and aunts and uncles to find out why grandma's recipe does so. Final­ly, he gets his grand­ma on the phone and she says, ​"Oh, that's because the gro­cer only sold rump roasts that were too big for our roast pan."
This is the most dev­as­tat­ing­ly on-the-nose anal­o­gy for how unions engage in long-term strat­e­gy. We hope and assume that some­time in the past, some­one smarter than us con­sid­ered all the pos­si­ble options and set­tled on what we are cur­rent­ly doing as the best pos­si­ble choice.
What if I told you … that isn't what it is?
A good case in point is employ­ers' ​"right" to force employ­ees to attend manda­to­ry anti-union ​"cap­tive audi­ence" meet­ings dur­ing a union orga­niz­ing dri­ve. Most orga­niz­ers accept that it ​"is what it is" — anoth­er fucked up way that NLRB elec­tion rules are rigged so that unions lose a ton of rep­re­sen­ta­tion elec­tions. (Although, it should be not­ed that unions used to lose half of all rep­re­sen­ta­tion elec­tions dur­ing the Clin­ton I‑era and now tend to win about two-thirds of elec­tions, thanks part­ly to more strate­gic orga­niz­ing choic­es and part­ly to the NLRB's recent return to its his­toric mis­sion of encour­ag­ing unions and col­lec­tive bar­gain­ing.)
Mean­while, appar­ent­ly, the NLRB has been on the record for half a cen­tu­ry as invit­ing unions to make a case that there should be some kind of equal access stan­dard for unions if an employ­er forces work­ers to attend manda­to­ry meet­ings on the sub­ject of union rep­re­sen­ta­tion. A group of 106 lead­ing labor schol­ars, led by Charles Mor­ris and Paul Secun­da, have filed a peti­tion at the NLRB to re-estab­lish just such a rule.
The spec­u­la­tion is that the NLRB is unlike­ly to act on Mor­ris' and Secunda's peti­tion, as it prefers to act on union (or employ­er) ini­ti­at­ed pro­ce­dur­al cas­es. The Miller & Ander­son deci­sion came in response to a union rep­re­sen­ta­tion peti­tion; the Amer­i­can Bap­tist Homes deci­sion in response to an unfair labor prac­tice charge. To win equal time, a union will have to file excep­tions to a los­ing rep­re­sen­ta­tion elec­tion in which the employ­er made use of manda­to­ry cap­tive audi­ence meet­ings. Sure­ly, and sad­ly, some­one read­ing this arti­cle has recent­ly lost an elec­tion under such cir­cum­stances, and can take the initiative.
Sim­i­lar­ly, most union­ists just accept that an employ­er has a ​"right" to per­ma­nent­ly replace strik­ing work­ers. For exam­ple, Jane McAlevey, in her orga­niz­ing mem­oir Rais­ing Hell (and Rais­ing Expec­ta­tions), incor­rect­ly chalks it up to a law signed by Ronald Rea­gan. It wasn't. It was a poor­ly decid­ed 1938 Supreme Court case that was dust­ed off in the 1980s. Like ref­er­ees in a schlocky Hulk Hogan wrestling match, Reagan's NLRB appointees looked the oth­er way as employ­ers engaged in a coor­di­nat­ed union-bust­ing dri­ve that weaponized the unfrozen cave­man Supreme Court precedent.
After an unsuc­cess­ful attempt to leg­isla­tive­ly ban per­ma­nent replace­ments dur­ing the first Clin­ton era, most unions seem to have shrugged and accept­ed that work­ers can legal­ly lose their jobs for strik­ing — that is until the NLRB revert­ed to the pre-Rea­gan rules. But the Board can go fur­ther. The cru­cial phrase in that 1938 Court deci­sion, NLRB vs. Mack­ay Radio & Tele­graph Co., is that an employ­er can hire per­ma­nent replace­ments if it is nec­es­sary ​"to pro­tect and con­tin­ue his business."
In oth­er words, to meet the Supreme Court stan­dard, the NLRB could force Ver­i­zon or any oth­er For­tune 500 com­pa­ny to prove that they would oth­er­wise go out of busi­ness unless they can hire scabs to steal the jobs of their strik­ing work­ers. Good luck with that. Unions should get in the habit of fil­ing unfair labor prac­tice charges any time a boss adver­tis­es for scabs.
The NLRB even poten­tial­ly has the pow­er to reverse ​"Right to Work." The statutes, passed on a state-by-state basis, aim to pre­vent unions from col­lect­ing fees from all of the work­ers they are legal­ly oblig­at­ed to rep­re­sent. But the fed­er­al law that allows ​"Right to Work" statutes has, until recent­ly, faced very few judi­cial chal­lenges. One open ques­tion is whether the leg­isla­tive intent of the Taft-Hart­ley act was mere­ly to ban union mem­ber­ship as a con­di­tion of employ­ment — not whether unions could nego­ti­ate manda­to­ry fees for griev­ance rep­re­sen­ta­tion ser­vices. Seat­tle Uni­ver­si­ty Asso­ciate Pro­fes­sor of Law Char­lotte Gar­den notes that the NLRB could approve such a for­mu­la, and has indi­cat­ed open­ness to cas­es argu­ing for it.
Only
3

,

115

days to go

Tom Perez, the cur­rent Sec­re­tary of Labor, is appar­ent­ly a bit noto­ri­ous for not­ing exact­ly how many days the Oba­ma admin­is­tra­tion has left (191, as of today) to make any gains for work­ing Amer­i­cans. Perez, who has milked every ounce of exec­u­tive author­i­ty that his depart­ment has in the pur­suit of that goal, is most well known (on Wall Street, at least) for get­ting Oba­ma to sign an exec­u­tive order that extend­ed over­time pro­tec­tions to salaried work­ers earn­ing less than $47,476 per year (up from the mid-1970's stan­dard of $23,660). In so doing, he won a pay raise, or reduc­tion in hours, for mil­lions of work­ing Amer­i­cans. And for that mitz­vah he is report­ed­ly on the short­list for Hillary Rod­ham Clinton's vice-pres­i­den­tial pick. And, hon­est­ly, choos­ing Perez is Clinton's last chance to dis­prove Erik Loomis' con­tention that she's ​"a Martha Coak­ley-lev­el cam­paign­er with a once-bril­liant cam­paign­er for a husband."

If labor lead­ers allowed them­selves enough opti­mism to last not just until the end of Obama's term but to antic­i­pate at least anoth­er eight years of a Demo­c­rat in the White House, while main­tain­ing the urgency with which Sec­re­tary Perez con­ducts him­self, imag­ine what we could win for work­ing fam­i­lies. If I didn't mess up my math, that means we have at least 3,115 days left of an activist, major­i­ty-Demo­c­ra­t­ic NLRB with which to press our case for a restora­tion of work­ers rights.

Because here's the thing: chal­leng­ing bad labor law involves break­ing the law. When unions vio­late the law in pur­suit of a voice at work for unor­ga­nized work­ers (by, say, engag­ing in sol­i­dar­i­ty boy­cotts, wag­ing par­tial strikes or mak­ing ​"per­mis­sive" com­mu­ni­ty goals their essen­tial bar­gain­ing demands), the NLRB is the sher­iff that is tasked with tak­ing them to court. Is it crazy to think that this NLRB might treat bad labor law the way that Obama's Jus­tice Depart­ment treat­ed the Defense of Mar­riage Act? In the court because they have to be, but con­ced­ing that the law is unjust?

Grandma's pot roast recipe should be revised for our new­ly remod­eled kitchen.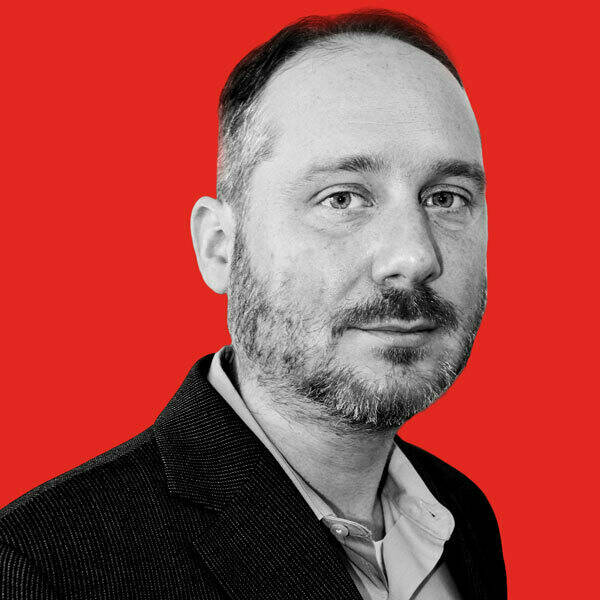 Shaun Rich­man
is an In These Times con­tribut­ing writer and the Pro­gram Direc­tor of the Har­ry Van Ars­dale Jr. School of Labor Stud­ies at SUNY Empire State Col­lege. His Twit­ter han­dle is @Ess_Dog.