How the Rich Ruin the Environment
The solution? Curb overconsumption and overwork.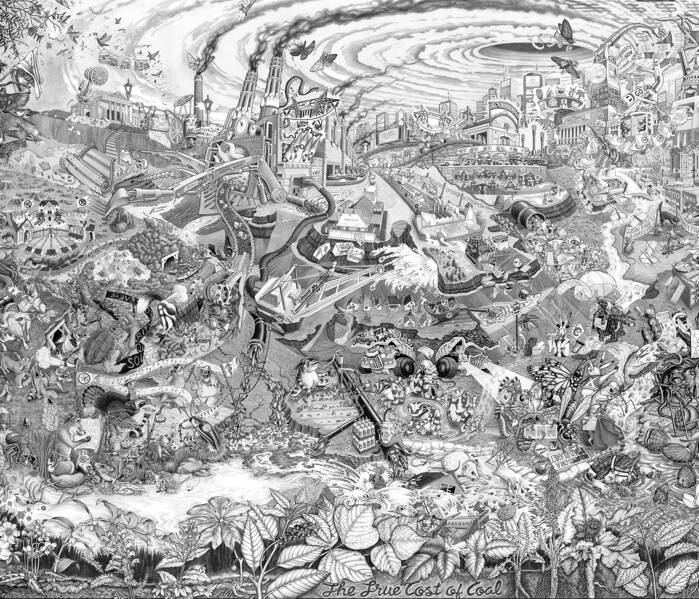 Excerpt­ed with per­mis­sion from Jacobin mag­a­zine.
The global wealthy may consume far more than the rest, but global consumption can't be leveled out by bringing everyone up to even Western median levels; consumption in rich nations, even at relatively low levels of income, has to decline if we're to achieve some measure of global equality.
Envi­ron­men­tal­ists have long lec­tured Amer­i­cans about overuse of nat­ur­al resources. By now, the talk­ing points on over­con­sump­tion are famil­iar: 5 per­cent of the world's pop­u­la­tion uses 25 per­cent of its resources, and emits about the same per­cent­age of its green­house gas­es; if the whole world lived like Amer­i­cans, we'd need four plan­ets, or maybe five. We eat too much meat, dri­ve too many miles, live in hous­es that are too big and too far apart, shop too much for stuff we don't need. When it comes to cli­mate change, it's even worse than the num­bers sug­gest: West­ern nations out­source a huge per­cent­age of emis­sions to the places that increas­ing­ly pro­duce our goods.
Such inter­na­tion­al dis­par­i­ties have, of course, long pre­sent­ed a chal­lenge to those con­cerned with both domes­tic and glob­al jus­tice: How to acknowl­edge that America's poor are wealth­i­er than most of the world with­out sim­ply con­clud­ing that they're part of the prob­lem? But while dis­cus­sions of con­sump­tion tends to focus on a uni­ver­sal ​"we," as epit­o­mized by the famous Pogo Earth Day car­toon — ​"we have met the ene­my, and he is us" — it's impor­tant to look more close­ly with­in the rich world rather than sim­ply heap­ing scorn on nation­al averages.
Depic­tions of Amer­i­can con­sumerism tend to focus on the likes of Wal­mart and McDonald's, sug­gest­ing that blame lies with the rav­en­ous, grasp­ing mass­es. Mean­while it's trendy for the wealthy to appear vir­tu­ous as they dri­ve Prius­es, live in homes that tout ​"green design," and eat organ­ic kale. But whether you ​"care about the envi­ron­ment," believe in cli­mate change, or ago­nize over your coffee's ori­gins doesn't mat­ter as much as your tax brack­et and the con­sump­tion habits that go with it.
Con­sump­tion doesn't cor­re­spond per­fect­ly to income — in large part because of pub­lic pro­grams like SNAP that sup­ple­ment low-income house­holds — but the two are close­ly linked. The Con­gres­sion­al Bud­get Office esti­mates that the car­bon foot­print of the top quin­tile is over three times that of the bot­tom. Even in rel­a­tive­ly egal­i­tar­i­an Cana­da, the top income decile has a mobil­i­ty foot­print nine times that of the low­est, a con­sumer goods foot­print four times greater, and an over­all eco­log­i­cal foot­print two-and-a-half times larg­er. Air trav­el is fre­quent­ly pegged as one of the most rapid­ly grow­ing sources of car­bon emis­sions, but it's not sim­ply because bud­get air­lines have ​"democ­ra­tized the skies" – rather, fly­ing has tru­ly explod­ed among the hyper-mobile afflu­ent. Thus in West­ern Europe, the trans­porta­tion foot­print of the top income earn­ers is 250 per­cent of that of the poor. And glob­al car­bon emis­sions are par­tic­u­lar­ly uneven: the top five hun­dred mil­lion peo­ple by income, com­pris­ing about 8 per­cent of glob­al pop­u­la­tion, are respon­si­ble for 50 per­cent of all emis­sions. It's a tru­ly glob­al elite, with high emit­ters present in all coun­tries of the world.
But that doesn't mean Amer­i­ca is off the hook alto­geth­er. The glob­al wealthy may con­sume far more than the rest, but glob­al con­sump­tion can't be lev­eled out by bring­ing every­one up to even West­ern medi­an lev­els; con­sump­tion in rich nations, even at rel­a­tive­ly low lev­els of income, has to decline if we're to achieve some mea­sure of glob­al equality.
For those in rich coun­tries, this sounds sus­pi­cious­ly close to an argu­ment for aus­ter­i­ty: We've been prof­li­gate, and now the bill is com­ing due. That may be eas­i­ly rec­on­ciled with more ascetic strains of envi­ron­men­tal­ism and anti-con­sumerist Left cur­rents. But for those who aren't both­ered by deca­dent con­sump­tion so much as by the fact that so few are able to enjoy it — and who are wary of recall­ing Sovi­et bread lines — the prospect of lim­it­ing con­sump­tion is deeply worrisome.
It's hard to talk about con­sump­tion with­out a whiff of mor­al­iz­ing dis­ap­proval, as if there was some­thing inher­ent­ly wrong with hav­ing nice things. So the con­dem­na­tions of con­sumer cul­ture that once occu­pied social crit­ics have large­ly fall­en out of fash­ion, seen as too Puri­tan, too patron­iz­ing, too snob­bish — and maybe even too bor­ing. We get it already.
But it's impor­tant to dis­tin­guish between dif­fer­ent types of con­sump­tion. For all the res­o­nances in the rhetoric of anti-con­sumerist envi­ron­men­tal­ism and aus­ter­i­ty, reduc­ing pub­lic con­sump­tion would actu­al­ly be an envi­ron­men­tal dis­as­ter. Reduc­tions in pub­lic goods tend to pro­duce increas­es in pri­vate con­sump­tion: Peo­ple dri­ve cars instead of tak­ing the bus, move to a house with a yard instead of going to the park, buy books and home enter­tain­ment sys­tems instead of going to libraries and muse­ums, drink bot­tled water instead of tap — if they can afford to. Those who can't just have to go without.
And while hav­ing stuff doesn't make you a mis­er­able soul­less mate­ri­al­ist, as some of the shriller anti-con­sumerist rhetoric would sug­gest, it doesn't nec­es­sar­i­ly make you hap­pi­er, either. Rather, the ​"sta­tus tread­mill" fre­quent­ly does the oppo­site: fuel­ing anx­i­ety, inad­e­qua­cy and debt under the ban­ner of democ­ra­cy and freedom.
We need to explic­it­ly shift toward work­ing less — to reori­ent the con­sump­tion-leisure trade­off towards the lat­ter on a social lev­el — and share the work that remains more even­ly. The soci­ol­o­gist Juli­et Schor says we could work four-hour days with­out any decline in the stan­dard of liv­ing; sim­i­lar­ly, the New Eco­nom­ics Foun­da­tion pro­pos­es we could get by on a 21-hour work­week. Mean­while, David Ros­nick and Mark Weis­brot sug­gest that the U.S. could cut ener­gy con­sump­tion by 20 per­cent by shift­ing to a sched­ule more like West­ern Europe's, with 35-hour work­weeks and six weeks of vaca­tion — cer­tain­ly not a panacea, but hard­ly impov­er­ish­ing for a start. In a study of indus­tri­al­ized nations over the past fifty years, Schor, Kyle Knight and Gene Rosa find that short­er work­ing hours are cor­re­lat­ed with small­er eco­log­i­cal footprints.
While mak­ing peo­ple work shit­ty jobs to ​"earn" a liv­ing has always been spite­ful, it's now start­ing to seem sui­ci­dal. So per­haps it's time to reclaim job-killing envi­ron­men­tal­ism, this time not as a project that demo­nizes work­ers, or even work — but rather, as one that rejects work done for its own sake. Instead of stig­ma­tiz­ing, crim­i­nal­iz­ing, and impris­on­ing the unem­ployed and ​"non-indus­tri­ous poor," per­haps we should see them, as David Grae­ber sug­gests, as the ​"pio­neers of a new eco­nom­ic order" — one where we all work and con­sume less, and have more time for oth­er pursuits.
In fact, address­ing envi­ron­men­tal issues sug­gests the need not only for new kinds of jobs but for new approach­es to work alto­geth­er. No work or human activ­i­ty, how­ev­er removed from ​"the land," is with­out envi­ron­men­tal impact — but some work is less mate­r­i­al-inten­sive than oth­ers. An eco­log­i­cal­ly viable future will rely on many kinds of work that are typ­i­cal­ly under­val­ued, or not con­sid­ered work at all — car­ing for peo­ple and ecosys­tems; build­ing com­mu­ni­ties; learn­ing and edu­cat­ing. This emphat­i­cal­ly doesn't mean we should all become arti­sans engaged in small-scale pro­duc­tion; to the con­trary, there are dan­gers in roman­ti­ciz­ing sup­pos­ed­ly ​"nat­ur­al" and unalien­at­ed forms of labor. Reject­ing fast food in favor of gar­den­ing and can­ning, for exam­ple, might just rein­sti­tute a toil­some régime for women; acknowl­edg­ing the prob­lems of cer­tain max­i­mal­ist projects can't mean ced­ing lib­er­a­to­ry goals. But done right, a reeval­u­a­tion of work from an eco­log­i­cal per­spec­tive could ele­vate the unpaid work of mak­ing a social, liv­able world.
Pro­pos­als to short­en the work­week are often defend­ed on the basis of giv­ing peo­ple more time for what they will — to spend time with friends, fam­i­ly, and loved ones, start a band, write a nov­el, cook a meal, and so on. But call­ing those activ­i­ties ​"leisure" dimin­ish­es their impor­tance in mak­ing a life with less stuff a worth­while and ful­fill­ing one. Like­wise, the word ​"leisure" doesn't cred­it the fact that strong com­mu­ni­ties are as impor­tant for sur­viv­ing nat­ur­al dis­as­ters as strong sea­walls. If we're pay­ing peo­ple to build the lat­ter, shouldn't we also pay them to build the former?
We need to think seri­ous­ly and expan­sive­ly about these kinds of work and val­ue — and about the real costs that ​"sus­tain­abil­i­ty" will impose on indi­vid­u­als and com­mu­ni­ties. And we need to rec­og­nize that this is a tru­ly col­lec­tive project — that indi­vid­u­al­ized, atom­ized sys­tems of work and reward are increas­ing­ly unten­able in the face of the inter­de­pen­dent tan­gle in which we're enmeshed.
How might we do that? To begin with, by divorc­ing income from con­ven­tion­al notions of pro­duc­tion, and by insti­tut­ing a social wage in the form of uni­ver­sal basic income. Basic income won't, in and of itself, solve envi­ron­men­tal prob­lems; it won't replace coal plants with solar pan­els or ease pres­sure on deplet­ed aquifers. If insti­tut­ed as a jus­ti­fi­ca­tion for cuts to oth­er social pro­grams, it would be dis­as­trous both social­ly and envi­ron­men­tal­ly; robust pub­lic ser­vices are nec­es­sary if we're to live on less. But it marks a crit­i­cal start­ing point in rethink­ing the rela­tion­ship between labor, pro­duc­tion and con­sump­tion, with­out which envi­ron­men­tal hand-wring­ing will go nowhere.
More prag­mat­i­cal­ly, in pro­vid­ing an alter­na­tive to depen­dence on destruc­tive indus­tries and remov­ing the threat of job black­mail from com­mu­ni­ties des­per­ate for liveli­hoods, it makes change a real option, giv­ing work­ers and com­mu­ni­ties more pow­er to demand pro­tec­tions against envi­ron­men­tal harms. It can start to reori­ent social focus away from an eter­nal game of con­sump­tion catch-up toward the good life.
It admit­ted­ly won't do much to curb the upper bounds of con­sump­tion, at least not right away. But it might point in that direc­tion. Envi­ron­men­tal­ists like to point to World War II for evi­dence that peo­ple will accept restric­tions on con­sump­tion for the sake of a shared cause, but the so-called Great­est Gen­er­a­tion didn't exact­ly accept rations with a patri­ot­ic grin. What that expe­ri­ence does demon­strate, how­ev­er, is that while peo­ple don't like lim­it­ing con­sump­tion under any cir­cum­stances, what they real­ly don't like is cut­ting back if every­one else isn't doing the same. That sen­ti­ment is typ­i­cal­ly mobi­lized in ser­vice of anti-wel­fare pol­i­tics: why should I have to work if some­one else just gets a check? But dur­ing the war, it went the oth­er way: More than 60 per­cent of the pop­u­la­tion sup­port­ed cap­ping incomes at $25,000 a year, a rel­a­tive­ly pal­try $315,000 today.
Of course, the post-work future has long been over the hori­zon; to pro­pose it as a solu­tion to such time-sen­si­tive prob­lems may seem wild­ly, even irre­spon­si­bly utopi­an. The rev­o­lu­tion might hap­pen in time to avoid envi­ron­men­tal cat­a­stro­phe, but we prob­a­bly shouldn't count on it, though some African cli­mate activists have put basic income grants, financed by wealthy nations' pay­ment of eco­log­i­cal debt, at the cen­ter­piece of their demands.
Even the Unit­ed States presents some inter­est­ing oppor­tu­ni­ties. One promi­nent alter­na­tive to a straight car­bon tax or cap-and-trade sys­tem is a pol­i­cy known as tax-and-div­i­dend, in which the pro­ceeds from a car­bon tax would be dis­trib­uted uncon­di­tion­al­ly to all cit­i­zens – sim­i­lar to the oil div­i­dend paid to every Alaskan res­i­dent. It's defend­ed as a com­pen­sato­ry mech­a­nism for the high­er ener­gy prices that would result from a car­bon tax; in more blunt­ly polit­i­cal terms, it func­tions as a bribe to gar­ner sup­port for a tax that would oth­er­wise be unpop­u­lar. There are plen­ty of crit­i­cisms to be lev­eled against the plan as cur­rent­ly designed, par­tic­u­lar­ly if it's con­sid­ered a stand-alone cli­mate solu­tion — indi­vid­ual div­i­dends won't main­tain lev­ees, sup­port pub­lic trans­porta­tion sys­tems, or build afford­able urban hous­ing. But it's also a poten­tial wedge into new oblig­a­tions and rela­tion­ships: the first sug­ges­tion of an uncon­di­tion­al guar­an­teed income, financed most­ly by a tax on the envi­ron­men­tal­ly destruc­tive con­sump­tion habits of the wealthy. It's an asser­tion of pub­lic own­er­ship of the atmos­phere and the stak­ing of a new claim to pub­lic resources.
Viewed as a bul­wark link­ing uncon­di­tion­al liveli­hood pro­vi­sion to envi­ron­men­tal sus­tain­abil­i­ty, it could be the begin­ning of a much larg­er project of ensur­ing decent stan­dards of liv­ing for all regard­less of pro­duc­tive input, while reclaim­ing envi­ron­men­tal com­mons from the false yet per­sis­tent nar­ra­tive of tragedy.
That may seem over­ly hope­ful about dim prospects. To be sure, it must be empha­sized that this is meant as a sug­ges­tion for a gen­er­al direc­tion rather than a pre­cise solu­tion. While we can draw ideas from past efforts to cope with envi­ron­men­tal prob­lems, there are no real prece­dents for what we now face. We're going to have to fig­ure some of this out as we go — which is anoth­er argu­ment in basic income's favor. Address­ing envi­ron­men­tal prob­lems will entail sig­nif­i­cant and wide­spread changes, yet with­out a com­mit­ment to uncon­di­tion­al social pro­vi­sion, talk of resilience, flex­i­bil­i­ty, and adap­ta­tion are all too eas­i­ly col­lapsed into jus­ti­fi­ca­tions of per­pet­u­al precarity.
Observ­ing the protests out­side the Copen­hagen cli­mate sum­mit in 2009, reflect­ing on the appar­ent ten­sion between the recog­ni­tion of lim­its cau­tioned by those claim­ing ​"there is no plan­et B" and the lim­it­less­ness implied by chants of ​"every­thing for every­one," Michael Hardt sug­gest­ed the need to ​"devel­op a pol­i­tics of the com­mon that both rec­og­nizes the real lim­its of the earth and fos­ters our unlim­it­ed cre­ative capac­i­ties — build­ing unlim­it­ed worlds on our lim­it­ed earth." Vir­ginia Woolf might seem an odd place to turn in response, but her essay A Room of One's Own, while best known as a clas­sic piece of fem­i­nist polemic, could serve just as well as a man­i­festo for such a pol­i­tics. In it, she reflects on the ​"instinct for pos­ses­sion, the rage for acqui­si­tion" which keeps ​"the stock­bro­ker and the great bar­ris­ter going indoors to make mon­ey and more mon­ey and more mon­ey when it is a fact that five hun­dred pounds a year will keep one alive in the sun­shine." With that five hun­dred pounds, she wrote, came the free­dom to think and write as she pleased. We should add a few more things to the list — uni­ver­sal health­care, a bus pass — but fig­ur­ing out what it takes to keep all sev­en-bil­lion-plus peo­ple on the plan­et alive in the sun­shine will be the fun­da­men­tal task of the twen­ty-first century.
The post-work future is often char­ac­ter­ized as a vision of a post-scarci­ty soci­ety. But the dream of free­dom from waged labor and self-real­iza­tion beyond work sud­den­ly looks less like utopia than necessity.
Find­ing ways to live lux­u­ri­ous­ly but also light­ly, ade­quate­ly but not asceti­cal­ly, won't always be easy. But per­haps in the post-post-scarci­ty soci­ety, some­where between fears of gen­er­al­ized scarci­ty and dreams of gen­er­al­ized deca­dence, we can have the things we nev­er man­aged to have in the time of sup­posed abun­dance: enough for every­one, and time for what we will.
In These Times is proud to fea­ture con­tent from Jacobin, a print quar­ter­ly that offers rad­i­cal per­spec­tives on pol­i­tics and eco­nom­ics. Sup­port Jacobin and buy a four-issue sub­scrip­tion for just $19.
Alyssa Bat­tis­toni

is a doc­tor­al can­di­date in polit­i­cal the­o­ry at Yale and an asso­ciate fac­ul­ty mem­ber at the Brook­lyn Insti­tute for Social Research. Her writ­ing has appeared in

Dis­sent, n+

1

Moth­er Jones

and

Jacobin,

where she is on the edi­to­r­i­al board.