Jobs Guarantee or Universal Basic Income? Why Not Both?
Neither is a silver bullet, but they can help us tackle inequality and climate change.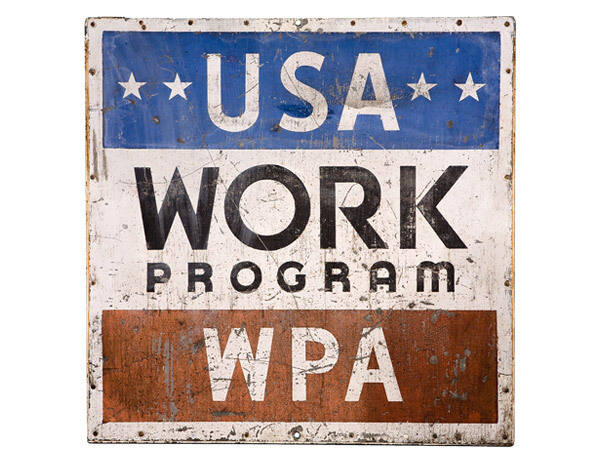 The argu­ment about a uni­ver­sal basic income (UBI) ver­sus a job guar­an­tee (JG) has become one of the liveli­est and most con­tentious debates on the Left. Each has been tout­ed as a solu­tion to all ills: the way to decrease depres­sion, close the racial wealth gap, rec­og­nize his­tor­i­cal­ly under­val­ued forms of work, trans­form the econ­o­my, save the planet.
Left-liberal energy is gathering around a job guarantee, as witnessed in recent proposals from Bernie Sanders and Cory Booker. That's reason enough to get behind it.
Though UBI and JG are typ­i­cal­ly coun­ter­posed, it's entire­ly plau­si­ble they could coex­ist. If paid work is as impor­tant to well-being as JG advo­cates say, most peo­ple would want a job even with UBI. In par­tic­u­lar, the black free­dom move­ment, from civ­il rights lead­ers to Black Lives Mat­ter, has called for both a basic income and guar­an­teed jobs.
Whether both can do all the things pro­po­nents promise — in par­tic­u­lar, the essen­tial work of tran­si­tion­ing quick­ly to a low-car­bon econ­o­my — is a dif­fer­ent, hard­er ques­tion. Whether it's pos­si­ble to achieve both is yet another.
A UBI pro­gram could actu­al­ly be a dan­ger to the cli­mate if, in dis­trib­ut­ing rev­enue from pub­licly owned resources, we rely on prof­its from destruc­tive indus­tries such as oil, as in Alas­ka. But there are alter­na­tives: a deple­tion tax on com­pa­nies that degrade so-called nat­ur­al cap­i­tal, a tax on car­bon and oth­er pol­lu­tants, or a land val­ue tax tar­get­ing large landown­ers — all of which fos­ter envi­ron­men­tal con­ser­va­tion and make pub­lic claims to nat­ur­al wealth.
I ini­tial­ly sup­port­ed UBI because sep­a­rat­ing liveli­hoods from jobs is impor­tant, not only for human well­be­ing but for break­ing an envi­ron­men­tal­ly destruc­tive growth cycle. That's where many JG pro­pos­als make me ner­vous. I have yet to see a JG pro­pos­al that doesn't promise, at least tan­gen­tial­ly, to increase growth and pro­duc­tiv­i­ty. A pro­pos­al pub­lished by the Cen­ter on Bud­get and Pol­i­cy Pri­or­i­ties, for exam­ple, sug­gests a JG would pro­duce ​"increas­es in the growth rate of GDP, and sub­stan­tial pro­duc­tiv­i­ty and capac­i­ty gains." But not all such gains are desir­able. We ought to crowd out the many jobs that are active­ly harm­ful to peo­ple, soci­ety and the envi­ron­ment, whether in fast fash­ion or Ama­zon warehouses.
Raúl and Rohan agree that we should work less in gen­er­al, and it's pos­si­ble to build work reduc­tion into a JG pro­gram. But the val­oriza­tion of work nev­er­the­less per­me­ates JG dis­course, often framed in terms of dig­ni­ty or sol­i­dar­i­ty. If the point is for every­one to con­tribute to nec­es­sary work in the spir­it of equal­i­ty and sol­i­dar­i­ty, we should be mak­ing every­one work — but no one yet has pro­posed draft­ing land­lords and the idle rich to shov­el com­post. (I'm on board.)
It is encour­ag­ing, how­ev­er, to see that many cur­rent JG advo­cates are think­ing about what con­sti­tutes low-car­bon, social­ly ben­e­fi­cial work. Econ­o­mists Stephanie Kel­ton and Pavli­na Tch­erne­va have both called for a JG ori­ent­ed around care: for peo­ple, for the plan­et and for com­mu­ni­ties. Impor­tant ques­tions remain. Could par­ents get ​"jobs" car­ing for their chil­dren? Could friends get jobs car­ing for one anoth­er? Yet the move to put care work at the heart of a cli­mate pro­gram is impor­tant. We need to move away from the work of resource-inten­sive con­sumer goods toward the work of bet­ter­ing lives, plant­i­ng trees, con­struct­ing play­grounds, mak­ing art.
Per­haps most promis­ing is the com­bi­na­tion of a JG and uni­ver­sal basic ser­vices: free and pub­licly pro­vid­ed hous­ing, trans­porta­tion, inter­net access, edu­ca­tion, health­care and oth­er neces­si­ties. Dense hous­ing and pub­lic trans­porta­tion are par­tic­u­lar­ly cru­cial to reduc­ing car­bon emis­sions in a just way.
If that sounds too good to be true, that's where pol­i­tics comes in. The most sig­nif­i­cant polit­i­cal chal­lenge for both poli­cies, of course, is that pri­vate employ­ers don't want peo­ple to have alter­na­tives to bad jobs. Real­is­ti­cal­ly, the Left doesn't have the pow­er to win both a UBI and a JG in the imme­di­ate future — par­tic­u­lar­ly at a time when unem­ploy­ment is rel­a­tive­ly low, even if bad jobs are ram­pant. So we need to be alert to the chal­lenges of actu­al­ly pass­ing some­thing, and to how our ide­al poli­cies might be dis­tort­ed in the process.
I've grown more wary of a UBI as it's increas­ing­ly cham­pi­oned by tech scions who see it as a way to throw crumbs to work­ers replaced by robots. That ver­sion of UBI, which would replace social ser­vices with lump sums of cash, isn't what I want— but of late it's been the one with more momen­tum. Sim­i­lar­ly, while left-wing JG pro­grams aren't work­fare, we need to be care­ful not to rein­force the idea that peo­ple only mat­ter if they work enough, as the Right tries to impose work require­ments on food stamps and oth­er assis­tance programs.
My hunch is that the JGU­BI debate has become so loaded in part because pass­ing any left-ish leg­is­la­tion seems hard enough right now — so peo­ple want a pol­i­cy that can do as much as pos­si­ble all at once. (I've been guilty of this myself!) But we don't need a sin­gle sil­ver bul­let: We need a strong Left move­ment. The most impor­tant prob­lem isn't which pol­i­cy looks best in the abstract, but how we build a polit­i­cal force capa­ble of win­ning a decent ver­sion of either in the short term, and then build­ing on it over time.
Left-lib­er­al ener­gy is gath­er­ing around a JG, as wit­nessed in recent pro­pos­als from Bernie Sanders and Cory Book­er. That's rea­son enough for me to get behind it, too, and to push hard for a pro­gram that will sup­port the kinds of work, from solar pan­el instal­la­tion to wet­land restora­tion to elder care, that are absolute­ly cru­cial to our sur­vival. It's also why I've spent more time dis­cussing it here. Yet, I will con­tin­ue to insist that every­one has a right to a decent life whether or not they have a job, that human dig­ni­ty does not depend on paid employ­ment, that per­pet­u­al growth is not the way to pros­per­i­ty, and that every­one should ben­e­fit from shared wealth and our shared plan­et. I hope the Left can keep both ideas in mind at once.
Alyssa Bat­tis­toni

is a doc­tor­al can­di­date in polit­i­cal the­o­ry at Yale and an asso­ciate fac­ul­ty mem­ber at the Brook­lyn Insti­tute for Social Research. Her writ­ing has appeared in

Dis­sent, n+

1

Moth­er Jones

and

Jacobin,

where she is on the edi­to­r­i­al board.