Lessons from the Original War on Coal: Class Conflict and the Fossil Economy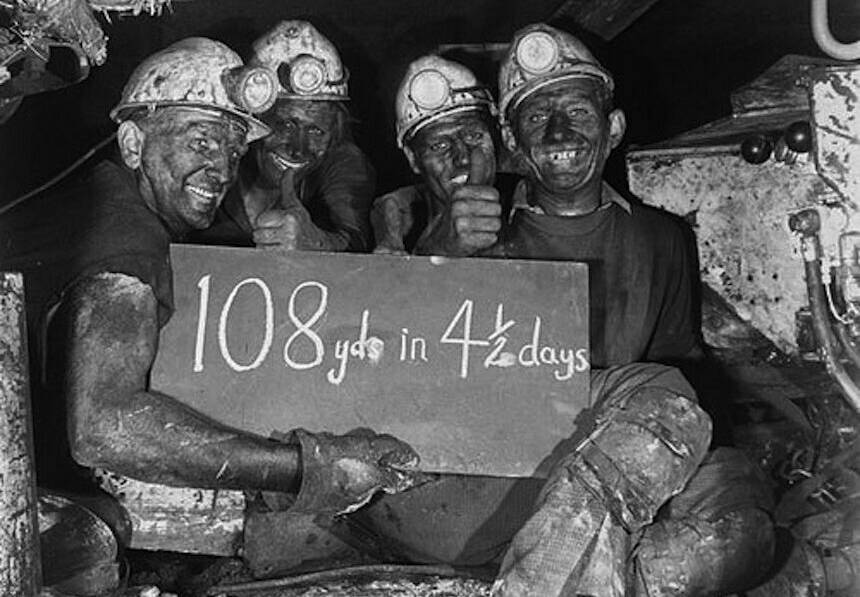 John R. Leifchild, author of Our Coal and Our Coal-Pits; The Peo­ple in Them, and the Scenes Around Them, saw in that unas­sum­ing black rock the under­pin­nings of mid-19th cen­tu­ry Britain's economy:
But could they filch our mines of coal

They'd steal our bod­ies, selves, and soul.

'Tis COAL that makes our Britain great,

Upholds our com­merce and our state.
He was one of many from that peri­od to cel­e­brate the virtues of coal — and the steam engine it pow­ered — in prose and poetry.
Today, of course, most of us are less enam­ored with coal. Min­ers still count on it for work — and for dam­age to their lungs. Smog is a severe pub­lic health threat in many areas, par­tic­u­lar­ly large Chi­nese cities. Most promi­nent­ly, the specter of cli­mate change hangs over all of us, large­ly dri­ven by car­bon diox­ide emis­sions from the burn­ing of coal.
In Fos­sil Cap­i­tal: The Rise of Steam Pow­er and the Roots of Glob­al Warm­ing, Andreas Malm seeks to deter­mine how and why coal came to uphold ​"our com­merce and our state." This is not mere­ly an aca­d­e­m­ic exer­cise: Malm hopes the ear­ly days of fos­sil pow­er might pro­vide some clues as to how the coal indus­try became the destruc­tive behe­moth it is today. If we know how the fos­sil econ­o­my came into being, he sug­gests, we might be bet­ter pre­pared to end it.
The con­ven­tion­al expla­na­tion for coal's ascen­sion, as Malm presents it, rests on clas­si­cal econ­o­mists like David Ricar­do, Thomas Malthus and Adam Smith: An increas­ing pop­u­la­tion com­bined with phys­i­cal con­straints on the land meant that only tech­no­log­i­cal advance could sus­tain eco­nom­ic growth.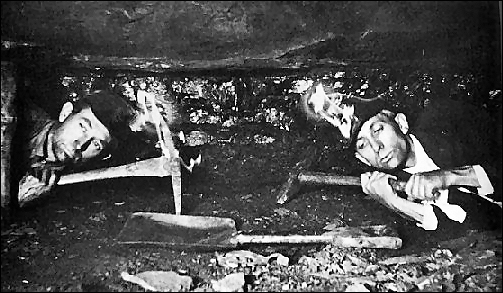 Ear­ly 19th cen­tu­ry coal min­ers. (Pho­to: Kansas His­tor­i­cal Society)
A more con­tem­po­rary take is what he calls the ​"Anthro­pocene" nar­ra­tive, refer­ring to the notion, now com­mon in the envi­ron­men­tal sci­ences, that human activ­i­ty has pushed Earth into a new geo­log­i­cal epoch. If human­i­ty writ large is framed as the prob­lem, then the expla­na­tion often becomes bio­log­i­cal, not social or cul­tur­al. Malm cites geo­g­ra­phers, lit­er­ary the­o­rists and oth­ers who attribute the rise of fos­sil fuels and accom­pa­ny­ing eco­log­i­cal destruc­tion to some fatal ten­den­cy in human nature. Some argue our species' pro­cliv­i­ty for destruc­tion has been inevitable since our ances­tors mas­tered fire.
Marx, for his part, had the­o­rized that tech­no­log­i­cal change drove social rela­tions, not the oth­er way around: ​"The hand-mill gives you soci­ety with the feu­dal lord; the steam-mill, soci­ety with the indus­tri­al capitalist."
These pic­tures, Malm argues, rely on some com­bi­na­tion of fac­tors to hold true: indus­try at the time must have been held back by envi­ron­men­tal scarci­ty; steam pow­er must have been more effi­cient than its pre­de­ces­sors, and thus the more ratio­nal choice; the tran­si­tion must have been embraced by wide swathes of soci­ety across the globe, and its ben­e­fits shared by the species at large.
None of these, accord­ing to Malm, is backed up by the his­tor­i­cal record. Instead, he argues the tran­si­tion to steam pow­er was moti­vat­ed by the abil­i­ty to con­trol labor. Ther­mo­dy­nam­ic pow­er and social pow­er are linked: ​"the pow­er derived from fos­sil fuels was dual in mean­ing and nature from the very start," he (Malm) writes.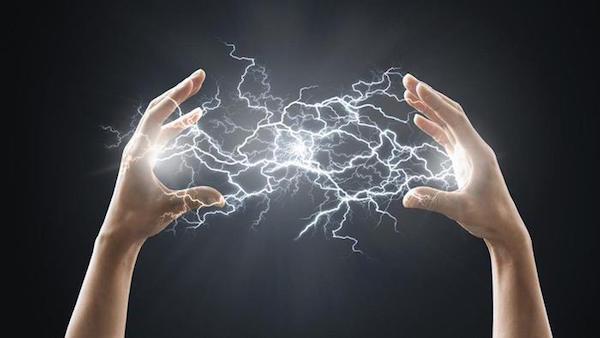 (Image: Yagi Stu­dio / Get­ty Images)
The book might at times be over­ly harsh towards the clas­si­cal econ­o­mists and the Anthro­pocenists, often reduc­ing their argu­ments to their most sim­plis­tic form, where they are quite eas­i­ly torn apart. For exam­ple, his cri­tique of the Anthro­pocene con­cept (sum­ma­rized in a March 2015 Jacobin arti­cle) ignores the myr­i­ad eco­log­i­cal dis­rup­tions beyond those caused by fos­sil fuel com­bus­tion, some of which pre­date or exist out­side of con­ven­tion­al labor-cap­i­tal rela­tions. His cri­tique might still prove to be valid, but as it stands it is incomplete.
But even if he is unfair, this does not take away from his cen­tral the­sis: His thor­ough account of the switch to steam shows quite con­vinc­ing­ly that coal did not make Britain great for every­one, and the tran­si­tion was root­ed not in tech­no­log­i­cal supe­ri­or­i­ty or envi­ron­men­tal scarci­ty but in good old fash­ioned class conflict.
Time, space and labor
Most of the book takes place in 19th cen­tu­ry Britain, where James Watt's steam engine com­petes with water wheels to be the pri­ma­ry pow­er source for cot­ton mills. Malm sets this up as a bat­tle between ​"flow" — run­ning water, acces­si­ble to all and inex­haustible — and ​"stock" — coal, which is finite and must be dug up.
At the out­set, this wasn't much of a com­pe­ti­tion: water was sig­nif­i­cant­ly cheap­er and real estate along rivers remained plentiful.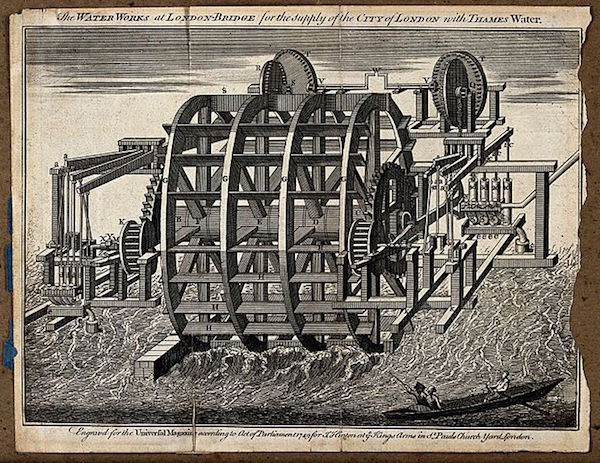 A water wheel on the riv­er Thames. (Image: Wikipedia)
But there were two major prob­lems; time and space.
First, water was incon­sis­tent: Floods or droughts could con­strain when the mill could oper­ate. This had long been a part of doing busi­ness, and mill own­ers had a sim­ple strat­e­gy to deal with it. To make up for lost time, labor­ers would be made to work overtime.
Steam pow­er changed the game — it could be steady and con­stant, run­ning for pre­cise­ly as long as you want­ed it to. But that might not have been enough if it weren't for changes in labor laws, brought about not through the vote (the work­ing class­es did not yet have that) but through mil­i­tan­cy and strike. Lim­its were even­tu­al­ly placed on how long one could be forced to work per day, which made it more dif­fi­cult for mills to catch up after setbacks.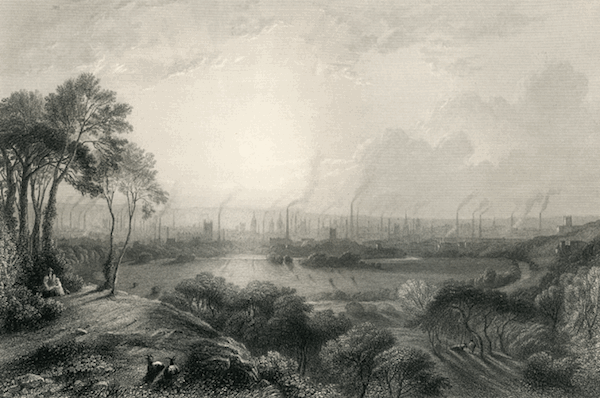 An Edward Goodall (1795−1870) engrav­ing, com­mis­sioned by Queen Vic­to­ria in 1852, depicts a chang­ing land­scape. (Print col­lec­tion of Mag­gie Land Balnck)
Mechan­ic Robert Thom devised a strat­e­gy — a sys­tem of dams, reser­voirs, aque­ducts and sluices — to over­come the river's tem­pera­ment, to keep the flow steady and depend­able across a giv­en region. Where imple­ment­ed, his sys­tem was suc­cess­ful, but it failed to take off. Here the vil­lain was not labor but the obsti­na­cy of the mill own­ers themselves.
Thom's com­plex designs required shared ini­tial invest­ments, yet the mills far­ther down the riv­er would ben­e­fit less. His sys­tem was still cheap­er than steam, but own­ers often found them­selves unable or unwill­ing to cooperate.
Anoth­er draw­back of water­wheels is the obvi­ous fact that they must remain along rivers. Coal was by nature more mobile, but again, this would not have become such an advan­tage if it weren't for the volatile labor unrest.
As Britain's pop­u­la­tion — and thus its labor force — grew more con­cen­trat­ed in a few urban cen­ters, these cen­ters became attrac­tive places to set up a cot­ton mill. In rur­al sites, labor was scarce, and hous­ing, schools and church­es had to be built from the ground up, gen­er­al­ly at the mill owner's expense. And cru­cial­ly, in this time of eco­nom­ic cri­sis and labor unrest, rur­al areas offered no ready sup­ply of strikebreakers.
The oppo­site was true in cities, which came ready with infra­struc­ture and peo­ple look­ing for work. Fear of the work­ing class­es was ram­pant among the prop­er­tied, and the steam engine offered a means of control.
[If you like what you are read­ing, help us spread the word. ​

"

Like" Rur­al Amer­i­ca In These Times on Face­book. Click on the ​

"

Like Page" but­ton below the wolf on the upper right of your screen.]
And while Malm could have explored this idea more ful­ly, he hints that the steam engine also allowed for a break with the phys­i­cal non­hu­man world, from sea­son­al cycles and the con­tours of the land­scape itself. Coal does not dry up in drought or flood the fac­to­ry in heavy rains. A steam engine can run faster or slow­er at the boss's dis­cre­tion, and steam-pow­ered mills need not be built along a riverbank.
Coal may be a phys­i­cal object that must be mined and trans­port­ed, but it lacks the auton­o­my of a riv­er. This was not lost on the mill own­ers of the day, and allowed them to enforce more reg­u­lar and reg­i­ment­ed work hours, and to build up urban cen­ters divorced from the rur­al ter­rain. The con­quest of human labor went hand in hand with the con­quest of the non­hu­man world, with lib­er­a­tion from uncon­trol­lable eco­log­i­cal processes.
Nature out of fashion
The cap­i­tal­ists knew pre­cise­ly that they had steam to thank for their emer­gence from the eco­nom­ic cri­sis, while labor knew they had steam to blame.
As men like Leifchild sang the prais­es of coal, the work­ers' paper North­ern Star saw things dif­fer­ent­ly: ​"So far from the dis­cov­ery of Watt being an unmixed good, it has been to mil­lions an unmixed evil." Malm writes that steam was ​"fetishized" by the cap­i­tal­ists, but ​"demo­nized" by workers.
They called it ​"a ruth­less King," ​"a tyrant fell;" they wrote dystopi­an fic­tion in which ​"veg­etable nature had ceased to exist," ​"ani­mal life appeared to be extinct," ​"Nature was out of fash­ion," all because steam-pow­ered machines now filled the world, black­ing out the sun with smoke.
Friedrich Engels observed that work­ers ​"are drawn into the large cities where they breathe a poor­er atmos­phere than in the coun­try." The steam engine raised the tem­per­a­ture inside of fac­to­ries, and prophet­ic themes of air pol­lu­tion and heat were com­mon in work­er writing.
The most mil­i­tant labor upris­ings tar­get­ed steam engines, inca­pac­i­tat­ing them to bring indus­try to a halt. Amidst the riots, an anony­mous plac­ard direct­ed work­ers; ​"Stop get­ting Coal, for Coal sup­ports the mon­ey-mon­ger­ing Capitalists."
Sus­tain­abil­i­ty and polit­i­cal will
Despite these protests, coal pow­er won out and became an inte­gral part of eco­nom­ic expan­sion in Britain and else­where. In the Unit­ed States, as Malm doc­u­ments, urban­iza­tion occurred lat­er in the 19th cen­tu­ry, and was like­wise fol­lowed by a turn to the steam engine.
Today, as many devel­oped coun­tries switch to gas or renew­ables, Chi­na has become the new ​"chim­ney of the world," writes Malm. Coal pow­er blos­somed in Chi­na large­ly because for­eign cor­po­ra­tions took their man­u­fac­tur­ing there, pri­mar­i­ly moti­vat­ed not by cheap, plen­ti­ful ener­gy but by cheap, plen­ti­ful labor. Once again, he argues, the desire for con­trol­lable work­ers has led to an increas­ing­ly fos­silized economy.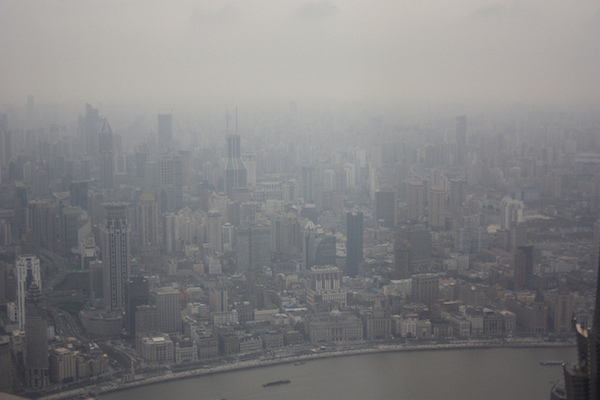 Accord­ing to a World Bank study, only one per­cent of Chi­na's 560 mil­lion city dwellers breath air con­sid­ered safe by Euro­pean Union stan­dards. (Pho­to: Leo Fung / Flickr)
The blame is not all China's. Malm makes the point — too often ignored in con­tem­po­rary cli­mate dis­course — that while Chi­na may be the largest emit­ter, much of those emis­sions are from man­u­fac­tur­ing worth­less non­sense that is then export­ed to devel­oped nations. The Unit­ed States and Europe, which now import goods from Chi­na (and oth­er coal-pow­ered coun­tries with lax labor stan­dards), can lim­it their man­u­fac­tur­ing and start to look like they're get­ting a han­dle on emis­sions. Mean­while Chi­na is framed as the cli­mate cul­prit, and their peo­ple suf­fo­cate in smog. The West off­shores far more than just jobs.
Malm sees his­to­ry repeat­ing itself else­where: Sun and wind fit the ​"flow" pro­file of water, and many of the same argu­ments for and against apply. Light and air are our com­mons, and thus dif­fi­cult to prof­it from, despite or because of their ubiq­ui­ty. Their pow­er can be inter­mit­tent, less con­stant than fos­sil fuels. The large-scale renew­able ener­gy projects that might pro­vide some­thing stead­ier are dif­fi­cult to orga­nize, evok­ing the inter-cap­i­tal­ist squab­bling over Thom's sluice schemes.
Malm dis­cuss­es decen­tral­ized local ener­gy pro­duc­tion and large-scale plan­ning as poten­tial solu­tions. While he finds the lat­ter more plau­si­ble, both would require a change in val­ues. If the pri­ma­cy of fos­sil fuels is root­ed in pow­er over labor and dis­junc­ture from the rest of the Earth sys­tem, then its solu­tion might be some­thing a lit­tle more com­mu­nal, less behold­en to the ethos of competition.
Specif­i­cal­ly, he offers the work of Stan­ford researcher Mark Jacob­son and UC Davis researcher Mark Deluc­chi to show that with enough effort, a ful­ly renew­able glob­al ener­gy sys­tem is pos­si­ble — what's need­ed is polit­i­cal will.
Through the goods we buy — the cars we dri­ve, the planes we fly — we are deeply con­nect­ed to the fos­sil econ­o­my, he argues, and that con­nec­tion is rein­forced with every pur­chase. But the ben­e­fits are dis­trib­uted dis­pro­por­tion­ate­ly, shared most­ly by the largest con­sumers and those share­hold­ers and exec­u­tives who reap the prof­its. The rest of us, Malm points out, the vast major­i­ty, are not tied to the sta­tus quo in the same way, and in fact stand to suf­fer great­ly should cli­mate change con­tin­ue to intensify.
He has no blue­print for achiev­ing the nec­es­sary polit­i­cal change — per­haps that would be ask­ing too much. But it's clear to me that we no longer live in the Britain of 1842. The Fight for $15 may be reju­ve­nat­ing America's labor move­ment, but there are no gen­er­al strikes against fos­sil fuels, no march­ing work­ers dis­abling steam engines. Those employed by the coal indus­try are skep­ti­cal of the tran­si­tion to renew­ables, wor­ried it could cost them their livelihoods.
Yet there is grounds for hope. Diverse coali­tions — includ­ing work­ing peo­ple, labor groups and (increas­ing­ly) entire com­mu­ni­ties—have sprung up to block pipelines, arc­tic drilling and oth­er expan­sions of fos­sil fuel infra­struc­ture. And to those jus­ti­fi­ably skep­ti­cal, the case can be made that tear­ing down that infra­struc­ture and build­ing a new one, the nec­es­sary task we have ahead of us, is going to take a lot of work.
So Malm leaves us with an injunc­tion — one bor­rowed from riot­ing labor­ers of near­ly two cen­turies ago, labor­ers who near­ly stopped the fos­sil econ­o­my before it even began: ​"Go and stop the smoke!"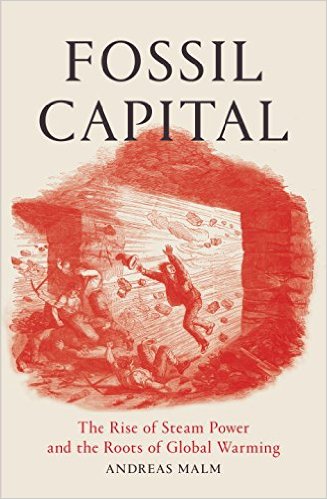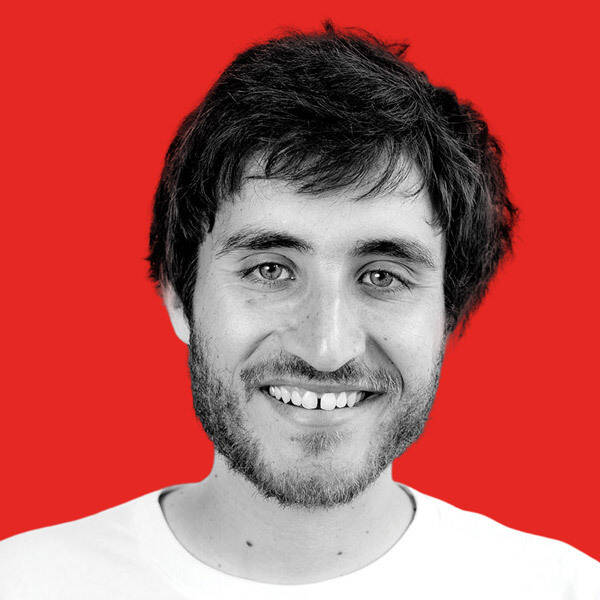 Day­ton Mar­tin­dale is a free­lance writer and for­mer asso­ciate edi­tor at In These Times. His work has also appeared in Boston Review, Earth Island Jour­nal, Har­bin­ger and The Next Sys­tem Project. Fol­low him on Twit­ter: @DaytonRMartind.