How the U.S. Government Has Used 9/11 to Criminalize People of Color
In the 15 years since the attacks, heightened surveillance and security have cracked down on Muslims and immigrants.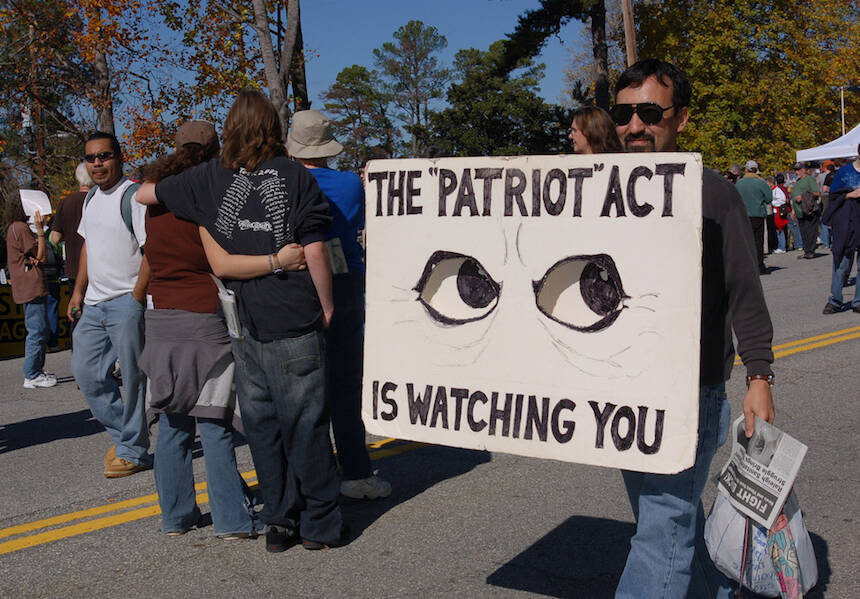 "Do you have any prej­u­dice against Mus­lims?" We heard the judge ask a set of ques­tions to each poten­tial juror. To this inquiry, one mid­dle aged white woman said, ​"Yes." Judge William Duf­fey Jr. asked her to elab­o­rate. ​"I'm afraid of them. They want to hurt us." A for­mer law enforce­ment agent also answered yes to that ques­tion. Both were cho­sen to sit on the jury at Ehsan­ul ​"Shi­fa" Sadequee's tri­al in August 2009.
These broad surveillance tactics have a direct impact on communities. The Muslim Community Association of Ann Arbor, for example, has reported that their members have become less active within the community, and that attendance has dropped at prayers.
Sad­e­quee was con­vict­ed of four counts of con­spir­ing and attempt­ing to sup­port ter­ror­ists and a for­eign ter­ror­ist orga­ni­za­tion. He did not pro­vide mate­r­i­al sup­port to ter­ror­ist groups. He did not com­mit any acts of vio­lence. A few online con­ver­sa­tions, trans­la­tions of Islam­ic texts, a video record­ing of Wash­ing­ton, D.C., land­marks, and paint­ball trips in the Geor­gia woods were pre­sent­ed as evi­dence to prove the poten­tial of intent to pro­vide sup­port to a ter­ror­ist-iden­ti­fied group. The max­i­mum sen­tence was 60 years in fed­er­al prison. The jury took less than sev­en hours to find him guilty. The judge sen­tenced him to 17 years in fed­er­al prison and 30 years sur­veil­lance, once released.
Atlanta-based orga­niz­ers packed the cour­t­house every day of the tri­al with inter­gen­er­a­tional, mul­tira­cial and mul­ti-faith com­mu­ni­ty mem­bers, legal advo­cates and sup­port­ers. We made sure Sadequee's sis­ters and moth­er were inter­viewed and quot­ed in as much main­stream media cov­er­age as pos­si­ble. We attempt­ed to restore a sense of Sadequee's human­i­ty to the pub­lic, who wit­nessed this tri­al unfold in the news­pa­pers and radio broad­casts in Atlanta. After Sad­e­quee had endured three-and-a-half years of tor­tur­ous soli­tary con­fine­ment before tri­al, we under­stood the lighter sen­tenc­ing was a sad vic­to­ry of sorts. But we had not won anything.
Sev­er­al of us stood in the hall­way when the jurors left their delib­er­a­tion cham­bers. One of the women said, ​"I wish we could have giv­en him the death penal­ty," and then got in the elevator.
Sad­e­quee is just one vic­tim of pre­emp­tive pros­e­cu­tion, in which loose appli­ca­tion of con­spir­a­cy or mate­r­i­al sup­port laws, or oth­er, sim­i­lar tac­tics, are used to tar­get indi­vid­u­als before any real harm has been com­mit­ted. After 9⁄11, pre­emp­tive pros­e­cu­tion has been used to pros­e­cute indi­vid­u­als whose beliefs, ide­olo­gies or reli­gious affil­i­a­tions raise con­cerns for the gov­ern­ment. In the 15 years since the 9⁄11 attacks, the gov­ern­ment has used pre­emp­tive pros­e­cu­tion lib­er­al­ly to root out domes­tic, ​"home­grown" terrorism.
Sad­e­quee and his co-defen­dant, Haris Ahmed, rep­re­sent col­lat­er­al dam­age in the pro­tract­ed and ambigu­ous War on Ter­ror. This case and oth­ers like it also rep­re­sent a recon­fig­u­ra­tion of legal frame­works to attack peo­ple of col­or, Mus­lims, immi­grants and polit­i­cal dis­senters based on pros­e­cu­tion before a crime is com­mit­ted. We must under­stand and con­tend with these new legal frame­works in order to pro­tect basic human rights and also to pro­tect social move­ments' capac­i­ty to oppose injustice.
The threat of ter­ror­ism has jus­ti­fied deten­tion, incar­cer­a­tion and mass sur­veil­lance. Post‑9/​11, hun­dreds of Mus­lims, South Asians and Arab com­mu­ni­ty mem­bers were detained and inves­ti­gat­ed in con­nec­tion with the attacks. Eight men arrest­ed on immi­gra­tion charges, who were then detained as sus­pect­ed ter­ror­ists, filed a class-action law­suit on behalf of them­selves and their fel­low detainees alleg­ing they were held based sole­ly on their reli­gion, race, eth­nic­i­ty and immi­gra­tion sta­tus. These indi­vid­u­als were beat­en and suf­fered ver­bal abuse whilst in deten­tion and were deprived of sleep and con­tact with the out­side world. Their right to prac­tice their reli­gion was also vio­lat­ed. Not one of them was charged with ter­ror­ism. Their law­suit against Bush admin­is­tra­tion offi­cials was rein­stat­ed by the Sec­ond Cir­cuit in June 2015.
The USA PATRI­OT Act changed sur­veil­lance laws to make it eas­i­er for the U.S. gov­ern­ment to obtain per­son­al infor­ma­tion with­out checks and bal­ances. FBI agents can use Sec­tion 505A of the Act to obtain per­son­al infor­ma­tion such as phone records, com­put­er records, cred­it his­to­ry and bank­ing infor­ma­tion on the basis of Nation­al Secu­ri­ty Let­ters (NSLs), which are sim­i­lar to sub­poe­nas. The NSLs do not require judi­cial approval; there­fore no check is in place on how the FBI gath­ers and uses per­son­al infor­ma­tion. From 2003 until 2005, the FBI issued 143,074 NSLs, from which there were only 53 report­ed crim­i­nal refer­rals to pros­e­cu­tors. The USA PATRI­OT Act also allows for ​"Sneak and Peak" search­es in peo­ples' homes or offices. Even under the sec­tions of the USA PATRI­OT Act that require judi­cial autho­riza­tion, the Act only requires that FBI agents spec­i­fy that their request is relat­ed to a for­eign intel­li­gence inves­ti­ga­tion. This makes the judi­cial review require­ment more of a for­mal­i­ty than actu­al mean­ing­ful oversight.
These broad sur­veil­lance tac­tics have a direct impact on com­mu­ni­ties. The Mus­lim Com­mu­ni­ty Asso­ci­a­tion of Ann Arbor, for exam­ple, has report­ed that their mem­bers have become less active with­in the com­mu­ni­ty, and that atten­dance has dropped at prayers. They and mul­ti­ple oth­er asso­ci­a­tions, such as the Islam­ic Cen­ter of Port­land, have also expressed con­cern that the gov­ern­ment could be using the Patri­ot Act to tar­get their mem­bers for inves­ti­ga­tion, and said that this has inhib­it­ed the reli­gious and polit­i­cal expres­sion of their members.
The Attor­ney Gen­er­al guide­lines in 2008 also autho­rized ​"domain man­age­ment assess­ments" which allow the FBI to map out com­mu­ni­ties across Amer­i­ca by race and eth­nic­i­ty, using crude stereo­types to hypoth­e­size about the crimes they are believed to be like­ly to commit.
Along­side the rise in the government's abil­i­ty to mon­i­tor peo­ple, Mus­lims in Amer­i­ca have seen a rise in pre­emp­tive pros­e­cu­tions. After 9⁄11, the FBI began to tar­get Mus­lims and con­vict them of con­spir­a­cy and mate­r­i­al sup­port on what a Human Rights Watch report says is weak evi­dence. The FBI also entrapped tar­gets by using paid agents provo­ca­teurs. The gov­ern­ment fur­ther pros­e­cut­ed tar­gets for non-ter­ror­ism-relat­ed crimes that they would have oth­er­wise not pri­or­i­tized. Accord­ing to a report by Project SALAM, a legal advo­ca­cy group focus­ing on post‑9/​11 pros­e­cu­tions of Mus­lims, tri­als often fea­tured ​"exces­sive secu­ri­ty, … ques­tion­able gov­ern­men­tal ​'experts,' mis­trans­la­tions and mis­char­ac­ter­i­za­tions of the defen­dants' words and oth­er unfair tac­tics." Out of the 399 ter­ror­ism pros­e­cu­tions by the Depart­ment of Jus­tice between 2001 and 2010, the num­ber of pre­emp­tive pros­e­cu­tion charges, accord­ing to the report, was 289.
Once peo­ple are tried and con­vict­ed, they enter the prison sys­tem and expe­ri­ence the hor­rif­ic con­di­tions that have been dete­ri­o­rat­ing over the last sev­er­al decades of the mass incar­cer­a­tion cri­sis. The Fed­er­al Bureau of Pris­ons cre­at­ed Com­mu­ni­ca­tions Man­age­ment Units, one in 2006 and one in 2008, used to iso­late and seg­re­gate spe­cif­ic impris­oned indi­vid­u­als from the rest of the prison pop­u­la­tion. In 2010, there were between 60 to 70 pris­on­ers in Com­mu­ni­ca­tions Man­age­ment Units, with over two-thirds of that pop­u­la­tion being Mus­lim, despite Mus­lims only rep­re­sent­ing 6 per­cent of the gen­er­al fed­er­al prison pop­u­la­tion. Short­ly after his con­vic­tion sev­en years ago, Sad­e­quee was sent to a Com­mu­ni­ca­tions Man­age­ment Unit in a fed­er­al prison (he was final­ly moved ear­li­er this year).
Polit­i­cal and eco­nom­ic incen­tives dri­ve the effort to man­u­fac­ture these crimes and estab­lish legal frame­works for mass incar­cer­a­tion, even when, as in Sadequee's case, there is lit­tle to no evi­dence of wrong­do­ing. In order to jus­ti­fy inor­di­nate spend­ing on the mas­sive Home­land Secu­ri­ty appa­ra­tus, over-sur­veil­lance is base­line and new sus­pects are con­struct­ed through pre­emp­tive pros­e­cu­tion strategies.
It's not just pre­emp­tive pros­e­cu­tion: Since 9⁄11, the fed­er­al gov­ern­ment has tight­ened the secu­ri­ty appa­ra­tus on immi­grants, too. In 2005, the U.S. gov­ern­ment start­ed imple­ment­ing Oper­a­tion Stream­line. Oper­a­tion Stream­line, which sub­jects cap­tured indi­vid­u­als who have crossed the bor­der with­out autho­riza­tion to crim­i­nal pros­e­cu­tion before they are deport­ed. In 2002, pri­or to Oper­a­tion Stream­line, there were 11,000 pros­e­cu­tions for unlaw­ful entry and re-entry, com­pared to 2012, when there were 85,000 pros­e­cu­tions. Oper­a­tion Stream­line has had a dis­pro­por­tion­ate impact on Lati­nos, and 88 per­cent of con­vict­ed defen­dants have been His­pan­ic. The tri­als often involve many short­cuts to due process require­ments; a sin­gle pro­ceed­ing may include any­where from two dozen to over 100 indi­vid­u­als. They often end up with a guilty plea from defen­dants, most of whom have no pri­or crim­i­nal record, but become crim­i­nal­ized as a result of this process and have a high­er like­li­hood of future U.S. prosecutions.
Between 2005 and 2012, the U.S. gov­ern­ment spent an esti­mat­ed $5.5 bil­lion incar­cer­at­ing undoc­u­ment­ed immi­grants in addi­tion to those detained in the civ­il immi­gra­tion sys­tem. This has been huge­ly prof­itable to the pri­vate prison indus­try, with just two pri­vate prison com­pa­nies exceed­ing $1.4 bil­lion in rev­enue from the fed­er­al gov­ern­ment in 2011. The recent announce­ment by the Depart­ment of Jus­tice on cut­ting ties with prison cor­po­ra­tions is a pos­i­tive step for­ward, but the Depart­ment of Home­land Secu­ri­ty — found­ed a year after 9⁄11 — which is in charge of civ­il deten­tion of immi­grants—con­tin­ues to deal with them. Indeed, 62% of detained immi­grants are in facil­i­ties oper­at­ed by cor­po­ra­tions. Per a recent announce­ment from DHS Sec­re­tary Jeh John­son, DHS will be review­ing its reliance on pri­vate prison cor­po­ra­tions as well.
Like the ongo­ing War on Drugs, which con­tin­ues to dis­pro­por­tion­ate­ly lock up Black and Lati­no Amer­i­cans, the War on Ter­ror and the grow­ing war on immi­grants use tac­tics of iso­la­tion, sur­veil­lance and a false nar­ra­tive of crime and jus­tice to crim­i­nal­ize peo­ple of col­or. Incar­cer­a­tion, deten­tion and depor­ta­tion sep­a­rate fam­i­lies and cul­ti­vate fear with­in com­mu­ni­ties. Fab­ri­cat­ed notions about nation­al secu­ri­ty, exploit­ed polit­i­cal­ly in the wake of 9⁄11, jus­ti­fy increased sur­veil­lance and track­ing. Drug use is con­sid­ered a crime rather than a pub­lic health issue; migra­tion is con­sid­ered ille­gal rather than a glob­al pat­tern relat­ed to pover­ty, cli­mate dis­as­ters, and wars and insta­bil­i­ty often insti­gat­ed by West­ern pow­ers; and prac­tic­ing your faith (if that faith is Islam) is con­sid­ered a threat to pub­lic safety.
Our legal sys­tem is being rewired to police symp­toms of pover­ty, and even thought. This legal rewiring is racial­ly biased and polit­i­cal­ly moti­vat­ed to cre­ate frame­works that allow for broad abus­es that can be applied to any ide­ol­o­gy or social group.
In the cur­rent polit­i­cal cli­mate, in which pres­i­den­tial can­di­dates express explic­it racial hos­til­i­ty, Islam­o­pho­bia man­i­fests as more than hate­ful lan­guage. In Geor­gia, for exam­ple, Mus­lims have been blocked from build­ing a mosque and ceme­tery in New­ton Coun­ty after Islam­o­pho­bic com­mu­ni­ty back­lash.
The con­nec­tions between the ways in which dif­fer­ent com­mu­ni­ties are attacked offer oppor­tu­ni­ties for greater col­lab­o­ra­tion through shared expe­ri­ences. Mul­ti-racial orga­niz­ing strate­gies bring togeth­er com­mu­ni­ties fac­ing sim­i­lar prob­lems from a vari­ety of per­spec­tives and posi­tions. The Bar­rio Defense Com­mit­tee mod­els in Lati­no and U.S./Mexico bor­der com­mu­ni­ties orga­nize to pro­vide sup­port, pro­tec­tion and com­mu­ni­ca­tion through exist­ing fam­i­ly struc­tures, schools, church­es and sports teams. These strate­gies can inform orga­niz­ing efforts in Black com­mu­ni­ties to address police check­points. Move­ments to address the impact of counter-ter­ror­ism are suc­cess­ful when orga­ni­za­tions col­lab­o­rate as mul­tira­cial and mul­ti-faith alliances.
Fif­teen years after 9⁄11 and ten years after Sad­e­quee was kid­napped off the streets in Bangladesh to be tried in U.S. fed­er­al courts, social move­ments in the Unit­ed States have an oppor­tu­ni­ty to reflect on the ways that counter-ter­ror­ism has altered the polit­i­cal land­scape. The con­cern that cross­es reli­gion, race and ide­ol­o­gy remains that in this era, ​"ter­ror­ism" can be legal­ly defined and rede­fined to include any­one chal­leng­ing police bru­tal­i­ty, state poli­cies or rep­re­sen­ta­tives of the state.
Less than a year ago, we entered a coun­ty cour­t­house in Geor­gia where a Black woman was arrest­ed on ter­ror­ist charges based on videos she post­ed online address­ing police shoot­ings of Black peo­ple. The pros­e­cu­tion argued that the videos, which includ­ed angry state­ments against the police, aimed to gal­va­nize view­ers to vio­lent action. Many, includ­ing Sad­e­quee's fam­i­ly, ral­lied to sup­port her and to draw con­nec­tions from the bloat­ed War on Ter­ror bud­get to the increase in pre­emp­tive tar­get­ing of those express­ing dis­sent. If we allow these cas­es to be tried indi­vid­u­al­ly in the courts and in the media, we will lose a sys­temic bat­tle for civ­il lib­er­ties and social free­dom. When we make the con­nec­tions across issues and com­mu­ni­ties, we can break the iso­la­tion and build a stronger long-haul move­ment for social justice.
Since the time of Sadequee's tri­al, more and more Mus­lim fam­i­lies have orga­nized despite the fear and stig­ma. Orga­ni­za­tions are inves­ti­gat­ing pat­terns of pre­emp­tive pros­e­cu­tion, com­mu­ni­ties are align­ing with peo­ple accused of ​"ter­ror­ism," pack­ing cour­t­hous­es and using media out­lets to ensure trans­paren­cy and support.
Fam­i­lies and orga­ni­za­tions have had to fight these cas­es one by one, with many loss­es to our com­mu­ni­ty bonds and loved ones, but we are also learn­ing from tac­tics of the War on Ter­ror, the War on Immi­grants and the War on Drugs to resist sur­veil­lance, crim­i­nal deten­tion and pre­emp­tive pros­e­cu­tion. We are craft­ing stronger strate­gies based on a more com­pre­hen­sive analy­sis of the sit­u­a­tion. Com­mu­ni­ties are called to speak up when we see pre­emp­tive pros­e­cu­tion in any form, to ana­lyze com­plex and hor­ri­fy­ing sit­u­a­tions like the Orlan­do shoot­ing before jump­ing to con­clu­sions about Islam and to orga­nize and learn across our differences.
We are orga­niz­ing for imme­di­ate wins on the leg­isla­tive and legal fronts, and we are build­ing a world that pro­tects all peo­ple against fear, hate and vio­lence. When we come togeth­er, we are stronger.
Azadeh Shahsha­hani is Legal
&
Advo­ca­cy Direc­tor with Project South and a past pres­i­dent of the Nation­al Lawyers Guild. Stephanie Guil­loud is Co-Direc­tor of Project South.