How To Sell a War
The Rendon Group deploys 'perception management' in the war on Iraq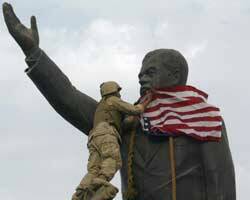 As U.S. tanks stormed into Bagh­dad on April 9, tele­vi­sion view­ers in the Unit­ed States got their first feel-good moment of the war – a chance to wit­ness the top­pling of a giant stat­ue of Iraqi dic­ta­tor Sad­dam Hussein.
Amer­i­cans chan­nel-flip­ping over break­fast between Fox, CNN and CBS all saw the same images, broad­cast live from Baghdad's Fir­dos Square. For those who missed it in the morn­ing, the images were con­tin­u­al­ly replayed on cable news through­out the day, and news­pa­pers car­ried front-page col­or photos.
A crowd of jubi­lant Iraqis had climbed onto the stat­ue, thrown a noose around its neck and tried to pull it down. A man with a sledge­ham­mer began pound­ing at its con­crete base. Oth­ers took turns, but the stat­ue was too big and the base too mas­sive, so the U.S. marines moved in with an armored vehi­cle and a chain. Saddam's stat­ue first bent from its pedestal and then snapped com­plete­ly, to roars of approval from the crowd, which surged for­ward to stomp on its remains, kick­ing and spit­ting on the rub­ble. Whoop­ing, they dragged its head through the street.
Media com­men­ta­tors were quick to assign icon­ic sig­nif­i­cance to the statue's tum­ble, rank­ing it along­side the fall of the Berlin Wall, the pro­test­ers fac­ing down tanks at Tianan­men Square, and oth­er great events caught on TV.
NBC's Tom Brokaw com­pared the event to ​"all the stat­ues of Lenin [that] came down all across the Sovi­et Union."
​"Iraqis Cel­e­brate in Bagh­dad," report­ed the Wash­ing­ton Post.
​"Jubi­lant Iraqis Swarm the Streets of Cap­i­tal," said the head­line in the New York Times.
​"It was lib­er­a­tion day in Bagh­dad," pro­claimed the Boston Globe.
​"If you don't have goose bumps now," gushed Fox News anchor David Asman, ​"you will nev­er have them in your life."
The prob­lem is that the images of top­pling stat­ues and exult­ing Iraqis, to which Amer­i­can audi­ences were repeat­ed­ly exposed, obscured a larg­er real­i­ty. A Reuters long-shot pho­to of Fir­dos Square showed that it was near­ly emp­ty, ringed by U.S. tanks and marines who had moved in to seal off the square before admit­ting the Iraqis. A BBC pho­to sequence of the statue's top­pling also showed a sparse crowd of approx­i­mate­ly 200 peo­ple – much small­er than the demon­stra­tions only nine days lat­er, when thou­sands of Iraqis took to the streets of Bagh­dad call­ing for U.S.-led forces to leave the city. Los Ange­les Times reporter John Daniszews­ki, who was on the scene to wit­ness the statue's fall, caught an aspect of the day's events that the oth­er reporters missed. Most Iraqis were indeed glad to see Sad­dam go, he wrote, but he spoke near the scene with Iraqi busi­ness­man Jar­rir Abdel-Ker­im, who warned that Amer­i­cans should not be deceived by the images they were seeing.
​"A lot of peo­ple are angry at Amer­i­ca," Abdel-Ker­im said. ​"Look how many peo­ple they killed. Today I saw some peo­ple break­ing this mon­u­ment, but there were peo­ple – men and women – who stood there and said in Ara­bic: ​'Screw Amer­i­ca, screw Bush.' So all this is not a sim­ple situation."
Per­cep­tion Management
The visu­al images, of course, are what most peo­ple will remem­ber. But it is worth ask­ing whether the top­pling of Sad­dam was as spon­ta­neous as it was made to appear. If this scene seemed a bit too pic­ture-per­fect, per­haps there is a rea­son. Con­sid­er, for exam­ple, the remarks that pub­lic rela­tions con­sul­tant John Ren­don – who, dur­ing the past decade, has worked exten­sive­ly on Iraq for the Pen­ta­gon and the CIA – made on Feb­ru­ary 29, 1996, before an audi­ence of cadets at the U.S. Air Force Academy.
​"I am not a nation­al secu­ri­ty strate­gist or a mil­i­tary tac­ti­cian," Ren­don said. ​"I am a politi­cian, and a per­son who uses com­mu­ni­ca­tion to meet pub­lic pol­i­cy or cor­po­rate pol­i­cy objec­tives. In fact, I am an infor­ma­tion war­rior and a per­cep­tion man­ag­er." He remind­ed the Air Force cadets that when vic­to­ri­ous troops rolled into Kuwait City at the end of the first war in the Per­sian Gulf, they were greet­ed by hun­dreds of Kuwait­is wav­ing small Amer­i­can flags. The scene, flashed around the world on tele­vi­sion screens, sent the mes­sage that U.S. Marines were being wel­comed in Kuwait as lib­er­at­ing heroes.
​"Did you ever stop to won­der," Ren­don asked, ​"how the peo­ple of Kuwait City, after being held hostage for sev­en long and painful months, were able to get hand-held Amer­i­can, and for that mat­ter, the flags of oth­er coali­tion coun­tries?" He paused for effect. ​"Well, you now know the answer. That was one of my jobs then."
Of course, we have no way of know­ing whether Ren­don or any oth­er PR spe­cial­ist helped influ­ence the top­pling of Saddam's stat­ue or oth­er spe­cif­ic images that the pub­lic saw dur­ing the war in Iraq. Pub­lic rela­tions firms often do their work behind the scenes, and Ren­don – with whom the Pen­ta­gon signed a new agree­ment in Feb­ru­ary 2002 – is usu­al­ly ret­i­cent about his work. But his descrip­tion of him­self as a ​"per­cep­tion man­ag­er" echoes the lan­guage of Pen­ta­gon plan­ners, who define ​"per­cep­tion man­age­ment" as ​"actions to con­vey and (or) deny select­ed infor­ma­tion and indi­ca­tors to for­eign audi­ences to influ­ence their emo­tions, motives, and objec­tive rea­son­ing. … In var­i­ous ways, per­cep­tion man­age­ment com­bines truth pro­jec­tion, oper­a­tions secu­ri­ty, cov­er, and decep­tion, and psy­ops [psy­cho­log­i­cal operations]."
The para­dox of the Amer­i­can war in Iraq, how­ev­er, is that per­cep­tion man­age­ment has been much more suc­cess­ful at ​"influ­enc­ing the emo­tions, motives, and objec­tive rea­son­ing" of the Amer­i­can peo­ple than it has been at reach­ing ​"for­eign audi­ences." When we see footage of Kuwait­is wav­ing Amer­i­can flags, or of Iraqis cheer­ing while U.S. Marines top­ple a stat­ue of Sad­dam, it should be under­stood that those images tar­get U.S. audi­ences as much, if not more, than the cit­i­zens of Kuwait or Iraq.
It became obvi­ous with­in days of the top­pling of the stat­ue that although the Iraqi peo­ple large­ly wel­comed the dictator's down­fall, they were not as eager to throw bou­quets of flow­ers at Amer­i­can sol­diers as the scene at Fir­dos Square seemed to sug­gest. In Nasiriyah, some 20,000 peo­ple ral­lied to oppose the U.S. mil­i­tary pres­ence on April 15, only six days after the stat­ue fell. ​"Yes to free­dom, yes to Islam," they chant­ed. ​"No to Amer­i­ca, no to Sad­dam." In oth­er protests, crowds chant­ed, ​"No, no, Cha­l­abi" in oppo­si­tion to Ahmed Cha­l­abi, the U.S.-backed head of the Iraqi Nation­al Con­gress (INC). Newsweek inter­viewed a high-rank­ing U.S. mil­i­tary offi­cer who said he was stunned when he began talk­ing to Iraqis, even anti-Sad­dam locals, about Chalabi's cred­i­bil­i­ty. ​"It's aston­ish­ing how lit­tle sup­port he has," the offi­cer said. ​"I'm afraid we're back­ing the wrong horse."
The ​
"

George Wash­ing­ton of Iraq"

In 1991, a few months after the end of Oper­a­tion Desert Storm, then-pres­i­dent George H.W. Bush signed a pres­i­den­tial direc­tive order­ing a CIA covert oper­a­tion to unseat Sad­dam Hus­sein. And the CIA turned to Rendon.

In 1992, the Ren­don Group helped orga­nize the INC, which rep­re­sent­ed the first major attempt by oppo­nents of Sad­dam Hus­sein to join forces. Accord­ing to a Feb­ru­ary 1998 ABC News report by Peter Jen­nings, Ren­don came up with the name for INC and chan­neled $12 mil­lion of covert CIA fund­ing to it between 1992 and 1996. INC brought togeth­er Kurds, Sun­ni and Shi­ite Arabs (both Islam­ic fun­da­men­tal­ist and sec­u­lar), as well as democ­rats, nation­al­ists, and ex-mil­i­tary offi­cers. In Octo­ber 1992, Ahmed Cha­l­abi, a Ren­don pro­tégé, was appoint­ed to head the group.

Inter­nal dif­fer­ences led to the group's vir­tu­al col­lapse, and for years after­wards, Cha­l­abi was mis­trust­ed by the CIA and the Clin­ton admin­is­tra­tion, which dropped INC and began fund­ing a rival oppo­si­tion group, the Iraqi Nation­al Accord (INA). That ven­ture also end­ed dis­as­trous­ly, when a num­ber of INC and INA mem­bers were round­ed up and killed by Sad­dam Hussein's forces.

But despite repeat­ed set­backs, Cha­l­abi remained a fre­quent vis­i­tor to the cor­ri­dors of pow­er in Wash­ing­ton. Cer­tain cir­cles – the pro-Israel hawks with roots in the Rea­gan and first Bush admin­is­tra­tions who have come to be known as ​"neo­con­ser­v­a­tives" – even referred to Cha­l­abi as the ​"George Wash­ing­ton of Iraq." As a pro­pa­gan­da effort, the con­ver­sion of Cha­l­abi to the equiv­a­lent of a found­ing father was clear­ly a resound­ing suc­cess. Every­one, includ­ing Cha­l­abi, seemed con­vinced. Cha­l­abi knew how to tell the hawks what they want­ed to hear, promis­ing that Saddam's régime was on its last legs, that INC com­mand­ed vast sym­pa­thet­ic sup­port and intel­li­gence assets, and that Iraqi forces would defect en masse as soon as the Unit­ed States showed the gump­tion to sup­port a war of liberation.

Chalabi's polit­i­cal for­tunes improved in 1997, when a num­ber of promi­nent neo­con­ser­v­a­tives formed the ​"Project for the New Amer­i­can Cen­tu­ry" (PNAC), which lob­bied for increas­ing U.S. mil­i­tary spend­ing and tak­ing a hard­er line against Iraq. PNAC's founder and chair­man, William Kris­tol, was a for­mer chief of staff to Vice Pres­i­dent Dan Quayle and to Sec­re­tary of Edu­ca­tion William Ben­nett (both PNAC found­ing mem­bers them­selves). Kris­tol is bet­ter known as the edi­tor of The Week­ly Stan­dard, an influ­en­tial polit­i­cal affairs mag­a­zine under­writ­ten by right-wing media mogul Rupert Mur­doch. Oth­er PNAC founders, includ­ing Dick Cheney, Don­ald Rums­feld, Paul Wol­fowitz, Richard Per­le and Elliott Abrams, would lat­er hold impor­tant posi­tions in the sec­ond Bush administration.

The inau­gu­ra­tion of George W. Bush and the post‑9/​11 war on ter­ror­ism would put the PNAC neo­con­ser­v­a­tives back in the driver's seat of U.S. for­eign pol­i­cy. Nine days after the 9⁄11 attacks, PNAC sent an open let­ter to Pres­i­dent Bush, call­ing not only for the destruc­tion of Osama bin Laden's al-Qae­da net­work, but also to extend the war to Iraq, and to take mea­sures against Iran, Syr­ia, Lebanon and the Pales­tin­ian Authority.
The Infor­ma­tion War
John Rendon's refusal to dis­cuss his activ­i­ties makes it dif­fi­cult to do more than spec­u­late about the full scope and extent of his firm's involve­ment in Iraq, but an inci­dent dur­ing the war itself pro­vid­ed a rare breach in the wall of secre­cy. On March 23, TV cam­era­man Paul Moran was killed in north­ern Iraq by a sui­cide bomber while on assign­ment for the Aus­tralian Broad­cast­ing Cor­po­ra­tion. His obit­u­ary, pub­lished in his home town of Ade­laide, Aus­tralia, not­ed that Moran's activ­i­ties ​"includ­ed work­ing for an Amer­i­can pub­lic rela­tions com­pa­ny con­tract­ed by the U.S. Cen­tral Intel­li­gence Agency to run pro­pa­gan­da cam­paigns against the dic­ta­tor­ship. … Com­pa­ny founder John Ren­don flew from the Unit­ed States to attend Mr. Moran's funer­al in Ade­laide on Wednes­day. A close friend, Rob Buchan, said the pres­ence of Mr. Ren­don – an advis­er to the U.S. Nation­al Secu­ri­ty Coun­cil – illus­trat­ed the regard in which Mr. Moran was held in U.S. polit­i­cal cir­cles, includ­ing the Congress."
Moran's work for the Ren­don Group appar­ent­ly includ­ed pro­duc­ing the only tele­vi­sion inter­view with Adnan Ihsan Saeed al Haideri, the Iraqi engi­neer who claimed that he helped build spe­cial under­ground facil­i­ties for Saddam's chem­i­cal, bio­log­i­cal and nuclear weapons pro­gram. Accord­ing to a report by the Aus­tralian news show Date­line, Moran was one of two reporters who were grant­ed access to al Haideri by Chalabi's INC. (The oth­er was the New York Times' Judith Miller, whose report­ing has come under scruti­ny since it was revealed that Cha­l­abi and INC were the pri­ma­ry sources for her numer­ous sto­ries about Iraq's alleged weapons of mass destruc­tion. Zaab Seth­na, INC spokesman, told Date­line, ​"The infor­ma­tion that al Haideri pro­vid­ed went direct­ly to Pres­i­dent Bush, it went to Tony Blair." Indeed, Bush quot­ed the infor­ma­tion pro­vid­ed by al Haideri in his State of the Union address as he made his case for war. Yet the under­ground facil­i­ties that al Haideri claimed to have helped build have nev­er been found, per­haps because they nev­er existed.
In Decem­ber 2002, Robert Drey­fuss report­ed in The Amer­i­can Prospect that the Bush admin­is­tra­tion actu­al­ly pre­ferred Chalabi's INC-sup­plied analy­ses of Iraq over the intel­li­gence com­ing from the CIA. ​"Even as it pre­pares for war against Iraq, the Pen­ta­gon is already engaged on a sec­ond front: its war against the Cen­tral Intel­li­gence Agency," wrote Drey­fuss. ​"The Pen­ta­gon is bring­ing relent­less pres­sure to bear on the agency to pro­duce intel­li­gence reports more sup­port­ive of war with Iraq. … Morale inside the U.S. nation­al-secu­ri­ty appa­ra­tus is said to be low, with career staffers feel­ing intim­i­dat­ed and pres­sured to jus­ti­fy the push for war." Much of the pro-war faction's infor­ma­tion came from INC, even though ​"most Iraq hands with long expe­ri­ence in deal­ing with that country's tumul­tuous pol­i­tics con­sid­er INC's intel­li­gence-gath­er­ing abil­i­ties to be near­ly nil."
"[INC's] intel­li­gence isn't reli­able at all," Vin­cent Can­nis­traro, a for­mer senior CIA offi­cial and coun­tert­er­ror­ism expert, told Drey­fuss. ​"They make no dis­tinc­tion between intel­li­gence and pro­pa­gan­da, using alleged infor­mants and defec­tors who say what Cha­l­abi wants them to say, [cre­at­ing] cooked infor­ma­tion that goes right into pres­i­den­tial and vice-pres­i­den­tial speeches."
Two days before the Sad­dam régime crum­bled in Bagh­dad, INC – the orga­ni­za­tion that the Ren­don Group had care­ful­ly named and pack­aged 11 years ear­li­er – was ensconced in Iraq.
Cha­l­abi, whose return marked his first oppor­tu­ni­ty to set foot in Bagh­dad since his exile in 1958, set up head­quar­ters in the Hunt­ing Club, a pri­vate enclave that was pre­vi­ous­ly the club of Saddam's son Uday. ​"I am not a can­di­date for any posi­tion in the inter­im gov­ern­ment," he said. ​"My role is to rebuild Iraq." Simul­tanous­ly, how­ev­er, his office began to take on the trap­pings of a gov­ern­ment-in-wait­ing, as throngs of peti­tion­ers came clam­or­ing for jobs and favors.
As the war fad­ed, Chalabi's name began pop­ping up in more and more places. In May, long­time Cha­l­abi aide Fran­cis Brooke – a for­mer Ren­don employ­ee – said that Cha­l­abi might bow to pop­u­lar pres­sure and agree to become Iraq's pres­i­dent after all. ​"George Wash­ing­ton turned it down many times," Brooke said, appar­ent­ly with­out irony. ​"I wouldn't be sur­prised if the Iraqi peo­ple pre­vail on him." On May 5, U.S. Gen. Jay Gar­ner named Cha­l­abi as one of five Iraqis like­ly to be appoint­ed as the nucle­us of a new inter­im government.
Psy­ops
The blur­ring of bound­aries between truth and myth cer­tain­ly did not begin with the cur­rent Bush admin­is­tra­tion. Dis­in­for­ma­tion has been a part of war since at least the days of Alexan­der the Great, who plant­ed large breast­plates of armor in the wake of his retreat­ing troops to con­vince the ene­my that his sol­diers were giants. The sto­ry of Alexander's lit­tle trick is usu­al­ly taught in the first day of class for sol­diers who receive train­ing in psyops.
A 1998 U.S. Air Force man­u­al titled Infor­ma­tion Oper­a­tions, which includes a sec­tion titled ​"Psy­cho­log­i­cal Oper­a­tions," states: ​"There is a grow­ing infor­ma­tion infra­struc­ture that tran­scends indus­try, the media, and the mil­i­tary, and includes both gov­ern­ment and non­govern­ment enti­ties. It is char­ac­ter­ized by a merg­ing of civil­ian and mil­i­tary infor­ma­tion net­works and tech­nolo­gies. … In real­i­ty, a news broad­cast, a diplo­mat­ic com­mu­niqué, and a mil­i­tary mes­sage order­ing the exe­cu­tion of an oper­a­tion all depend on the [glob­al infor­ma­tion infra­struc­ture]." In this envi­ron­ment, psy­ops ​"are designed to con­vey select­ed infor­ma­tion and indi­ca­tors to for­eign lead­ers and audi­ences to influ­ence their emo­tions, motives, objec­tive rea­son­ing, and ulti­mate­ly their behav­ior," while ​"mil­i­tary decep­tion mis­leads adver­saries, caus­ing them to act in accor­dance with the originator's objec­tives." Indeed, it says, quot­ing Chi­nese mil­i­tary strate­gist Sun Tzu, ​"All war­fare is based on deception."
More than any­body else, it was the Amer­i­can pub­lic who was deceived by administration's psy­ops – a covert dis­in­for­ma­tion cam­paign that was direct­ed at the Amer­i­can peo­ple. In an Octo­ber 2002 opin­ion poll by the Pew Research Cen­ter for Peo­ple and the Press, 66 per­cent of Amer­i­cans said they believed Sad­dam Hus­sein was involved in the 9⁄11 attacks on the Unit­ed States, while 79 per­cent believed that Iraq already pos­sessed, or was close to pos­sess­ing, nuclear weapons. The prin­ci­pal rea­son cit­ed by 25 per­cent of war sup­port­ers relat­ed to their per­cep­tions of Hus­sein or the nature of his régime (he's ​"evil," a ​"mad­man," ​"repress­es his own peo­ple"). How­ev­er, more than twice that num­ber – 60 per­cent – gave a rea­son relat­ed to their con­cerns stem­ming from 9⁄11 (get­ting rid of weapons of mass destruc­tion, pre­vent­ing future terrorism).
In Jan­u­ary, Knight-Rid­der News­pa­pers con­duct­ed its own, sep­a­rate opin­ion poll. ​"Two-thirds of the respon­dents said they thought they had a good grasp of the issues sur­round­ing the Iraqi cri­sis, but clos­er ques­tion­ing revealed large gaps in that knowl­edge," it report­ed. ​"For instance, half of those sur­veyed said one or more of the Sep­tem­ber 11 ter­ror­ist hijack­ers were Iraqi cit­i­zens. In fact, none was." More­over, ​"The informed pub­lic is con­sid­er­ably less hawk­ish about war with Iraq than the pub­lic as a whole. Those who show them­selves to be most knowl­edge­able about the Iraq sit­u­a­tion are sig­nif­i­cant­ly less like­ly to sup­port mil­i­tary action, either to remove Sad­dam from pow­er or to dis­arm Iraq."
This gap between real­i­ty and pub­lic opin­ion was not an acci­dent. If the pub­lic had pos­sessed a more accu­rate under­stand­ing of the facts, more peo­ple would prob­a­bly have seen a ​"pre-emp­tive" war with Iraq as unwise and unwar­rant­ed. The public's erro­neous beliefs devel­oped through a steady drum­beat of alle­ga­tions and insin­u­a­tions from the Bush admin­is­tra­tion, pro-war think tanks, and com­men­ta­tors – state­ments that were often false or mis­lead­ing and whose pur­pose was to cre­ate the impres­sion that Iraq posed an immi­nent peril.
True Lies
At a press brief­ing two weeks after the ter­ror­ist attacks of 9⁄11, Defense Sec­re­tary Don­ald Rums­feld had an exchange with a reporter that deserves to be quot­ed in detail:
Reporter: Will there be any cir­cum­stances, as you pros­e­cute this cam­paign, in which any­one in the Depart­ment of Defense will be autho­rized to lie to the news media in order to increase the chances of suc­cess of a mil­i­tary oper­a­tion or gain some oth­er advan­tage over your adversaries?

Rums­feld: Of course, this con­jures up Win­ston Churchill's famous phrase when he said – don't quote me on this, OK. I don't want to be quot­ed on this, so don't quote me – he said, some­times the truth is so pre­cious it must be accom­pa­nied by a body­guard of lies, talk­ing about the inva­sion date and the inva­sion loca­tion, and indeed, they engaged not just in not talk­ing about the date of the Nor­mandy inva­sion or the loca­tion, whether it was to be Nor­mandy Beach or just north off of Bel­gium, they actu­al­ly engaged in a plan to con­fuse the Ger­mans as to where it would hap­pen. And they had a fake army under Gen­er­al Pat­ton, and one thing and another.

That is a piece of his­to­ry. And I bring it up just for the sake of background.

The answer to your ques­tion is no. I can­not imag­ine a sit­u­a­tion. I don't recall that I've ever lied to the press. I don't intend to. And it seems to me that there will not be rea­son for it. There are dozens of ways to avoid hav­ing to put your­self in a posi­tion where you're lying. And I don't do it. And [Assis­tant Sec­re­tary of Defense for Pub­lic Affairs Vic­to­ria Clarke] won't do it. And [her deputy] Admi­ral Quigley won't do it.

Reporter: That goes for every­body in the Depart­ment of Defense?

Rums­feld: You've got to be kidding.
The mem­bers of the press laughed.
This essay was adapt­ed from
Weapons of Mass Decep­tion: The Uses of Pro­pa­gan­da in Bush's War on Iraq
(Tarcher/​Penguin,
2003
).