Hugh Hefner Wasn't Just a Creep—He Was Also a Shitty Boss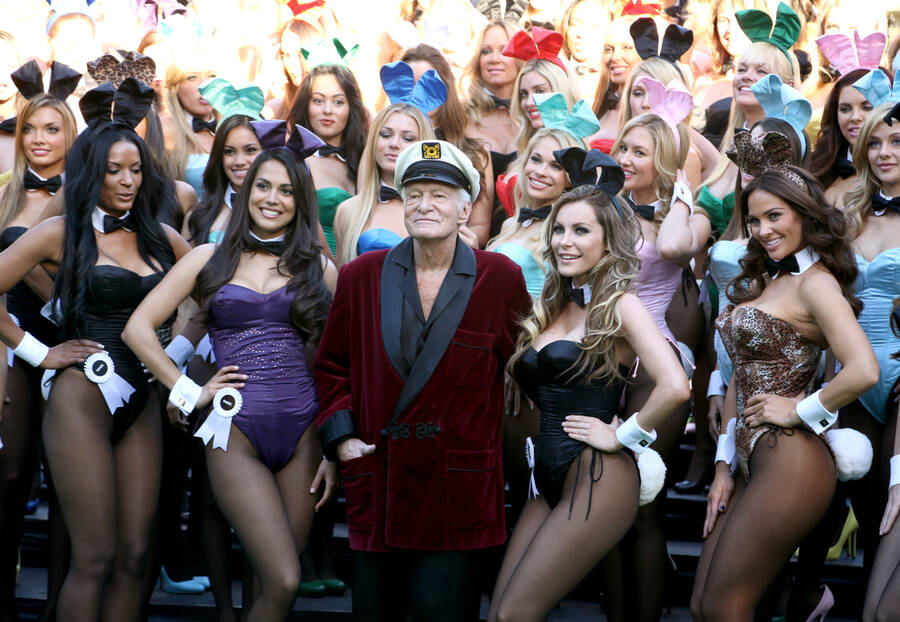 To hear some tell it, Hugh Hefn­er changed what it meant to be a man in the 20th cen­tu­ry. In place of God, coun­try and fam­i­ly val­ues, ​"Hef" — a per­sona so intense­ly brand­ed that it's hard to type with­out instinc­tive­ly adding a ™ to it — offered up cool jazz, hot chicks, weird bathrobes and the kind of lit­er­ary sophis­ti­ca­tion that you could only get when a short sto­ry was print­ed direct­ly oppo­site a close-up of some lady's areolas.
The fact that women were mere props in this vision — lux­u­ry goods that men acquired to prove their swing­ing cred — seems not to both­er those who embrace the ide­al of Hef­ness. But in fact, the Play­boy empire was built on the backs of female work­ers, who were expect­ed to keep smil­ing and prop­ping up Hefner's brand through enor­mous amounts of gru­el­ing labor
The most famous fem­i­nist cri­tique of the Play­boy empire cen­tered on those women. The Play­boy Club, as per Glo­ria Steinem's 1963 expose, was a mine­field of uneth­i­cal labor prac­tices. Host­esses were paid min­i­mum wage plus tips — but the estab­lish­ment kept 50 per­cent of the tips. ("We may keep all tips that are giv­en to us in cash," Steinem explained, ​"but if we indi­cate any pref­er­ence for cash tips we will be fired.") Their wages could be effec­tive­ly gar­nished thanks to a demer­it sys­tem; ​"bad make-up" was five demer­its, eat­ing on the job could be up to 30 demer­its and lead to a dis­missal, and tak­ing a long break would cost you a demer­it per minute. Bun­nies were also expect­ed to pay for their own cos­tumes, which were per­pet­u­al­ly being demol­ished by drunk, horny patrons; the bun­ny tails were a par­tic­u­lar­ly com­mon tar­get for grab­bing and rip­ping. And that was if you were lucky: ​"I told [a cus­tomer] our tails were asbestos," one Bun­ny com­plained to Steinem, ​"so he tried to burn it to find out."
But, most impor­tant of all, even Bun­nies who were being set on fire by their cus­tomers were expect­ed to keep flirt­ing with them. Though they were not allowed to sell sex, they were expect­ed to sell the illu­sion of avail­abil­i­ty, main­ly because it kept the booze flow­ing. ​"We depend on our Bun­nies to express the per­son­al­i­ty of the mag­a­zine," the employ­ment man­u­al instruct­ed. ​"Bun­nies are remind­ed that there are many pleas­ing means they can employ to stim­u­late the Club's liquor vol­ume… you should make it seem that [the customer's] opin­ions are very important."
Above and beyond the phys­i­cal and finan­cial mis­eries of the job, this all falls under the head­ing of ​"emo­tion­al labor" — the work that goes into seem­ing engaged, inter­est­ed, car­ing and recep­tive even to strangers (at a job) or hos­tile and unful­fill­ing part­ners (at home). Hefner's vision implied that, once appro­pri­ate­ly ​"lib­er­at­ed," women would become paragons of gid­dy, care­free, sex­u­al­ly recep­tive fem­i­nin­i­ty, paving the way for a world where pret­ty girls were always thrilled to serve you, and a man's opin­ion was always ​"very impor­tant," no mat­ter how drunk, bel­liger­ent, or arson-prone that par­tic­u­lar man might be. Not sur­pris­ing­ly, uncrit­i­cal and uncon­di­tion­al fem­i­nine ​"friend­li­ness" wasn't a nat­u­ral­ly occur­ring sub­stance. It was work tak­en on by par­tic­u­lar women, who had to learn to sim­u­late it, for min­i­mum wage plus tips.
It would be one thing if Hefn­er learned from the fem­i­nist spank­ings he got. But he evi­dent­ly nev­er did. In 2015, Girls Next Door star Hol­ly Madi­son revealed the work that went into being Hef's ​"girl­friend" on nation­al TV. Among oth­er abus­es — he con­trolled the girls' bed­times (9 PM, tops) and was so strict about their atten­tion that, at par­ties, they were only allowed to leave Hef's side for toi­let breaks — he slipped a pho­to of him­self with the girls under their bed­room doors each night, so that they could eval­u­ate their appear­ance. It remind­ed them of why they were there: To look good, in order to make Hef look good.
Hefn­er lived a long life — long enough to pol­ish his brand into some­thing resem­bling fam­i­ly-friend­li­ness, and to re-write his own nar­ra­tive in a way that elim­i­nat­ed any alle­ga­tions of unsa­vory behav­ior. (Though those alle­ga­tions did keep com­ing.) There were talk-show appear­ances and friend­ly biogra­phies. There was the extend­ed white­wash­ing, not only of Girls Next Door, but the failed dra­ma The Play­boy Club, in which Hugh Hefn­er was a charm­ing, avun­cu­lar pres­ence look­ing to help the Bun­nies achieve their goals and dreams. (SPOIL­ER: Their goals and dreams were, most­ly, to be in Play­boy.) By the end of his life, Hugh Hefn­er was the Stan Lee of sex: A cute, quirky, harm­less grand­pa-type who was a lit­tle bit out of touch but adorably enthu­si­as­tic. The rapa­cious, dis­tant boss who would take chunks out of your pay­check if you were caught eat­ing had been erased from the picture.
Don't buy it. Hugh Hefn­er looked harm­less because he paid women to look hap­py. Along­side Hefner's brand of ​"sex­u­al lib­er­a­tion," a real lib­er­a­to­ry phi­los­o­phy has grown — one found­ed on the works of queer peo­ple and women, which points out that crap­py, straight sex with crap­py, straight guys is any­thing but ​"rev­o­lu­tion­ary." That vari­ety of sex­u­al lib­er­a­tion — which, yes, includes eth­i­cal­ly made porn and sex work — is the one we should be cel­e­brat­ing. You can have sex with­out forc­ing women to fake it. In fact, for the good kind of sex, that's pret­ty much required.