Walmart Moms' Walkout Starts Friday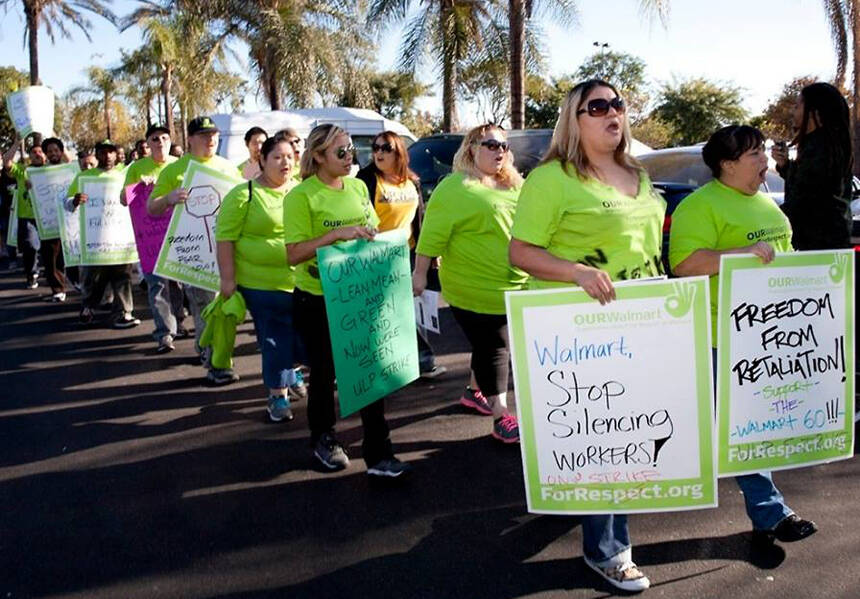 In 2008, polit­i­cal com­men­ta­tors made a lot of fuss about ​"Wal­mart Moms," a demo­graph­ic that was sup­pos­ed­ly key to the elec­tion. The Wal­mart Mom was an updat­ed, ser­vice-econ­o­my ver­sion of the blue-col­lar work­er: Some­one with­out a col­lege degree, work­ing and rais­ing a fam­i­ly, usu­al­ly white, pos­si­bly reli­gious. She was court­ed heav­i­ly by both par­ties and per­ceived, at least in recent decades, to be swing­ing right.
Six years lat­er, the real-life Wal­mart Moms are going on strike. Accord­ing to a Thurs­day con­fer­ence call host­ed by the Orga­ni­za­tion Unit­ed for Respect at Wal­mart (OUR Wal­mart), hun­dreds of moth­ers who work at Wal­mart stores through­out the coun­try will begin walk­ing off the job on Fri­day, a week before the com­pa­ny's share­hold­ers meet in Ben­tonville, Arkansas. The action will cul­mi­nate in a nation­wide strike on Wednes­day, June 4.
Lin­da Halus­ka and Lashan­da Myrick are two of those moth­ers, both tired of strug­gling to sup­port their chil­dren on what Wal­mart pays. ​"We are Wal­mart moms; we're not some polit­i­cal cat­e­go­ry," said Halus­ka, who's worked at the Glen­wood, Illi­nois store for 8 years, on the call. ​"We're real peo­ple who are strug­gling to cre­ate hap­py sta­ble homes for our kids." Wal­mart moms, in oth­er words, want politi­cians and pun­dits to lis­ten to what they real­ly need, not pan­der to their per­ceived polit­i­cal biases.
Bethany More­ton, author of To Serve God and Wal-Mart, not­ed in a 2010 piece that Wal­mart itself worked to cre­ate and main­tain the ​"Wal­mart Mom" iden­ti­ty. In her book, More­ton points out that the com­pa­ny's sup­posed com­mit­ment to ​"fam­i­ly val­ues," which it express­es in both its mar­ket­ing and its inter­nal mes­sag­ing, came direct­ly from its ear­ly employ­ees, many of them wives and moth­ers who'd nev­er worked out­side the home before. These ear­ly ​"Wal­mart Moms" accept­ed low wages for ser­vice work that they under­stood as part of a Chris­t­ian ser­vice eth­ic. Car­ing for cus­tomers, car­ing for cowork­ers, and car­ing for one's fam­i­ly all went togeth­er. Yet in 2014 Amer­i­ca, the com­pa­ny's faced repeat­ed charges that it dis­crim­i­nates against the women it employs and retal­i­ates against work­ers who dare to speak out about their treat­ment on the job.
Myrick, who plans on strik­ing in addi­tion to trav­el­ing from her home in Den­ver, Col­orado to Ben­tonville to deliv­er her mes­sage at the share­hold­ers' meet­ing, has had enough of the com­pa­ny's pre­tense of car­ing. She has two chil­dren — an 18-year-old son who grad­u­ates from high school next Tues­day, and a 12-year-old daugh­ter — and, she tells In These Times, her mea­ger pay­check forces her to make impos­si­ble deci­sions about priorities.
​"A par­ent should­n't have to make a choice of who's going to be able to get shoes this week and who's not going to be able to get shoes this week," she says. ​"I teach my kids to stand up for what they believe in, so I don't want to show them that I'm a hyp­ocrite by not stand­ing up for some­thing that I believe in. [I'm] show­ing them that I believe in this and I'm not wor­ried about retal­i­a­tion, I'm not wor­ried about any­thing to come my way."
The tip­ping point for her came this Novem­ber, when one of her cowork­ers sent her an email show­ing pic­tures of the food dri­ve at a Can­ton, Ohio Wal­mart. Bins were set out at the store ask­ing for work­ers to ​"Please donate food … so asso­ciates in need can enjoy Thanks­giv­ing din­ner." Myrick says, ​"My thought was, ​'Why would we hold a food dri­ve for our employ­ees when clear­ly [Wal­mart has] enough mon­ey to make sure all its employ­ees will have a decent Thanks­giv­ing?' That right there real­ly touched my heart and made me say, ​'I need to stand up, because this does­n't make sense for us to be work­ing for a bil­lion-dol­lar com­pa­ny and we can't even feed our families.'"
Liza Feath­er­stone, author of Sell­ing Women Short: The Land­mark Bat­tle for Work­ers' Rights at Wal-Mart, not­ed to me in a recent inter­view that Wal­mart's car­ing cul­ture has, in the past, helped to insu­late its work­ers from its low-wage régime, as they helped to sup­port each oth­er when mon­ey became tight. In recent years, how­ev­er, that pro­tec­tion has slow­ly erod­ed. When the com­pa­ny began, after all, many of its work­ers were mar­ried to some­one work­ing full-time; the old norms of gen­dered work meant that women were not expect­ed to be bread­win­ners, and jobs that were done by women paid less over­all. Those jobs also tend to require skills, emo­tion­al and inter­per­son­al, which women are usu­al­ly social­ized to pos­sess but are not con­sid­ered ​"hard skills" war­rant­i­ng bet­ter wages. Now, though, the com­pa­ny is not only the nation's largest employ­er of women but its largest pri­vate employ­er, peri­od. That means a whole lot more peo­ple are depend­ing on those low-wage jobs to sup­port their fam­i­lies — while, Ellen Bra­vo of Fam­i­ly Val­ues at Work not­ed on Thurs­day's call, our work-fam­i­ly poli­cies are still ​"set in a Mad Men era."
That means more and more work­ers are start­ing to doubt that Wal­mart shares their val­ues, after all. Feath­er­stone said that dur­ing inter­views for her book, which doc­u­ments the Dukes v. Wal-Mart sex dis­crim­i­na­tion suit, plain­tiff Edith Arana told her that ​"Wal­mart is like a bad boyfriend. They tell you exact­ly what you want to hear and that's how you get caught up, and you just keep com­ing back." Just the will­ing­ness of women to file a law­suit against the com­pa­ny for sex dis­crim­i­na­tion, Feath­er­stone said, was a huge step for­ward — and the strikes, which began in 2012, sur­prised the country.
The com­pa­ny made a few changes in the past year, as strikes and protests have con­tin­ued to buf­fet it. After work­er-share­hold­ers intro­duced a pro­pos­al to change the com­pa­ny's pol­i­cy toward preg­nant work­ers, Wal­mart issued a new one this March, say­ing that preg­nant employ­ees ​"may be eli­gi­ble for rea­son­able accom­mo­da­tion" if they have a tem­po­rary dis­abil­i­ty caused by their preg­nan­cy. Wom­en's groups and work­ers said that the com­pa­ny's ear­li­er pol­i­cy, which did not allow for such accom­mo­da­tion, vio­lat­ed fed­er­al law. The cor­po­ra­tion also recent­ly deter­mined that work­ers can search for avail­able shifts in order to pick up more hours.
But, Halus­ka says, those changes aren't enough. She and the oth­er mem­bers of OUR Wal­mart are demand­ing that the com­pa­ny pay its work­ers at least $25,000 a year, cre­ate full-time jobs and stop its retal­i­a­tion against employ­ees who go on strike or speak up at work. In addi­tion, activists are build­ing a cam­paign ask­ing share­hold­ers to vote against Rob Wal­ton, scion of the bil­lion­aire fam­i­ly that found­ed the com­pa­ny, as chair­man of the board. Instead, their res­o­lu­tion, which will be intro­duced and backed by union funds, calls for an inde­pen­dent chair.
It's going to take a lot of peo­ple stand­ing up to fight, but Myrick does believe that Wal­mart will even­tu­al­ly change when they real­ize OUR Wal­mart is not going to back down.
When asked what she would say if, on her trip to Ben­tonville, she got a chance to sit down with new Wal­mart CEO Doug McMil­lon, famous­ly a for­mer hourly asso­ciate him­self, Myrick responds, ​"I would ask him where his morals are."
Sarah Jaffe
is a for­mer staff writer at
In These Times
and author of
Nec­es­sary Trou­ble: Amer­i­cans in Revolt
, which Robin D.G. Kel­ley called ​
"
The most com­pelling social and polit­i­cal por­trait of our age." You can fol­low her on Twit­ter
@sarahljaffe
.