Leftists to the Rescue: Where the State and Big NGOs Fail, Mutual Aid Networks Step In
In the aftermath of Hurricane Harvey, solidarity-based, grassroots networks are helping Houston residents pick up the pieces.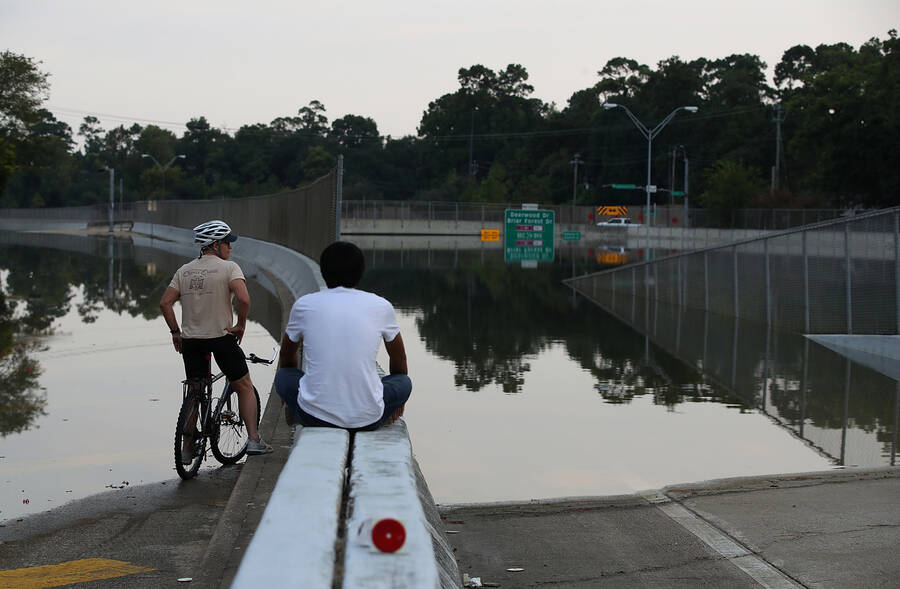 Niecee X found­ed the Black Women's Defense League in Dal­las to help women defend them­selves, and each oth­er, against abu­sive part­ners. Now, Black Women's Defense League and its sis­ter orga­ni­za­tion, World On My Shoul­ders, is on the ground in impact­ed areas since the storm hit.
They're part of a loose net­work of left­ists and small com­mu­ni­ty orga­ni­za­tions pro­vid­ing relief.
Orga­niz­ers and res­i­dents shared dis­trust or dis­ap­point­ment in the government's abil­i­ty to pro­vide mean­ing­ful relief to mar­gin­al­ized com­mu­ni­ties. In addi­tion, they expressed skep­ti­cism of the efforts of the Red Cross and oth­er large nonprofits.
For Niecee X, this skep­ti­cism has roots in her expe­ri­ence pro­vid­ing aid in the after­math of Hur­ri­cane Kat­ri­na as a teenager.
"I didn't know it then, but I learned from what I saw back then to what we're doing now, why those orga­ni­za­tions exist. I believe that they exist because they destroy the type of com­mu­ni­ty that can be built when com­mu­ni­ty mem­bers get togeth­er," Niecee told In These Times.
"Every­body is kind of in this semi-com­mu­nist mode right now," says Niecee. ​"From res­cu­ing each oth­er in the ini­tial after­math of the hur­ri­cane, to pro­vid­ing shel­ter, food, health­care, and help­ing to gut hous­es and rebuild their com­mu­ni­ties collectively."
Anar­chist scott crow told In These Times, ​"Dis­as­ters reveal the fail­ures of cap­i­tal­ism and gov­ern­ments like noth­ing else." The Red Cross isn't focused on mar­gin­al­ized com­mu­ni­ties, empha­sized crow, who prefers his name be writ­ten in lower-case.
"When they do triage to decide where they're going to go first, they want to get busi­ness up and run­ning," crow con­tin­ued. ​"Busi­ness as usu­al: That is the triage. That's their model."
"That leaves many peo­ple out of the equa­tion," added crow. ​"You're talk­ing about poor peo­ple, women, immi­grants, undoc­u­ment­ed com­mu­ni­ties, rur­al com­mu­ni­ties, pris­on­ers who are actu­al­ly in prison locked up. These peo­ple are at the bot­tom of the list."
At the same time, dis­as­ters like Har­vey reveal ​"the open­ings of human­i­ty," crow said, push­ing peo­ple to ask, ​"How we can put aside ide­o­log­i­cal views for the com­mon­al­i­ty of human­ness? And that is a pret­ty amaz­ing thing to me."
Bring­ing Black fem­i­nist prax­is to relief efforts
"Our focus has been to real­ly pro­vide aid and relief to com­mu­ni­ties of col­or, com­mu­ni­ties that were real­ly hard-hit by the hur­ri­cane," said Niecee X.
"You go down the streets, and you see people's entire hous­es out on their curb, sheet rock and all, and Red Cross ain't nowhere to be found," Niecee X added. ​"Red Cross is down­town. Red Cross is in a lot of places that maybe got hit, but they didn't get hit twice."
"Being hit twice means I got hit. But I also can't do any­thing about it, because I don't have a back-up income, there's no sav­ings account," Niecee X explained. She cit­ed one study that found that sin­gle women of col­or ages 36 to 49 have a medi­an wealth of just $5.
Andrew Ker­stenf has been work­ing along­side res­i­dents and activists since com­ing into the Fifth Ward with Black Women's Defense League as a first responder.
"When we showed up, the only aid that was being giv­en to the com­mu­ni­ty was com­ing direct­ly from the com­mu­ni­ty," says Ker­stenf. ​"Our var­i­ous affil­i­at­ed orga­ni­za­tions plugged in and stood behind them and kind of just fol­lowed their lead on it."
"We raised a bunch of dif­fer­ent dona­tions from our net­work and gave to them," Ker­stenf added. ​"Then, we got tools and helped them clear out hous­es, remov­ing per­son­al items that were dam­aged by flood waters, and remov­ing sheet rock and floor­ing as well."
Ker­stenf is a mem­ber of Houston's chap­ter of the anti-cap­i­tal­ist and anti-racist orga­ni­za­tion Red­neck Revolt, which has gar­nered head­lines in recent months for its use of armed self-defense in oppo­si­tion to white-suprema­cist groups.
The efforts of orga­niz­ers in Hous­ton and sur­round­ing areas wouldn't be effec­tive if they didn't first earn trust from the community.
"Decen­tral­ized efforts, even though they're small­er-scale, can mobi­lize very quick­ly and semi-effec­tive­ly, even if they don't know what they're doing as first-respon­ders, to get peo­ple to safe­ty in the first response," crow insists. He high­light­ed the work of small autonomous orga­ni­za­tions like Food Not Bombs, Bay­ou Action Street Health (BASH), West Street Recov­ery and many oth­ers.
Eduar­do Luna, a res­i­dent of East Hous­ton, helped grass­roots relief work­ers engage com­mu­ni­ties in East Houston.
"Peo­ple [were not] accept­ing help from any­body, even peo­ple out­side, but it's not because they didn't want to. They don't know what's going on," Luna said. ​"It's just dev­as­tat­ing right now."
"Ter­ri­fied to seek shelter"
The state's response has led to uneasi­ness from res­i­dents. Luna under­scored that many peo­ple in East Hous­ton may be undoc­u­ment­ed and con­cerned with depor­ta­tion, or do not view the police as a benev­o­lent force.
"They see police wan­der­ing around and just check­ing every­thing," Luna said.
The entire city of Hous­ton was still under cur­few at the time of these inter­views. The cur­few has since been lift­ed in a major­i­ty of the city, except for one area that faces ​"ongo­ing flood­ing," accord­ing to the Hous­ton Chron­i­cle. While Police Chief Art Aceve­do stat­ed the cur­few was an attempt to stop ​"small scale loot­ing," Andrew Ker­stenf had a dif­fer­ent perspective.
Ker­stenf described these state-imposed con­di­tions as a ​"war on the work­ing class," explain­ing that res­i­dents and out­side orga­niz­ers are doing ​"all this labor all day, work­ing to clear these homes, and then can't even get a bite to eat at the end of the day."
Niecee X also expressed con­cern about the amount of police and mil­i­tary present in the relief efforts. ​"There's some­thing very inter­est­ing hap­pen­ing right now. They've allowed every police depart­ment from every coun­ty in Texas to come to Hous­ton," she said.
"You can't go around a cor­ner with­out see­ing sev­er­al police cars. It's almost like there's an occupation."
Niecee's con­cerns extend to the shel­ters, many of which are oper­at­ed in coor­di­na­tion with the Red Cross. The George R. Brown Con­ven­tion Cen­ter has mil­i­tary ser­vice mem­bers present, accord­ing to Neiecee, who says she saw them firsthand.
The Red Cross and FEMA have both pub­licly stat­ed that undoc­u­ment­ed peo­ple should seek shel­ter and that they will not be tar­get­ed by ICE or for depor­ta­tion. ​"If fed­er­al, state or local author­i­ties make a request to enter a shel­ter for the pur­pose of look­ing for undoc­u­ment­ed shel­ter res­i­dents, the Red Cross will not grant them per­mis­sion to enter unless pre­sent­ed with a sub­poe­na or court order," Gre­ta Gustafson, a spokesper­son for the Red Cross, told In These Times.
How­ev­er, crit­ics warn that, when­ev­er law enforce­ment is present, undoc­u­ment­ed peo­ple are at risk — and deterred from seek­ing help in the first place. Undoc­u­ment­ed peo­ple are ​"ter­ri­fied to seek any assis­tance," explains crow. ​"What hap­pens is that, if every­thing is destroyed, they're not going to reach out to get sup­port for that — from FEMA or the Red Cross or from mil­i­tary or the police. They're very much more ret­i­cent for that."
Black and Lati­no com­mu­ni­ties have respond­ed col­lec­tive­ly by devel­op­ing safe, impromp­tu liv­ing sit­u­a­tions and shel­ters for undoc­u­ment­ed people.
"There are areas in Hous­ton where the demo­graph­ics are pri­mar­i­ly Lati­no and Black, and in those areas, we've seen immense shows of sol­i­dar­i­ty that I'm just real­ly proud about. It's from some of the left orga­ni­za­tions that are doing the work. But the com­mu­ni­ties them­selves, they just instant­ly knew [what to do]," Niecee X said.
Lib­er­a­to­ry potential
"There was a lady that I talked to last night, and she was say­ing that didn't have a house before, that she was stay­ing in a truck," Niecee X said. ​"She was say­ing that she's nev­er ever expe­ri­enced any­body ask­ing was she okay, does she need any­thing, like that."
"It shouldn't take a hur­ri­cane for peo­ple to care about peo­ple," Niecee X con­tin­ued. ​"So, we want to cre­ate some insti­tu­tions that allow folks to get the help that they need with­out there being a dis­as­ter involved — some­thing that is run and owned by the community."
"It is pos­si­ble for them to con­trol these aspects of their lives, and even­tu­al­ly under­stand that they can con­trol all aspects of their lives," she said.
crow's expe­ri­ence with the New Orleans Com­mon Ground col­lec­tive, which focused on pro­vid­ing sol­i­dar­i­ty-based mutu­al aid in the after­math of Hur­ri­cane Kat­ri­na, sug­gests that the win­dow to cre­ate these autonomous struc­tures clos­es, as the com­mon­al­i­ty cre­at­ed by dis­as­ter response fades and peo­ple get back to their dai­ly lives. But they can main­tain a foothold in a com­mu­ni­ty afterward.
"After Hur­ri­cane Kat­ri­na, we built mul­ti­ple clin­ics," said crow. ​"We built sev­en clin­ics, in mul­ti­ple neigh­bor­hoods across New Orleans and the Gulf Coast. Now, today, only two of the clin­ics still exist."
Hav­ing seen this poten­tial real­ized, how­ev­er fleet­ing­ly, crow still believes in it whole­heart­ed­ly. ​"The idea was that com­mu­ni­ties could begin to have clin­ics every­where, instead of liquor stores or con­ve­nience stores," he said.
"The lib­er­a­to­ry poten­tial of decen­tral­ized grass­roots relief," crow under­scored, ​"is that you begin to work with those com­mu­ni­ties and stay in those com­mu­ni­ties and pro­vide resources to help them build their own pow­er and their own agency to real­ly have self-determination."
Jared Ware
is a free­lance writer who focus­es on left­ist orga­niz­ing and the rights of incar­cer­at­ed people.