The USDA's Organic Seal Should Not (and Must Not) Apply to Hydroponics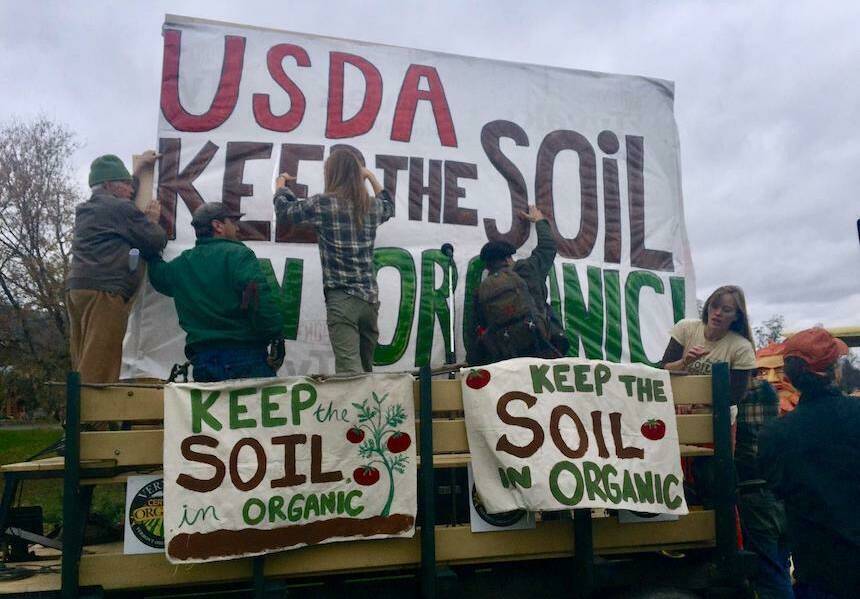 Grow­ing up, I told a skep­ti­cal fam­i­ly mem­ber that I want­ed to be an organ­ic farmer. He replied, ​"Why make life dif­fi­cult for your­self by choos­ing a career that goes against convention?"
The long answer to his ques­tion would have includ­ed every­thing from the ben­e­fits of farm bio­di­ver­si­ty, nutri­ent cycling, envi­ron­men­tal stew­ard­ship, ani­mal wel­fare, reduc­tion of farm­work­er and con­sumer chem­i­cal expo­sure, pro­duc­tion of health­i­er food, and, in short, a desire to leave a piece of land bet­ter than I found it. Instead, I sim­ply replied, ​"Because it's the right thing to do."
Last Novem­ber esteemed Ver­mont organ­ic green­house grow­er Dave Chap­man tes­ti­fied before the Nation­al Organ­ic Stan­dards Board (NOSB) that, if prof­its were his sole moti­va­tion as an organ­ic farmer, he would become a hydro­pon­ic grower.
Rather than putting so much effort into car­ing for the soil by build­ing organ­ic mat­ter and fer­til­i­ty, he would see an imme­di­ate boost in yield and prof­its with a hydro­pon­ic con­tain­er sys­tem. Chap­man tes­ti­fied, ​"Do you have any idea how prof­itable hydro­pon­ics would be for me if I called it ​'organ­ic'? Why wouldn't I do that? Because I believe it would be fraud. Organ­ic must be based in the soil."
The organ­ic community's rev­er­ence for the com­plex­i­ty of nat­ur­al soil ecosys­tems comes from the knowl­edge that thou­sands of species are inter­act­ing in diverse ways with one anoth­er and with the nat­u­ral­ly occur­ring min­er­als in soil.
Soil, plants, and ani­mal species have been coe­volv­ing for mil­lions of years. Soil con­tains fun­gi, micro-algae, pro­to­zoa, nema­todes, inver­te­brates, actin­o­mycetes (bac­te­ria that grow in fil­a­ments), nitro­gen-fix­ing bac­te­ria — even the healthy bac­te­ria that reside in our guts.
This respect for, and desire to work with, nat­ur­al com­plex­i­ty is root­ed in the organ­ic community's embrace of a sys­tems approach to farm­ing. Organ­ic agri­cul­ture rejects the reduc­tion­ism of con­ven­tion­al sys­tems that has led to mono­cul­ture, syn­thet­ic fer­til­iz­ers, pes­ti­cides, and genet­ic mod­i­fi­ca­tion to the detri­ment of our land, water, ecosys­tems and health.
This same reduc­tion­ism has dri­ven hydro­pon­ics. Most indus­tri­al ​"organ­ic" hydro­pon­ic oper­a­tions reduce their nutri­ent require­ments to those which can be obtained from hydrolyzed, con­ven­tion­al soy­beans. Hydrolyzed soy, fed con­tin­u­ous­ly through an irri­ga­tion sys­tem into con­tain­ers filled with coconut husk (coir), is the pri­ma­ry source of fer­til­i­ty used to pro­duce crops of ​"organ­ic" hydro­pon­ic toma­toes, cucum­bers and pep­pers. With their vast green­hous­es full of plas­tic con­tain­ers and tub­ing, indus­tri­al hydro­pon­ic sys­tems do noth­ing to improve the land.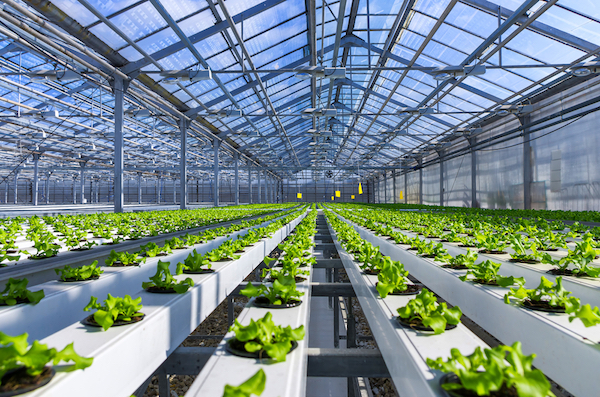 A hydro­pon­ic veg­etable facil­i­ty. (Image: shut­ter­stock / alter​net​.org)
How can a sys­tem com­plete­ly removed from land stew­ard­ship, glean­ing fer­til­i­ty pri­mar­i­ly from con­ven­tion­al, like­ly GMO, soy pro­duc­tion, be con­sid­ered ​"organ­ic?"
The USDA Organ­ic Seal was devel­oped so that a mar­ket pre­mi­um could go to farm­ers who incurred addi­tion­al pro­duc­tion costs for adher­ing to high­er stan­dards. The organ­ic stan­dards incor­po­rate envi­ron­men­tal and human health, ani­mal wel­fare and sus­tain­abil­i­ty. The Organ­ic Foods Pro­duc­tion Act (OFPA) includes a firm require­ment for soil in organ­ic sys­tems because the founders rec­og­nized soil's cen­tral role in nutri­ent cycling and sus­tain­able land management.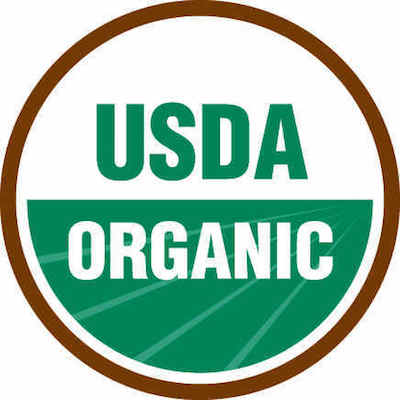 The U.S. Depart­ment of Agri­cul­ture's Organ­ic Seal. (Image: USDA Agri­cul­tur­al Mar­ket­ing Service)
The law states, ​"An organ­ic plan shall con­tain pro­vi­sions designed to fos­ter soil fer­til­i­ty pri­mar­i­ly through the man­age­ment of the organ­ic con­tent of the soil." OFPA con­tin­ues, ​"An organ­ic plan shall not include any pro­duc­tion or han­dling prac­tices that are incon­sis­tent with this chapter."
Clear­ly hydro­pon­ic con­tain­er sys­tems are not com­pli­ant with the law, and they are con­trary to the spir­it of organ­ic as well. These sys­tems do not increase organ­ic mat­ter in the soil, nor do they fos­ter soil fer­til­i­ty, cycle nutri­ents or cap­ture car­bon. How­ev­er, some organ­ic cer­ti­fiers and the Nation­al Organ­ic Pro­gram (NOP) are allow­ing these hydro­pon­ic con­tain­er sys­tems to be labeled ​"organ­ic" — push­ing true organ­ic pro­duc­ers who adhere to the law out of busi­ness, because car­ing for our land is more cost­ly than sim­ply pro­duc­ing food with­out it.
Mean­while, cer­ti­fiers adher­ing to the let­ter of the law and uphold­ing the spir­it of organ­ics, such as OneCert, Ver­mont Organ­ic Farm­ers, and Ohio Eco­log­i­cal Food and Farm­ing Assoc., are los­ing busi­ness as a result. Why would a cer­ti­fi­er choose to lose rev­enue by refus­ing to cer­ti­fy a hydro­pon­ic con­tain­er oper­a­tion if the NOP would let them get away with it? The short answer: Because it's the right thing to do.
There will always be peo­ple who make deci­sions based on prof­it, while oth­ers reject this temp­ta­tion because of their com­mit­ment to oper­ate eth­i­cal­ly. The good food move­ment has con­tin­ued to expe­ri­ence the co-opt­ing of its lan­guage by inau­then­tic use of the words ​"local," ​"fam­i­ly farm," ​"farm­stead," ​"arti­san" and even ​"CSA" (short for com­mu­ni­ty sup­port­ed agriculture).
The orig­i­nal organ­ic stake­hold­ers lob­bied to cre­ate the Nation­al Organ­ic Pro­gram to pre­vent mis­use of the word ​"organ­ic" by design­ing a mech­a­nism to enforce the OFPA. In the case of hydro­pon­ics, the NOP has ignored the law alto­geth­er because of pres­sure from cor­po­rate agribusi­ness. More and more, the organ­ic label has become an avenue for indus­tri­al-scale pro­duc­ers to make high­er prof­its by incor­po­rat­ing con­ven­tion­al inputs, meth­ods, and sys­tems into the organ­ic label, all with the intent of ​"grow­ing the organ­ic market."
But this is progress for the sake of progress. Organ­ic enforce­ment must be strong on the require­ments for bio­di­ver­si­ty, land stew­ard­ship, nutri­ent cycling, and increas­ing organ­ic mat­ter in the soil if it is to con­tin­ue to dis­tin­guish itself from con­ven­tion­al farming.
While oth­er pro­duc­tion sys­tems cer­tain­ly have their mer­its, not all of them should be called organ­ic.
(This arti­cle was orig­i­nal­ly pub­lished in the spring issue of The Cul­ti­va­tor—the Cor­nu­copia Insti­tute's quar­ter­ly newslet­ter. The Insti­tute, through research and inves­ti­ga­tions on agri­cul­tur­al and food issues, pro­vides infor­ma­tion to fam­i­ly farm­ers, con­sumers and oth­er stake­hold­ers in the good food move­ment and to the media. They ​"sup­port eco­nom­ic jus­tice for the fam­i­ly-scale farm­ing com­mu­ni­ty — part­nered with con­sumers — back­ing eco­log­i­cal­ly pro­duced local, organ­ic and authen­tic food." For more infor­ma­tion vis­it cor​nu​copia​.org.)
Lin­ley Dixon
is Farm and Food Pol­i­cy Ana­lyst at The Cor­nu­copia Insti­tute. She owns a veg­etable farm (mar­ket­ing through a CSA, farm to school, and at farm­ers mar­kets) in Duran­go, Colo., with her hus­band and
4
‑year-old daugh­ter. Pri­or to farm­ing, she spent
15
years study­ing the impact of farm diver­si­ty on plant dis­ease lev­els. She holds a Ph.D. in Plant Pathol­o­gy from the Uni­ver­si­ty of Flori­da and a Master's in Plant and Soil Sci­ence through West Vir­ginia University's Organ­ic Farm Project.