Interviews for Resistance: IBM Workers Tell Company To Practice What It Preaches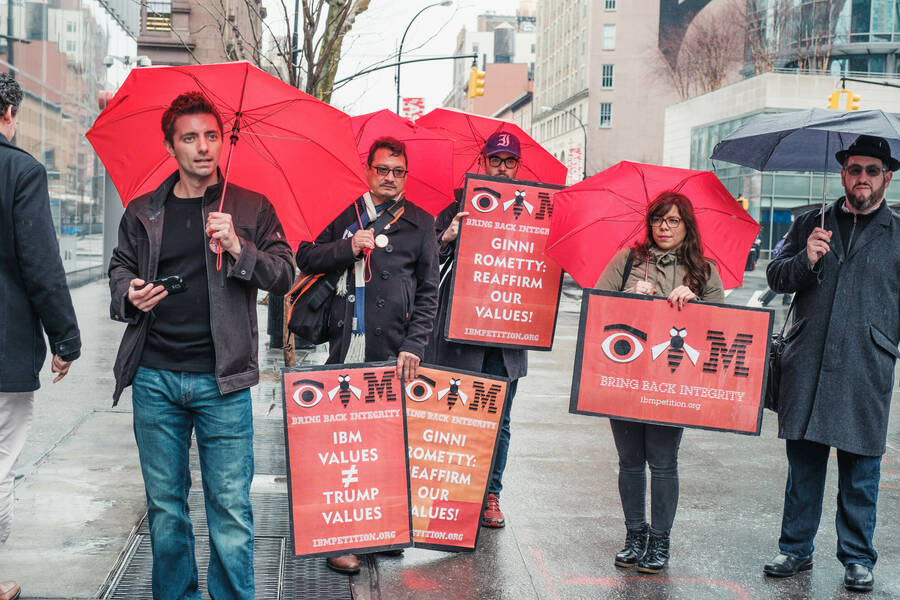 Wel­come to Inter­views for Resis­tance. Since elec­tion night 2016, the streets of the Unit­ed States have rung with resis­tance. Peo­ple all over the coun­try have wok­en up with the con­vic­tion that they must do some­thing to fight inequal­i­ty in all its forms. But many are won­der­ing what it is they can do. In this series, we'll be talk­ing with expe­ri­enced orga­niz­ers, trou­ble­mak­ers and thinkers who have been doing the hard work of fight­ing for a long time. They'll be shar­ing their insights on what works, what does­n't, what's changed and what is still the same.
The tech indus­try likes to main­tain a pro­gres­sive rep­u­ta­tion even when its poli­cies increase inequal­i­ty across the coun­try. Yet after Don­ald Trump's elec­tion, tech exec­u­tives lined up to express a will­ing­ness to work with Trump's admin­is­tra­tion. For tech employ­ees, this dis­con­nect between the val­ues that the com­pa­nies preach in pub­lic and the val­ues expressed by Trump has led them to begin orga­niz­ing in their work­places, demand­ing that their employ­ers not col­lab­o­rate with the pres­i­dent and using this moment as an oppor­tu­ni­ty to push com­pa­nies to live up to the val­ues of diver­si­ty and inclu­sion. I spoke with work­ers at IBM who have begun such a campaign.
Daniel Han­ley: I am Daniel Han­ley. I am an IBM staff soft­ware engi­neer with IBM Secu­ri­ty divi­sion. I am also one of the orga­niz­ers with the IBM peti­tion cam­paign to reaf­firm IBM's values.
Sarah Jaffe: Let's go back to the begin­ning and talk about how this cam­paign got start­ed at IBM.
Daniel: I would say it was prompt­ed by [IBM CEO] Gin­ni Rometty's let­ter to Don­ald Trump on Novem­ber 16th. As you may know, short­ly after Don­ald Trump was elect­ed, Gin­ni Romet­ty penned a pub­lic let­ter to Don­ald Trump. She said many things in it, but among them, she praised his plans for cor­po­rate tax breaks and con­grat­u­lat­ed him on his elec­tion. Then, she pledged to col­lab­o­rate on cer­tain areas. These areas includ­ed gov­ern­ment infra­struc­ture and secu­ri­ty, which con­cerned many peo­ple, par­tic­u­lar­ly when you con­sid­er what Don­ald Trump con­sid­ers security.
This sparked a lot of out­rage on the inter­nal IBM blog. IBM, to its cred­it, asked peo­ple to pro­vide some feed­back and pro­vide it in a forum for dis­cus­sion below Gin­ni Rometty's let­ter inter­nal­ly. The response was quite incred­i­ble. I have been work­ing at IBM for over 10 years. I haven't seen any­thing like this. Peo­ple spoke up. They were express­ing a range of neg­a­tive emo­tions, large­ly. Most com­ments on the blog were express­ing dis­ap­point­ment, ​"Gin­ni, what about our val­ues? What about diver­si­ty, inclu­sion, respect? Don­ald Trump rep­re­sents the oppo­site of all of these val­ues to us. At least you could have clar­i­fied the extent to our par­tic­i­pa­tion in the Trump administration."
Oth­er peo­ple were more scathing in their crit­i­cism. They said, ​"If we look at IBM's his­to­ry, IBM dealt with Nazi Ger­many to sell prod­ucts and ser­vices that iden­ti­fied Jews dur­ing the Holo­caust for exter­mi­na­tion. IBM dealt with the apartheid régime in South Africa. So, now, after read­ing this let­ter, we are a lit­tle wor­ried. We are con­cerned that IBM might do it all over again if they could make some prof­it and get away with it." These were the kinds of com­ments and things that peo­ple were saying.
Among oth­er things, peo­ple ref­er­ence Trump's busi­ness deal­ings and now that Trump is pres­i­dent, obvi­ous­ly, accord­ing to our busi­ness con­duct guide­lines at IBM, we can't do any deals with Trump busi­ness­es. Some peo­ple are call­ing for a clar­i­fi­ca­tion on that. In gen­er­al, dis­gust, out­rage, and real­ly IBM didn't give any kind of ade­quate response to all of these con­cerns that peo­ple addressed. I think we tal­lied dis­senters in the hun­dreds on the inter­nal blog. I was quite moved see­ing so many of my col­leagues express these val­ues, stand­ing up for them, even against the company's chief exec­u­tive. That was one of my proud­est moments work­ing at IBM, see­ing that.
That is what prompt­ed the cam­paign. Once we were ignored indi­vid­u­al­ly, many of us got togeth­er and decid­ed, ​"Well, we need to orga­nize this into a col­lec­tive voice that can't be ignored by IBM exec­u­tives." We used the Cowork​er​.org plat­form to draft a peti­tion. It was put togeth­er by a team of IBM-ers from dif­fer­ent per­spec­tives, dif­fer­ent parts of the com­pa­ny. We came togeth­er, we got feed­back from about 50 IBM-ers, who even­tu­al­ly signed on to the peti­tion. At that point, we went pub­lic with it. It got an incred­i­ble response after that.
Sarah: Tell us about the orga­niz­ing process there and how that has grown since the peti­tion went pub­lic. You have got­ten quite a lot of sig­na­tures from IBM workers.
Daniel: Yes, the orga­niz­ing process is quite chal­leng­ing, as it is for tech work­ers every­where, I think. In many of these work­places, it is a very geo­graph­i­cal­ly dis­trib­uted envi­ron­ment. Peo­ple might not have the same kind of rap­port with a lot of their col­leagues. A lot of peo­ple aren't in the office. So, there are chal­lenges. But, with the core group that we had sign­ing on, and also the media atten­tion it got from The Inter­cept and social media, as well, we were able to reach out to more and more.
We reached out to 500 peo­ple or so that had expressed dis­sent on Gin­ni Rometty's let­ter. We found it on Face­book and LinkedIn and var­i­ous oth­er plat­forms where peo­ple work­ing at IBM had crit­i­cized this let­ter. The response rate we got was quite impres­sive. A lot of peo­ple wound up sign­ing the peti­tion. Then, among the peo­ple who signed the peti­tion, we tried to recruit a core orga­niz­ing team in var­i­ous IBM office loca­tions. Through­out the coun­try there were key point peo­ple who were down to post fly­ers, make phone calls to fol­low up with all the peo­ple on our list. We had some great con­ver­sa­tions. We would ask peo­ple, ​"Hey, do you want to get involved to try to grow this cam­paign? Are you will­ing to post a fly­er in your work­place? Are you will­ing to share these arti­cles on social media?" We got a good response on that, as well.
We even­tu­al­ly, up to today we have got week­ly con­fer­ence calls with about two dozen peo­ple around the coun­try that par­tic­i­pate. The peti­tion cam­paign isn't just a list of names below a doc­u­ment. We are try­ing to form the basis of an orga­ni­za­tion that can hold IBM account­able to our val­ues. That is the orga­niz­ing struc­ture behind it.
What the peti­tion is call­ing for is, one, we want IBM to respect our right to refuse any par­tic­i­pa­tion in any ille­gal Trump project that vio­lates the civ­il lib­er­ties of immi­grants, Mus­lims, women, the LGBT com­mu­ni­ty, mar­gin­al­ized groups in gen­er­al. That is the first demand.
The sec­ond is we want IBM not just to talk about diver­si­ty and inclu­sion, but take some con­crete steps in response to Trump's elec­tion to show that we val­ue diver­si­ty and inclu­sion by expand­ing the diver­si­ty recruit­ment program.
Three, we want IBM to clear­ly sev­er all ties with Trump relat­ed busi­ness enti­ties. We don't want the next IBM Inter­Con­nect 2018 con­fer­ence to be held at a Trump hotel. Strange­ly, I researched on IBM's inter­nal web­site for employ­ee dis­counts and we are being offered a dis­count at a Trump hotel in Mia­mi. We think a clar­i­fi­ca­tion on the busi­ness con­duct guide­lines is in order.
Then, last­ly, since so many IBM-ers are feel­ing upset, threat­ened by the Trump admin­is­tra­tion right now and we are liv­ing in pre­car­i­ous times, we want mean­ing­ful secu­ri­ty in the form of restora­tion of ben­e­fits that have been recent­ly cut. IBM cut the sev­er­ance pay by 80 per­cent. The 401k pol­i­cy uses an account­ing trick that denies peo­ple who are laid off equal con­tri­bu­tion — basi­cal­ly, they wait until the end of the year to make any con­tri­bu­tion to the 401k, which is affect­ing peo­ple right now, espe­cial­ly old­er IBM-ers that are impact­ed by this age dis­crim­i­na­tion cam­paign that is in process. IBM is requir­ing long-term work­ers to co-locate to one of many cities in the Unit­ed States — this is for U.S.-based work­ers — they are being asked to uproot and move even though their kids might be in school, they may have a part­ner that has a job. They are being asked to turn their life upside down or they lose their job, no ques­tions asked, no severance.
Yes, we want IBM to reaf­firm all of its val­ues: diver­si­ty, inclu­sion, respect for the indi­vid­ual — a core IBM val­ue — and also, eth­i­cal busi­ness conduct.
Sarah: One of the things I want­ed to ask was how this con­nects up with the inter­nal work­ing con­di­tions at IBM. That when we are talk­ing about the company's val­ues, most­ly we see those val­ues expressed in how the work­ers are treated.
Daniel: All these demands are relat­ed to work­place issues. We don't want to be legal and liable for harm­ing our own com­mu­ni­ties with any Trump project the way Palan­tir is being asked to do right now and the way IBM has harmed these com­mu­ni­ties in the past, as I men­tioned before. Our argu­ment is, implic­it­ly, the way we are wag­ing this cam­paign is that these emp­ty, hol­low cor­po­rate state­ments nev­er ade­quate­ly embody our val­ues. It is the peo­ple who do the work at IBM, the peo­ple who inno­vate. We express our val­ues, because cor­po­rate state­ments are always going to be moti­vat­ed, at the end of the day, by the pur­suit of prof­it, the pur­suit of these lucra­tive Trump gov­ern­ment contracts.
Sarah: A friend of mine who is a reporter based in the Bay Area was talk­ing about look­ing up the polit­i­cal con­tri­bu­tions from tech indus­try employ­ees and then tech indus­try lead­er­ship or tech indus­try polit­i­cal action com­mu­ni­ties, things like that, and the dif­fer­ence between the val­ues of young work­ers in these indus­tries and the peo­ple at the head of their com­pa­nies … There is often quite a gap there. I won­der if you could talk about this in the broad­er con­ver­sa­tion about the tech indus­try and the tech work­force and a lot of the oth­er issues that tend to swirl around that like eco­nom­ic inequal­i­ty and gen­tri­fi­ca­tion and all of that sit­u­a­tion. Trump seems to be the thing where we are see­ing the tech work­force step out from under the shad­ow of its boss­es and real­ly take a polit­i­cal stand.
Daniel: I think it is impor­tant to under­stand our cam­paign in the broad­er con­text of the tech indus­try. There were peo­ple who were there at the speak-out in Atlanta on Mon­day. There is a video online at IBM​Pe​ti​tion​.org. The largest group present were IBM-ers speak­ing out, but we were joined by com­mu­ni­ty sup­port­ers, some of whom were involved in the local tech sol­i­dar­i­ty meet-ups. We are see­ing these tech sol­i­dar­i­ty groups pop up all over the coun­try. There is a big Tech Stands Up group; there is the Tech Work­ers Coali­tion. What is real­ly excit­ing for us is that our own cam­paign has inspired a sis­ter cam­paign over at Ora­cle call­ing on its own CEO to join the ami­cus brief in oppo­si­tion to the Mus­lim ban. This is def­i­nite­ly not just hap­pen­ing in a vac­u­um, but we are see­ing tech con­scious­ness aris­ing here.
I want to go back to some­thing else you said about the younger Mil­len­ni­al type work­ers. These are peo­ple who were appalled by Trump's racism and xeno­pho­bia and Islam­o­pho­bia. What I learned from inter­nal sources involved in HR and involved in recruit­ment from the open source com­mu­ni­ty, they are say­ing that now their jobs are much more dif­fi­cult because of Gin­ni Rometty's prox­im­i­ty to Trump and her refusal to give a clar­i­fi­ca­tion on the rela­tion­ship or strong oppo­si­tion to any project that vio­lates civ­il lib­er­ties. The younger poten­tial recruits are feel­ing alien­at­ed. The old­er long-term IBM-ers are also feel­ing very upset and wor­ried about their futures because of the sev­er­ance cuts and all of the oth­er issues I raised before. Who does that leave us? This is a con­tra­dic­to­ry strat­e­gy. I think the IBM peti­tion cam­paign will hope­ful­ly move Gin­ni Romet­ty to address both of these prob­lems in a pos­i­tive way.
Sarah: But you have not heard any­thing from her or from the high­er ups so far, correct?
Daniel: No, we haven't heard any ade­quate response to our demands. Since this cam­paign start­ed, we feel like our cam­paign may have influ­enced her. She did write a state­ment about the Mus­lim ban, but I would not call this an ade­quate response. Many mem­bers of our cam­paign were very crit­i­cal of it. It did not, to my knowl­edge, paci­fy any­body. There were a cou­ple of dif­fer­ences. For one thing, until this was leaked maybe delib­er­ate­ly to TechCrunch, this was an inter­nal let­ter. It wasn't writ­ten as a pub­lic let­ter like her let­ter to Trump. That is one thing.
Anoth­er thing is, that forum I ref­er­enced ear­li­er where peo­ple could dis­cuss and debate the issues, it was shut down. There was no com­ment sec­tion this time. We think that was delib­er­ate, as well. The thing that struck me the most though was the con­tent of this let­ter. For one thing, it por­trayed this strug­gle around the debate as a strug­gle between open­ness and secu­ri­ty. Those are the words she said. ​"It is about open­ness ver­sus secu­ri­ty." I think that is very harm­ful. Por­tray­ing the Mus­lim ban as a secu­ri­ty mea­sure is not fac­tu­al. It is mis­lead­ing. Fed­er­al court observed that there is no secu­ri­ty jus­ti­fi­ca­tion for it. Call­ing it a secu­ri­ty mea­sure is wrong. It is an Islam­o­pho­bic mea­sure. It is a dis­crim­i­na­to­ry measure.
Sarah: Well, there are many ways we can go on that. Obvi­ous­ly, as you said, these tech com­pa­nies, among many oth­er cor­po­ra­tions that like to por­tray them­selves as bas­tions of diver­si­ty, they do tend to have a fair­ly diverse work­force on some lev­els. Not so much on oth­ers. I think it is inter­est­ing that in this con­text one of the demands here is to do some actu­al work on the diver­si­ty in the tech work­force. I won­der if you could talk about the way the demands here that include doing some work on actu­al diver­si­ty. How, again, this is a moment to hold tech com­pa­nies account­able to the rhetoric that they are preach­ing but not always practicing.
Daniel: IBM is a very big and pow­er­ful insti­tu­tion in the Unit­ed States and it employs hun­dreds of thou­sands of work­ers world­wide. I am not sure exact­ly how many, but I have heard a third are in the Unit­ed States right now. So, as this pow­er­ful insti­tu­tion, we have a role in these kind of insti­tu­tion­al chal­lenges around diver­si­ty ver­sus racism and Islam­o­pho­bia and xeno­pho­bia. I think this cam­paign can advance IBM in respon­si­bly using its pow­er to advance these val­ues. Whether that is in terms of the projects that we take on or the state­ments we make as a com­pa­ny or the poli­cies in terms of recruit­ment and diver­si­ty. Many groups of peo­ple are under-rep­re­sent­ed in my workplace.
I should note that I live in Atlanta. This is a very diverse city. I would expect peo­ple of col­or to be more great­ly rep­re­sent­ed in our work­place. Unfor­tu­nate­ly, that is not the case.
Sarah: Any­thing else that peo­ple should know about this campaign?
Daniel: It is very heart­en­ing to see oth­er tech work­ers take action else­where. We think our orga­niz­ing mod­el is sound and has some proven results. We strong­ly sup­port things like the Nev­er Again Pledge, which as you may know, it is an alliance of work­ers among many com­pa­nies mak­ing a broad state­ment of prin­ci­ples that nev­er again are we going to use our role in these com­pa­nies to sell tech­nolo­gies like the punch card machines to the Nazis. That broad state­ment of prin­ci­ples is very, very pow­er­ful, but, at the end of the day, in our own work­places we have lever­age to sub­mit pol­i­cy changes like those that IBM​Pe​ti​tion​.org has pro­posed to their company's exec­u­tives. We think this is a suc­cess­ful mod­el. I feel very val­i­dat­ed when peo­ple at Ora­cle and else­where adopt it, as well.
I also spoke with long­time IBM work­er Sesha Baratham, anoth­er orga­niz­er on the cam­paign who was part of the peti­tion deliv­ery team.
Sesha Baratham: My name is Sesha Baratham. I am orig­i­nal­ly from Sin­ga­pore and I have been at IBM for 16 years. I cur­rent­ly work as an IT con­sul­tant in Boston.
Sarah: How did you get involved with the cam­paign and the peti­tion to IBM's CEO about work­ing with Trump?
Sesha: Like a lot of peo­ple, I read Ginni's open let­ter to Trump and was basi­cal­ly appalled that the CEO of the com­pa­ny that I work for should be pledg­ing to work with some­one like Don­ald Trump, whose val­ues I don't think match my own or, I believe, the com­pa­ny I work for, IBM. What par­tic­u­lar­ly got me was that it was com­plete­ly uncon­di­tion­al and includ­ed things like approv­ing tax cuts for cor­po­ra­tions, which just seems total­ly crazy to me.
Sarah: When you start­ed work­ing on the cam­paign, can you tell me about what it was like get­ting involved, talk­ing to co-workers?
Sesha: Daniel, before going pub­lic with the peti­tion, he emailed a cou­ple of peo­ple express­ing objec­tions to Ginni's open let­ter. I signed the peti­tion and Daniel asked if I would like to get involved with con­tact­ing peo­ple, get­ting peo­ple to sign the peti­tion and see where we could take it. I glad­ly did that. It was some­thing I thought was impor­tant to do, to start talk­ing about these things with­in the com­pa­ny. It is a cul­ture in a lot of work­places, I don't think it is just in tech com­pa­nies, but in a lot of com­pa­nies you just don't talk about politics.
This was clear­ly, to me, it was some­thing com­plete­ly polit­i­cal what Gin­ni had done, writ­ing a let­ter to then Pres­i­dent-Elect Trump, which I found objec­tion­able on moral and gen­er­al grounds of val­ues. One of the things that struck me when I read the let­ter, I couldn't believe it because I felt that Don­ald Trump — if I had did some of those things that he has done, I would lose my job. If I advo­cat­ed for sex­u­al­ly assault­ing women, I would lose my job. It is not the kind of cus­tomer or val­ue we want to be asso­ci­at­ed with.
I decid­ed to get involved and Daniel put togeth­er a list of peo­ple who had signed the peti­tion and start­ed mak­ing calls and talk­ing to peo­ple. These were peo­ple that signed the peti­tion, so obvi­ous­ly they were sym­pa­thet­ic, but many of them were not pre­pared to devote any time to orga­niz­ing around it. I total­ly under­stand that. But, there was a lot of sup­port, too. A lot of peo­ple expressed how grate­ful they were. I, myself, when Daniel reached out to me, I felt a sense of opti­mism that some­thing was hap­pen­ing, at least. That there was going to be a place where we could talk about it and bring our con­cerns and shared val­ues into the light.
Sarah: You were involved in the peti­tion deliv­ery, correct?
Sesha: Yes. There were two peti­tion events, one in Atlanta and one in New York. I was at the one in New York at the Wat­son head­quar­ters in down­town Man­hat­tan. Daniel and I did some fly­er­ing out­side the office in the morn­ing. Unfor­tu­nate­ly, it was a wet and cold day, so there wasn't the turnout that we might have liked, but peo­ple stopped and lis­tened. I thought it was great. I think peo­ple were aware of what was hap­pen­ing and we were mak­ing a def­i­nite statement.
Sarah: You have been at IBM for quite a long time now. As you were say­ing, you don't usu­al­ly talk about pol­i­tics at work, but is this the first time you have been involved with some­thing like this?
Sesha: Yes, it is the first time I have been involved in some­thing like this, some­thing direct­ly that I am con­nect­ed with. Dur­ing the Bernie [Sanders] cam­paign, I vol­un­teered for him. I did some phone bank­ing and I worked on his email help desk. But this is the first action that I have tak­en part in.
Sarah: What has it been like at IBM since the work­ers start­ed speak­ing out about this?
Sesha: I work from home, so I am not in the office and don't talk to a lot of peo­ple. As I said, I work in the nor­mal course of busi­ness, it is not brought up at all. I did talk to a cou­ple of col­leagues and there was not much inter­est, which didn't real­ly sur­prise me. I am not sure why that is. I think it is a sense that it is point­less. I can under­stand that they feel like that. I, obvi­ous­ly, did not. I think it was all a very impor­tant thing to do, make a direct response to the let­ter and have some respon­sive demands.
Sarah: I know that many of the work­ers who have signed onto this are peo­ple from com­mu­ni­ties that are direct­ly tar­get­ed by Trump. As some­body who is an immi­grant your­self, tell me how that plays into this.
Sesha: Apart from the gen­er­al val­ues, when Trump released that exec­u­tive order, the Mus­lim ban and IBM's response was cor­po­rate gib­ber­ish, it just felt like that was some­thing very obvi­ous that IBM could have stood up and spo­ken up against. As an immi­grant, it just hap­pens that I had to renew my green card and one of the ques­tions they ask is ​"What cat­e­go­ry of green card hold­er are you?" I looked it up and it was ​"high­ly skilled work­er." I saw that IBM said in one of their state­ments that they were reach­ing out to all of their employ­ees who were affect­ed, but I think that is self-inter­est­ed and I felt that IBM can­not pro­tect its own work­ers if it doesn't also stand up for every­one who is affect­ed by it. I was real­ly dis­ap­point­ed by that.
To me, it feels like tech work­ers have in the past been very priv­i­leged in a way. They have com­par­a­tive­ly well-paid jobs and more secu­ri­ty than oth­er areas, but I think even tech work­ers now are real­ly feel­ing the crunch of the econ­o­my and uncer­tain­ty about their own futures and liveli­hoods. I know I, myself, am in my late 50s and I have been at IBM for a long time. Over that time, I have start­ed to be more and more inse­cure about my job and whether the com­pa­ny real­ly has my inter­ests in mind at all in what­ev­er they do. My sense is that they don't.
Sarah: How can peo­ple keep up with the campaign?
Daniel: You can go to IBM​Pe​ti​tion​.org and sign on as a sup­port­er, but we also have a Face­book page, also called IBM​Pe​ti​tion​.org. IBM is a big com­pa­ny. A lot of peo­ple I run into say, ​"My uncle works at IBM" or ​"My niece just got a job there." If you know any­body work­ing at IBM who sup­ports these same val­ues, please con­nect them with us. We are still try­ing to grow our orga­niz­ing team. Like I said, even if tomor­row Gin­ni Romet­ty were to imple­ment all of our pro­pos­als in our peti­tion, we would still need an inde­pen­dent orga­ni­za­tion that can hold exec­u­tives account­able to those values.
Inter­views for Resis­tance is a project of Sarah Jaffe, with assis­tance from Lau­ra Feuille­bois and sup­port from the Nation Insti­tute. It is also avail­able as a pod­cast on iTunes. Not to be reprint­ed with­out permission.
Sarah Jaffe
is a for­mer staff writer at
In These Times
and author of
Nec­es­sary Trou­ble: Amer­i­cans in Revolt
, which Robin D.G. Kel­ley called ​
"
The most com­pelling social and polit­i­cal por­trait of our age." You can fol­low her on Twit­ter
@sarahljaffe
.