If Republicans Aren't Stressing About Deficit Spending, Why Should Democrats?
Trump's tax plan shows the GOP cares about cuts for the rich, far more than it cares about debt.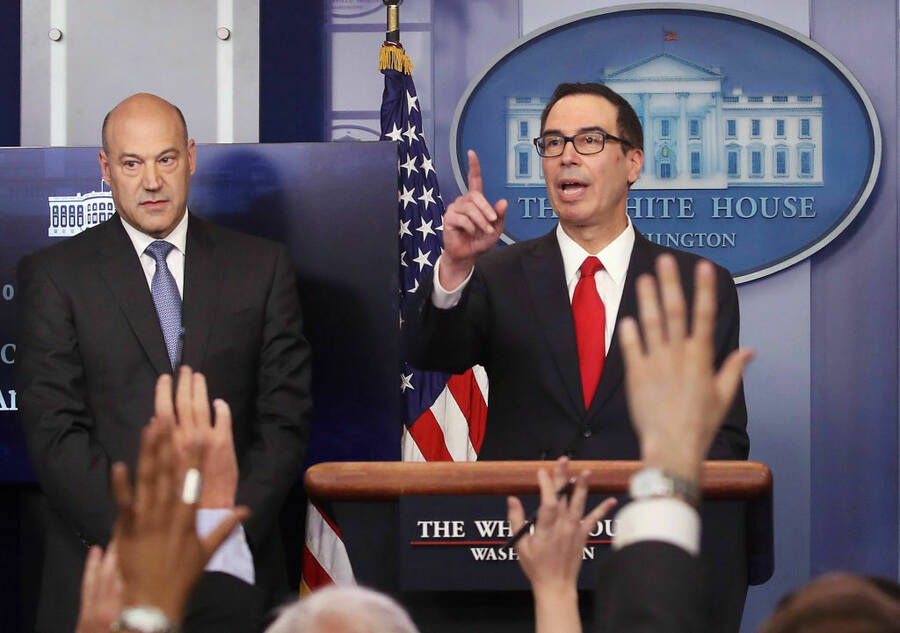 Despite a decades-run­ning PR cam­paign stok­ing fears of dev­as­tat­ing defaults and vig­i­lante bond­hold­ers, the tax plan unveiled by Nation­al Eco­nom­ic Coun­cil direc­tor Gary Cohn and Trea­sury Sec­re­tary Steve Mnuchin this week could blow a $6.2 tril­lion hole through the fed­er­al bud­get over the next decade.
'There is absolutely no factual basis for the assertion that cutting corporate tax rates causes growth to increase.'
Apply­ing tra­di­tion­al­ly-held notions about how gov­ern­ment pro­grams are fund­ed, where tax rev­enues pay for gov­ern­ment pro­grams on a one-to-one basis, the GOP's tax over­haul would leave Trump with a mul­ti-tril­lion-dol­lar gap to fill to pay for his pro­posed $54 bil­lion boost to defense spend­ing, among oth­er things. Respond­ing to these and oth­er con­cerns at the White House on Wednes­day, Cohn and Mnuchin argued that the lost rev­enue would be made up through eco­nom­ic growth. The plan would ​"pay for itself," in Mnuchin's words, by incen­tiviz­ing busi­ness­es to invest in the economy.
"There is absolute­ly no fac­tu­al basis for the asser­tion that cut­ting cor­po­rate tax rates caus­es growth to increase," Roo­sevelt Insti­tute senior econ­o­mist Mar­shall Stein­baum coun­ters. ​"This is one of the key areas in eco­nom­ic pol­i­cy where there is a rad­i­cal dis­junc­tion between what the evi­dence actu­al­ly shows ver­sus what the rhetoric says and what the pol­i­cy that comes from the rhetoric is."
The last time law­mak­ers altered the tax code in cor­po­ra­tions' favor at this scale, Stein­baum said, was in the Jobs and Growth Tax Relief Rec­on­cil­i­a­tion Act of 2003. Then-pres­i­dent George W. Bush pre­dict­ed the bill would boost invest­ment and ​"draw more mon­ey into the mar­kets to pro­vide cap­i­tal to build fac­to­ries, to buy equip­ment, hire more peo­ple." None of that hap­pened, with analy­ses show­ing that cor­po­ra­tions that ben­e­fit­ed from the change invest­ed in the econ­o­my at rates vir­tu­al­ly indis­tin­guish­able from those that didn't, Stein­baum says. Instead, it was cor­po­rate share­hold­ers who reaped the rewards of com­pa­nies being able to hold on to more of their profits.
"What cor­po­ra­tions do when they get a gigan­tic rate cut," Stein­baum explains, ​"is pay out more mon­ey to their shareholders."
The GOP's naked­ly greed-fueled ambiva­lence toward the bud­get is noth­ing new. The dirty secret of Repub­li­can pol­i­cy­mak­ing is that Repub­li­cans actu­al­ly love deficit spend­ing — so long as they get to put the mon­ey toward items like bloat­ed defense bud­gets and tax cuts for the wealthy. A Brown Uni­ver­si­ty study, for exam­ple, pegs the total cost of GOP-start­ed wars in Iraq and Afghanistan at $5 tril­lion, and counting.
"They talk a lot about deficits when spend­ing pro­pos­als are on the table, or in jus­ti­fy­ing cuts to spend­ing and wel­fare pro­grams, but when gigan­tic tax cuts for the rich are on the table, sud­den­ly their con­cerns about the fed­er­al deficit dis­ap­pear," Stein­baum tells In These Times.
With more than four decades at Gold­man Sachs, com­bined, Cohn and Mnuchin know bet­ter than most about deficit spend­ing in all the wrong places. In the after­math of a finan­cial cri­sis it helped engi­neer, Gold­man Sachs received a $10 mil­lion bailout. While Mnuchin left the bank­ing giant in 2002, Cohn was serv­ing as its pres­i­dent at the time. A New York Times arti­cle from 2009 sums up the bank's response to the reces­sion and bailout: ​"Over all, the events of the past year have not changed the way Gold­man views or man­ages the risks it takes."
The issue here isn't that deep­en­ing the fed­er­al deficit is inher­ent­ly bad, as the GOP has scold­ed for years. As econ­o­mist Pavli­na Tch­erne­va said back in Jan­u­ary, ​"Deficits absolute­ly mat­ter, always and every­where." But what mat­ters more than the moral­i­ty of a bal­loon­ing num­ber on a com­put­er screen is what the mon­ey behind it is being spent on. Is the deficit going to put peo­ple back to work? Upgrade crum­bling infra­struc­ture? Pre­pare the coun­try for an onslaught of ris­ing tides?
In the case of Trump's new tax plan, the answer to those ques­tions is pret­ty straight­for­ward: Hell no. The president's tax plan would slash the cor­po­rate tax rate from 35 per­cent to 15 per­cent, elim­i­nate the estate tax and the abil­i­ty to write-off per­son­al expens­es, like inter­est paid on stu­dent loan debts. ​"The peo­ple who are going to ben­e­fit are the own­ers of large major cor­po­ra­tions that have been run­ning high prof­its," says Stein­baum. Trump will see the fruits of his own tax plan, too, since it offers vast sav­ings for his per­son­al empire.
So, if the fears of fed­er­al deficits real­ly are myths, why not reflect that in calls for pro­gres­sive pol­i­cy and pro­pose dri­ving up the deficit in a way that would ben­e­fit all Amer­i­cans? No longer see­ing the fed­er­al bud­get as a sim­ple bal­ance sheet opens up a whole range of pos­si­bil­i­ties. A pro­pos­al from the Next Sys­tem Project, mak­ing the rounds again this week, pro­pos­es using fed­er­al funds to nation­al­ize and then rapid­ly scale down the fos­sil fuel indus­try. Oth­ers have sug­gest­ed a fed­er­al job guar­an­tee, which could dri­ve spend­ing while giv­ing work­ers more bar­gain­ing power.
"The Democ­rats have been pun­ished severe­ly by tak­ing the deficit rhetoric too seri­ous­ly," Stein­baum says, ​"because that con­strains what they can pro­pose in office."
With Repub­li­cans now con­trol­ling more pow­er than at any point since 1928, today's Democ­rats have noth­ing left to lose but the chains of their regres­sive approach to fis­cal policy.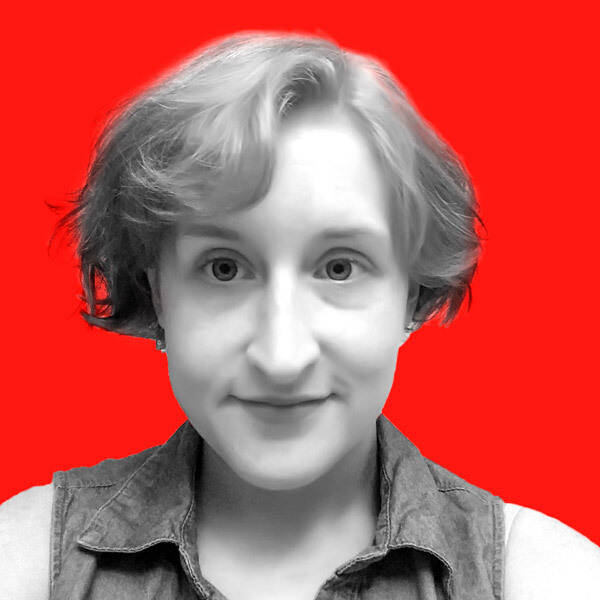 Kate Aronoff
is a Brook­lyn-based jour­nal­ist cov­er­ing cli­mate and U.S. pol­i­tics, and a con­tribut­ing writer at The Inter­cept. Fol­low her on Twit­ter @katearonoff.