Illinois Bill Would Ban State Pension Funds from Divesting from Israel
The anti-worker and anti-Palestinian agenda seem to be converging in Illinois.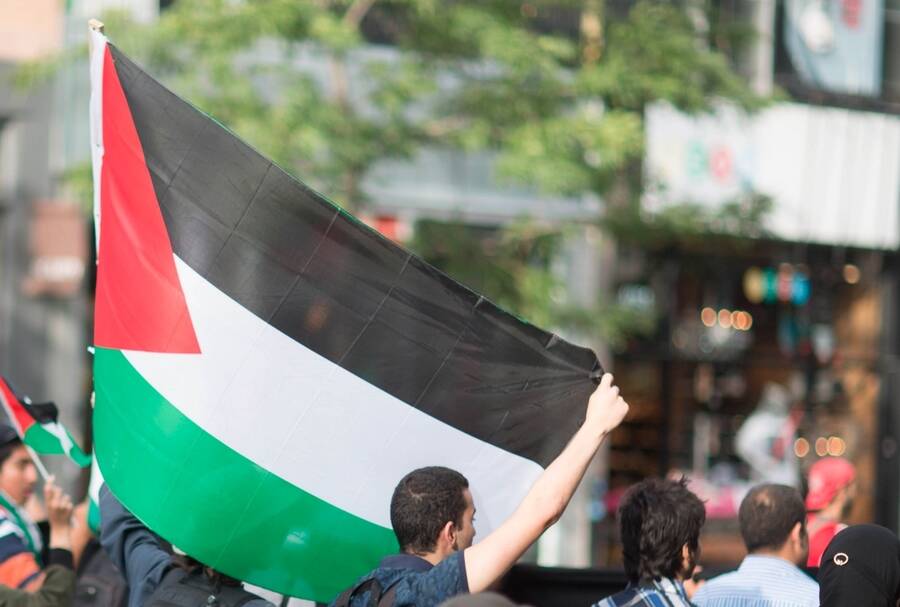 As Illi­nois pub­lic work­ers strug­gle to pro­tect their under­fund­ed pen­sions from seizure by Gov­er­nor Rauner and aus­ter­i­ty-mind­ed politi­cians across the polit­i­cal spec­trum, Spring­field leg­is­la­tors have devised a way to fur­ther politi­cize the pen­sion debate — this time, by using it to shield Israel from the grass­roots momen­tum of the glob­al Boy­cott, Divest­ment and Sanc­tions (BDS) move­ment for Pales­tin­ian human rights.
These pieces of legislation serve to intimidate and deter supporters of BDS and companies that would consider making ethical business decisions by making clear that the state or the federal government disapproves of such a viewpoint or activity.
With the unan­i­mous pas­sage of Illi­nois House Bill 4011 and Sen­ate Bill 1761, Illinois's five state pen­sion funds would be forced to divest from any com­pa­ny that pub­licly sup­ports or engages in a boy­cott against the state of Israel. SB 1761 was pro­posed by State Sen­a­tor Ira Sil­ver­stein, a strong­ly pro-Israel Chica­go Demo­c­rat who last year spon­sored unsuc­cess­ful leg­is­la­tion call­ing on state uni­ver­si­ty pres­i­dents to pub­licly con­demn aca­d­e­m­ic boy­cotts of Israel. Rep. Sara Feigen­holtz, anoth­er Chica­go spon­sor of the bill, declared ​"if you're going to boy­cott Israel, an ally of the Unit­ed States, a democ­ra­cy in the Mid­dle East, then we are going to divest from you." Gov­er­nor Rauner, who dur­ing his 2014 cam­paign crit­i­cized Pat Quinn's ​"pat­tern of silence" around BDS and pledged to ​"always stand square­ly … in strong sup­port of the state of Israel," has endorsed the bill.
As Spring­field moves to align the anti-work­er agen­da of pen­sion reform with the anti-Pales­tin­ian agen­da of Amer­i­can for­eign pol­i­cy, thou­sands of activists on col­lege cam­pus­es, in reli­gious insti­tu­tions and across a broad swath of inter­na­tion­al social move­ments con­tin­ue to embrace BDS as an effec­tive tac­tic to put non­vi­o­lent pres­sure on Israel to end its occu­pa­tion of Pales­tine. Begun in 2005 as a dec­la­ra­tion from 171 Pales­tin­ian non-gov­ern­men­tal orga­ni­za­tions, the BDS move­ment calls on the world com­mu­ni­ty to boy­cott and divest from com­pa­nies that prof­it from the vio­la­tion of Pales­tin­ian rights, and apply sanc­tions to pres­sure Israel to end its occu­pa­tion, grant equal rights to its Pales­tin­ian cit­i­zens and respect and pro­mote the UN-stip­u­lat­ed right of refugees to return to their homes and properties.
Though Illi­nois will become the first state in the nation to divest from com­pa­nies that sup­port Israeli boy­cotts if the bill is signed by Gov. Rauner, it will join oth­er state and fed­er­al bod­ies in a coor­di­nat­ed push­back against BDS. Last month, Indi­ana and Ten­nessee state leg­is­la­tors passed leg­is­la­tion for­mal­ly oppos­ing BDS. In Cal­i­for­nia, where non-bind­ing divest­ment res­o­lu­tions have passed in stu­dent gov­ern­ments across the pub­lic uni­ver­si­ty sys­tem and an aca­d­e­m­ic work­ers union, state sen­a­tors are push­ing for leg­is­la­tion that seeks to sti­fle cam­pus debate by equat­ing crit­i­cism of Israel with anti-Semitism.
"Israel advo­ca­cy groups like AIPAC, and the Jew­ish Fed­er­a­tion in the case of the Illi­nois bill, are push­ing leg­is­la­tion to bol­ster their attacks against free speech and time-hon­ored civ­il rights tac­tics like boy­cott move­ments," says Dima Kha­li­di, Direc­tor of Pales­tine Sol­i­dar­i­ty Legal Sup­port and Coop­er­at­ing Coun­sel at the Cen­ter for Con­sti­tu­tion­al Rights. ​"These pieces of leg­is­la­tion, if passed, would not affect indi­vid­u­als' abil­i­ty to advo­cate for BDS on cam­pus­es or in oth­er spaces — that would be plain­ly uncon­sti­tu­tion­al. … They do, how­ev­er, serve to intim­i­date and deter sup­port­ers of BDS and com­pa­nies that would con­sid­er mak­ing eth­i­cal busi­ness deci­sions by mak­ing clear that the state or the fed­er­al gov­ern­ment dis­ap­proves of such a view­point or activity."
At the fed­er­al lev­el, U.S. Sen­a­tors sur­prised the Amer­i­can pub­lic last month by qui­et­ly slip­ping an anti-BDS amend­ment into the con­tro­ver­sial ​"Fast-Track" Trade Pro­mo­tion Author­i­ty, a piece of leg­is­la­tion soon to come to a vote before the House and Sen­ate that will stream­line Con­gres­sion­al approval of dis­as­trous inter­na­tion­al trade deals like the Trans-Pacif­ic Partnership.
This amend­ment, along with sim­i­lar House leg­is­la­tion intro­duced in March, would allow the U.S. to use inter­na­tion­al trade nego­ti­a­tions to pres­sure for­eign com­pa­nies not to engage in ​"polit­i­cal­ly moti­vat­ed actions to boy­cott, divest from or sanc­tion Israel." As the U.S. nego­ti­ates with the EU over the Transat­lantic Trade and Invest­ment Part­ner­ship (T‑TIP), it seeks to pres­sure the EU, which recent­ly cut fund­ing to insti­tu­tions in Israeli set­tle­ments and attempt­ed to label all set­tle­ment prod­uct imports, to reverse its ges­tures towards BDS.
Reject­ing long­stand­ing U.S. pol­i­cy and inter­na­tion­al law, both the fed­er­al Fast Track amend­ment and Illi­nois SB-1761 dis­cour­age boy­cotts not only against ​"the State of Israel" or ​"com­pa­nies based in the State of Israel", but against com­pa­nies based ​"in ter­ri­to­ries con­trolled by the State of Israel" as well. This fails to dis­tin­guish between Israel and the ter­ri­to­ries it has ille­gal­ly occu­pied since 1967.
"By help­ing Israel strength­en its set­tle­ment enter­prise in the West Bank and East Jerusalem and main­tain its siege on the Gaza Strip, these bills stand in the way of jus­tice and equal­i­ty for Pales­tini­ans and true safe­ty and secu­ri­ty for Israelis," says Rab­bi Joseph Berman, fed­er­al pol­i­cy orga­niz­er at Jew­ish Voice for Peace. ​"They also stand against the inter­na­tion­al com­mu­ni­ty and Amer­i­can pub­lic, both of whom over­whelm­ing­ly sup­port an end to Israel's occupation."
In the month of May alone, BDS made head­lines around the world when Lau­ryn Hill can­celed a show in Israel, and the Brazil­ian gov­ern­ment can­celed a $2 bil­lion con­tract with an Israeli secu­ri­ty firm to coor­di­nate secu­ri­ty for the 2016 Olympics in Rio De Janeiro. In Amer­i­ca, the Unit­ed Methodist and Pres­by­ter­ian Church­es have made moves in recent years to boy­cott and divest, and hun­dreds of Stu­dents for Jus­tice In Pales­tine (SJP) chap­ters have brought BDS res­o­lu­tions before the stu­dent gov­ern­ments of uni­ver­si­ties across the country.
"BDS is win­ning because the Pales­tin­ian strug­gle is no longer this mar­gin­al thing peo­ple don't talk about," said Bassem Kawar, local orga­niz­er with the U.S. Pales­tin­ian Com­mu­ni­ty Net­work (USPCN), a nation­al Pales­tin­ian com­mu­ni­ty orga­ni­za­tion. In the Chicagoland area, like­ly home to more Pales­tin­ian immi­grants than any­where in the U.S., USPCN is part of a coali­tion of mobi­lized com­mu­ni­ty mem­bers to vis­it the state cap­i­tal Spring­field, talk with leg­is­la­tors, and file over 800 wit­ness slips against SB 1761. ​"It's no longer rad­i­cal to say that Israel is a racist, apartheid state. BDS … is caus­ing peo­ple to have con­ver­sa­tions about the occu­pa­tion, and chang­ing the way peo­ple talk about it. That's why AIPAC is afraid."
Will BDS con­tin­ue to gain ground world­wide? Last sum­mer, the world watched as Israel's Oper­a­tion Pro­tec­tive Edge killed over 2,100 Pales­tini­ans in Gaza, over 70% of whom were con­firmed civil­ians, and wound­ed over 10,000 more. Israel indis­crim­i­nate­ly reduced busi­ness­es, med­ical facil­i­ties, mosques, pow­er sta­tions, civil­ian homes and high-rise apart­ment com­plex­es to rub­ble dur­ing the 51-day onslaught.
Then, Israeli vot­ers elect­ed anoth­er hard-right coali­tion gov­ern­ment in March 2015, led again by Prime Min­is­ter Ben­jamin Netanyahu and fea­tur­ing peo­ple like Jus­tice Min­is­ter Ayelet Shaked, who assert­ed in a Face­book post short­ly before Pro­tec­tive Edge that ​"the entire Pales­tin­ian peo­ple is the ene­my" and called for the destruc­tion of ​"its elder­ly and its women, its cities and its vil­lages, its prop­er­ty and its infrastructure."
The North­west­ern Uni­ver­si­ty chap­ter of Stu­dents for Jus­tice in Pales­tine, which worked in coali­tion to pass a stu­dent sen­ate divest­ment res­o­lu­tion in Feb­ru­ary, remains unfazed by Springfield's moves to sti­fle the BDS move­ment. ​"Now more than ever," it said in a state­ment after the pas­sage of SB1761, ​"we must orga­nize, mobi­lize and fight for our con­sti­tu­tion­al free­doms of speech and asso­ci­a­tion so that we may stand in sol­i­dar­i­ty with Pales­tini­ans. Now more than ever, we must boy­cott, divest and sanction."
Ben Lor­ber
is Cam­pus Coor­di­na­tor for Jew­ish Voice for Peace.