Illinois Grad Students Are on Strike to Make the University Accessible for the Working Class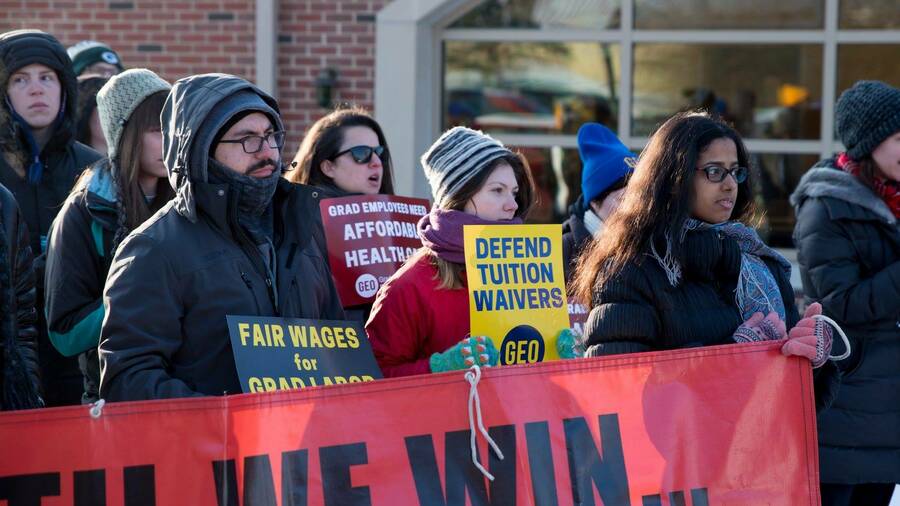 On Feb­ru­ary 26, four days after teach­ers in all 55 West Vir­ginia coun­ties walked out on strike, grad­u­ate work­ers at the Uni­ver­si­ty of Illi­nois Urbana-Cham­paign (UIUC) fol­lowed suit. Fill­ing the leafy quad of Illi­nois' flag­ship state uni­ver­si­ty, hun­dreds of grad­u­ate work­ers and sup­port­ers gath­ered to protest a plan that the school's Grad­u­ate Employ­ees Union (GEO) argues will turn the uni­ver­si­ty into a ​"for-prof­it busi­ness, one that leaves poor and work­ing class stu­dents out of its sto­ried halls." As of Tues­day, UIUC grad stu­dents remain on strike.
Since March 2017, GEO, which rep­re­sents around 2,700 grad­u­ate and teach­ing assis­tants, has been bar­gain­ing unsuc­cess­ful­ly with the UIUC admin­is­tra­tion. At the cen­ter of the con­tract dis­pute is the issue of tuition waivers. The exist­ing con­tract states that any grad­u­ate employ­ee who works more than 25% of a 40-hour work week for the uni­ver­si­ty is eli­gi­ble for a tuition waiv­er, either in full or at a base-rate, which cov­ers only the res­i­dent rate of tuition, leav­ing the stu­dent respon­si­ble for the remain­ing cost. The admin­is­tra­tion wants to roll back this ben­e­fit by allow­ing aca­d­e­m­ic depart­ments to exclude stu­dents in their pro­grams from being mem­bers of the GEO bar­gain­ing unit.
In oth­er words, the admin­is­tra­tion wants to allow stu­dents in some depart­ments to work more than 10 hours a week for the uni­ver­si­ty with­out assis­tance from tuition waivers or any of the oth­er ben­e­fits afford­ed under a GEO con­tract. In a state­ment, the GEO claims that as a result of this change, ​"grad­u­ate stu­dents would be forced to pay up to $30,000 in order to keep a job that pays less than $17,000 per year."
In an email sent to fac­ul­ty on March 3, Provost Andreas C. Can­gel­laris explained the administration's ratio­nale behind the deci­sion: ​"Our intent … is to offer those in the GEO bar­gain­ing unit tuition waiv­er pro­tec­tion while restor­ing the abil­i­ty of depart­ments, schools and col­leges to mod­i­fy pro­grams in ways that fur­ther their edu­ca­tion­al mission."
While pro­tect­ing tuition waivers is a key demand, grad­u­ate work­ers say that the stakes of the strike go far beyond this sin­gle issue. Gus Wood, GEO Co-Pres­i­dent, says that ​"this is a fight for the soul of pub­lic high­er edu­ca­tion. Work­ing class and poor stu­dents can­not afford to pay twice their salary to con­tin­ue their stud­ies at U of I."
What grad stu­dents want
On March 2, day four of the strike, GEO intro­duced an ​"Edu­ca­tion for All" pro­pos­al aimed at mak­ing grad­u­ate edu­ca­tion acces­si­ble to all stu­dents. The com­pre­hen­sive set of demands includes finan­cial, health­care and child­care pro­vi­sions aimed at keep­ing the doors of the insti­tu­tion open to poor and work­ing class people.
The need is appar­ent: the min­i­mum wage for UIUC grad­u­ate stu­dents is cur­rent­ly $16,360 a year, $6,000 less than the university's self-pub­lished data on the cost of liv­ing in Urbana-Cham­paign. At the same time, the uni­ver­si­ty leans heav­i­ly on grad­u­ate stu­dent labor. As is the case at many oth­er pub­lic and pri­vate uni­ver­si­ties, which increas­ing­ly rely on grad­u­ate stu­dents and adjunct fac­ul­ty rather than their more expen­sive tenure-track peers, UIUC requires grad­u­ate stu­dents to take on a heavy teach­ing load. The uni­ver­si­ty ranks sixth in the nation for most class­es taught by teach­ing assistants.
While grad­u­ate stu­dents form the back­bone of the uni­ver­si­ty, strik­ing grad work­ers say the admin­is­tra­tion treats them like an expend­able work­force. Accord­ing to Patrick Kimutis, a third-year doc­tor­al stu­dent and instruc­tor in the Eng­lish depart­ment, pri­or to the pas­sage of the Afford­able Care Act (ACA), grad­u­ate stu­dents lacked access to basic cov­er­age for pre­scrip­tions and repro­duc­tive health­care. Kimutis fears what would hap­pen to these ben­e­fits if the ACA was repealed: ​"It's like­ly we'd lose them."
Grad­u­ate stu­dents are also not afford­ed child care assis­tance or health­care cov­er­age for depen­dents. As a result, the prospect of start­ing a fam­i­ly, let alone sup­port­ing an exist­ing one, is out of reach for many grad­u­ate students.
Adam Kozak, a doc­tor­al stu­dent and par­ent of one, knows first­hand the bur­den of par­ent­ing under these con­di­tions. Kozak pays $1,000 total in health insur­ance for his wife and daugh­ter every semes­ter. ​"Health care pre­mi­ums increase but our wages remain stag­nant," Kozak says, ​"while the admin­is­tra­tion gives them­selves healthy rais­es every year."
Such poli­cies car­ry dis­crim­i­na­to­ry effects along the lines of gen­der as well as class. A wealth of evi­dence shows that the absence of child-friend­ly poli­cies dis­pro­por­tion­ate­ly affects women, shut­ting many out of acad­e­mia entirely.
Class(room) mil­i­tan­cy
The UIUC strike is the lat­est in a recent wave of labor activism among U.S. grad­u­ate stu­dents. Since the 2016 Nation­al Labor Rela­tions Board (NLRB) Colum­bia Uni­ver­si­ty rul­ing that gave grad­u­ate stu­dents the right to orga­nize unions at pri­vate uni­ver­si­ties, grad­u­ate stu­dents at elite col­leges such as Colum­bia, Yale and the Uni­ver­si­ty of Chica­go have vot­ed to unionize.
But Pres­i­dent Trump's elec­tion has thrown a wrench in these efforts. Cal­cu­lat­ing that with Trump in office the Colum­bia rul­ing will be over­turned, many uni­ver­si­ty admin­is­tra­tions have tak­en a hard line against unions, stalling bar­gain­ing until the NLRB reviews its deci­sion, which could take months. As a result, some grad­u­ate stu­dents, includ­ing the Grad­u­ate Stu­dents Unit­ed at the Uni­ver­si­ty of Chica­go, have with­drawn from the NLRB cer­ti­fi­ca­tion process and are seek­ing to bar­gain direct­ly with their uni­ver­si­ty administrations.
An unfa­vor­able NLRB rul­ing isn't the only threat fac­ing grad­u­ate stu­dents. The West Vir­ginia and UIUC strikes coin­cid­ed with the Supreme Court's delib­er­a­tion of Janus v. AFSCME, a case in which the Court's con­ser­v­a­tive major­i­ty is expect­ed to bar pub­lic sec­tor unions (which rep­re­sent grad­u­ate employ­ees at pub­lic uni­ver­si­ties) from col­lect­ing ​"agency fees" — those paid by non-union employ­ees who ben­e­fit from col­lec­tive bar­gain­ing. The rul­ing would effec­tive­ly insti­tute pub­lic-sec­tor right-to-work nation­wide, dec­i­mat­ing not only the most union­ized sec­tor in the coun­try, but one dom­i­nat­ed by women and peo­ple of color.
The attacks on grad­u­ate and pub­lic-sec­tor work­ers are part of a broad­er nation­wide effort by anti-union forces to strip work­ers of their rights and expand puni­tive anti-work­er leg­is­la­tion. And yet, as the grad­u­ate stu­dent strike at UIUC and the teacher strike in West Vir­ginia demon­strate, pub­lic sec­tor work­ers are refus­ing to sub­mit to defeat.
Just as the right-wing con­spires to pri­va­tize edu­ca­tion and dis­man­tle the pub­lic sec­tor, we are per­haps begin­ning to see the out­lines for a new work­ing class move­ment — one that starts in the classroom.
Rachel John­son
is a writer based in Chica­go. She holds a mas­ter's degree in U.S. his­to­ry from North­west­ern University.