Illinois Schools On Uneven Field
A Chicago educational reform movement keeps fighting to address the suburban-urban funding disparity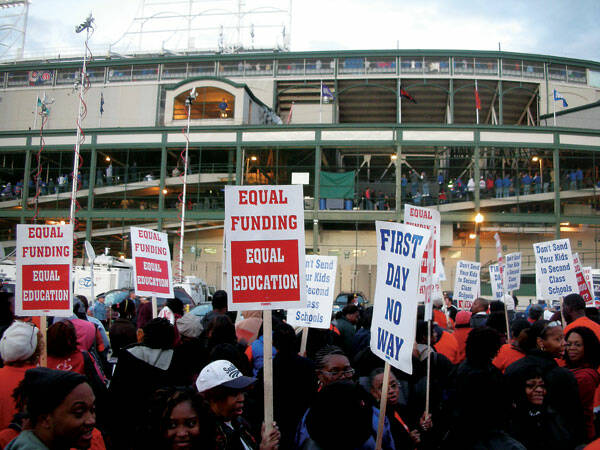 CHICAGO – When the Chicago Cubs hosted Game 1 of their opening round playoff series on Oct. 1, more than 40,000 fans packed Wrigley Field. Outside the ballpark, another group was also trying to make history. Roughly 1,500 parents, students, teachers and activists protested for state educational reforms.
Crowded around the foot of a flatbed truck, the rally was the latest in an educational reform movement, led by Democratic State Sen. James L. Meeks, a pastor at Salem Baptist Church on Chicago's South Side. For six years, Meeks has tried to pressure Illinois lawmakers to address the disparity between dollars spent per child in wealthy suburban Chicago and the dollars spent in the inner city and downstate.
"We do not want the City of Chicago to pay more attention to the Cubs and White Sox than to their kids," Meeks said at the demonstration.
Although Illinois has the fourth-highest GDP in the country – at $741 billion – it ranks 49th in public-school funding, forcing local communities to foot the bill.
School districts in wealthy communities in Illinois provide more than 80 percent of school funding through property taxes. Low-income districts hover near 45 percent, resulting in an average of $4,186 less spent per student, according to the Center for Tax and Budget Accountability (CTBA), a nonprofit advocacy group.
At New Trier High School in the North Shore suburb of Winnetka, close to $17,000 is spent per student. Meanwhile, some Chicago schools struggle to break $10,000.
On Sept. 2, the first day of class for the Chicago Public Schools, Meeks led 1,000 inner city students to demonstrate at New Trier. The next day, he held a rally in downtown Chicago.
Eighty-one percent of Illinois students live in low-income districts, according to the CTBA. In the mostly white neighborhood of Wrigleyville – where the Cubs play – the protest was a predominantly African-American affair.
Beverly Williams took a bus from the far North Side to the rally with her 6-year-old granddaughter.
"I talked to a teacher who said they don't have books for every subject," Williams says. ​"This is so important because it's our next generation, and if we don't help them, what kind of generation are we going to have?"
Brandon Saunders, who attends Morgan Park Academy on the South Side, says he hoped the Wrigley Field protest venue allowed them to reach a new demographic. ​"It is a huge step because people who came to see the game walked past and I heard them say this was awesome," he says. ​"I think we did impact people even if we didn't touch the politicians."
Some New Trier students joined the protest after hearing Meeks explain the issue in September. Senior Matt McCambridge spoke to the crowd, announcing his plans to create the Illinois Council of Students, a student-run organization that will foster dialogue between the suburbs and the city.
Meeks' state Senate proposal calls for an increase in the state's income and corporate taxes to help lower property tax rates in poorer communities. The bill is pending.
The Cubs were quickly swept out of the playoffs, but Meeks says he has no plans to go so quietly: ​"We'll protest at every public event until something is fixed."
The Rise of a New Left
"An engrossing, behind-the-scenes account of our decade's breakout political movement." –Atossa Araxia Abrahamian
For a limited time, when you donate $30 or more to support In These Times, we'll send you a copy of the new book, The Rise of a New Left: How Young Radicals Are Shaping the Future of American Politics, by Raina Lipsitz.

Ben Strauss
, a recent graduate of Ithaca College, is a freelance writer in Chicago.