In America's 'RV Capital,' Another Blow for Workers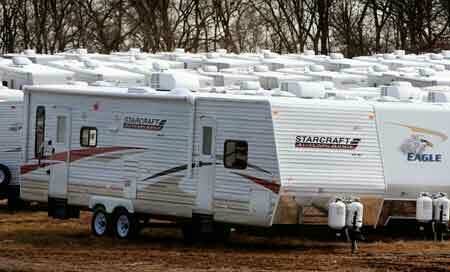 Poor Elkhart. Thousands of workers in the northern Indiana town known as a RV manufacturing hub found themselves losing hours — or jobs — as the economy grew increasingly sour.
Unemployment in the community of nearly 52,000 approached 21 percent, prompting President Obama to use the struggling city as a stage for events focusing on joblessness. Twice.
The downturn in the industry that inspired Elkhart's nickname ("The RV Capital of the World") was spotlighted by Obama's visits. But did you know that Elkhart was once also a center for musical instrument manufacturing?
In the 1970s, 40 percent of the world's band instruments were made there. But this year saw a sad end to a long union struggle at the factory of Vincent Bach, an 80-year-old producer of fine trombones and trumpets.
An Associated Press story published this weekend documented the quiet end to a more than three-year long standoff between some workers and the company, which once paid one of the highest factory wages in the area.
At the end of the summer, the strike finally ended — but only after a bitter saga in which scabs were hired, workers crossed the picket line, the union was criticized for leadership failures, work was outsourced and major concessions were made.
Aerospace workers ratify contract
Nearly 1,800 Boeing workers in Pennsylvania will see yearly wages increase and receive several lump-sum payments during the next five years, according to a contract ratified Monday.
Members of the United Aerospace Workers Local 1069, who manufacture helicopters at the plant in Ridley, Pa., ratified a contract they tentatively agreed upon with Chicago-based Boeing last week. The workers will get a 3-percent raise in the first, third and fourth years of the contract, a 2-percent raise in the second and a 4-percent raise in the fifth year.
The contract also included lump sum payments of $3,500 in the first year,
$1,500 in the fourth year and $2,000 in the fifth year.
A Message from Union Organizer Leah Fried
I interviewed United Electrical Workers organizer for Leah Fried for an earlier Working ITT post on the situation at Quad City Die Casting in Moline, Ill.
Fried, who appears in Michael Moore's new film Capitalism: A Love Story, recently blogged on Moore's site about healthcare, the Quad City workers and an upcoming action coinciding with the American Bankers Association in Chicago.
Check out plans for the ​"Showdown in Chicago," which will involve multiple demonstrations October 25-27.
Be one of the first
Help kick off the new era of In These Times! Without a media that brings people together and creates a written record of the struggles of workers, their voices will be fragmented and forgotten.
The mission of In These Times is to be that written record, and to guide and grow those movements.
We have a lot of work ahead of us, and that work starts today. Early support is the most valuable support, and that's why we're asking you to pitch in now. If you are excited for this new era of In These Times, please make a donation today.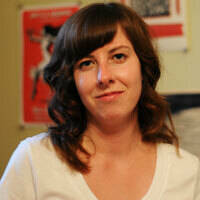 Emily Udell
is a writer for Angie's List Magazine in Indianapolis. In
2009
, she finished a stint drinking bourbon and covering breaking news for
The Courier-Journal
in Louisville, Ky. Her eclectic media career also includes time at the Associated Press,
Punk Planet
(R.I.P.),
The Daily Southtown
in southwest Chicago, and Radio Prague in the Czech Republic. She co-hosted and co-produced
In These Times
' radio show ​
"
Fire on the Prairie
" from
2003
to
2006
.