In Defense of Wildfire
What climate activists, right-wing loggers and Smokey Bear get wrong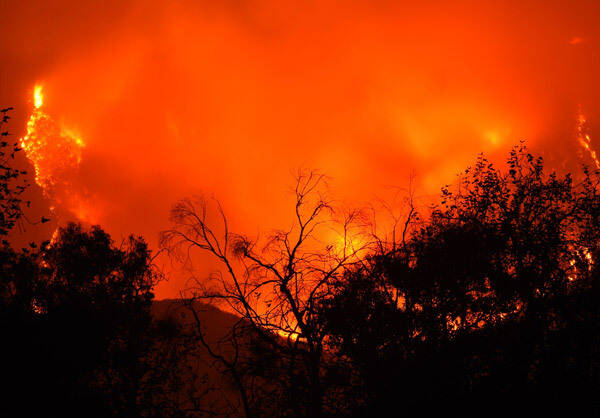 In 1972, the year of its cen­ten­ni­al, Yel­low­stone Nation­al Park embarked on a rad­i­cal exper­i­ment — to let wild­fires do what, until the 20th cen­tu­ry, they had been doing in the park's forests since those forests sprout­ed in the wake of retreat­ing glac­i­ers some 14,000 years ago.
Thankfully, Gary Ferguson reveals Smokey Bear for what he really is: a traitor to his own kind.
Under the ​"nat­ur­al fire" pol­i­cy, the Nation­al Park Ser­vice allowed light­ning-caused fires to run their course on cer­tain lands. The U.S. gov­ern­ment, it seemed, was learn­ing what Native Amer­i­cans and the land itself had long known: that wild­fire is a healthy and unde­ni­able part of wild ecosystems.
For 16 years, Yellowstone's exper­i­ment with nat­ur­al fire went on with­out major con­tro­ver­sy. That changed in the sum­mer of 1988. Unusu­al­ly dry con­di­tions com­bined with unusu­al­ly high winds to fuel sev­er­al large wild­fires, most of which were not part of the park's nat­ur­al fire pro­gram. The Park Ser­vice began aggres­sive­ly sup­press­ing all fires in Yel­low­stone on July 21, but with lit­tle effect. By the time rain and snow stopped the fires' spread in mid-Sep­tem­ber — accom­plish­ing what $120 mil­lion and 10,000 fire­fight­ers could not — near­ly 800,000 of Yellowstone's 2.2 mil­lion acres had burned.
Crit­ics denounced the fires as the destruc­tion of Yel­low­stone. ​"Much of this beloved nat­ur­al won­der­land died this sum­mer," began a Chica­go Tri­bune report, head­lined ​"Requiem for a Nation­al Trea­sure." The edi­tors attacked ​"the fol­ly" of the Park Service's ​"exces­sive eco­log­i­cal ide­al­ism." Wyoming's sen­a­tors demand­ed the res­ig­na­tion of the direc­tor of nation­al parks, William Penn Mott Jr. (He refused.)
More was at stake, how­ev­er, than an agency's rep­u­ta­tion. In ques­tion was the place of wild­fire, and wild­ness, in nat­ur­al landscapes.
The dead­ly fires in north­ern Cal­i­for­nia in fall 2017 pushed wild­fire back into the nation­al con­scious­ness. Dri­ven by drought con­di­tions and the strong Dia­blo winds, the fires ripped through Men­do­ci­no, Napa and Sono­ma Coun­ties, burn­ing 245,000 acres, includ­ing vine­yards, busi­ness­es and whole neigh­bor­hoods. The fires destroyed more than 8,000 struc­tures and killed 43 peo­ple, mak­ing them the dead­liest in Cal­i­for­nia his­to­ry. Though they took few­er lives and made few­er head­lines than the Cal­i­for­nia blazes, last summer's fires in Mon­tana burned 1.2 mil­lion acres. Nation­al­ly in 2017, wild­fires burned more than 8.8 mil­lion acres.
In the debate ignit­ed by these fires, some cli­mate activists have added wild­fires to the list of evi­dence for human-caused cli­mate change. Some con­ser­v­a­tives have blamed the fires on envi­ron­men­tal pro­tec­tions that, they argue, have hin­dered the log­ging oper­a­tions need­ed to keep forests clear of fire fuels.
Few have shown much inter­est in under­stand­ing wild­fire, its eco­log­i­cal role or how recent human activ­i­ty has thrown us into con­flict with this ancient force.
The idea that wild­fire is sim­ply bad and should be sup­pressed is rel­a­tive­ly new to North Amer­i­ca. Long before Euro­pean col­o­niza­tion, Native Amer­i­cans rec­og­nized the reju­ve­nat­ing pow­er of wild­fire and start­ed fires of their own to shape the land­scape and encour­age the flour­ish­ing of favored plants and game.
The dawn of wide­spread fire sup­pres­sion can be traced to the sum­mer of 1910, when a series of large fires black­ened swaths of the North­west. The ​"Big Burn" rat­tled the coun­try at a time when the U.S. For­est Ser­vice, only a few years old, was strug­gling to jus­ti­fy its exis­tence to a skep­ti­cal Con­gress. The agency argued that, with enough resources, it could vir­tu­al­ly elim­i­nate wildfire.
For the next 60 years, the For­est Ser­vice sold itself as a fire sup­pres­sion agency that could pro­tect the nation's valu­able tim­ber. In 1935 it adopt­ed the ​"10 a.m. pol­i­cy" — wher­ev­er and when­ev­er a wild­fire broke out, it was the For­est Service's goal to con­trol it by 10 a.m. the next morn­ing. In the 1940s, the agency intro­duced one of the most effec­tive pro­pa­gan­da cam­paigns in U.S. his­to­ry: Smokey Bear. With his sim­ple and ubiq­ui­tous slo­gan — ​"Only You Can Pre­vent For­est Fires!" — Smokey con­vinced peo­ple that wild­fire was an ugly thing, like lit­ter­ing, that could and should be stopped.
Thank­ful­ly, Gary Fer­gu­son, author of Land on Fire: The New Real­i­ty of Wild­fire in the West, reveals Smokey Bear for what he real­ly is: a trai­tor to his own kind. ​"Being a crea­ture of the woods," Fer­gu­son writes, ​"Smokey might well have known what it would take humans longer to under­stand — that fire can in a lot of cas­es be a blessing."
The pon­derosa pine, an icon of the West, is rec­og­niz­able for its thick, red­dish, spongy bark and tall, bar­ren trunk topped by a mane of branch­es and nee­dles. These char­ac­ter­is­tics are not arbi­trary. The bark insu­lates the trunk from fire, and the shed­ding of low­er branch­es pre­vents ground fires from climb­ing to the canopy and killing the tree.
Oth­er species don't sur­vive fire — they thrive in its after­math. In Yellowstone's lodge­pole pine forests, for exam­ple, between 38 and 58 per­cent of the trees pro­duce resin-sealed seed cones that open only through expo­sure to the heat of fire. Vast lodge­pole forests like those in Yel­low­stone have adapt­ed not only to low-inten­si­ty burns that clear the for­est of dead wood and under­growth, but also peri­od­ic ​"stand replace­ment fires" — big burns that kill swaths of old trees and seed the next generation.
A year after the Yel­low­stone fires, a research project found lodge­pole pine seeds sprout­ing at the rate of 300,000 per acre. ​"Not only were tran­si­tion­al plants — fire­weed, cur­rant, rasp­ber­ry — abun­dant with­in just a cou­ple of years of the burn," writes Gary Fer­gu­son, ​"but also the vast major­i­ty of greater Yel­low­stone was on its way to rebuild­ing the same mix of veg­e­ta­tive com­mu­ni­ties that were present before the burn."
Nor did the fires do much harm to wildlife. Accord­ing to Fer­gu­son, only two species suf­fered sig­nif­i­cant pop­u­la­tion declines due to habi­tat loss: cap­shell snails and moose. Nutri­ent-rich grass­es, favored by elk and bison, sprout­ed pro­fuse­ly from the black­ened ground, and increased sun­light along streams fed more algae, which fed more insects, which fed more trout and birds.
Fer­gu­son says that while the media response to Yellowstone's 1988 fires may have soured many peo­ple on the idea of nat­ur­al fire, sci­en­tists who doc­u­ment­ed the recov­ery grew more con­vinced than ever that fire plays a vital eco­log­i­cal role in the landscape.
In the arid West, the process of decay is hob­bled by lack of water, which is essen­tial to the diges­tion of bac­te­r­i­al and fun­gal decom­posers. There, wild­fire large­ly takes the place of decay in the cycle of life: It frees and recy­cles the car­bon and oth­er life-fuel­ing nutri­ents locked up in trees and oth­er plants. As from a decay­ing nurse log in a tem­per­ate rain­for­est, new life often blooms from the scorched ground in the wake of a wild­fire. In his essay ​"The Fire of Life," fire his­to­ri­an Stephen J. Pyne puts it this way: ​"Com­bus­tion takes apart what pho­to­syn­the­sis puts togeth­er. It is among the most ele­men­tal of bio­chem­i­cal reac­tions; when it occurs in cells, we call it res­pi­ra­tion, and when it occurs on land­scapes, we call it fire."
What­ev­er we may pre­fer to think, peo­ple are not inde­pen­dent from the mutu­al rela­tion­ship between fire and life. James C. Scott argues in his recent book, Against the Grain: A Deep His­to­ry of the Ear­li­est States, that bio­log­i­cal­ly mod­ern humans would not exist with­out wild­fire. ​"Our ances­tors," Scott writes, ​"could not have failed to notice how nat­ur­al wild­fires trans­formed the land­scape: how they cleared old veg­e­ta­tion and encour­aged a host of quick-col­o­niz­ing grass­es and shrubs, many bear­ing desired seeds, berries, fruits and nuts." Learn­ing from wild­fire, and ini­tial­ly using flames cap­tured from wild­fires, ear­ly humans shaped lands to attract more of the plants and the ani­mals they liked to eat.
At some point, our ances­tors also began expos­ing raw food to fire. By exter­nal­iz­ing the diges­tive process, cook­ing allowed humans to eat a wider range of foods, to get more nutri­ents from a small­er quan­ti­ty of them, and to expend few­er calo­ries doing it. As a result, Scott writes, we have a gut less than half as large as our pri­mate cousins — and a much larg­er brain.
Fire is arguably the tool that allowed humans to con­quer the world. ​"Tool," how­ev­er, is not quite the right word. Fire is, at best, a ​"semi-domes­ti­cate," Scott writes, ​"appear­ing unbid­den and, if not guard­ed care­ful­ly, escap­ing its shack­les to become dan­ger­ous­ly fer­al." This, it seems, is the deal.
When humans break this deal by try­ing to bring fire more firm­ly under con­trol, the con­se­quences tend to be far-reach­ing. ​"Iron­i­cal­ly," Fer­gu­son writes, ​"the most sig­nif­i­cant result of sup­press­ing all wild­fires has been to cre­ate extra­or­di­nar­i­ly flam­ma­ble forests."
In a Sep­tem­ber 2017 Wash­ing­ton Post op-ed, ​"The Amer­i­can West Is Burn­ing," Sen. Steve Daines (R‑Mont.) laments, ​"The trea­sured forests and sky­lines I have loved all my life may not look the same for my grand­chil­dren." Daines blames the fires on ​"fringe envi­ron­men­tal­ists" for hold­ing up log­ging oper­a­tions in West­ern forests and allow­ing fire-fuel buildup. He advo­cates open­ing nation­al forests to exten­sive logging.
Gary Fer­gu­son says a mechan­i­cal thin­ning oper­a­tion would require a road-build­ing pro­gram so large as to be both imprac­ti­cal­ly expen­sive and unde­sir­able, because it would destroy the essence of road­less wilder­ness areas. Log­ging also removes trees from the for­est, while fire recy­cles trees into homes for birds, food for insects, and nutri­ents for oth­er trees and plants.
Daines also con­ve­nient­ly ignores the oth­er major rea­son we have seen record-set­ting fire sea­sons in recent years: human-caused cli­mate change. As Fer­gu­son notes, the fire sea­son today is longer than it was in 1972 by about 10 weeks. West­ern forests tend to become fire-prone with­in a month of the dis­ap­pear­ance of moun­tain snow­pack, and snow­pack is melt­ing sev­er­al weeks ear­li­er than in the 1970s. On the oth­er end, hot and dry con­di­tions are per­sist­ing longer into fall.
Many cli­mate activists, how­ev­er, pro­mote the dan­ger­ous log­ic that recent wild­fires are unnat­ur­al — a mere symp­tom of human-caused cli­mate change. In ​"Sea­son of Smoke," her Sep­tem­ber essay for The Inter­cept, Nao­mi Klein only men­tions the eco­log­i­cal role of fire as a qual­i­fi­er to her point that these fires are the shud­ders of a dying plan­et. She warns us that wild­fires ​"threat­en" Glac­i­er Nation­al Park and includes inter­rup­tions from her 5‑year-old son, who won­ders, ​"What about the animals?"
Her essay is large­ly pre­oc­cu­pied with the summer's wild­fire smoke — which Klein deems "#fakeweath­er, a mess in the sky cre­at­ed, in large part, by tox­ic igno­rance and polit­i­cal mal­prac­tice." This sto­ry is a use­ful addi­tion to an arse­nal of rea­sons to act against cli­mate change, but it traf­fics in an easy and false nar­ra­tive: wild­fire is bad, it destroys forests, and humans can and should con­trol it.
Know­ing the val­ue of wild­fire, how­ev­er, does not make the job of wild­land fire­fight­ers less com­pli­cat­ed, espe­cial­ly these days. One wild­land fire­fight­er, who asked to remain anony­mous because he is not allowed to talk to the press, explained to me that the deci­sion of whether to sup­press a fire or let it burn can be as dif­fi­cult as pre­dict­ing the future. For exam­ple, what starts as a small light­ning-strike fire in the back­coun­try could, under cer­tain con­di­tions, flare into a big fire that threat­ens struc­tures and requires a lot of work and mon­ey to con­tain. Before it blew up, the small fire could have been an easy, in-and-out job for smoke­jumpers — the elite fire­fight­ing crews that para­chute into road­less areas to fight fires.
The job of keep­ing wild­fire away from peo­ple is more dif­fi­cult now than ever because more peo­ple than ever live in the ​"wild­land-urban inter­face" (WUI) — areas where human struc­tures abut unde­vel­oped wild­lands. Devel­op­ers are rapid­ly expand­ing these bor­der­lands: Since 1990, wild­lands have been con­vert­ed into WUI at an aver­age rate of 3 acres a minute. WUI now makes up about 9 per­cent of the land­mass of the con­tigu­ous Unit­ed States and con­tains 38 per­cent of all homes. As of June 2015, less than 10 per­cent of WUI com­mu­ni­ties had adopt­ed build­ing codes designed to mit­i­gate wild­fire risk.
Ferguson's book is won­der­ful­ly prac­ti­cal, even in the face of such stag­ger­ing fig­ures. A bright yel­low page is reserved for the ​"Top 10 Ways to Pro­tect Your Prop­er­ty from Wild­fire" — the kind of check­list you could rip out and hang on the fridge. But his focus on the nar­row­ly prac­ti­cal seems to shield Fer­gu­son from dis­cussing the obvi­ous but polit­i­cal­ly hereti­cal prob­lem — name­ly, too damn many peo­ple are mov­ing into the WUI and more hous­es will burn because of it.
When asked about this, Fer­gu­son agreed that ​"hereti­cal" was the right word for such a diag­no­sis. He thinks, though, that a lot of good can be done by edu­cat­ing peo­ple to fire-proof their homes and by requir­ing WUI devel­op­ers to adhere to fire-pre­ven­tion build­ing codes.
This is, essen­tial­ly, the calm, com­pli­cat­ed, prac­ti­cal mes­sage with which Fer­gu­son leaves us at the end of the book: In this land of wild­fire it is up to us, not fire, to adapt. He quotes the plant ecol­o­gist Frank Egler: ​"Ecosys­tems are not only more com­plex than we think. They're more com­plex than we can think."
"When you accept that," Fer­gu­son tells me, ​"when we approach these prob­lems with some humil­i­ty … then we do start to hon­or the nat­ur­al world by being com­plex ourselves."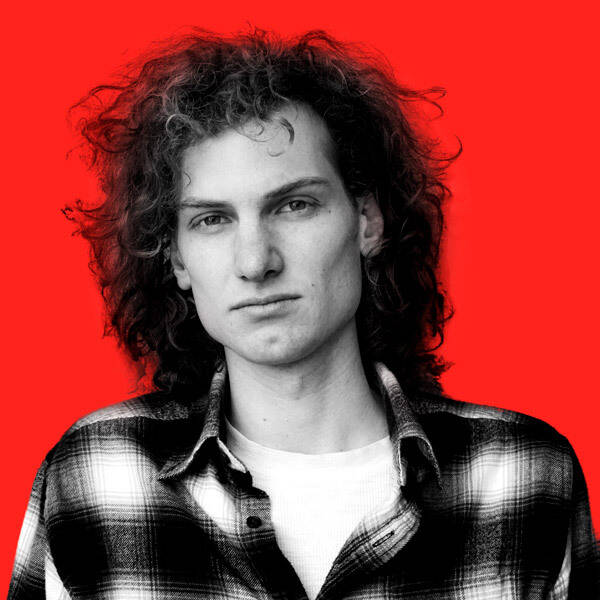 Joseph Bulling­ton
grew up in the Smith Riv­er water­shed near White Sul­phur Springs, Mon­tana. He lives now in Liv­ingston, where he works as an inde­pen­dent jour­nal­ist, part-time ranch hand and the edi­tor of Rur­al Amer­i­ca In These Times.